Check Out The Coolest 'Guardians of the Galaxy' Cosplays
I just can't stop this feeling, deep inside of me...cosplay, you got me goin'.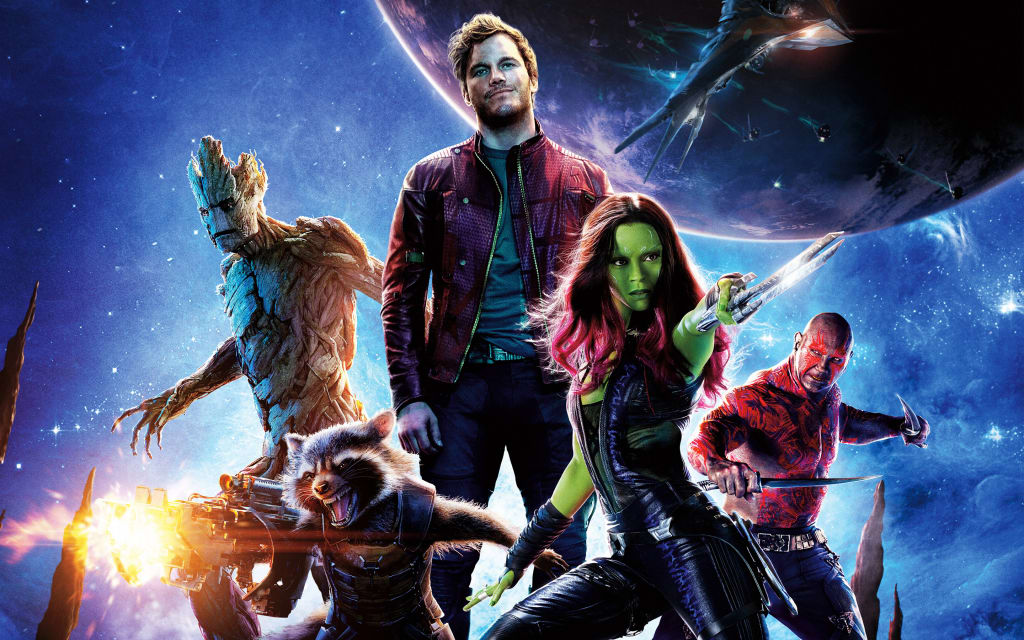 Oh, Guardians of the Galaxy, how I love you. From the best Vin Diesel role of all time - I think a huge key here was covering him up with a CGI tree suit and only giving him three words to say - to the rocking soundtrack I have on repeat, it's a seriously underrated movie that you can watch again and again. Not surprisingly, there are a lot of cosplayers out there who've made it their job to flawlessly recreate the characters. From Gamora to Groot, here are some of the best Guardians of the Galaxy cosplays from around the web. Try these on for your next con or save an especially challenging one for Halloween next year.
Gamora 
Moe Hunt of The Nutty Moefessor (Tumblr) makes a strong, sexy Gamora with her spot-on cosplay of the character Zoe Saldana played to such perfection. There are a lot of Gamora cosplays around the web, but many of them reduce the costume to little more than a few strips of leather. To me, this doesn't really reflect Gamora's hardcore, take-no-crap attitude at all, which is why I'm featuring Moe here. Her wig is perfect, and the green skin tone is exactly right. In other shots, you can see the crazy sword she made for the character (which I hope isn't nearly as heavy as it looks!).
Peter Quill/Starlord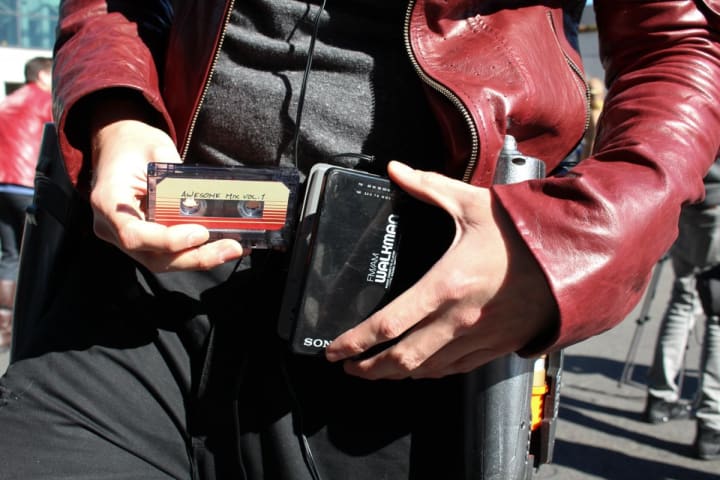 This image shows you a close-up of John Koch cosplaying Chris Pratt's Peter Quill at New York Comic Con in 2014. Not only did he get the essential outfit put together (and happen to have a face that's surprisingly twinners with Chris Pratt) but he even got a walkman and made himself an Awesome Mix Vol. 1 perfect for listening while he danced down the steps and attracted the attention of fans and photographers alike. (He says that while cameras were snapping, he was listening to "Come and Get Your Love" from the opening scene of Guardians of the Galaxy.) Look at more amazing photos at the link, then go here to check out the best way to make your own Starlord costume for the next con you attend.
Groot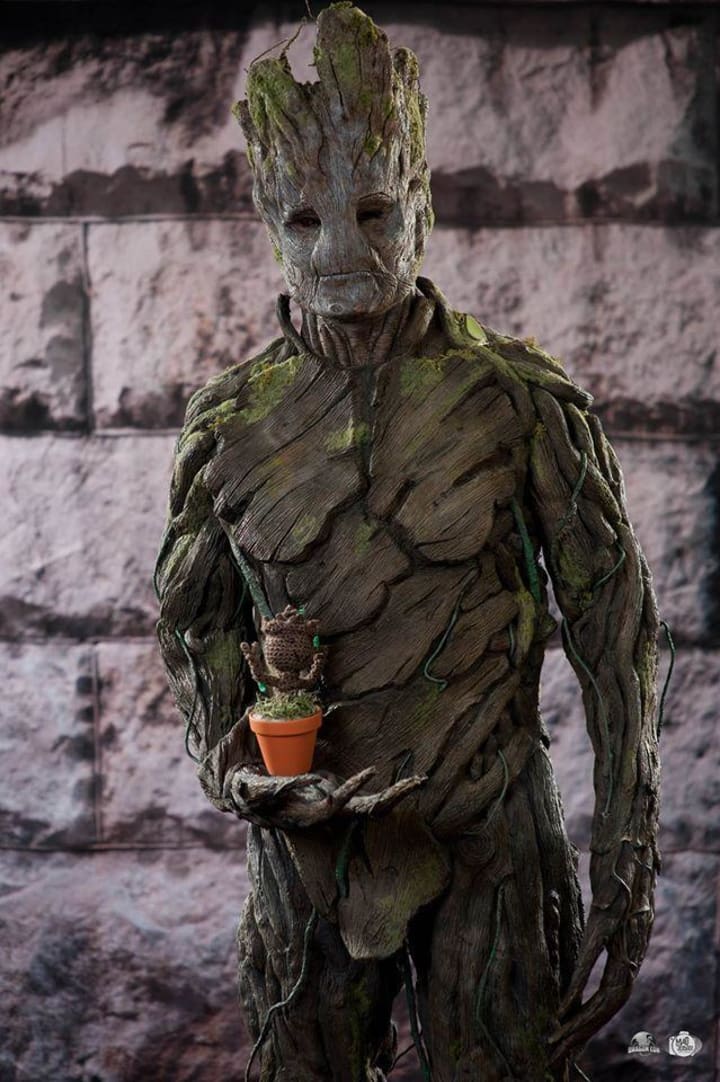 HurleyFX made this incredible costume ALL. BY. HIMSELF. He started with a full-body surgical cast so every part could be just the right size. It started with hand-made clay sculptures for the head, hands, arms, torso, and legs, which were turned into stone molds, ranging from around 20lbs for the hands, to over 400lbs for the legs (WHAT) which HurleyFX did in his apartment (so no more excuses about how you could do this too if you just had a standalone studio). Everything except the head was then cast in latex. The legs were over 5ft tall on their own, too, and sat on stilts that were created just for this costume by taking gothic boots and adding extensions and wooden bases. The head was cast in silicone and hand-painted in acrylic inks, and it just looks so authentic that it's really hard to believe that it isn't straight from the film.
Baby Groot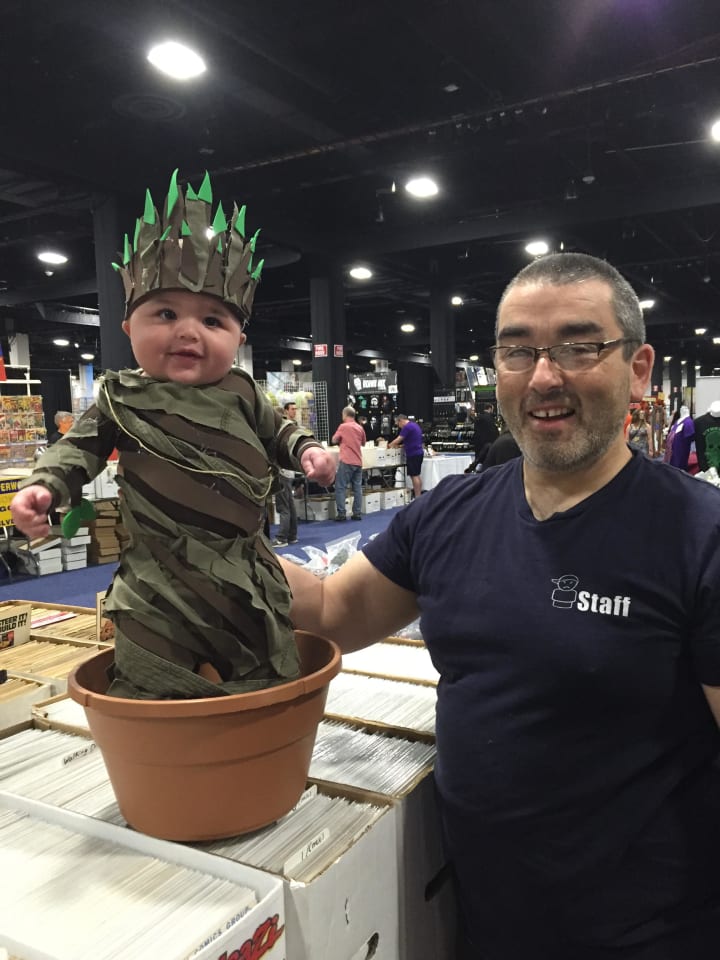 Ok, so maybe it's not quite as impressively realistic as the big Groot above, but you have to admit that Baby Groot has never looked so adorable. Five-month-old Charlie Lockwood wore this costume to a convention in Boston and the Internet loved it. He's too small to stand on his own so his parents supported to weight as they showed off their adorable cosplaying progeny (which any parent would, OF COURSE, be proud of - come on). Please don't miss this amazing GIF of Baby Groot dancing as Baby Groot should do.
Rocket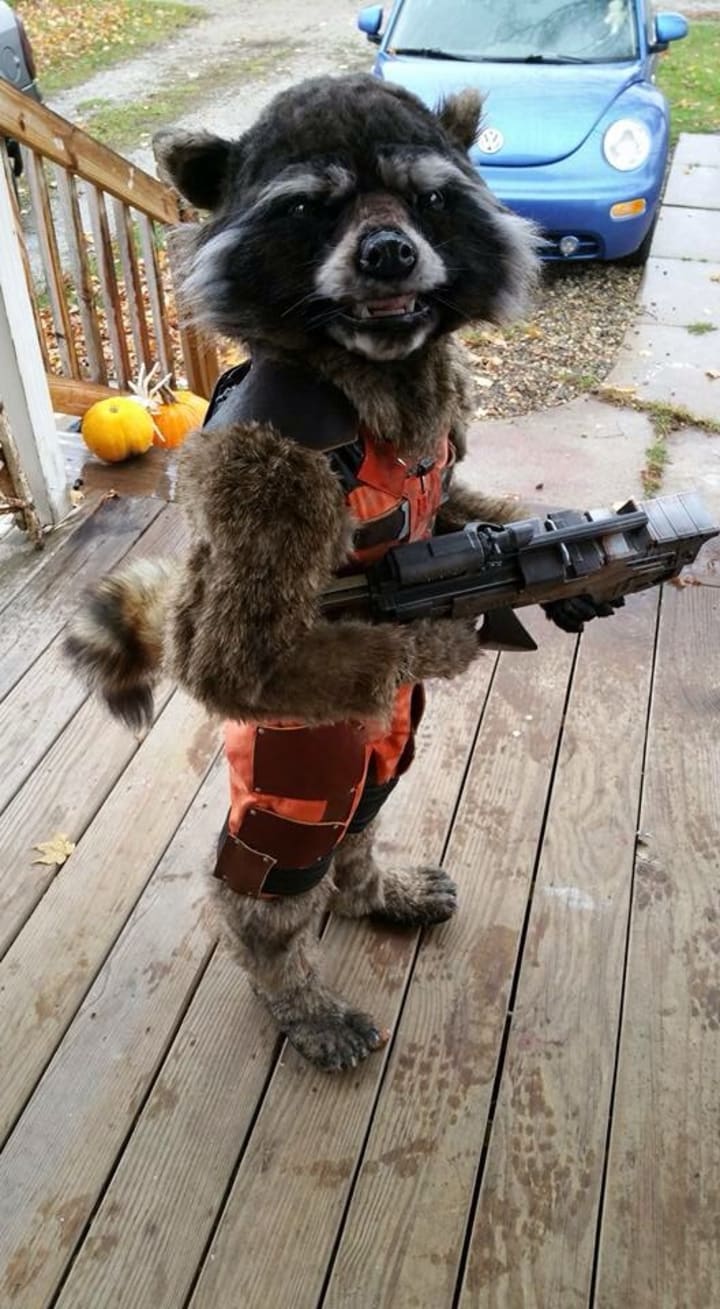 Now this is a Halloween costume that puts all other parents' efforts to shame. Christina Borchardt made every single little detail of her five-year-old son's Rocket costume (and "won" Halloween 2015, not surprisingly). She molded the teeth, she made the mask from the base up, and she must have scared the rocket fuel out a whole lot of old ladies who thought a real raccoon had come to life, gone to prison, escaped, and was out on Halloween night terrorizing them with a weapon. What will blow your mind is that Christina didn't consider the costume "complete" because she didn't have the time to distress all of the leather. Oh, yes, shame shame, go home, Christina and son, that's just unacceptable. Definitely click that link so you can go see all the photos of her process so you can duplicate it for your own entitled kiddo.
Drax the Destroyer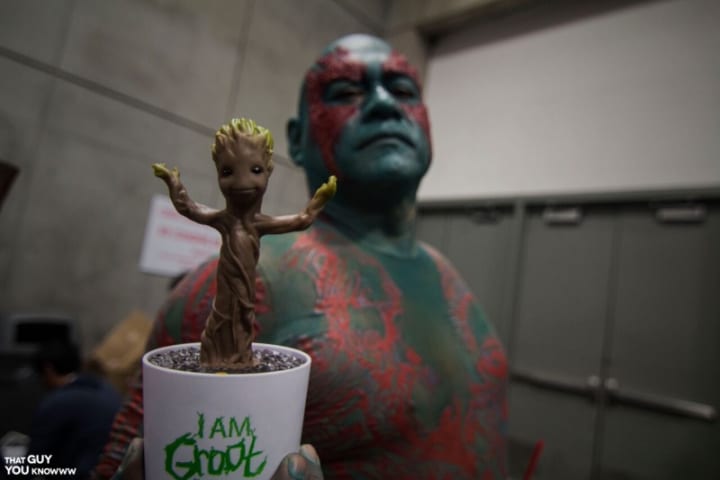 Drax is absolutely one of my favorite characters from Guardians of the Galaxy (and the tattoos are just the beginning). Here's a seriously incredible cosplay from San Diego Comic Con. Now, to be clear, you do have to start with the body - it's not like you can pull this off if you're a 90-pound weakling (unless you want to do a genderbent Drax, in which case, go for it!). Here's a video tutorial in case you want to try your own Drax makeup or do it on a very patient, longsuffering friend. While Dave Bautista's makeup took more than five hours every time, your simplified version may not take quite as long (depending on whether you decide to extend it beyond your face and neck or not).
Thanos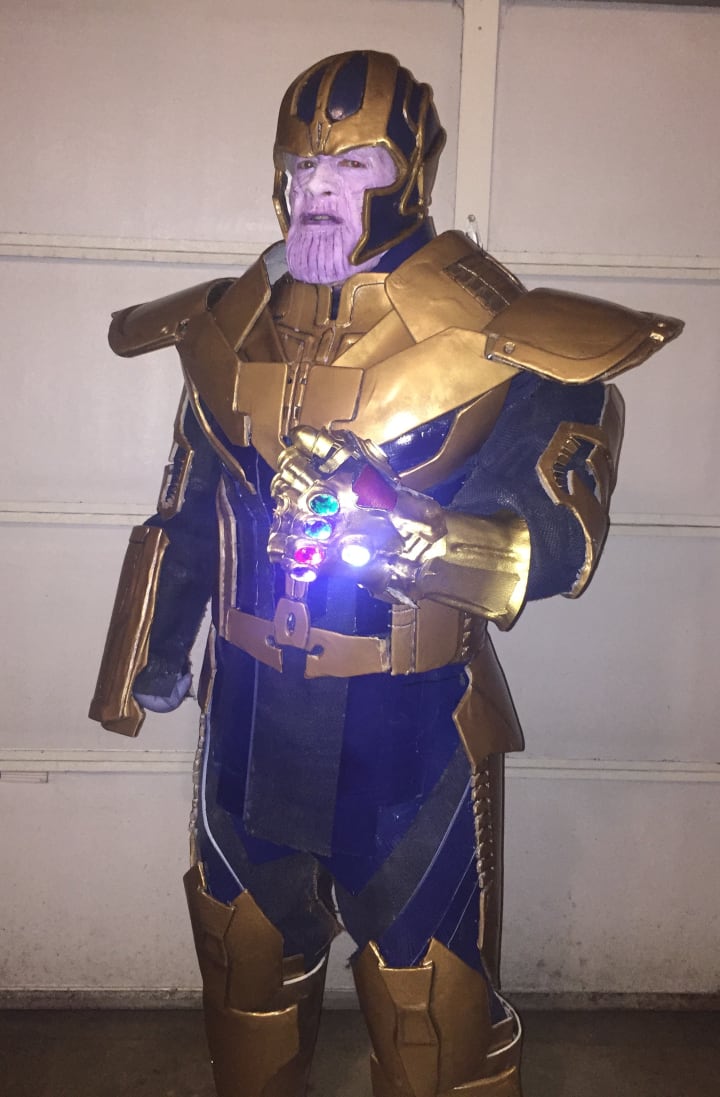 Who doesn't like to play the villain, especially when his costume is this amazing? Love that giant-jewel-encrusted Infinity Gauntlet and the helmet...not to mention those weird beard-ribs or whatever is going on with Thanos there. Mnamna's incredible build process is detailed here, on his Facebook page, so you can get a glimpse of all the hard work that went into making this light up and look like he's ready to destroy the world as we know it.
Nebula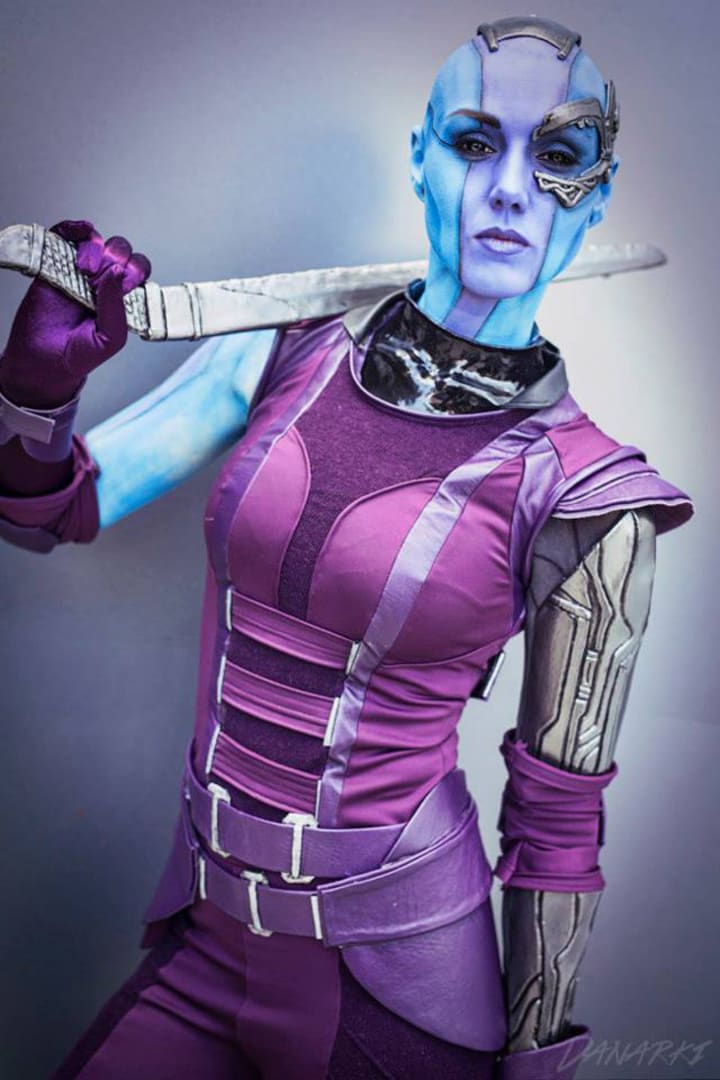 Again with the awesome villains! Thank you, Guardians of the Galaxy, for making bad look so good, and a special thanks to Norwegian cosplayer Karin Olava, who was dedicated enough to shave her head and make this Nebula cosplay totally authentic. She crafted the armor with a combination of foam pieces, worbla (a type of thermoplastic) and leather, but there's so much of this that's just her and those chilling facial expressions that remind us of Nebula's cold heart and gorgeous face. You'll definitely want to check out Karin's Facebook page where you can see all of her amazing costumes and makeup.
About the Creator
I'm a writer in love with India, Stars Wars, fantasy, travel, and Thai curries. My childhood heroes were Luke Skywalker and Joan of Arc. I muse on superheroes, sci-fi, feminism, and more.
Reader insights
Be the first to share your insights about this piece.
Add your insights