Carrie Fisher
An Intergalactic Hero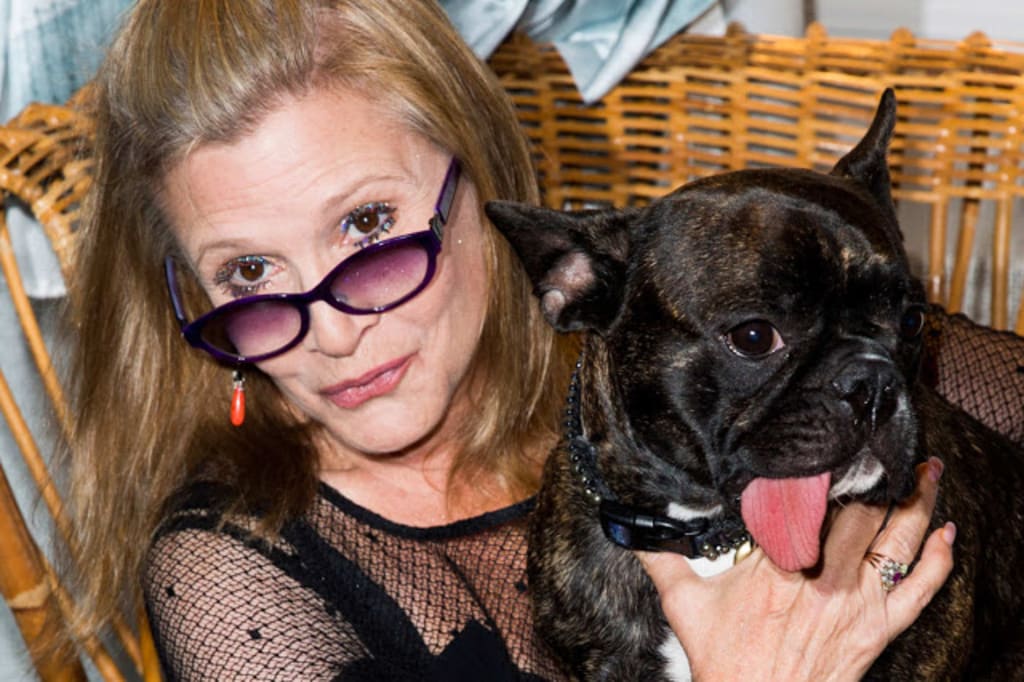 Carrie with her French Bull Dog Gary.
CARRIE FISHER: AN INTERGALACTIC HERO
Carrie Frances Fisher was born on October 21st, 1956 in Burbank, CA to legendary Hollywood actress Debbie Reynolds and singer Eddie Fisher. Some could say that she was born into Hollywood royalty, but no one could predict the wonderful life that Carrie would lead.
After Eddie Fisher left Debbie Reynolds for Elizabeth Taylor when Carrie and her brother Todd were toddlers, the Debbie married shoe tycoon Harry Carl. The marriage lasted from 1960 - 1973, the family living in a lavish mansion that Carrie later referred to as The Embassy. As a child, she "hid" in books, known in her family as "the bookworm."
To dissolve her marriage without avoiding lawyers, Debbie Reynolds took a role in the play Irene in New York. She pulled Carrie out of school and parlayed her daughter a role in the chorus. Carrie later said that she felt that her mother "wanted to be able to groom me for show business." As Reynolds began her nightclub act, she had Carrie join her—from age 13. She encouraged her daughter to sing, above all else.
In 1973, at her mother's behest, Fisher applied to and attended London's Central School for Speech and Drama for 18 months before studying the arts at Sarah Lawrence College. Fisher did not graduate.
Her first film role was at age 18 in Shampoo in 1975. Her next role defined her career. Carrie Fisher was cast in the role of Princess Leia Organa in Star Wars: a New Hope in 1977. She was just 19.
Star Wars became a huge hit and catapulted Fisher and her costars, Mark Hamill and Harrison Ford, into instant stardom. The sequel, The Empire Strikes Back​, was released in 1980. During the filming, Fisher used cocaine. "Slowly, I realized I was doing a bit more drugs than other people and losing my choice in the matter," she later said. In 1985, after months of sobriety, she had an accidental overdose of a combination of prescription medication and sleeping pills. She was rushed to the hospital, creating the turn of events that inspired her debut novel, Postcards From the Edge. Fisher was later asked why she did not play the role of the story's protagonist, named Suzanne, in the film version. She replied that, "I've already played Suzanne." This was to be but the beginning of the actress's lifelong struggle with alcohol and drug addiction.
The final film in the original Star Wars: Return of the Jedi was released in 1983 and featured Fisher in her iconic metal bikini costume.
Aside from the Star Wars films, Carrie Fisher is known for her roles in the movies The Blues Brothers, When Harry Met Sally, and Drop Dead Fred. In 2000, she appeared as herself in an episode of Sex and the City. Other television credits include Laverne & Shirley, Family Guy, Robot Chicken, Saturday Night Live, Weeds, and ​Catastrophe.
Fisher met Simon and Garfunkel singer Paul Simon while filming A New Hope. They dated from 1977 - 1983. In 1980, while broken up with Simon, Fisher was proposed to by Dan Ackroyd on the set of their movie The Blues Brothers. "We had rings, we got blood tests, the whole shot. But then I got back together with Paul Simon," Fisher said. She married Simon in 1984. The couple had a passionately tumultuous relationship, which resulted in their divorce in 1985. They got back together for a while, but inevitably parted ways.
From 1991 - 1994, Fisher dated Talent Agent Bryan Lourd. She referred to him as her second husband, though they never legally married. A daughter, Billie Catherine, was born in 1992. The relationship ended when Lourd left Fisher for a man.
In 1980, Fisher was diagnosed with bipolar disorder (then known as manic depression). It wasn't until she was 28 that she finally accepted her diagnosis. "When I overdosed and finally got sober. Only then was I able to see nothing else could explain away my behavior." Carrie would struggle with the mental illness until her death. She became a mental health advocate, just one more title amongst dozens. In an advice article she wrote in 2016 for people with bipolar disorder, Fisher emphasized the importance of connecting with others with the disorder, adding, "We have been given a challenging illness, and there is no other option than to meet those challenges." Fisher comically named her two moods "Roy" and "Pam." "Roy" was the high, "Pam" the low.
​Her struggle with bipolar disorder also played into her drug addiction. Carrie claimed that her drug use was a form of self-medication; she used pain medication such as Percodan to "dial down" the manic aspect of her bipolar disorder. "Drugs made me feel more normal," she revealed to Psychology Today in 2001. "They contained me." When drugs were not available, she'd drink.
Besides being an actress, mother, and mental health advocate, she also was an author. Her first novel, Postcards From the Edge, was published in 1987. It was a bestseller, nabbing Fisher the Los Angeles Pen Award for Best First Novel. Semi-autobiographical, the novel satirized Fisher's relationship with her mother, and her drug addiction. A film adaption starring Meryl Streep and Shirley MacLaine was released in 1990. Fisher wrote three more novels: Surrender the Pink, Delusions of Grandma, and The Best Awful as well as three memoirs: Wishful Drinking (which was later adapted into a one-woman show,) Shockaholic, and The Princess Diarist.
During the 1990s and early 2000s, Carrie worked as a script doctor on the Star Wars prequel trilogy as well as The Young Indiana Jones Chronicles television series.
Besides her mother and daughter, undoubtedly the love of Carrie Fisher's life was her service dog, Gary, a French Bull Dog with an oversized tongue. Gary often accompanied Fisher to conventions and TV appearances. After her death, Gary went to live with Corby McCoin, Fisher's former assistant.
In her later years, Fisher reprised her role of Princess Leia for The Force Awakens and The Last Jedi. She was to have a prominent role in the final film of the new trilogy, but she passed away shortly after filming her scenes for The Last Jedi. At the time of her death, Fisher was said to have been working on a sequel to her show, Wishful Drinking.
​Carrie was flying home on December 23rd, 2016 from Europe where she'd been on a book tour for The Princess Diarist, when the actress was reported to have stopped breathing about fifteen minutes before the plane landed. A passenger performed CPR on Fisher until the plane landed and health officials arrived, after which she was rushed to the Ronald Reagan UCLA Medical Center where she was put on a ventilator. Four days later, Carrie Fisher passed away. The next day, her mother, Debbie Reynolds, passed away as well.
In Wishful Drinking, Fisher revealed that George Lucas would not allow her to wear a bra on set as "there's no underwear in space." Fisher possessed a wonderful sense of humor and, in the same book, mused on what she would want her obituary to be. "What happens is you go to space and you become weightless. So far so good, right? But then your body expands??? But your bra doesn't—so you get strangled by your own bra. Now I think that this would make for a fantastic obit—so I tell my younger friends that no matter how I go, I want it reported that I drowned in moonlight, strangled by my own bra."
The death of Carrie Fisher left her thousands of fans devastated. I, myself, broke down and cried like a baby. She was an inspiration to so many; a true survivor. We are lucky to have had her for as long as we did. I just hope that she is at peace and knows how much she is loved and missed.
My biggest regret in life is not meeting Carrie Fisher when I had the chance. She was at Indiana Comic Con in 2015. I only had enough money to meet one star, and I chose Jenna Coleman. I later decided I'd bite the bullet and overdraft if I had to, only to be told that she was sold out. I did get to see her briefly from a distance. If only I'd known...
I would just like to say thank you, Carrie. You were, and continue to be, my idol. You always managed to find the humor in everything and possessed an indomitable spirit. I miss you every day, but I am constantly reminded of your wit and grace. I love you.