Byron did not deserve all this.
A different world's Byron should not have gone through this.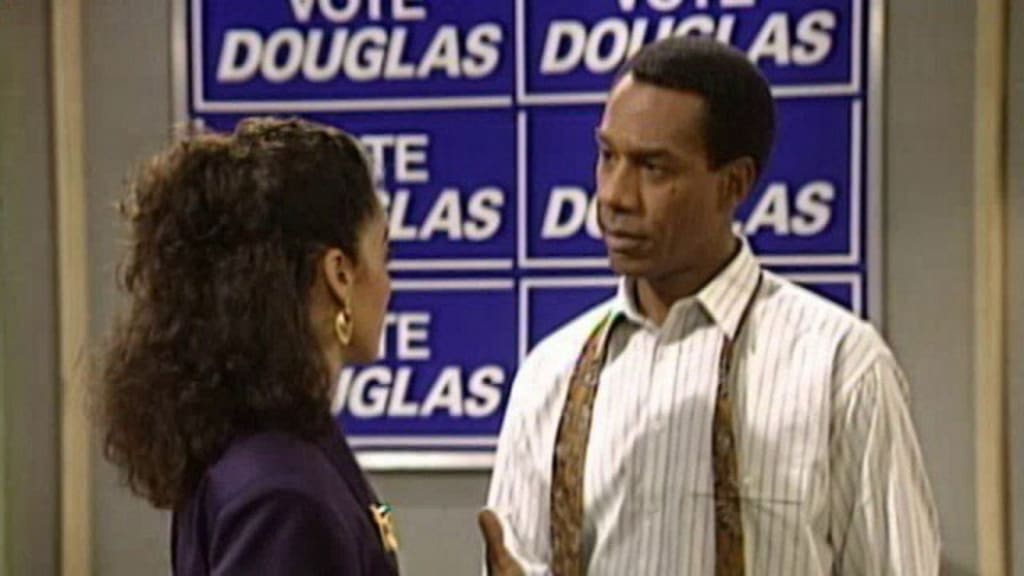 Image credit:-definearevolution.com
If you like this, you can get more of my articles when you subscribe to my account.
A different world is a spinoff of The Cosby show that was based on the college life and experiences of Denise Huxtable (played by Lisa Bonet)at Hillman College. This was so for the first season of the show but the attention moved with Lisa Bonet leaving the show and Denise taking a break from college.
After her departure, there was a shift in the show seemingly making Whitley Gilbert (played by Jasmine Guy) the protagonist amongst other notable characters. The show went on with various amazing guest stars and some staple characters. Its lasting influence on students, precisely African- American college students was its reputation especially with Hillman being an HBCU (Historically Black Colleges and Universities). It ran for six years from 1987 to 1993 while inspiring, entertaining and tackling necessary topics in a college setting.
I was not born yet, so I watched the full show a couple of times on Amazon prime video. The show seems to be received differently by various people depending on the aspect discussed but I am writing on one of season five's introduced characters, Byron Douglas III (played by Joe Morton).
Byron became a recurring character on the show. He was a prestigious businessman, an aspiring and achieved state senator as well as a Hillman alumnus. He got support from the college and multiple people including Whitley and Dwayne Wayne (played by Kadeem Hardison) on his campaign team. This was odd but not a threat yet or in the audience's interest until Whitely expressed a liking to Byron. Dwayne and Whitley broke their engagement and relationship a while back causing an awkwardness. Byron in the middle of this without fully knowing or caring possibly made the situation a lot worse for him.
The annoyance for Byron is based on his relationship in this. He was great in the series, a well-established man of dignity and maturity but his problem or what I feel he did not deserve stemmed from his involvement with Whitley. They met at a fundraiser and from that point, Whitley became involved in his campaign team as requested by him.
After spending some time with Byron as well as some flirtatious attempts, Whitley decided to go full throttle on her feelings and kissed him which was reciprocated. They bonded over Byron's bad memory and the political issues. They appeared to be a great couple and probably would have been great together if there wasn't an awkwardness from the presence of her ex-fiance at the campaign rally. Although Dwayne knew Byron before Whitley did, he spent more time with her especially needing her persuasive ability during his meetings with benefactors. She seemed very intelligible, confident and interesting.
They started dating eventually and with her on his side, he noticed she was a great addition to his team and possibly his life. However, before thinking about engagement they hit a bump in their relationship when Whitley back-pedalled to Dwayne.
Video Credit:- Very Random 2
After this happened she felt awful but was unsure about telling Byron, she eventually did. Unfortunately, Dwayne beat her to it by telling him earlier which probably influenced his reaction. Now, from this moment I believe everything after that was just sad. During her confession, Bryon asked if she still loved Dwayne and although she claimed not to anymore, it became evident that she was suppressing her feelings.
Video Credit:- Very Random 2
They carried on with their relationship with Whitley still being on his side after glossing over the situation. He wins the state senate and proposes to Whitley at the moment of his win. However, before accepting she is reluctant to answer and looks at Dwayne.
Whitley and Dwayne's engagement was called off by Whitley. They had some problems closer to their wedding which stressed them both but caused Dwayne's date with another woman. He was not ready to commit to her yet after he proposed to make her stay from a job that was taking her away for a while. The on and off nature of their relationship was exhausting to him and her leaving had possible detriments to the point they had got to. Dwayne felt horrible about Whitley's present engagement and decided to visit her the night before her wedding to discuss.
They reminisced about their past relationship while questioning why it didn't work. Whitley kept thinking about this and started feeling anxious like she was making a mistake but no one (except her mother)wanted to weigh in. Dwayne decides to attend the wedding to call it off in some way. Ultimately his upstaging works! As Whitley continues fumbling to say her "I do", she hallucinates seeing Dwayne's face everywhere. This all formed this iconic scene:
Video credit:- Very Random 2
Many people recognize this scene because it has been loved vastly for being heart-warming and endearing.
Byron was many things on the show but was most notably recognized for being the guy who was stood up in this scene. LOOK, Byron did not deserve any of this because, in all fairness, he was just minding his businesses and campaign. This makes Byron seem like a rebound for her even though she actually loved him but seemingly not as much as Dwayne.
Byron left the altar in anger and Whitley's mother (played by Diahann Carroll) who wanted a wealthy established man for her was extremely disappointed. Possibly disgusted to her core as she fainted to the realization that Dwayne would be her son-in-law. She never believed Dwayne was enough for Whitley and her sophisticated lifestyle, so Dwayne taking Byron's wedding was a nightmare. Dwayne did not have to pay a cent for the wedding and their friends were already present. Ron(played by Darryl M. Bell), Kim (played by Charnele Brown), Freddie (played by Cree Summer) and Jalessa (played by Dawnn Lewis) as well as everyone else believed they would end up together.
Byron lost so much that day even though he won the election. His reputation=soiled, wedding=stolen, money=wasted, disgrace=achieved and anger or hatred, possibly achieved as well.
Many people connect this effect on the character to another of Joe Morton's. People hypothesize that the anger from that scene caused his strict character on Scandal as Eli or Rowan (Papa)Pope. Several people believe in his anger but it's not as much compared to the people that love that scene.
Video Credit:- CollegeGirlKEY
I haven't watched Scandal but from this video, I think it's a fair connection.
Despite everything, Whitley came across as a different person with Byron. She was more knowledgeable, participatory, and business savvy which was a good look for her. It could be argued that Whitley was her truest form with Dwayne because of their history and friendship prior but there was a level of sophistication to Whitley with Byron, which is what she wanted to be at a point. The tone of being the senator's wife was a great title but she shed her standards and mother's expectations of having a high-brow life by any means necessary. She was happy with Dwayne and all he could do for her.
Regardless of her situation and living not as elegant as she previously did, she was happy. Byron was not shown on the series after that which strengthens the connection but I don't think he deserved to be in this mess. If they got married, it would have been a lot worse with possible cheating and arguments. This could be the bright side of all this but knowing it could have been avoided is the reason it's annoying.
All in all, I felt bad for Byron and that Dwayne eventually 'won' but what do you think about all this? Knowing this, do you have any sentiment for Byron? I really enjoyed the show. You should try it to follow the timeline properly or if you're curious.
If you enjoyed this, for more of my articles:
Recent:
About the Creator
I write on various things: social issues, well-being, cinema and out of curiosity. For contact and all other things, click this. Inactive.
Reader insights
Be the first to share your insights about this piece.
Add your insights