Bury Your Tropes
Swipe Right for Queer Love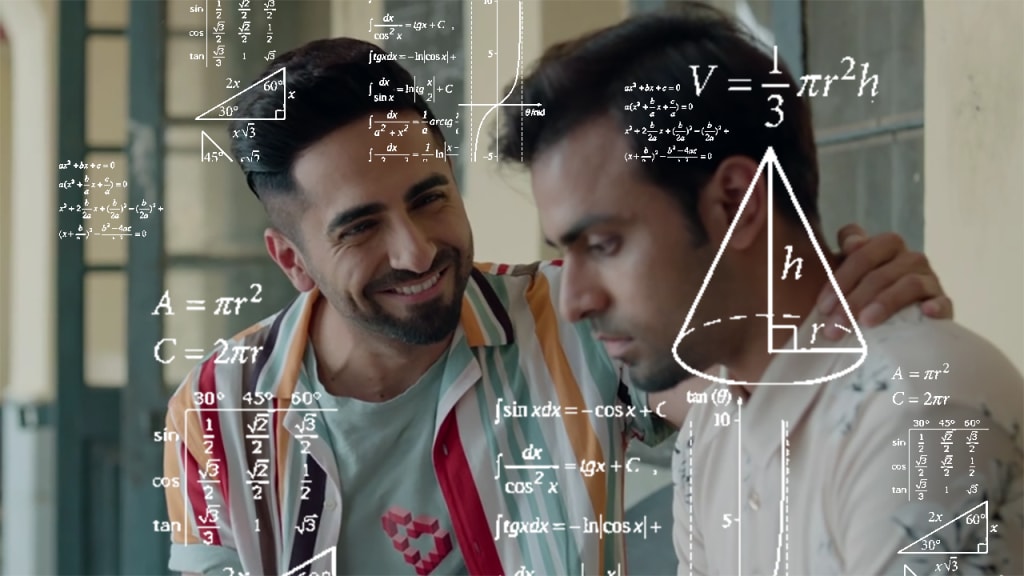 If you're queer and you're looking for the perfect movie match for date night, then you've come to the right place, my friend. Come in, come in! I've been toiling night and day over a top-secret matchmaking algorithm guaranteed to set you up with the media of your dreams.
Let's give it a test run, shall we? I just need you to answer a few questions:
Are you tired of dour and downright traumatic queer romance clichés like "bury your gays"?
Will you scream if one more straight friend recommends Brokeback Mountain?
Are you charmed by wacky, mainstream rom-coms like Sweet Home Alabama, but you wish they'd make it gay?
Did I hear right? "Yes, yes, and yes," you say?
Don't mind me while I rub my hands together in glee. I'm pressing the button! The code is working! Right now the ones and zeroes are colliding, the calculations are percolating, the equations are tumbling. And our first match is...!
———
Love, Simon
Closeted teen seeks love match with mysterious online penpal. Let's meet on the ferris wheel.
———
Ah. Well, yes. I can see from the look on your face you've met this one before. A sweet fellow, but you've been there and done that. Time to move on.
Okay, don't fret. We've taken a step in the right direction. Let's refine our search to really capture your preferences. We'll focus on qualities that closely match the default rom-com Sweet Home Alabama.
Big city energy meets small town heart? Check.
Chaotic misunderstandings? Of course.
Quirky and diverse characters? All of them, please.
Happily ever after? Guaranteed!
And how do you feel about holiday flicks out of season? I'm seeing a lot of Santa hats in here... Oh, okay, gotcha. No worries, no worries. We'll filter those out too. You can always turn that option back on when November swings around again.
Trust me, we've got it now. If your heart is really yearning for a queer romance with all the hallmarks of Sweet Home Alabama, check out the seven heartthrobs below. We have a range of movies and TV series that offer the whole package, without forcing you to celebrate Christmas in July. As you requested, happy endings are guaranteed, and cross my heart, absolutely no queer characters die. You're safe to fall in love.
Peruse the intros and read the bios. You're about to swipe right on some fabulous matches.
———
Big Eden
Shy guy with a heart of gold seeks soulful big-city artist to share intimate home-cooked meals. Will deliver.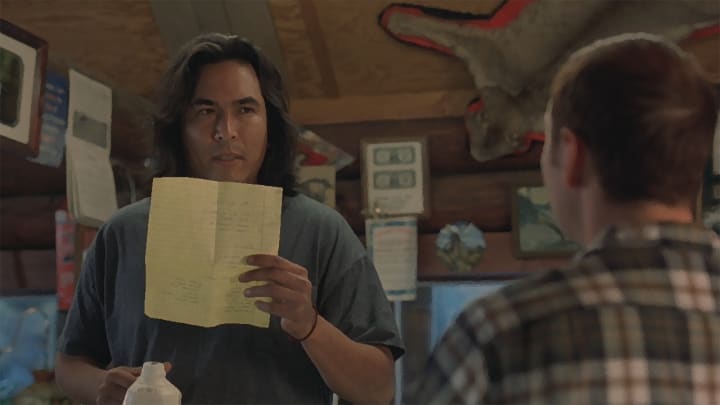 Bio: Pike Dexter here. I run the local general store in Big Eden. I've got social anxiety, I guess, but I care a lot about the people around me. Did you hear Henry Hart's back in town? I've known him since high school and always kinda liked him. He's a big city artist now, has a gallery and everything in New York. He came back to take care of his grandpa Sam after Sam had a stroke. Turns out they're both hopeless about feeding themselves, and Widow Thayer is serving them some real culinary horrors. Someone has to intervene before they die of food poisoning, so I'm learning how to cook. I don't want Henry to know. I just—I feel nervous around him. My heart starts going a mile a minute. Not sure why. I want things to be nice for him, but I wish the townsfolk would stop trying to play matchmaker. Henry's clearly smitten with his old friend Dean Stewart. I see the way they look at each other, and I doubt there's room in Henry's heart for someone else. Least of all someone like me. I guess time will tell. If you're interested, you can find me at the general store cooking with love.
———
The Prom
Ragtag gang of showoffs seek unruly hearts who love to sing and dance. One night. One incredible, inclusive prom.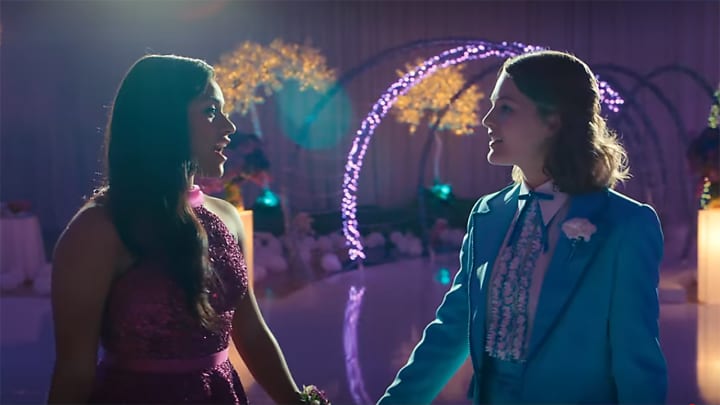 Bio: Get your dancing shoes on, it's time to party! I'm Emma Nolan and I want to take my girlfriend to prom. An innocent request, you'd think. Well, let me tell you, the small town of Edgewater, Indiana, has lost its collective mind. They've canceled prom just because I want to dance with another girl.
You might have seen my plight trending on Twitter. A band of washed-up Broadway performers sure did, and they've abandoned the big city to crash in on my town. It's nice to have someone on my side, but honestly I'm not sure if they're helping or hurting my cause.
The important thing is: I know I'm not the only one out there who wants to dance with the person they love. So we're going to pull out all the stops and try to make my dream of an inclusive prom come true. You're invited. I'd love to see you there.
———
The Half of It
Perpetual wingman seeks heartthrob to share secrets and small-town adventure. Friendship is a must.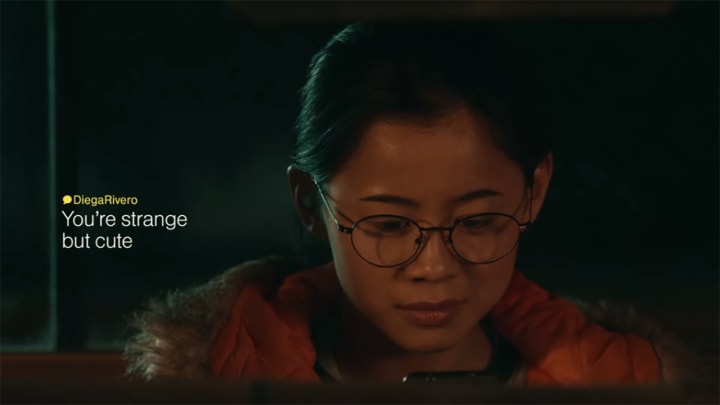 Bio: I'm Ellie Chu, and I really don't have time for this. I've got five papers to write for my classmates, the railroad switches to manage, and a recital to practice for. But, okay. Here's a little bit about me: My family immigrated from China to the small town of Squahamish in the hopes of building a dream. Mom died. Dad gave up. I'm going to school and doing Dad's job until he can get his head together... assuming he ever does. I'm just doing my best to keep the lights on at home. I can't afford to be bothered by a crush on my classmate Aster Flores. Except football player Paul Munsky just hired me to help him write her some love letters. (Who am I—Cyrano de Bergerac?) But yeah, I need the money. And Paul's kinda sweet in a goofy way. And maybe it'd be nice to have more chances to interact with Aster, even if she doesn't know it's me. Helping a guy win over the girl I want to be with: What's the worst that could happen? Anyway, I've got to hustle. Look me up if you need the services of a tried-and-true wingman. Maybe I can help.
———
Schitt's Creek
Frustrated creative (with big ideas and bigger heart) seeks emotionally stable partner with a sense of humor and the patience of a saint. Guaranteed return on investment.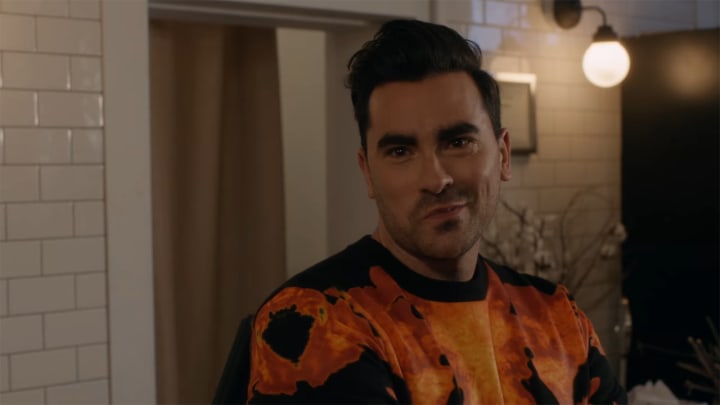 Bio: David Rose. Pansexual. Art curator and trend forecaster. Temporarily embarrassed millionaire. Relocated with family to a "rustic lodge" on the outskirts of the "quaint hamlet" of Schitt's Creek for an all-inclusive, six-season, immersive small town experience.
While, sadly, I don't always take center stage in this comedy of errors, trust me when I say I'm the one you're here for. My unique experience is an integral silk thread woven into the fabric of this polyester blend of a town. When it comes to love, "I like the wine and not the label." I won't give up on the person of my dreams. I may start at rock bottom, but I promise I'm manifesting my very own happy ending.
The best part? I'm a package deal. If you're here for the queer, you'll love my friends Patrick, Ronnie, Jake, and the gamut of townies and tourists that come and go. Why don't you come for a visit? (And please take me with you when you leave.)
———
So My Grandma's a Lesbian
Lifelong friends seek to fulfill decades-old dream to marry. Alert the press! Papa Paco (the pope) approves. (In Spanish with subtitles.)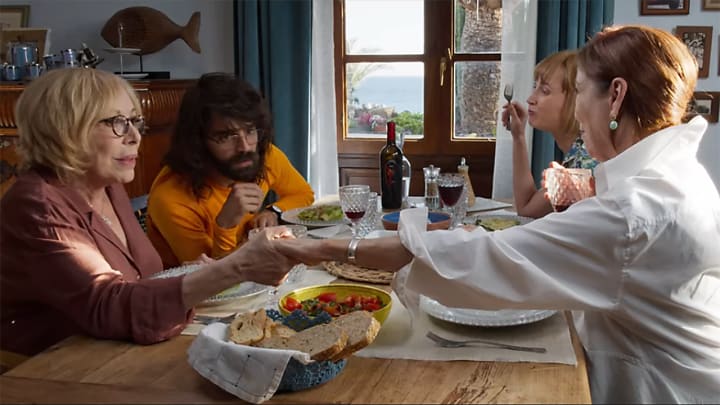 Bio: My name is Celia and I've been in love with Sofia for as long as I can remember. She hates it when I write about our love life online, but where else am I supposed to go for advice? We're isolated in a coastal town on the Island of Lanzarote in Spain.
We've spent a lifetime hiding our feelings for each other, but no more! We're "coming out of the wardrobe" and we're getting married. I hope to secure the blessing of the church. The locals and a few international news outlets seem to be a bit ruffled by it, but I wrote to the pope to plead our case. Papa Paco is on our side, even though no one seems to believe me.
I only hope things don't get too crazy with all the excitement and strange new people showing up in town. Sofia's granddaughter Eva flew in just to persuade us to keep everything hush-hush. She says the headlines will ruin her engagement to a high-society Scotsman with ultra-conservative parents. If only she could see she has a better option for love right in front of her!
Never mind, let's enjoy the scenery and see how it all works out. Would you like to come to the wedding?
———
Shubh Mangal Zyada Saavdhan
Hopeless romantic seeks beloved partner for work and for play. Grand gestures included. (In Hindi with subtitles.)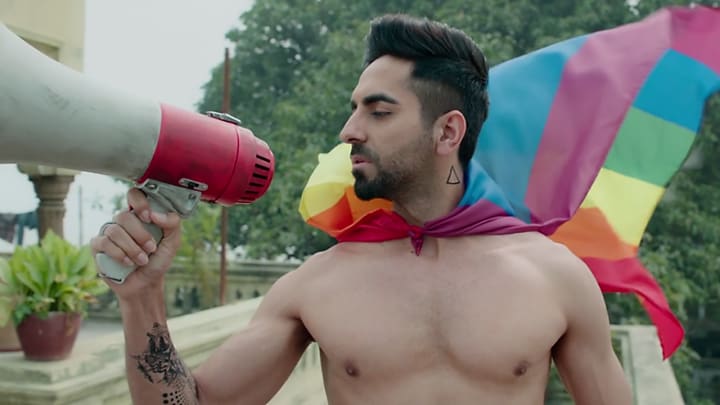 Bio: My name is Kartik and I love my boyfriend Aman. I don't care who knows it! Sure, we're two small-time toothpaste salesmen living and loving in Delhi. Sure, our romance is technically illegal. So what? Do you think our big city love will scandalize Aman's traditional family when we catch the train home for his one-eyed cousin's wedding? What could it hurt to steal a kiss (or two) when no one's looking? Aman may have reservations, but I'll shout my love to the rooftops. I just hope Aman's father—who's obsessed with his crop of black cauliflower—won't try to force Aman to marry the free-spirited and light-fingered woman Kusum when they find out about us. That would be a disaster in the making (but probably a lot of fun to witness).
Aman and I are riding the train to its final destination: true love. Hop on board for nonstop shenanigans.
———
In & Out
Exuberant intellectual in denial seeks beauty, authenticity, and one last shred of sanity. Please send help.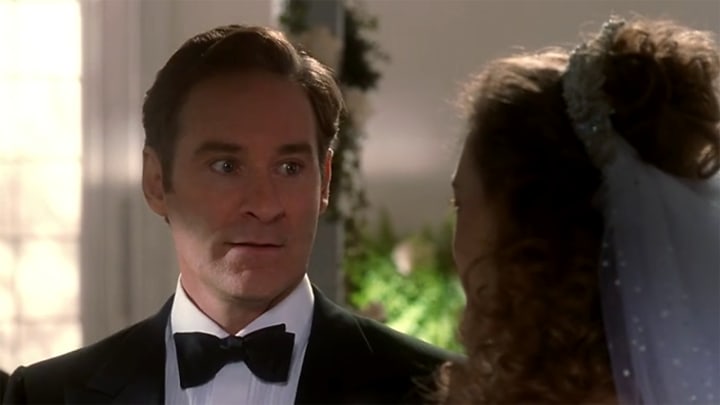 Bio: None of this was supposed to happen. My name is Howard and I'm your average, everyday English teacher in Greenleaf, Indiana. Last night, live at the Oscars, my former student Cameron Drake told the world I was gay. Maybe you heard about it. Everyone I know certainly saw it.
The thing is: I'm not gay. I'm not. I'm really not. I'm getting married to my fiancée Emily next week, but swaths of reporters are causing havoc in my town and the locals have gotten downright weird. I might lose my job. I don't know how to convince everyone that I'm as straight as straight men come. All of this insanity has my head spinning and I'm pretty sure I'm straight, but there's a little voice inside me wondering… maybe I'm not?
The clock is ticking, and I have to figure out who I am before I say, "I do." Everyone else is here for the show, so you might as well stop by too.
———