Bruce Lee: The Legend of the Dragon
A man possessed to teach the world about martial arts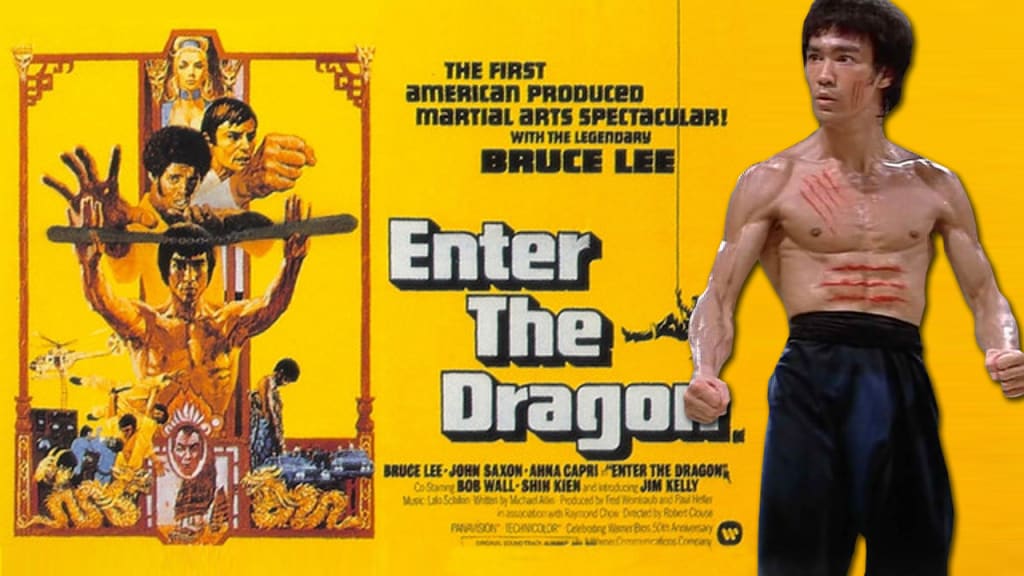 One of the earliest recollections I have as a teenager took place more than 45 years ago, probably due to the 1974 miner's strike and the "three-day week" which interrupted lessons at our school. For some reason I can't recall we were sent to the youth club attached to the school premises, where staff had set up a screen for us to watch a movie.
There was an air of expectation in the room and much excitement from the older students as the words Enter the Dragon flickered onto the screen… we were about to watch a legend in action, his name Bruce Lee.
It was 47 years ago today that the much-acclaimed martial artist died, but by the time I saw Enter the Dragon as a 13-year-old he'd already attained god-like status… less than a year after his passing. In a film career that spanned just four years and five completed films, Lee symbolised all the aspirations of youth in a new style of cinema action before his untimely death at just 32 years old.
And almost 50 years on, the cause of his death remains the subject of much speculation, although it is certain it came just a week before the release of Enter the Dragon, arguably his most widely acclaimed film.
Numerous conspiracy theories on the actual cause of death exist. From cannabis to gangsters, stories aside from the official verdict of a brain edema still capture the imagination today.
Some sources suggest it was the Chinese Triads who killed him because he refused to pay them for protection; while it has also been rumoured to be the work of the Italian Mafia because Lee refused to comply with their demands. Another story tells of a family curse that claims the male members of the clan.
Officially Lee's death was caused by a cerebral edema, a swelling of the brain resulting from excess fluid. Although his brain had swollen nearly 13 per cent, the coroner found no evidence of external injury. So what caused the swelling?
One theory suggests the edema was the result of an interaction between a painkiller he'd taken and the muscle relaxants he was on or, possibly, cannabis; another suggests he was killed by his mistress Taiwanese actress Betty Ting Pei, who gave him a high dose of Equagesic which caused his death.
At the time Lee was staying with Ting at her home in Kowloon Tong, having gone to Hong Kong to meet producer Raymond Chow to talk about Game of Death, a film they were working on, and the release of Enter the Dragon, the first joint venture between Hong Kong and US-based production companies which Lee hoped would propel him to international stardom.
At around 7.30pm that evening, shortly before the couple were supposed to leave for dinner with Chow, Lee complained of a headache and Ting administered a common painkiller which contained aspirin and a tranquiliser known as meprobamate. After taking the pill he went for a rest.
Later when he failed to come downstairs, Ting went to check on him and found him unresponsive. She called Chow, who'd arrived at the apartment earlier that evening. He attempted to wake Lee, but when that failed they called a doctor who tried to revive him. Unable to bring him to consciousness, they took Lee to a nearby hospital where he was declared dead on arrival.
Signs of ill-health had first appeared in May that year. Suffering from headaches and seizures, Lee was rushed to hospital where he was diagnosed with his first cerebral edema. Lee didn't regain consciousness until the next day, when he flew to UCLA Medical Centre for further testing.
After the swelling subsided Lee appeared to be back to normal and was given the all-clear, soon leaving for his extended visit to Hong Kong. But was his condition much worse that it seemed? Perhaps the rigours of his art taking their toll?
The son of Cantonese opera star Lee Hoi-chuen and a Eurasian mother Grace Ho, Lee was born in the Chinatown area of San Francisco, California, on 27 November 1940, while his parents were travelling for a one-year US tour with the Cantonese Opera Company.
The family moved back to Hong Kong when Lee was just three months old and he was raised with his siblings in Kowloon. He was introduced to the film industry by his father and appeared in several films as a child actor before returning to the United States at the age of 18 to study at the University of Washington in Seattle, where he married Linda Emery, an American woman.
But Lee was first and foremost a kung fu expert and it was during this time that he began teaching martial arts, even developing his own style, Jeet Kune Do… "the way of the intercepting fist".
Teaching his technique to students from all backgrounds, Lee broke down racial barriers and his prowess soon earned him his first acting role, as the masked sidekick Kato on The Green Hornet, a television adaptation of the crime-fighting superhero created in 1936 by George W Trendle and Fran Striker.
Shown on the ABC network, The Green Hornet aired for the 1966-67 television season and starred Van Williams as both the Green Hornet and Britt Reid, while Lee as Kato stole the show with his slick martial arts.
Perhaps the first time Asian martial-arts fighting was seen on American TV, the show launched Lee's career as a popular actor in the US and Hong Kong.
When Green Hornet was cancelled after just 26 episodes, Lee returned to Hong Kong where he was viewed as a national treasure. A string of martial-arts movies followed, including Lo Wei's The Big Boss (1971) and Fist of Fury (1972). Then came Golden Harvest's The Way of the Dragon (1972), which Lee wrote, produced, directed and starred in.
The movies were smash hits across Asia and soon Hollywood was calling for his return. In autumn 1972, Warner Bros offered Lee the part in Enter the Dragon, the first of his films to be co-produced by a major American studio. Expectations were high when filming began in Hong Kong in January 1973 and, perhaps because of his tragic death a week before its release, it became one of the highest-grossing films of the year and fuelled a martial-arts craze in the US.
Born at the hour of the dragon in the year of the dragon, it seemed Lee had always been destined for greatness and perhaps he fulfilled that fate as an adult by bringing the art of kung fu to the western world.
Lee was survived by his wife Linda and the couple's two children, Brandon and Shannon.
During much of his life Lee had been haunted by fears of a curse brought on by Chinese merchants who had put a hex on male members of the family after his father had angered them. His parents had two daughters, Phoebe and Agnes, and three sons, Peter, Bruce and Robert... but their first-born male child had died leaving the superstitious family fearful for their sons.
In order to confuse the spirits they nicknamed their middle boy Sai Fon, "Little Phoenix", a girl's name. According to Chinese tradition, avoiding calling Lee by a male name would prevent evil spirits from stealing his soul.
While his elder brother Peter was a successful scientist and lived until the age of 68 and his younger brother Robert, a former musician, is still alive at 78, Lee's son Brandon also lost his life in mysterious circumstances.
In 1973 Lee had been filming Game of Death, later released in 1978, before he died and to complete the movie the plot was changed to reflect the story of an international martial artist and movie star who takes on an international crime syndicate.
In the film a disguised assassin comes onto the movie set and shoots the hero with what everyone believes to be a prop gun, but it's not… and the hero dies on set in an eerie parallel to Brandon's death while filming The Crow 20 years later. In the film it turns out the hero has not died but faked his death, disguising himself after plastic surgery he sets about exacting revenge on those who wronged him.
On 31 March 1993 Lee's son, on the cusp of international film success, was filming The Crow. In the film he plays a man who returns to life seeking revenge on the person who killed him and, in one of the final scenes to be filmed on the set, his character is shot.
Incredibly, a series of errors meant that a live round was in the prop gun fired at him, the bullet to the abdomen killing him. The Crow was released after his death at the age of 28, four years younger than his father.
Was it the Lee family curse? Or were there other, perhaps even stranger forces at work?
About the Creator
From Covid to the Ukraine and Gaza... nothing is as it seems in the world. Don't just accept the mainstream brainwashing, open your eyes to the bigger picture at the heart of these globalist agendas.
JOIN THE DOTS: http://wildaboutit.com
Reader insights
Be the first to share your insights about this piece.
Add your insights