Bruce Lee Could Have Mopped the Floor with Somebody Like Tarantino, but Not Muhammad Ali
And apparently he knew it, according to 'Enter the Dragon' director Robert Clouse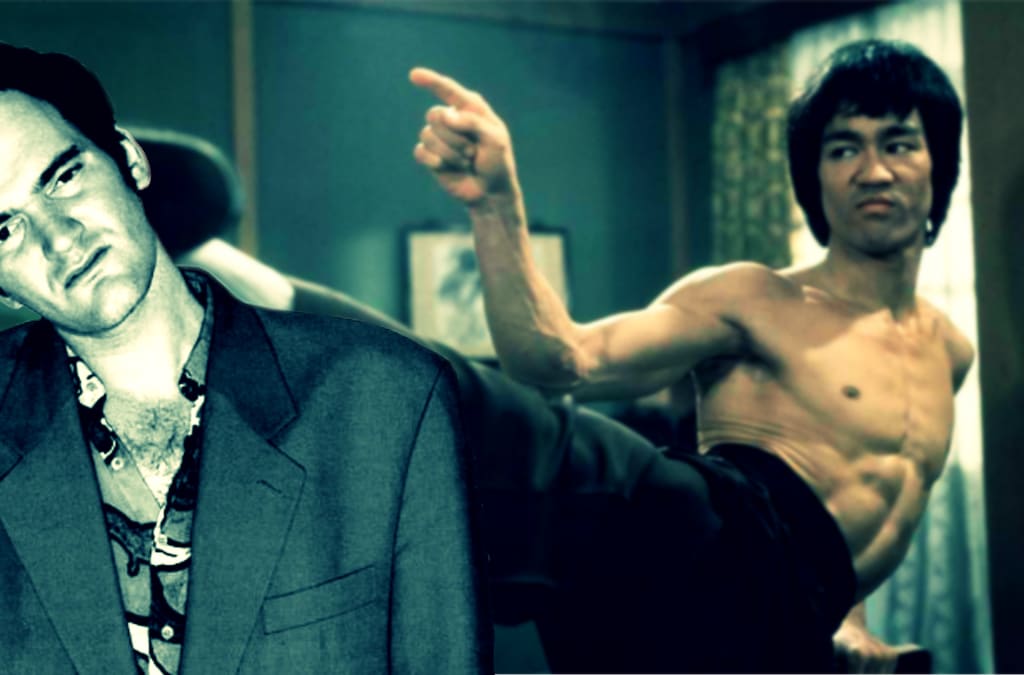 Composite illustration: Paco Taylor (STP Design)
Okay, the suggestion that Bruce Lee could mop the floor with a guy like Tarantino is conjecture, of course. But it's not something that a sane person would doubt. On TV shows, in his films, and in the lessons shared with those who studied under him when he was alive, Bruce Lee executed some of the most dynamic displays of martial arts mastery ever witnessed.
Even today, now some 46-years since Lee's shocking, early death in July 1973, the still beloved fighter/film star/philosopher is described by kung-fu flick aficionados as the greatest martial artist who ever lived.
But despite Lee's extraordinary fighting prowess, and lightning-quick agility––an extraordinary combo of which Lee himself was no doubt acutely aware––he didn't appear to come across like the cocky, semi-delusional blowhard conjured up by Quentin Tarantino for his 2019 summer blockbuster Once Upon a Time in Hollywood.
In fact, to call the representation of Lee that Tarantino created for the screen a gross mischaracterization would be a big, fat understatement.
Once Upon a Time in the head of Bruce Lee 'Hater'
In a highly controversial scene in the film, Cliff Booth, an aging and wholly fictional stuntman played by Brad Pitt, has a flashback of an encounter with Lee that took place a few years earlier, on the set of the 1966 TV show The Green Hornet. The recollection comes while Booth is fixing a TV antenna on top of a house owned by friend, employer, and equally fictional Western film star Rick Dalton, played by Leonardo DiCaprio.
In Booth's false memory, Lee (played with relish by Mike Moh) is holding court on the studio lot, surrounded by stuntmen and film crew. The star makes the claim that if ever he got the chance to fight champion boxer Cassius Clay (the birth name by which Muhammad Ali was still frequently called back in '66), he'd "make him a cripple."
His bold claim elicits chuckles from Pitt's Booth, who calls the brash trash talker a "little man with a big mouth and a big chip." The stuntman then adds a sharp twist to the dig by telling the young martial artist that he should be embarrassed to even think he'd be anything more than a stain on the back of Clay's boxing trunks.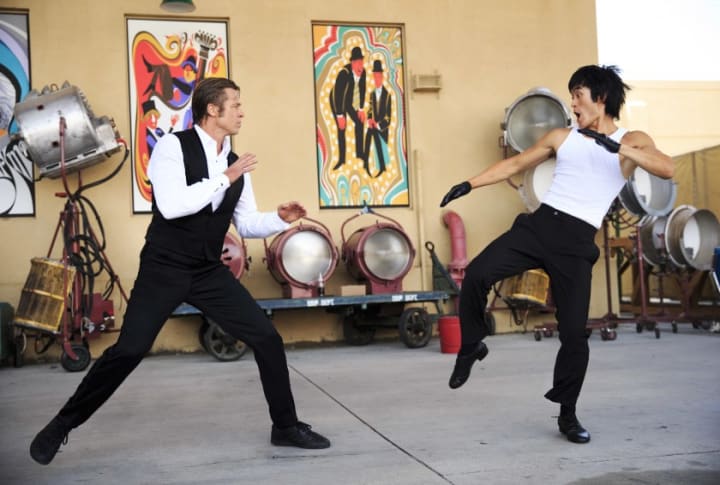 The chest thumping then escalates into a "best two out of three" set duel, which ends in an abrupt and unsatisfying draw. But the way it shakes out is largely at the expense of Lee's very real place in the popular imagination, where he remains a somewhat unbeatable bad-ass.
Art, however, doesn't purport to imitate life. Especially not the cinematic art created by a filmmaker like Quentin Tarantino, whose 35mm masterpieces often have alternate histories threaded into them.
Just generally not so obnoxiously.
But, then, on the subject of martial arts film stars, and Bruce Lee in particular, Tarantino's perspective actually proved more than 25 years ago to be spectacularly at odds with reality.
The Greatest Working Actor in Martial Arts Movies Ever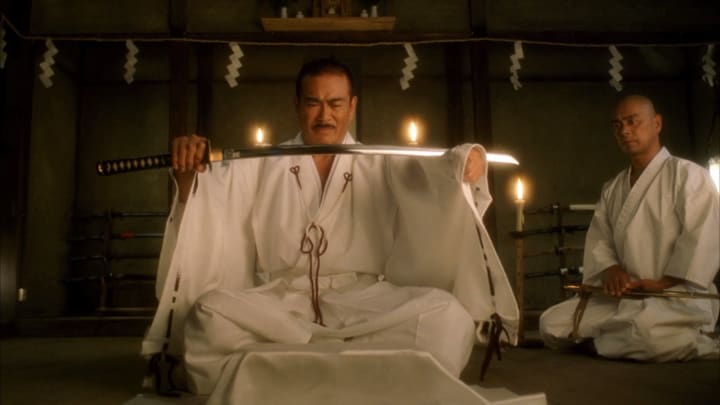 Despite his seeming homages to Bruce Lee, as woven into the Asian-influenced epic, Kill Bill (vols. 1 & 2), Tarantino's perspective on the martial arts legend has been sus (read: suspect) since 1993. It was back then that a line of dialogue that was shockingly dismissive of Lee's impact was first heard in the screenplay that Tarantino wrote for the Tony Scott film True Romance.
In an early scene in the film, Sonny Chiba, the Japanese star of the 1970s Street Fighter series, is glowingly described by the film's protagonist, Clarence (Christian Slater), as "bar none, the greatest actor working in martial arts movies ever."
I repeat: Bar none, the greatest actor working in martial arts movies ever. Quentin Tarantino wrote film dialogue that expressed that absurd notion.
Even now I can only shake my head.
Sonny Chiba probably shook his head when he heard it.
That honor paid to the Street Fighter star sounded like the kind of thing some cornball hipster cinephile would say to try coming off as someone who goes against the grain. But only because they've got nothing better to do than to try to piss off people who actually watch martial arts movies.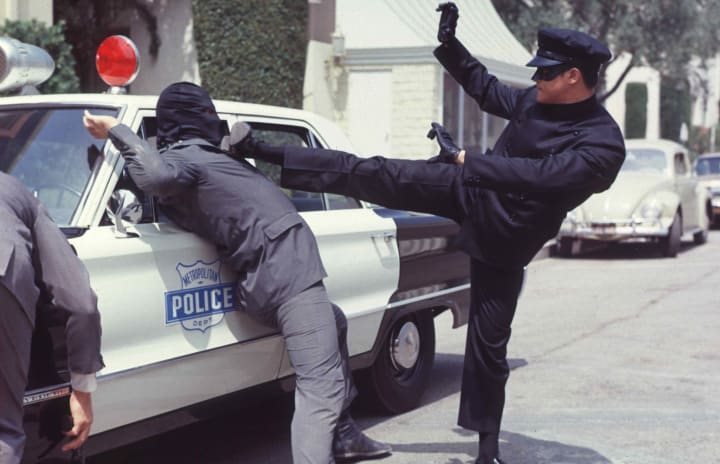 That's not to say that Lee was the greatest working actor in martial arts movies ever. There are several film stars upon whom such a title could be bestowed, Gordon Liu (who also appeared in dual roles in Tarantino's Kill Bill), and Jackie Chan among them.
It just sure as hell ain't Sonny Chiba, who was a respectable martial arts movie star in his own right. But nowhere near the level of Bruce Lee.
And yeah, it's a free world, and everyone is entitled to have opinions and all that. We're just not entitled to have that one.
Well, unless you actually want to soundlike a cornball hipster cinephile.
cin·e·phile |ˈsinəˌfīl | noun: a person who is fond of motion pictures.
Anywho, Tarantino is Sonny Chiba's #1 fan on the planet. A second thing that proves this it is the "Ezekiel 25:17" spiel from Pulp Fiction (1994).Countless many fans have still yet to discover that this line wasn't quoted from The Bible. It's actually the opening narration of the 1973 film, Kiba the Bodyguard––which starred Sonny Chiba.
In 2003, Tarantino's Sonny Chiba man crush would come to a satisfying climax when he got the martial arts movie legend to appear in Kill Bill as the samurai swordmaker Hatori Hanzo.
But in full light of the aforementioned, someone who's that much of a Sonny Chiba fan could hardly be trusted to rightfully honor the legacy of Bruce Lee. That's like entrusting a diehard Chevy dude––the kind with that tasteless 'Calvin & Hobbes' sticker on the back of his Silverado pick-up truck––to direct a TV commercial for the Ford F-150. A disrespectful dig of some sort is inevitable, like the unflattering caricature seen in Once Upon a Time in Hollywood.
But another film director's work can help us to put things right.
Righting Tarantino's wrong on Bruce Lee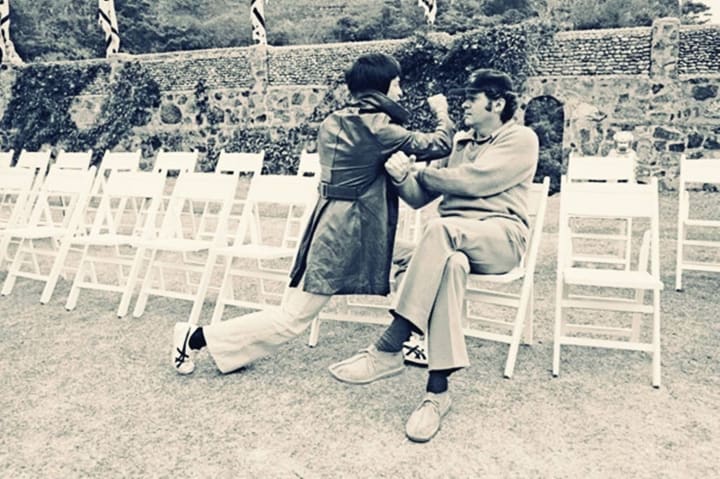 Fortunately, there's no shortage of information about a martial arts movie star who's as culturally relevant as Bruce Lee. One of those sources is the late filmmaker Robert Clouse, who worked with Lee on the 1973 masterpiece, Enter the Dragon. It was also Clouse who completed Lee's unfinished final film, Game of Death.
Clouse also published a book on the martial arts legend's life entitled Bruce Lee: The Biography, in 1987.Among its many revelations are two passages that reflect the impact of Muhammad Ali on the martial artist and what he thought would happen if they were ever to go mano a mano.
Below is an excerpt that makes quick work of Tarantino's gross mischaracterization of Lee, and his outlook on the matter:
... Yeung, AKA [Bolo] went to see Bruce at Golden Harvest Studios. Bruce was screening a Cassius Clay [Muhammad Ali] documentary. Ali was world heavyweight champion at the time, and Bruce saw him as the greatest fighter of them all. The documentary showed Ali in several of his fights. Bruce set up a wide full-length mirror to reflect Ali's image from the screen. Bruce was looking into the mirror, moving along with Ali.
Bruce's right hand followed Ali's right hand, Ali's left foot followed Bruce's left foot. Bruce was fighting in Ali's shoes. "Everybody says I must fight Ali some day." Bruce said, "I'm studying every move he makes. I'm getting to know how he thinks and moves." Bruce knew he could never win a fight against Ali. "Look at my hand," he said. "That's a little Chinese hand. He'd kill me."
Putting this even moreso into perspective, Lee stood five foot seven inches tall and weighed some 145 pounds. Ali, on the other hand, stood at a towering six foot three and weighed in at 210 pounds when he claimed the world heavyweight boxing title for a second time in 1965.
Clearly, Tarantino should have done a fact check using google search and a calculator.
At the very least, he could have watched a few YouTube videos to get to know the real Bruce Lee before creating an unfitting caricature for Once Upon a Time in Hollywood.
Lee's memory and his legacy deserved nothing less.
Reader insights
Be the first to share your insights about this piece.
Add your insights