Brown Paper Packages Tied up in String
Peter Kenneth, The Potter Collector
Sunday morning, coffee in hand, blanket laying over my legs and, in the background, plays a YouTube video from The Potter Collector hosted by Peter Kenneth. This morning, I have chosen to watch the unboxing of his fan mail. I really enjoy Peter's Personality and it shines as he opens each post. The fan mail is my favorite topic to watch because it is full of love. Not just love for Peter but for Harry Potter itself. I love seeing all the fan mail he receives from various parts of the world. Talk about uniting a group of likeminded people together. I and many of his fans love watching him as he reads fans letters and opens boxes while singing, "Brown Paper Packages Tied up in String". The patrons watch as he unwraps the package and we get to see his reaction to the object. Never and unkind word spoken. No ones ability is criticized. He makes that one person feel like their effort is appreciated. I am always amazed at the creative creations he receives from his fans and I love to see his reactions when he unwraps each package for, he is so genuine in his appreciation. I just love watching him as I take on a well needed rest. Nerding out on my Sunday is best spent with the Potter Collector.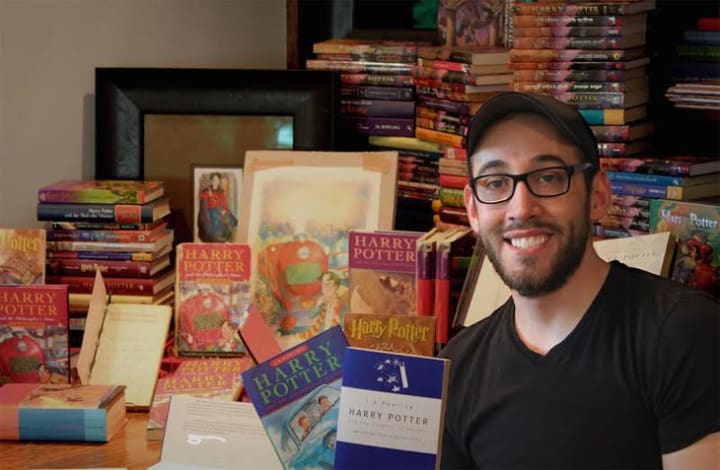 Peter, The Potter Collector, has a following of fans over 490K and, in my opinion, this following is well deserved. His knowledge of Harry Potter and the topics he covers is well presented to his fans. One can tell that he really cares for his patrons. All his videos bring his followers together from all around the world as one big family. People often mention in their letters that they feel as though they are part of a Harry Potter Community. His virtual town of 490K people a gives many a place to go, where people interact, and just have belonging and acceptance. This alone, is a good reason that he should be recognized as an iconic YouTuber.
I am sure that Peter would never ask a woman her age for he is a well-mannered individual. So, I feel it is important for you to know that I am over 50 and so are many of his fans. Once, while he was taping live, he asked for ages of those who were watching and there were many watching above 50. Amazingly, the oldest fan was 82. Peter had unknowingly built a multi-level, multi aged virtual community. The young and old have a place to go and to geek out and Peter makes us feel safe and accepted in his space. Young or old, we belong.
I love the moments when he says, "Do not let others tell you what you can and cannot like. Don't let them bully you because you like Harry Potter." Caring, for all his patrons is obvious and he has built a good safe place for parents to let the young become a part of the Potter Community. All I can say is, "Well Done Peter."
"Well-done, well-done indeed", said in the best Dumbledore interpretation. I love the topics he has covered. His channel covers many things such as merchandise review of magical items that one can collect from different venues. As a fellow collector his reviews of magical crates helped me to choose which crate to subscribe to. His Universal studio tours video helped me to plan my first visit during Covid restrictions. I would have gone hungry because one must order your phone to order food. He showed this non-tech traveler how to run the Universal App to secure tickets for rides and how to order food via the app. I am so old school that I wouldn't have known what to do. He saved me from hauling shopping bags and purses all over the park by showing the patrons how to send packages up front so you can be hands free in the park. This was very important for I was a shopping fiend. His hints were so useful and it made the experience so wonderful. Of course, I watched New York Store tour video so I arranged for my friends and I to go to the store and also go see the Cursed Child in the evening. I did however, choose to put the London store onto my wish list for now. Okay, I am a big kid at heart so his cosplay topics has triggered my imagination to where I can go. I love potions and herbology so I had hired a seamstress to make my own costume for me to go and enjoy cosplay events. I am sure Peter will find more topics to cover in the future for the collecting world has increased as the magical world continues to grows. He has put together an all-inclusive well-done video collection for other Harry Potter fans.
"Brown paper packages tied up with string." Is one of his favorite things. Peter receives a lot of fan mail and opens them online. Many packages are now wrapped in brown paper packages and yes, they are tied up with string. He opens each gift on camera and shows what was tucked inside. Many cleaver creators send him home made wands and other crafts. The appreciation his patrons show in their crafting is amazing to see. Christmas must be boring for him because well, most Christmas gifts aren't unique. However, Post day, that day must be more exciting than Christmas for him. For, each brown paper package contains a rare and unique gift inside. No one knows what will come from each box. We see his reaction, see the item, and bask in his happiness. Pure happiness as he celebrates and appreciates his loyal patrons. Just shows that he has built a community tied together for the love of Harry Potter and himself. I admit, I enjoy and never tire of hearing him sing, "Brown Paper Packages Tied Up With String." for this is one of my favorite things.
Lastly, I am an archivist. I nerd out at work all day and all night. In the past, I have worked at the museum and I think Peter should get his wish to have a museum. As I sit here watching videos, I think about all that consist of all those treasures he is sent by his fans. The worldly love for Harry Potter is immense and so is the need to preserve such treasures. Really, his collection is unique and each item should be kept in some form or fashion to and a museum is not out of the question. I could see all the hand drawn pictures scanned, saved in the archives, and shared digitally with the world. I am not certain he understands that his collection is a part of culture to many people. Dates, stamps, and letters are historical documentation. I am sorry to say, I am unable to offer such establishment for him but I support his dreams of a museum. The Peter Kenneth Museum or The Potter Collector Museum would be much deserved and I would be one offering my services in the establishment.
A Sunday of Happiness is his gift to me. A community of fellow Potter Heads was a gift to me. The freedom to be me if a gift indeed. His efforts are a gift to me. Seriously, the man has a gift of giving to others and I am not talking about his giveaways, but a gift of acceptance and understanding. What a nice way to spend a day. Nerding out in the Harry Potter world, for me, is the best ending to a week. I hope, if you like Harry Potter, you will go and see what The Potter collector can bring to your world.
collectibles
Welcome to my world.
Welcome to my thoughts.
I am proud to be a Native American Elder born and raised in Northern Michigan. Thanks to my hard work I have a B.A. in Education and a Masters in Administration and Supervision in Education.
Receive stories by Sheila L. Chingwa in

your feed