British Black Artists
Twenty Talented Artists to Support and Purchase From

Artwork by Creative Curls
If I were not in my twenties and attempting to budget like a proper adult, I would have spent the majority of my money on artwork by now. Instead I have developed a slight addiction to scrolling through Instagram for hours on end, flicking from artist to artist and admiring their work. Additionally, if I see a piece of artwork that I like in a gallery or museum, I'll purchase it in the form of a postcard or print, as this is the most efficient way of cluttering my walls with artwork without spending lots of money. However, I have not taken much time to notice how whitewashed my Instagram art feed and my wall of postcards have both become. Without even noticing, I have severely disregarded the lack of diversity in the artists that I admire and purchase from.
With momentum gaining internationally towards the Black Lives Matter movement, I accepted my fault of not acknowledging a lack of diversity and decided to immediately do something about it. I started trying to diversify the artists I engaged with by actively seeking out Black artists, particularly on Instagram. For a couple of weeks, a lot of brilliant artwork from a variety of Black artists was being shared on Instagram, so I followed these artists with great excitement and shared their artwork eagerly with my network.
With a bit of money saved up from work, I decided that I wanted to purchase some artwork by Black artists to support the first ever Black Pound Day happening today (Saturday 27th June 2020). However, I encountered two major problems. Firstly, the majority of the Black artists being shared on platforms like Instagram were from the USA. And whilst I have continued to share their beautiful artwork to my network, living in the UK and buying postcards/prints from the USA is not only expensive, but also costly for the environment. Secondly, most of the artwork that is being shared on social media is work from famous British Black artists who do not sell their artwork for cheap.
And so, I decided to take matters into my own hands. I spent an entire day flicking through Instagram, Pinterest and Etsy in an attempt to find Black artists that were based in the UK and selling artwork for an affordable price. When I first started searching, I just typed in 'Black artists UK' into Etsy and instead of finding British Black artists, I mainly found white artists who have recently begun to produce BLM artwork in order to fundraise for BLM charities and a lot of black & white drawings. I was quite disappointed by this – I was expecting to find something similar to Spotify where you type in 'Black artists' and it comes up with tonnes of playlists filled with Black musicians. Maybe I was expecting too much of Etsy. Or maybe Etsy needs to just wake up and start championing Black artists?
Thankfully, after a lot of browsing, I found twenty incredibly talented British Black artists who are selling a variety of affordable artwork. Enjoy their artwork and if you find this article useful, share it with your network!
#blacklivesmatter
Armanda C Photography
"I'm a visual artist with a hunger for glimpses into the past and an eye for great design. In my work I want to evoke a feeling of nostalgia with the vibrance of culture at the forefront."
https://www.etsy.com/uk/shop/ArmandaCPhotography/

BlackBellePrints
"I have designed illustrations which I consider to be stylish, modern and cute. My illustrations are a combination of digital art and hand painted artwork. Some of my artwork will have an afrocentric theme, to capture the beauty of my culture. As well as this, my prints try to capture the beauty of what it is to be a female."
https://www.etsy.com/uk/shop/BlackBellePrints/
Instagram: @blackbelleprints

Creative Curls
"Creative Curls is a UK based Artist that has always been drawn to anything both colourful and creative. Having specialised in acrylic paint for the past 7 years, she uses her abilities to bring awareness to the traditions and cultures of predominantly black and ethnic minority groups."
https://www.creativecurls.co.uk/
Instagram: @creativecurls_

Dorcas
"I'm a finance grad with a love of fashion, illustration and all things crafty. A lot of care goes into each piece I make, they are literally made with love! I enjoy being crafty and creative and am happy to be able to share my passion with you."
https://www.etsy.com/shop/dorcascreates
Instagram: @dorcascreates

Esme Lampard
"Bold prints, from iconic faces to florals and fashion"
https://www.etsy.com/uk/shop/EsmeLampardArtworks/
Instagram: @esmelampard

Honey Williams
"I am Honey Williams, I am a Sonic and Visual Artist & Designer. That means that I am an Artist, Graphic Designer, Illustrator, Singer. Decolonising beauty, identity, race, music and history currently inspires my art."
https://www.etsy.com/uk/shop/THEHONEYEFFECT/
Blog: https://thehoneyeffect.wordpress.com/
Instagram: @thehoneyeffect

Kay Davis
"I'm a multi-disciplinary Artist based in South East London and a graduate of Central Saint Martins, BA Textiles Design. Through Painting, Illustration, Textiles Design and more I create stories that interlink with ongoing themes that celebrate youth, Black culture, Girlhood and all things nostalgic. Using design to pay homage to my upbringing I connect community whilst evoking memories of childhood."
https://kaydavisartist.bigcartel.com/
Instagram: @kaydavisartist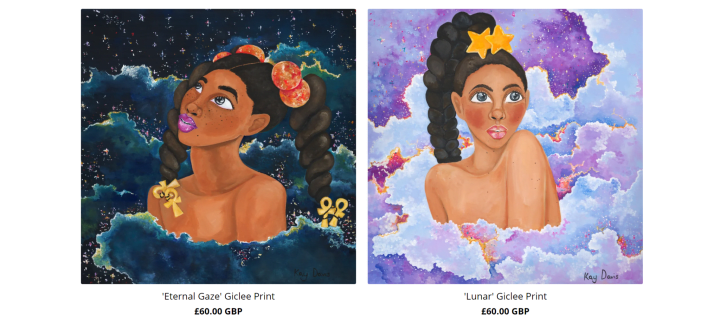 Kirsty Latoya
"Kirsty Latoya is a 20-something-year-old, artist from South London who specialises in digital illustration. She concentrates on important issues such as mental health through her art."
Instagram: @kirzart

Line and Honey
"Line and Honey is a brand created out of a need to amp up the self-care in a busy, ambitious and fast-paced world. Focused on feeling visible and feeling well (within ourselves and our minds), all of the creativity that comes out of Line and Honey is done so with the intention of using art to be mindful and relaxing, focusing on the visibility and unapologetic attitude of women of colour."
https://lineandhoney.bigcartel.com/
Instagram: @line_and_honey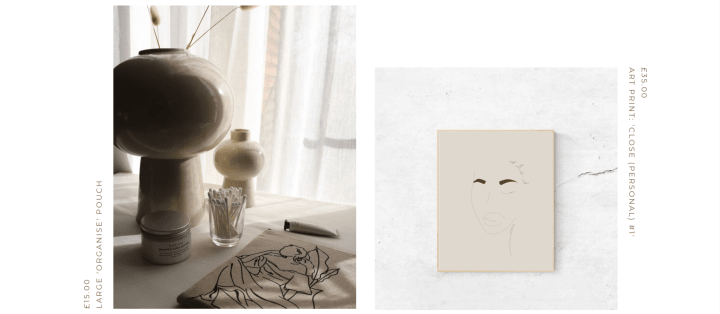 Lola Betiku
"Hugely inspired by movements such as Fauvism and Expressionism, Lola Betiku – better known by the moniker labet – is a self-taught visual artist born and based in East London. labet draws influence from her rich Nigerian heritage and explores themes within feminine identity and cultural pride."
https://www.labetmakesart.co.uk/
Instagram: @labet.makes.art

Merissa Hylton
"I am a mixed media artist and sculptor from Reading, Berkshire and the founder of Black British Visual Artists. I worked as a bespoke textile & interior designer deciding to leave the corporate design world to return to my first love – art."
https://www.merissahylton.com/
Instagram: @merissahyltonart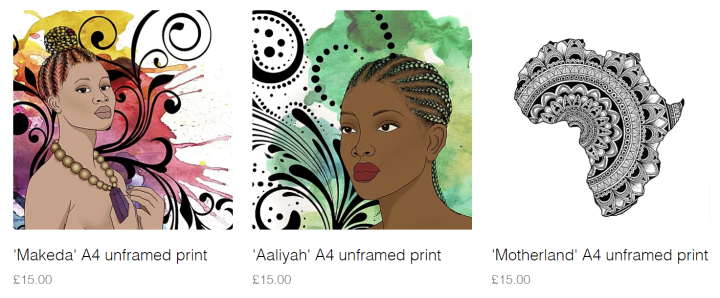 Pearl Ivy
"My name is Pearl Ivy (yes, its my real name), I'm a London-based Artist and Designer. From a young age I have always had a love and passion for art. I loved that I was able to express myself and there were no limitations."
https://www.pearlivyshop.co.uk/
Instagram: @pearlivyshop

Pembe Kumbi
"Pembe wants her art to give young Black girls and boys the courage and believe that Black is truly beautiful. This is why she creates beautiful cartoon like characters ( as seen in her Afrikan Queen collection) to show black beauty. Pembe wants to make you feel like you are of Royalty and greatness."
https://www.etsy.com/uk/shop/Kumbi10kouture/
Instagram: @kumbikouture_official

Rahana Dariah
"Rahana is an artist based in London. An illustration graduate from Cambridge school of Art. Rahana's work, mostly full of colour depicts everything that has influenced her in life from growing up a British West Indian and teen life in Saint Lucia to her spirituality."
https://www.etsy.com/uk/shop/RahanaBananaStore
Website: https://www.rahanabanana.co/about
Instagram: @rahanabanana

Saki Douglas
"Artist & Designer, Acrylic and Pastel Paintings."
https://www.etsy.com/uk/shop/ArtBySaki
Instagram: @sa.ki.dee

Samantha Duro
"SketchByDuro aims to inspire with a unique blend of afrocentric and modern African art with a twist of floral designs. "
https://www.etsy.com/uk/shop/SketchByDuro/
Instagram: @sam_d_duro

TeenyWishes
"Illustrations & handmade greeting cards for all the Princes & Princesses of colour. Bringing fairy dust, spaceships, doughnuts and more to paper. Like many others I believe it is incredibly important for children to see a representation of themselves, whether in cartoon form or reality."
https://www.etsy.com/uk/shop/TeenyWishes/
Website: https://www.teenywishes.com/
Instagram: @teeny_wishes

Tia Ellis
"All our products are inspired by my love for calligraphy and doodles."
https://www.etsy.com/uk/shop/TiaEllisDesigns/
Instagram: @tiaellisdesigns

Tia-Marie Taylor
"My name is Tia-Marie and I am a 24-year-old artist from South East London."
Instagram: @tiamarieart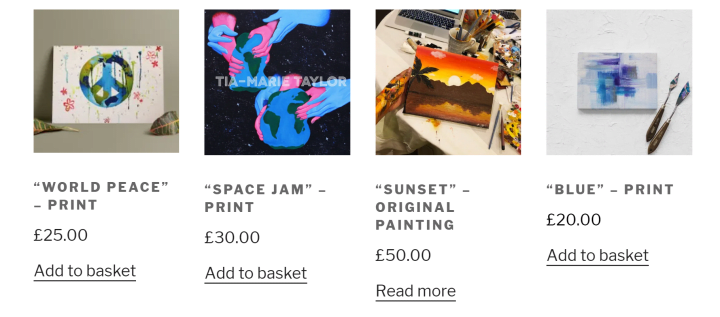 Zoë Sinclair
"I think it's very, very important to have positive role models around to inspire, motivate and exemplify values and behaviour worthy of imitation. So I created these limited edition prints featuring iconic heroes and heroines, to celebrate them and the marks they've made on the world, and to inspire others to be bold in the pursuit of their dreams. The stunning African fabrics provide beautiful colour and pattern and also pay homage to the heritage of these inspirational people."
https://www.etsy.com/uk/shop/FrequencyOfLove
Website: https://www.frequencyoflovebyzoe.com/
Instagram: @frequencyoflovebyzoe