Bring Your Own Chair...While Working On A Film Set
You're Never Entitled to One Necessarily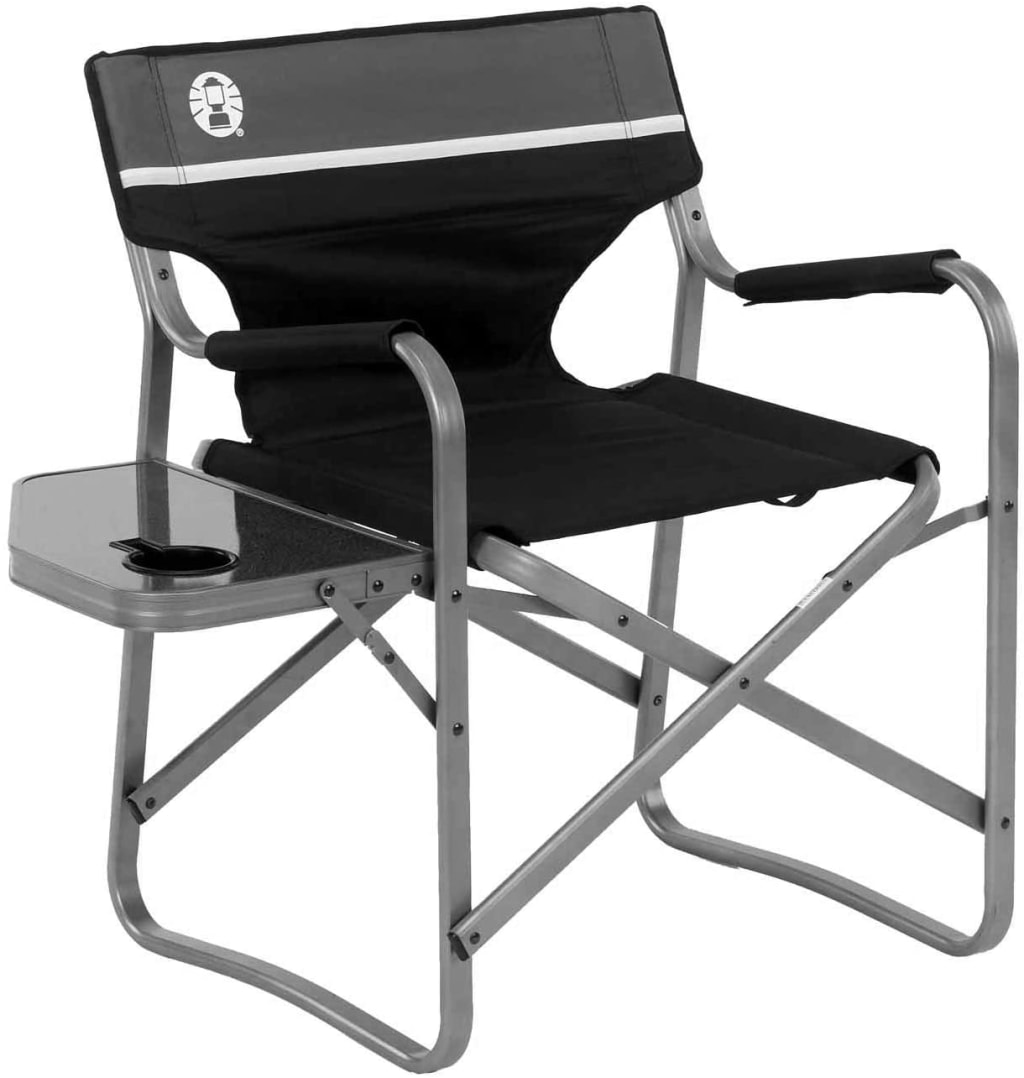 Bring Your Own Chair While Working On A Film Set
In the life of a Stand-In or any other crew on set for that manner. Bringing your own chair can provide you greater comfort, flexible mobility, and save you from embarrassment.
I have noticed that several of the principal actors have now purchased and brought their own chairs to set. The prop department takes care of them and provides day-to-day transportation for them. Most actors can't wait for the day that they are a series regular or principal character in a feature film if only to have their own director's chair with their name on the front and the production's name on the back. However, some of those chairs aren't comfortable or practical. They are high, making it awkward to get into for shorter actors, the seat and the back is hard. They don't have any tables for your snacks or work. Only recently have I seen director chairs offer cup holders, and side sleeves (to hold your script). Some actors' chairs look like they're on a camping trip.
Stand-in's and photo doubles bringing their own chair is a must. Set can be on a soundstage, on location, during the day, at night, during a sunny day, during a dry day, during summer, winter, spring, and fall. The access to be able to park one's butt is essential because your actual job requires standing for a period of time. For catering and extras holding, it is the responsibility of the locations department to provide chairs. Locations might rent a finite number of chairs depending on the number of personnel any given day. You cannot depend on a folding chair being available for you to carry around. Not to mention those chairs are usually returned or moved on to the next set for the following day; sometimes after lunch- and here you are, still hogging the chair as your seat. A simple outdoor folding chair with a cup holder (that costs no more than $20) will suffice. Other departments are in the same boat as you and bring their own chairs; this includes hair, makeup, wardrobe. Unlike background, wherever set is, stand-in's need to be close by, so you need to be flexible to move, and your chair...at a moment's notice. Camera ops sit on their dollys, grips sit on apple boxes, the director/DP/writer/producer/script supervisor/DIT/Sound/Gaffer have their own villages. AD's never sit. P.A NEVER sits! Bring your own chair!
Being a background actor, there are advantages of bringing your own chair. I mentioned earlier that the Locations department is responsible for proving chairs to extras holding, depending on the numbers for that day. Sometimes the numbers can be off, or rush calls can occur to increase numbers. In any case, you could be shit out of luck where nowhere to sit. This is exacerbated when background put their belongings and luggage on remaining chairs. Secondly, these chairs are usually hard and uncomfortable. You will be sitting here for hours, perhaps reading and taking a nap. You will want to sit in comfort. Bringing your own chair, especially a unique chair will spark a conversation. Ice breakers are key to networking in this industry. I will issue a small caveat. Some extras holding spots might not be big enough to lug a large chair at one of the tables. Note- At this time of this writing in the COVID pandemic, where background numbers are lower, there will be more space in holding).
Below is my chair recommendation- the one I used on the set of "Macgyver"
https://amzn.to/3ll4CQ5
industry
About the author
Kevin graduated at the University of Southern California for Theatre & Cinema
Kevin has dozens of background & stand-in credits, over 20 principal credits, and over 20 below-the-line production credits including the Academy Awards/Emmys
Reader insights
Be the first to share your insights about this piece.
Add your insights