Book Review #5 - Rabbit Hole
Mark Billingham's new 'Whodunit'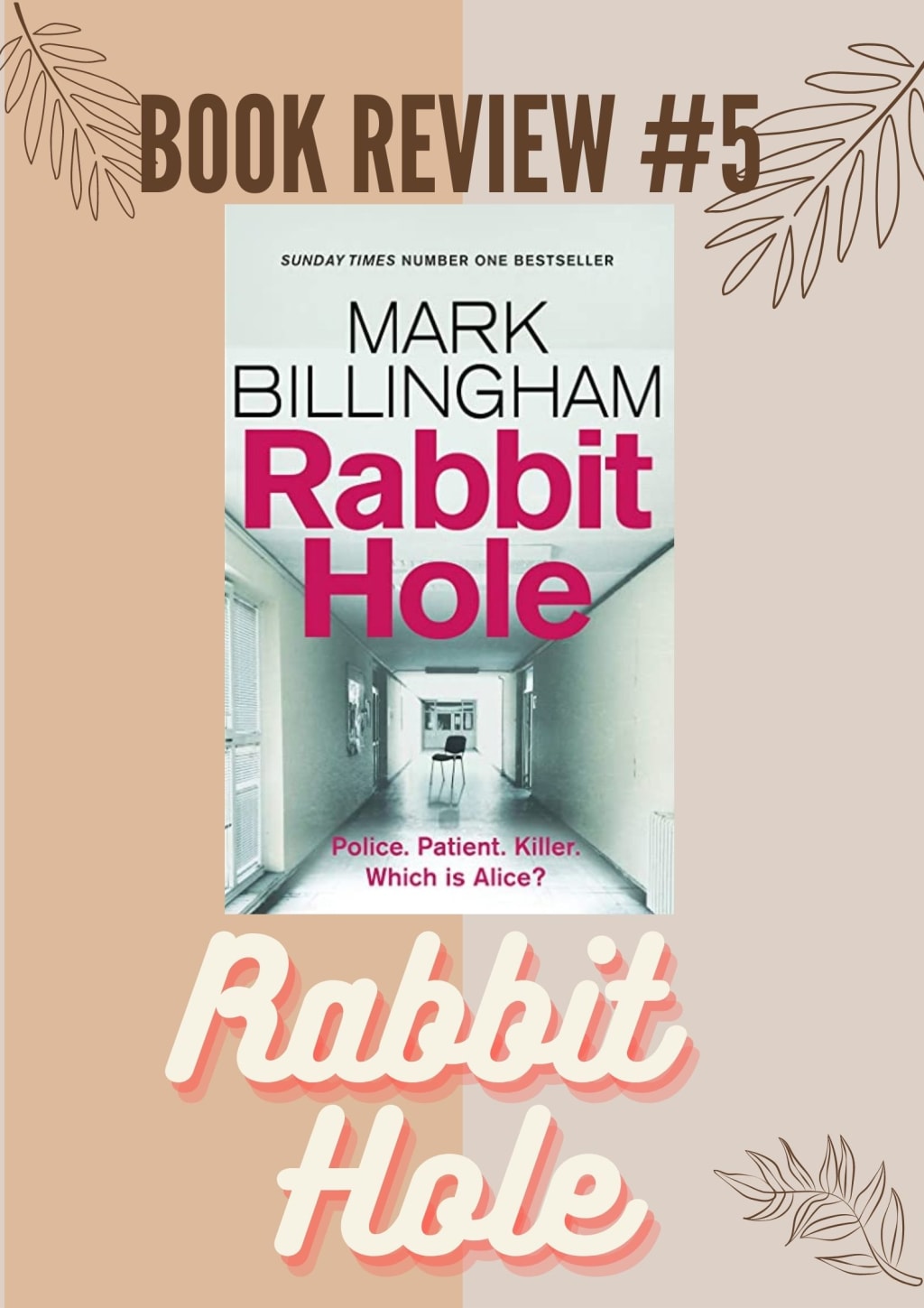 Picture designed on Canva
Mark Billingham has returned with a new stand-alone novel and a new detective. From his usual detective Tom Thorne, we are introduced to Alice (A.K.A. Al) Armitage who has the time of her life investigating a murder at a mental health hospital, whom herself is also a patient.
Author : Mark Billingham
Publisher: Sphere
Genre: Thriller, Crime, Psychological
All racing around my brain and I couldn't put the brakes on.

Stuck in a loop.
Plot
'They were meant to be safe on Fleet Ward: psychiatric patients monitored, treated, cared for. But not one their number is found murdered, and the accusations begin to fly. Was it one of his fellow patients? A member of staff? Or did someone come in from the outside? DC Alice Armitage is methodical, tireless, and she's quickly on the trail of the killer. The only problem is, Alice is a patient too.'
By reading the blurb, questions are already being thrown about and they draw you in, so many opportunities and roads to travel down. The plot itself is full of twists and turns, at first I didn't know what to think or do but I quickly found out that all I had to do was sit back, relax and let the Billingham tell me the story.
The plot itself is mainly set within the walls of the mental hospital, we rarely leave this setting and see the outside world. I believe this to be pinnacle as those who suffer from mental illness, live in their own isolated world and rarely experience other worlds. Having the reader be with them in this isolated and monotonous setting also bring the reader to their level.
Narrator
The narrative is a omniscient first-person narrative, we see from Alice's point of view. We see her thoughts, we feel her feelings and we experience her ups and downs and we also solve this case alongside her.
I also find this type of narrative extremely effective in expressing the inner workings of the mind. Because we see the inner thoughts of our protagonist's mind therefore we experience how mental illness works, although we can never fully understand, we get some snippets of what its like to experience PTSD, Schizophrenia, Depression, Delusions and Dementia and also Addiction.
Well, aside from the blood-soaked elephant in the room, which is the fact, two days later - yesterday- to be precise - I was the one who found the body.
There were so many things that I really enjoyed about this book. The way the tension just kept coming, each chapter had it's own arc, problem and fight. Each chapter played a massive role to the overall plot and story, no chapter left you bored or took a break.
The chapters were short and sweet which was effective in keeping you glued to the pages and wanting more, I find long chapters a climb and I loose concentration fast when chapters are like that, as I am waiting for the next part of the story to commence.
Because we experience different mental illness, this means that each character is unique, no two are the same, even the staff and police officers are different in their own way. The mental illnesses themselves make the case solving all that more exciting and interesting as each illness each has it's own way of making the character the suspect in the murder.
More and more I found myself staying up later to finish this book. The ending itself left me satisfied and wanting more, the twist at the end was nothing like I was expecting and it honestly left me open-mouthed and speechless which is very rare for me. I have already passed on this book to friends and family to read for themselves.
Overall
I would rate this book 8.5/10. Putting this book on my "Read Again" shelf. It's complicated but also very simple to understand and follow.
About the Creator
Hello! Charna Sanson
I write video game reviews. I love all genre of games!
Been a gamer since my father handed me a controller and have been avoiding responsibility ever since!
Twitch: https://www.twitch.tv/hammieplay_z/about
Reader insights
Be the first to share your insights about this piece.
Add your insights