Marvel Superheroes
'Black Panther': Marvel's Ground-Breaking Success
The Black Panther movement celebrated
There are periods in history that are altering, game-changers. In 2018, Marvel Studios released the Ryan Coogler-directed black superhero film titled Black Panther based on the eponymous black superhero of the same name.
As a person of color who watched the film at the movie theatre with family, I can say that Black Panther was an experience that was inherently a family affair. That Ryan Coogler could make a black superhero film that could appeal to black families and at the same time, satisfy the need for entertainment is a success for Marvel.
Black Panther for all the science-fiction technology, superheroics, royalty and action woven into the film, Black Panther is inherently a film about identity. Black Panther, played by Chadwick Boseman, stands tall among Marvel superheroes as its true royalty, an African king!
The Black Panther movement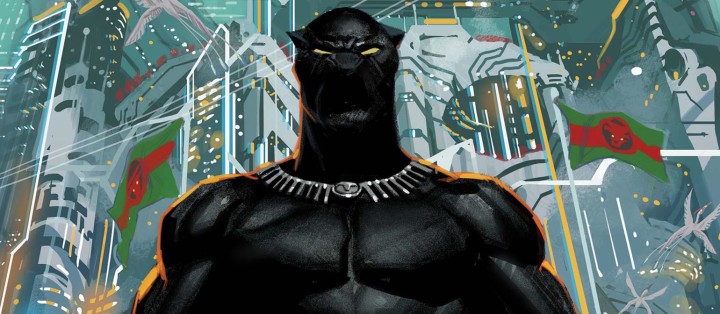 Black Panther is a product of the 1960s. Stan Lee debuted the character in 1966 in Fantastic Four #52. He became a member of The Avengers two years later, and appeared in his own comic as late as 1977.
The series centers on T'Challa, king of Wakanda, and the wealthiest fictional character in the Marvel universe. Unlike many other heroes, T'Challa inherits his mantle from his father T'Chaka (the previous king), and gains his powers—including superacute senses and enhanced strength and speed—from a combination of skill, divine favor and a special herb. In a 1990 interview with The Comics Journal, co-creator Jack Kirby described why he created the character: "I came up with the Black Panther because I realized I had no blacks in my strip… I had a lot of black readers. My first friend was… black! And here I was ignoring them because I was associating with everybody else."- "The Real History Behind the Black Panther", History
Black Panther is in a historical context. The character was created during the Civil Rights Era, of the black struggle for equality in America. In the comic book, the fictional nation of Wakanda is characteristic for never having been colonized by a white power, and for being the most advanced nation on the Earth. It possesses a rare offworld mineral, called Vibranium, which is the source of its technology. It is out of Vibranium that Captain America's invulnerable shield is built by Howard Stark, Tony Stark's father who is openly Iron Man.
The prospect of an African nation freed from the vestiges of colonialism and advanced technologically is one that appeals to African-American sensibility.
Black Panther's story originates in the fictional nation of Wakanda, touted in the comic as the only African country that was never colonized—though many tried. Over the years, observers have drawn real-world parallels between Wakanda and Ethiopia, which was never officially colonized, but was occupied by Italy in the 1930s. Without outside powers extracting its resources, or imposing exploitative policies, Wakanda flourishes and becomes the most technologically advanced country on earth, rich in natural resources such as the fictional element Vibranium. (Sound familiar? It's what Captain America's shield is made of.)- "The Real History Behind the Black Panther", History
Three months after the character debuted, The Black Panther Party formed in Oakland in 1966. In 1972, Marvel changed the character's name in Fantastic Four #119 to "the Black Leopard." It was an attempt to dissociate from the Black Panther Party. The change did not last.
"Since the debut of Marvel's Black Panther had coincided, roughly, with the rise of the Black Panther Party, that had made Stan [Lee] and Marvel concerned that we'd become identified with that group," Thomas said. "And we weren't for or against it."
"I wound up being the guy who wrote that story, in my first-ever Fantastic Four story (ironically set in Rudyarda, a fictitious stand-in for South Africa under apartheid), and I worked in an explanation of sorts," he continued. "But Stan soon thought better of it, and I don't think the Black Leopard ever appeared as such in many stories."- "The Evolution of Marvel's 'Black Panther'", The Ringer
Black Panther celebrated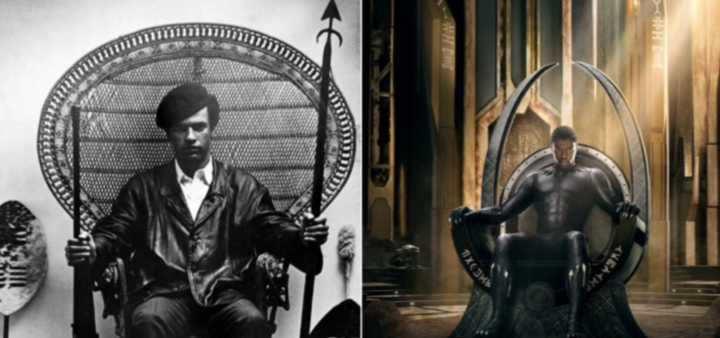 Black Panther arrived in 2018 during Black History Month. It was directed by black director Ryan Coogler, and had a significant black cast. It visibly associated itself with the Black Panther Party.
The above photo, on the left, was shot by Blair Stapp in 1967 and features Huey Newton, the co-founder of the Black Panther Party. Huey is seated on a round wicker chair, with a beret on his head, with a spear and a rifle in each hand. (The Evolution of Marvel's Black Panther) On the right, is Chadwick Boseman in his throne, in a pose reminiscent to Huey in direct homage to the photo.
Black Panther presents as a celebration of African culture. It figures African-American culture returning to its African roots with the added contributions of advanced technology and science. The film is quite certainly an experience, ground-breaking, that features for the first time, an African culture that is modern.
The world of Black Panther co-exists with the world of Marvel's The Avengers, and is situated in the timeline of Captain America: Civil War where, upon the death of King T'Chaka following the Sokovia Accords at the United Nations in Vienna, T'Challa inherits the mantle of king of Wakanda.
The novelty of Black Panther resides in the affirmation that African culture is not to be placed in the past, but rather to be celebrated. The fictional nation of Wakanda presents as the narrative device through which Ryan Coogler can articulate his political vision to a black audience. That an advanced fictional African nation ought not to fear the world in an isolationist policy, but rather, celebrate its difference and be open to it.
"We always saw it like it's a character who's the political leader of a fictional country, but we put it on a real continent," Coogler said during The Hollywood Reporter's Director Roundtable. "We wanted it set in a real world and that's kind of how the character saw himself, how he identified himself, as a politician, so through that it's definitely a political film," he added.- "Ryan Coogler on Why Marvel's 'Black Panther' is a Political Film First", The Observer
Black Panther is a political film, but also a film about black identity and how black people relate to a modern world: whether to take up arms and resist a system of oppression by white people (Killmonger) or build bridges by using the resources of politics, technology, and African culture in order to change the status quo and challenge the white system of power (T'Challa).
Brandon Katz, from The Observer adds:
T'Challa may be the movie's nominal hero, but he's hardly the character general audiences will relate to most. How much in common do you have with a super-powered billionaire king? Rather, it is the antagonistic Killmonger that emerges as the film's emotional anchor.He is the film's villain in the traditional sense, but he's also an audience surrogate for pain. The character's father was murdered when was just a boy; he grew up in impoverished foster care; and his ultimate goal is to aid black people all over the world. In this way, Black Panther becomes more than just a comic book tale of good vs. evil; it becomes a story about dueling ideologies, both of which hold their own merits. Is that so different from the question of morality in the face of violent opposition that drives the center of films like Zero Dark Thirty or Munich?- "Ryan Coogler on Why Marvel's 'Black Panther' is a Political Film First", The Observer
Black Panther challenges the notion that a black man can be a hero, and a superhero for that fact. For once, it shows a fictional African nation, in a position of power and superiority over white nations both technologically and monetarily: In the Marvel Cinematic Universe, Wakanda is the richest and the most advanced nation on Earth, making Black Panther the richest man on Earth.
The opening scene of the movie is set in 1992. King T'Chaka visits his brother N'Jobu, working undercover for the nation of Wakanda in Oakland, California. King T'Chaka accuses N'Jobu of working with black market arms-dealer Ulysses Klaue dealing vibranium out of Wakanda. Zuri, another undercover Wakandan, who is N'Jobu's partner, confirms. T'Chaka kills N'Jobu. His son, Erik Stevens, is left orphan. Follow the rest of the story at the podcast Once Upon a Time in Wakanda.
Performance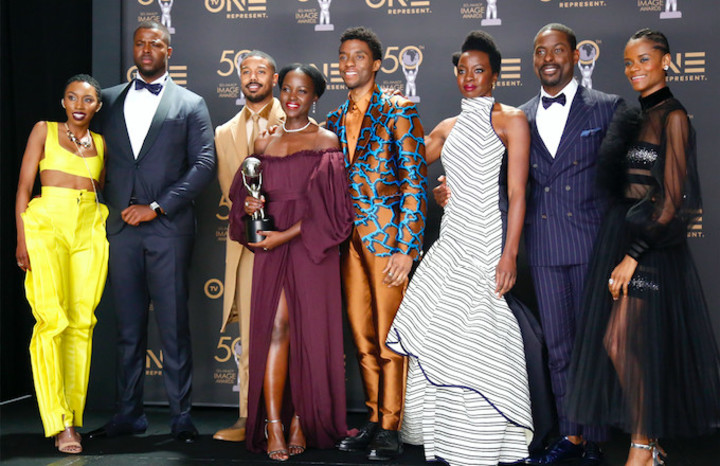 Black Panther grossed more than $200 million on its opening weekend. It went on to gross $700 million domestically and $1.346 billion worldwide. It was one of Marvel's most well received films. Black Panther currently holds a 96 percent critics rating and is certified fresh on Rotten Tomatoes. Its audience score is 79 percent.
Black Panther is one of only five Marvel movies that have won an Oscar. In 2019, it was nominated for Best Picture, Best Sound Mixing, Best Editing, and won Best Original Music Score, Best Production Design, and Best Costume Design.
Recapitulation
Black Panther is associated with the Black Panther Party founded in 1966, three months after the character debuted in the pages of Marvel Comics. Black Panther was created by Stan Lee.
Black Panther is a success for Marvel Studios. It presents a ground-breaking celebration of African culture and black identity.
In the comic book, Black Panther is King T'Challa of the fictional nation of Wakanda, the richest and most technologically advanced nation on Marvel Earth. It has rich resources of Vibranium, the strongest metal on Earth and the source of its technology.
Black Panther is a film about black identity, politics, and ideology. Whether to take up arms and resist white systems of oppression, or build bridges with the modern world using technology, politics, and African culture.
Once Upon a Time in Wakanda, is a podcast about the Black Panther film, its world, its comic book origins, its technology, and how it relates to the Marvel Cinematic Universe.
Black Panther performed well at the box office and was well received by critics and audiences. It grossed $1.346 billion worldwide. In 2019, Black Panther won three Oscars for Best Original Music Score, Best Production Design, and Best Costume Design.
If you enjoy my stories, leave me a tip, or even share my work on social media! Any support is appreciated.
Please share on social media and tip!