Black Clover Filler List - Black Clover Anime Guide
this series aired 149 episodes with only 10 reported filler episodes despite being so successful Black Clover anime has so little filler percentage less than 7%.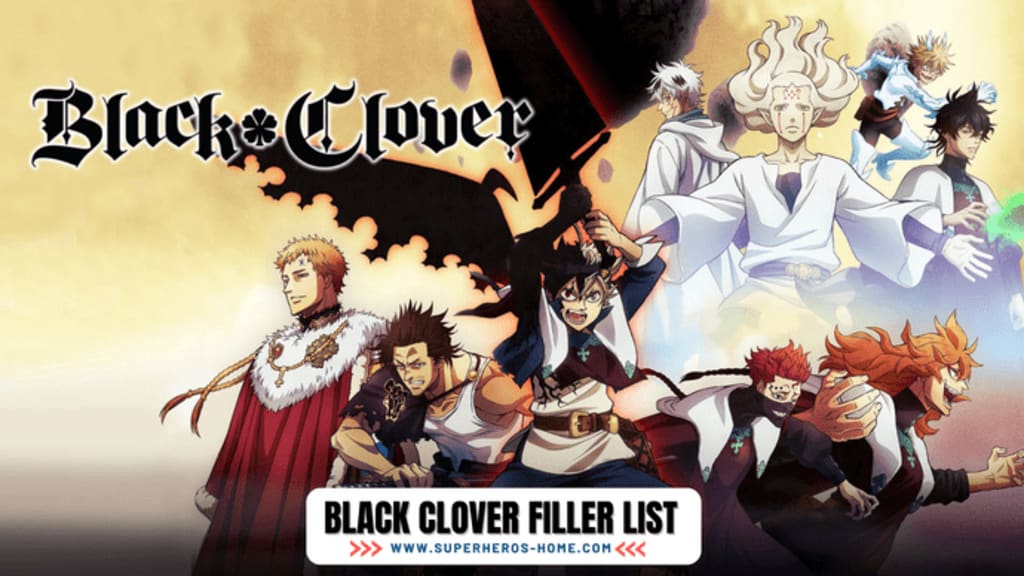 Black Clover Filler List: Black clover anime is Shonen Jump's dark horse which Shonen is currently riding. Fans are loving it's characters, animation, fight scenes and dramatic but hilarious events.
Black Clover anime series started to air since 2017 and until now it's an ongoing series with a new episode every week.
This series about a boy named Asta who is the main character of the series and he wants to achieve his goal of becoming a Wizard king. Wizard king actually the kingdom's most powerful magical warrior like Hokage in Naruto Universe.
The important factor is that in the world where everyone has magical attribute powers (like fire magic, water magic, wind magic and so on).
Asta born with no magic but instead of giving up on his dream, he chooses to follow his path with hard training and one-day demonic powers choose him and granted a 5 leaf rare Grimoire of Anti-Magic powers.
This means he can neutralize any magic with his anti-magic swords. And thus he began his journey to become a Wizard king of Clover kingdom.
Until this date, this series aired 149 episodes with only 10 reported filler episodes despite being so successful Black Clover anime has so little filler percentage less than 7%.
That can actually be enjoyable and joyful if you decide to watch them.
But still, many fans wanna skip these fillers as they draw away from the main storyline. That is why we decided to make Black Clover filler List that can help you to skip those episodes.
Quick Black Clover filler list
Only Fillers: Episode 3, 29, 66, 68, 82,123 to 125, 131 and episodes from 134 to 135.
Canon Mixed with Fillers: Episode 2, 8-9, 30, 69 and episode 102.
And remaining episodes are canon and go according to the original manga storyline. We mentioned Black Clover arcs episodes below in the article,  so don't forget to check that out!
Black Clover Episode List
Here are the all Black Clover arcs which episodes mapping and Synopsis.
Arc 1 (Episodes 1-13)
This arc about the anime introduction we saw two children Asta and Yuno left as orphans at Hage village church. Soon they become 15 years old and reached to receive their grimoire so they can join the magic knight's squad.
Dungeon Exploration Arc (Episodes 14-19)
Arc 2 known as Dungeon Exploration Arc where Asta's Black bull squad teamed up with Yuno's Golden Dawn squad to explore a dungeon which discovered in the border of Clover & Diamond Kingdom.
But this exploration turns into a conflict when Diamond Kingdom's strongest fighters appear. And here Yuno got his wind spirit.
Royal Capital Arc (Episode 20-27)
After completing and being successful at Dungeon Exploration mission Asta and Yuno with their mission squad members are invited by wizard king Julius Nova Chrono for awarding ceremony.
Then during the ceremony, the capital is attacked by an undead army.
Eye of the Midnight Sun Arc (Episode 28-39)
This arc about the rise of Eye of the midnight sun, a gang of some mystic fighters who have some strange powers with an unknown lead just like Akatsuki but not so powerful like them.
Arc start with a snow province where kids are continuously being kidnapped by the unknown person or gang.
And this case arrived at Black bulls as one of the member's little sister got kidnapped. Now Asta and Gauche will handle this as a team.
Seabed Temple Arc (Episode 40-50)
Black Bulls team assigned by wizard king to island under the sea for forfeit a magic stone that Eye of Midnight sun also wanting. Now their task to retrieve that stone before them.
But the leader of the island isn't just simply going to give over the stone he announced a completion against his team to black bulls team.
In the end, a member of Midnight sun arrived at that sea island temple and now he created havoc. And for defeating that member Noelle got away fear of her magic.
Witches' Forest Arc (Episode 51-65)
This arc consists of 15 episodes, Black bulls successfully got the magic stone from sea temple but Asta got injured or cursed both arms during the fight with Midnight sun member.
Now the whole team trying to get the cure for Asta's hand but there only one way for healing them by Witchers queen.
So Venessa decided to return and met up with his mother as she the witcher's queen but this turns out something else as she only wants to kill Venessa and her team.
In the urge to saving them Venessa unlocks a new power "controlling the destiny thread".
Hot Springs Training Camp Arc (Episode 67-72)
Asta's hand has recovered and now they are on another mission with the Diamond Kingdom of defeating midnight sun another member.
On the other hand, Midnight sun's leader named Licht nearly killed Fuegoleon for getting a magic stone from him but somehow he still alive and lost his one arm. So now his sister Mereoleona Vermillion is the leader of Crimson Lion squad.
So, she invited his squad, Yami, Asta, Yuno and Noelle for hot springs training. It's the training to control their mana better and efficiently.
Royal Knights Arc (Episode 73-84)
Asta, Yuno and many other magic knights from all squads enter into a fighting tournament for selection of Royal knights. Whoever got selected in this tournament will be a part of Royal Knights for attacking the Midnight Eye of Sun' base.
Asta teamed with an unknown person named Xerex, who likes to play dirty and have some sort of hate for corrupted knights.
In the middle fights, Clover kingdom knows that there is one of midnight sun's men between them.
Reincarnation Arc (Episode 85-120)
This arc has the highest no. of episodes than any previous arc. It has 36 episodes.
All knights have been selected for the attack on the base of Midnight sun. Asta's tournament team and Yuno also part of it. Xerex officially revealed as one of Black bull's member.
Here the deadliest battles between Royal nights and Midnight sun take place.
On the meantime, Julis got killed by the leader of Midnight sun and Licht got successful to reincarnate his Elf tribe.
But things did not end well as the Licht wanted, Demon got out from his world to Clover kingdom and now it's in their hand to stop him.
Arc 10 (Episode 121-131)
This arc is unnamed as it is currently ongoing after the battle with demon elf tribe's misunderstanding has gone. And now Clover kingdom is recovering. But there are still problems for Asta as he held victim for Demon events.
So he arrested for trial but Black bulls arrived at the right moment for saving him.
Wizard king gave black bulls order to investigate more about demons on foreign lands. Their investigation led them to Heart kingdom as their Queen Loropechika infected with Magicula demon.
Other Anime filler list 
Please note: there are still many episodes yet to release so Black Clover filler list will be updated every week.
About the Creator
Hi, I'm Basant Kumar, Founder of Semclouds. Our Blog is one stop to get all secret strategies and actionable steps to grow your Blog 10X faster.
Reader insights
Be the first to share your insights about this piece.
Add your insights