Bird Is The Word: Michelle Pfeiffer Swallowed A Real Bird For 'Batman Returns'
Over the past 50 years of Batman movies, we have had the good, the bad, and the down right ludicrous leap from the pages of DC comic books.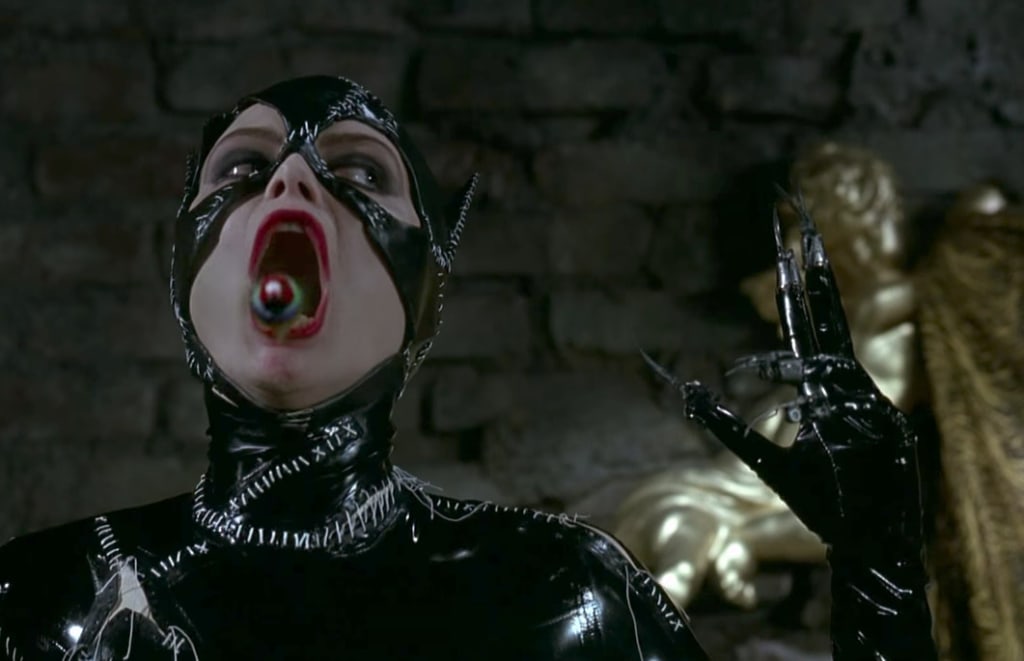 'Batman Returns' [Credit: Warner Bros.]
Over the past 50 years of Batman movies, we have had the good, the bad, and the down right ludicrous leap from the pages of DC comic books. But whether it be the campy '60s classic, Christopher Nolan's brooding Dark Knight trilogy, or all the neon and rubber nipples of Joel Schumacher's days, everyone has their favorite trip under the cowl. However, for some of us, the Detective's greatest adventure was #TimBurton's second installment, which pitched Michael Keaton's Caped Crusader against Catwoman and the Penguin.
It was pure PVC perfection as #MichellePfeiffer rolled around the set of Burton's film and cracked her whip as the unhinged Selina Kyle. Even darker than Burton's first trip to Gotham City, many see Batman Returns as a shining trophy atop Bruce Wayne's mantle. It may have been flawed, but from Christopher Walken's sniggering smirk to Penguin's duck mobile, an adorable Michael Gough as Alfred, and of course Pfeiffer, what wasn't to love? However, Pfeiffer has now revealed the extreme lengths that she went to in order to capture the dark tone of Burton's masterpiece, and it sounds like Nolan needs to move over!
I'm Like A Bird
Speaking to Variety, the screen queen revealed that one scene in particular involved Burton flipping her the bird, quite literally. Remembering back to the film, audiences saw a tense face-off between Penguin and Catwoman, with the latter placing a colorful canary in her mouth. According to Pfeiffer, it was all real, and although no birds were harmed in the making of the film, she says it was a tough one to stomach:
"I can't believe I did that. I could have gotten a disease."
You can check it out below, and please note that the bird was in there for a VERY long time:
Watching the movie back, I had always wondered about the scene in question, but never would've imagined Michelle would've actually stuck a filthy bird in her mouth. What is it about Batman movies and actors taking their roles to the next level?
Of course, we all know Pfeiffer was due to return for a sequel, or even her own Catwoman spin-off, but pregnancy intervened and then the whole Burton deal collapsed. Despite the director's ambitious plans to continue his Batverse, it all fell through and we were left limping into Schumacher's DayGlo future.
Thankfully, we can all go back and enjoy Returns, and at least Pfeiffer saw the benefit of shoving a bird in her gob. Although she is set to return to comic book movies with next year's Ant-Man and the Wasp, the 59-year-old still thinks that Batman Returns stands up against all the other comic book outings around today:
"It was all Tim Burton. He was able to bring this heart and darkness and humor to it."
Certainly, Returns had a balance to it that no Batman movie has had since. The Schumacher movies leaned far too hard on the humor, while you can hardly seen Nolan's trilogy as a laugh-a-minute romp through the Batcave. Early looks at Zack Snyder's #JusticeLeague seem to show a balance between the light and dark, but will we ever be able to capture the magic of Burton's years again?
That being said, I still wouldn't like to be Pfeiffer while doing my own twisted Ozzy Osbourne impression to chow down on a bird. Talk about commitment to your art — I don't know about you, Miss Kitty, but I feel so much yuckier!
About the Creator
Tom is a Manchester-based writer with square eyes and the love of a good pun. Raised on a diet of Jurassic Park, this '90s boy has VHS flowing in his blood. No topic is too big for this freelancer by day, crime-fighting vigilante by night.
Reader insights
Be the first to share your insights about this piece.
Add your insights