Bingers Beware: An Addictive Series That Feeds You
Sweet Home Recommendation: A Netflix Korean Drama Original
Sweet Home Official Netflix Trailer
Spoiler Warning** If you are the type of viewer that does not like ANY spoilers whatsoever, no matter how small, then I advise you to not read further. What are you doing here anyways? I will, however, recommend you to watch the show if you are a viewer that loves movies, and/or TV series that are in the realm of end of the world scenarios.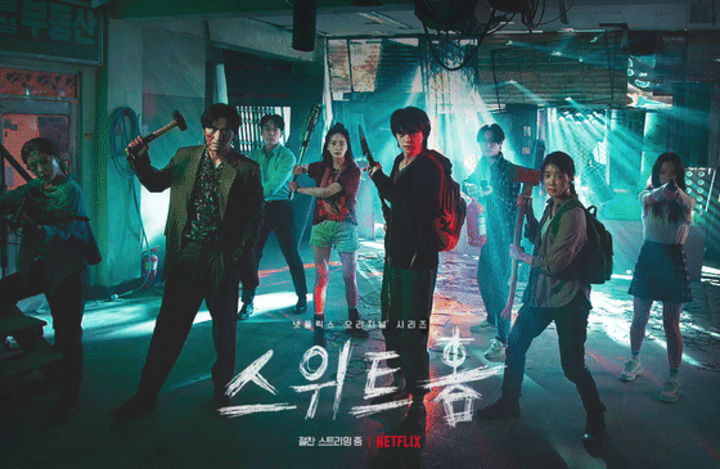 Do you like a series that conveys aspects of an apocalyptic world? A world that falls to chaos as creatures spring out from within humans, exhibiting their hidden monstrosities that lay dormant, waiting for a catalyst to spring it loose on our constructed society? If that is the case, then you will definitely love Sweet Home. Even though the title signifies innocence, happiness and comfort, it is anything but that. In retrospect, perhaps the title was selected for an allegorical purpose, as we can only view the outer layer of humans, the shell so to speak, with no way to perceive what lies hidden within every individual.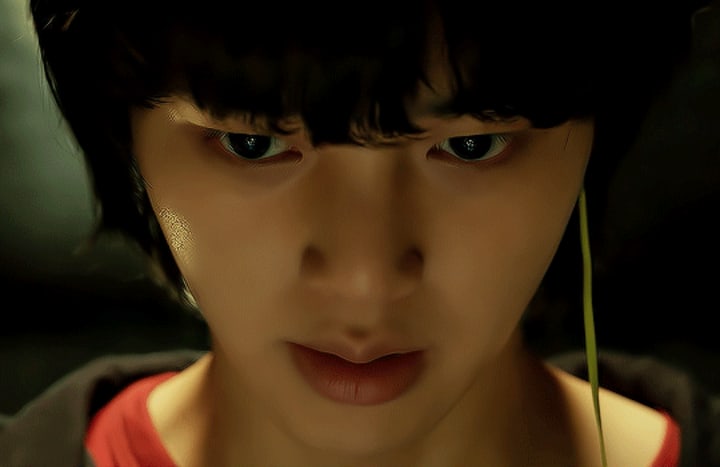 When I first started this show I only had a vague idea of what the story would entail. I had in mind that it would be a typical "zombie" plot, where humans who died come back to life and wreak havoc on the living. Surprisingly, that is not the premise of the story. In fact, these creatures do not need death to emerge. If I had to name a TV series or movie that closely resembles these creatures, it would have a moderate resemblance to the Resident Evil monsters, in so far that these monsters mutate from its original host, but that is the only similarity. The "infection" is not spread through a typical means that is known from the zombie genre; rather, it is through the sheer draw of luck that determines who will become "infected." The show does give an explanation on the reason why one becomes infected, but does not provide the how, and that is perfectly fine, as it leaves more room for the story to tell in the next season.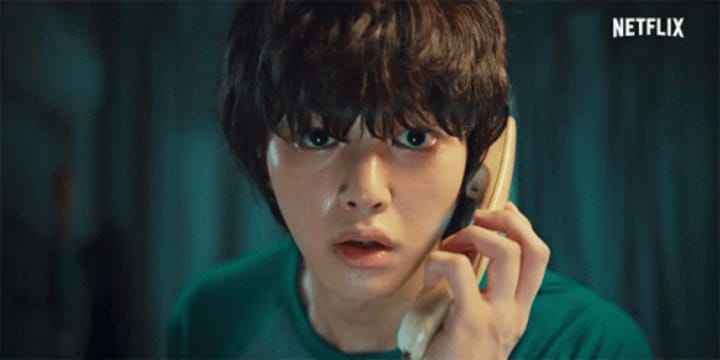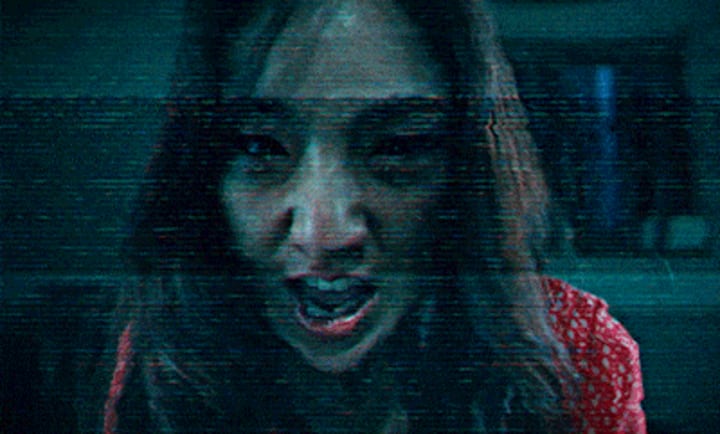 The music played in the series is utilized significantly allowing the viewer to realize that a scene that they do not want to miss is about to occur. Once you watch the series, you will know what I'm talking about. There are two songs that are usually played when a monster is about to make an entrance or something significant is about to occur. The following is a playlist to the Sweet Home OST to give you a general idea of what I'm referring to.
Since this series is a Korean drama, it would be a disservice to not provide a music video of a group dancing to one of the popular songs created for this show and sponsored by Netflix itself. Listening to this song will jump start your adrenaline and make you hype up alone; added to the series it creates a sense of being there with the characters as your adrenaline pumps up alongside them facing these monstrosities and trying to survive.
Here is the official Music Video for those who would appreciate the art displayed in the video:
There are many characters of various attributes and perspectives to explore and fall in love with, but I warn you, it's an apocalyptic show, so do not get attached to the characters, because there is the possibility of certain death or mutation as the story progresses. As the story advances further, the viewer will discover that just like humans, monsters come in different shades, and are not just black and white. When is anything ever black or white? Needless to say, the viewer will discover many positions to ponder on, and create theories on the special cases revealed on the show.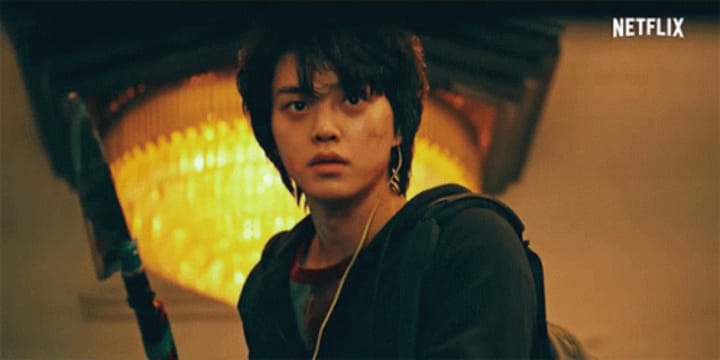 Characters: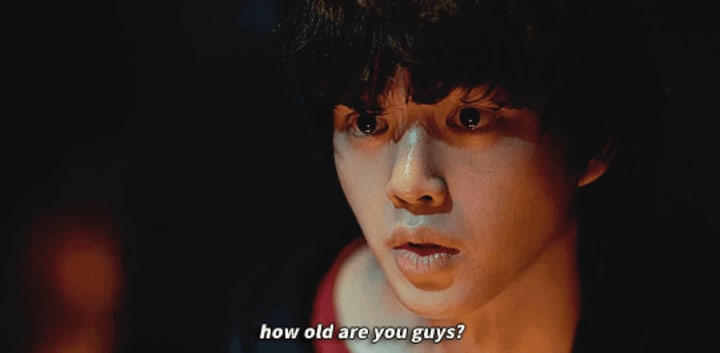 Cha Hyun Su is one the first characters that we are introduced to. We follow him as he carries his only belongings to an apartment building, where we learn he is moving into alone. He appears to be a shy, young detached loner without any family members to be seen, and we later learn the reason behind this. He is one of the first in the group to get "infected" but fights off the monster from within, as all he wants to be is a decent person.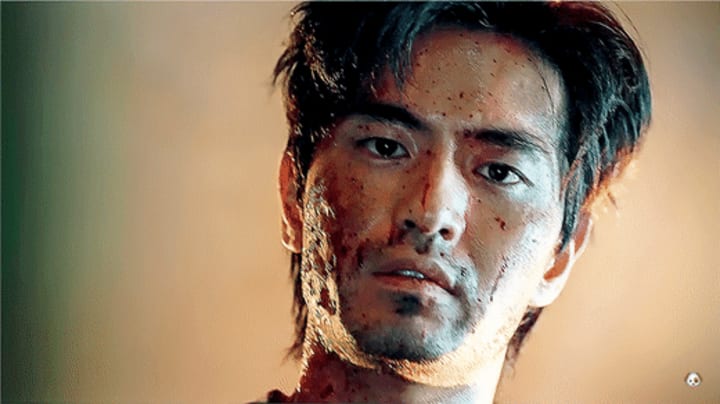 Pyeon Sang Wook gives the appearance of a gangster, with an air of mystery surrounding his background. He is adept at fighting and uses these skills efficiently when needed or whenever he feels like it. He has hidden scars on his body and a large burn scar covering half his face. We first see him carrying a bag of green duct tape into an elevator and then sitting on top of a chair eating with his foot lying over a body fully cocooned in the green duct taped. Mysterious indeed.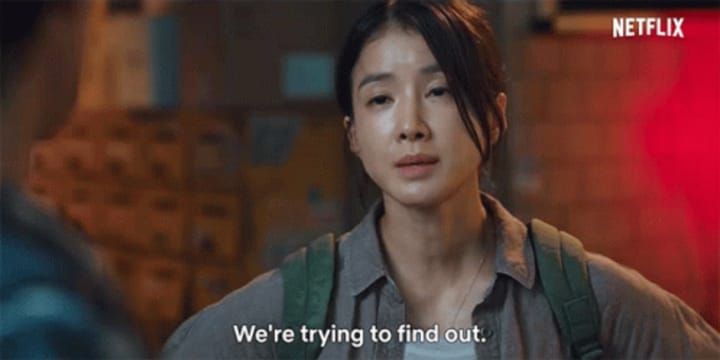 Seo Yi Kyung is a firefighter who has knowledge in weapons and is skilled in fighting. These skills are later explained as we learn that she had previously been part of the special forces. She's an assertive strong woman whose significant other has recently passed away from a mysterious fire. The mystery behind his death soon appears to be linked to the "infections."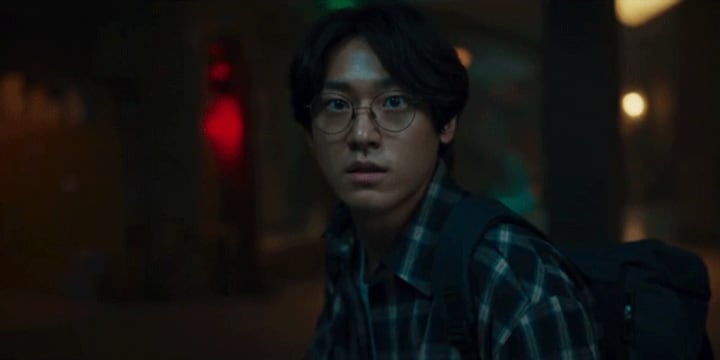 Lee Eun Hyuk is a medical student and older brother to Lee Eun Yu. He takes up the role as leader, issuing orders and organizing the supplies for the small group still alive at the barricaded apartment. Although he may appear to be a bad guy at times, with questionable motives, it is through his leadership that the group continues to survive.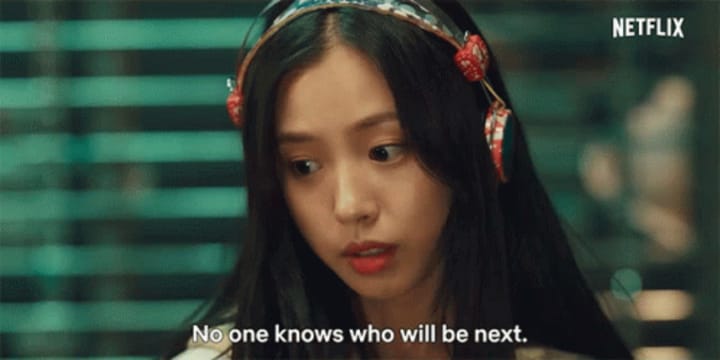 Lee Eun Yu is the younger sister of Lee Eun Hyuk and a retired ballet dancer due to an ankle injury. She resents her brother for giving up his schooling for her, only for her to get injured and it becoming a waste on her brother's part. She tends to be snotty and likes to argue just for argument sakes.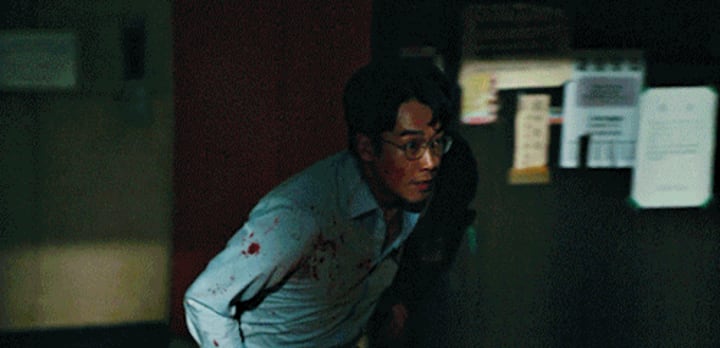 Jung Jae Heon is a recovering alcoholic who uses various lines from the bible. He carries around a katana that he uses in confrontation with monsters. He can usually be found next to Yoon Ji Su, another new resident of the apartment building.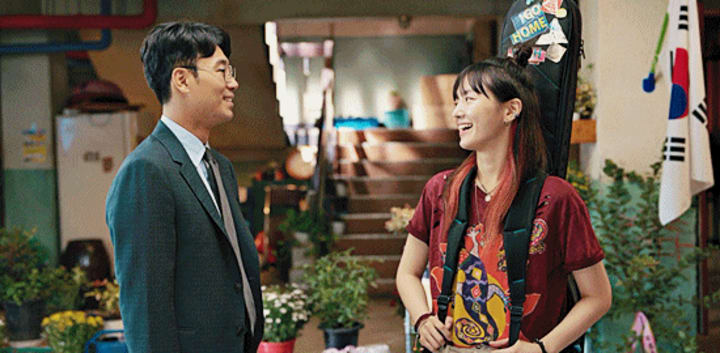 Yoon Ji Su is a bass guitarist player. Although Jae Heon and her introduction are quite awkward at first, they become fast buddies once he saves her life from a monster. She carries around a bat that is engineered with blades on the end.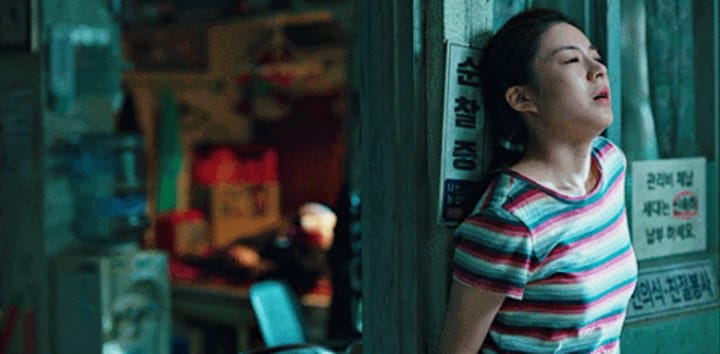 Park Yu Ri is the caretaker to An Gil Seob and suffers from asthma. Being a nurse, she monitors the residents for any symptoms of the "infection." She gets close to Sang Wook when she tends to his injuries.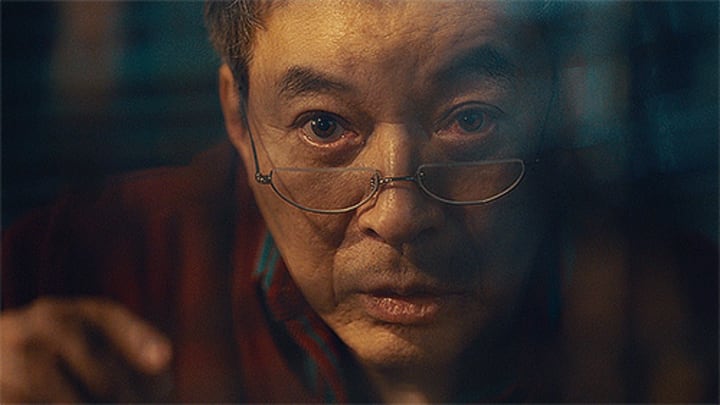 An Gil Seob is an elderly man who is ready to die but will fight to live for however long he is given. He takes up the job of lookout, watching for any signs of monsters or strangers making an appearance.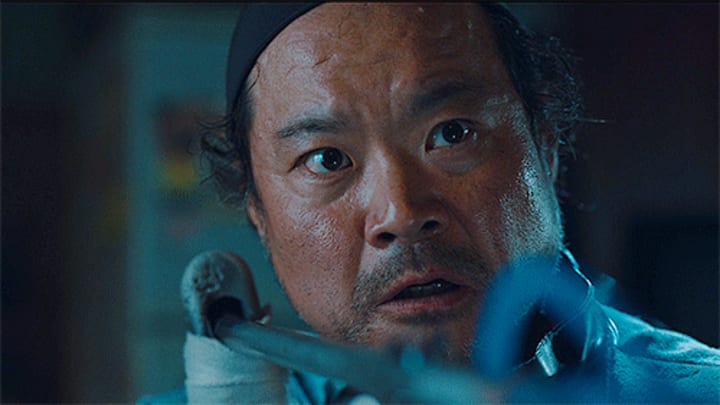 Han Du Sik is a former military man, and is bound to a wheelchair. He uses his engineering skill to make specialty weapons from what he can find and produce barricades to prevent the monsters from coming in.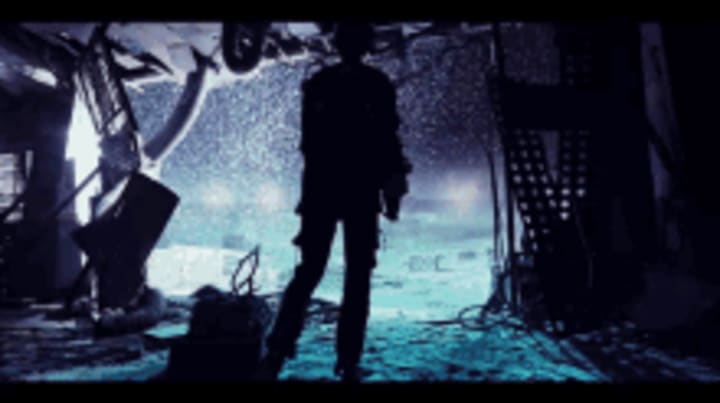 Of course, this is not all the characters, as there are too many to list here. The ones listed above are merely the characters I consider to serve the storyline as we learn substantially more about these selected characters, providing much more depth and layers.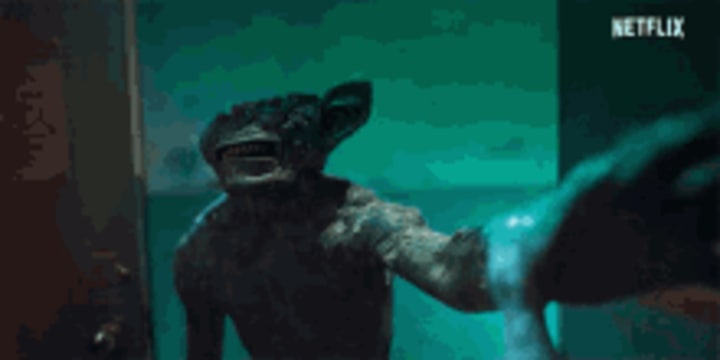 For those who don't watch Korean dramas, or any foreign dramas for that matter, I truly hope that you would give this series a chance. If you do not like to read subtitles, Netflix provides English dubs. The series is only 10 episodes long, so a binger could finish this in half a day. Or for those who prefer weekly shows, you could spread them out once a week to last you for 10 weeks, but I highly doubt anyone can withstand waiting for the next episode an entire week.
Lastly, for lovers of manga/comic books, this series was originally a Korean Manhwa (comic) that can be found online. I'm told that the story defers greatly from the series, as requested from the original manhwa writer. So if you are interested in getting a different take of the series, or prefer reading manhwa over watching television/online shows, you may find this to your taste.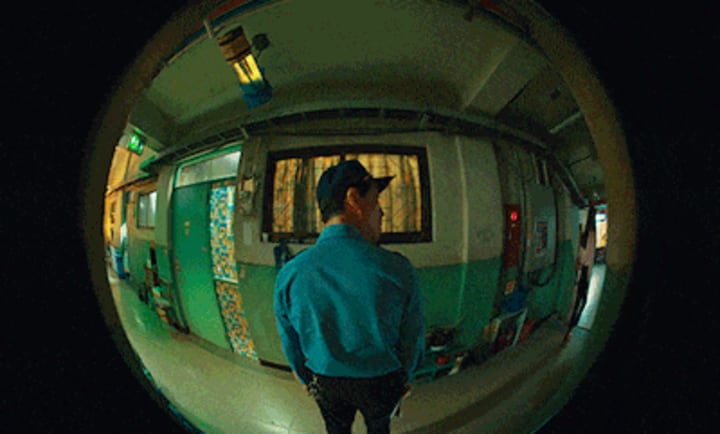 Please leave a like if you enjoyed the content written and if you want to leave a tip too that would be greatly appreciated. Thank you! Until then, see you in the next content I write next time.