Betty White Set To Turn 99, World Breathes Sigh Of Relief
North American Treasure "Blessed With Good Health"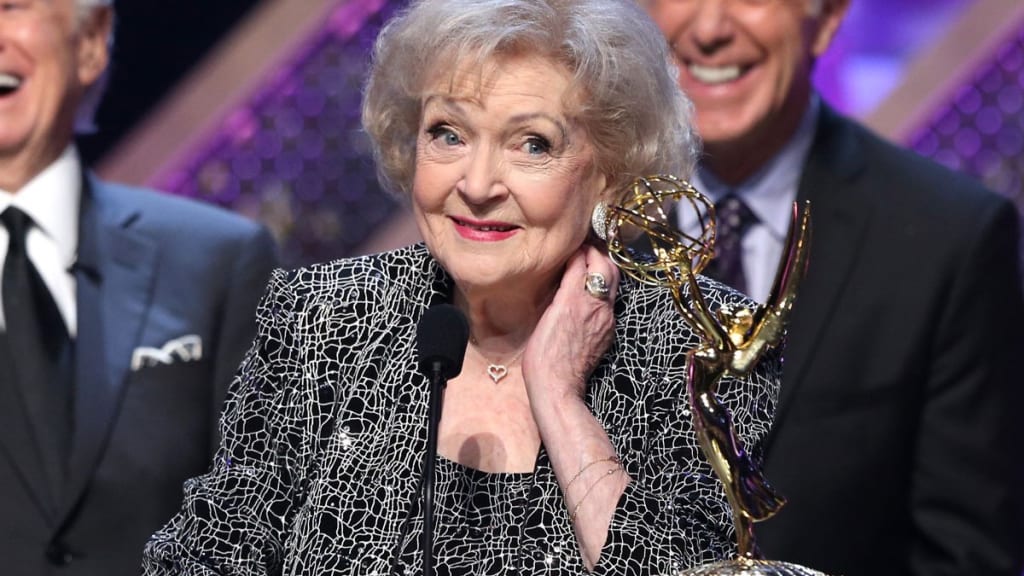 https://media.nbcnewyork.com/2019/09/bettywhiteicon.jpg?resize=1200%2C675
Long live #BettyWhite - and she has.
The ever-popular nonagenerian continues to trend on Twitter, initially leading those who saw she was trending to worry that perhaps she was ailing. From time to time, this has happened, causing all of us to race to see whether or not she was all right, and certainly, our collective concerns about the television icon's ongoing good health have not been made any better due to the COVID-19 pandemic. Not to worry, though; White is trending because she turns 99 on January 17, 2021.
I became familiar with Betty White because my mother was a huge fan of The Golden Girls. I was too young at the time to recall her from her days as Happy Homemaker #SueAnnNivens on The Mary Tyler Moore Show, though I have seen her in multiple reruns and retrospectives of the show. I also thought she was hilarious in Hot In Cleveland, and judging from some of the show's bloopers, her co-stars thought she was awesome as well.
I, like so many others, have a great deal of respect for Betty White, and it's not just because of the old adage that you should respect your elders. There's something joyous about her, and while I understand that moving around is probably not quite as easy as it once was - she is, after all, almost 99 - there's such a positive vibe in everything she does that it's hard not to get swept up in it as well. In fact, according to People, that's one of the reasons she believes she's had such a long-lived life: her positive attitude.
"Just looking at the positive side and not dwelling on the downside," she said was one of her secrets to living a long and happy life. "Takes up too much energy being negative."
White also reportedly is "addicted" to crosswords, according to USA Today, and while on the set of #TheGoldenGirls, she and co-star #RueMcClanahan would frequently engage in word games, per Mental Floss. It's clear that as she's aged, she was not one to shy away from keeping her mind sharp.
White also loves to keep busy. Certainly, there are few individuals I've seen at the age of 90 or more that are the first to continue in their chosen profession at their age, although they continue to keep occupied with volunteering and so forth. White credits her agent with keeping her busy and once told Parade that in spite of already having 120 acting credits to her name, "I just love to work, so I'll keep working until they stop asking."
Perhaps one of my favorite memories is when there was a 2009 Facebook campaign to have White host Saturday Night Live. Executive producer Lorne Michaels had reportedly tried to get White to host three previous times, but because of White's schedule, was unable to make it work. This time, though, the stars aligned, and White made history as the oldest person ever to host the sketch comedy show at 88 and a half years old when she finally hit the stage in 2010.
"When I first heard about the campaign to get me to host Saturday Night Live, I didn't know what Facebook was," White admitted during her monologue. "And now that I do know what it is, I have to say, it sounds like a huge waste of time."
Her later line about if she wanted to connect with old friends, she'd "need a Ouija board" ranks as probably one of the funniest lines ever. Perhaps what was even funnier was that the musical guest for White's episode was Jay-Z, which seems like an unlikely pairing, but with White's effervescent brand of humor and sweet nature, it worked.
I am happily introducing my daughters, who are nearly 12 and 16, to The Golden Girls, and while some of the jokes are exclusive to those with an understanding of what life was like in the 1980s and early 1990s, White's humor isn't. My girls have cited Rose Nylund as one of their favorites on the show, and are continuing to grow in their appreciation of the cultural icon known as Betty White.
Happy 99th, Betty White. Know that you are treasured.
About the Creator
I'm a high school English and French teacher who trains in the martial arts and works towards continuous self-improvement.
Reader insights
Be the first to share your insights about this piece.
Add your insights