Best Stallone Movies
Anti-heroes in the best Stallone movies bleed authenticity.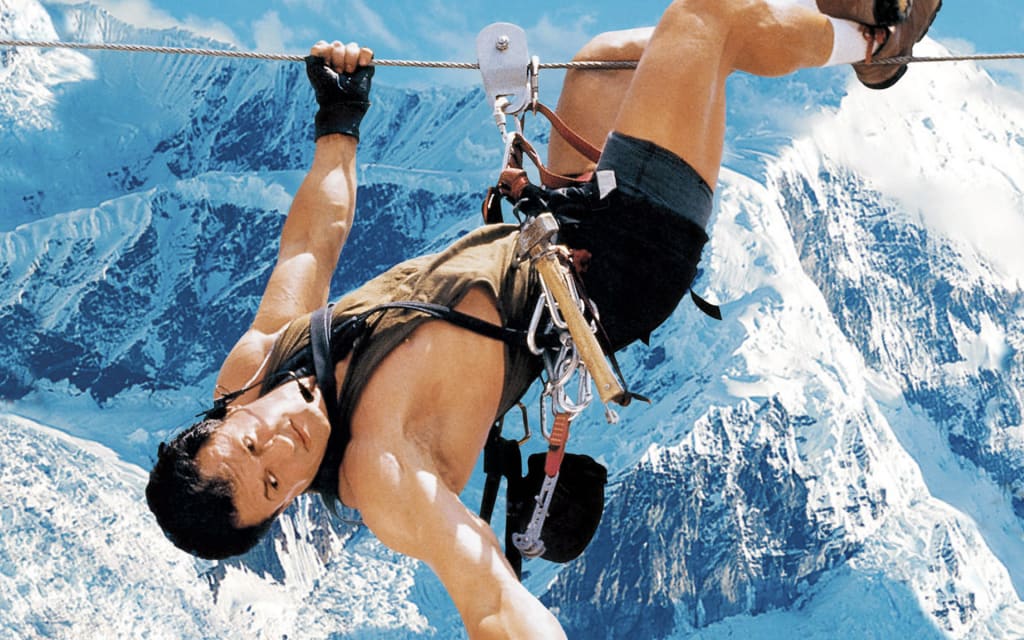 Sylvester Stallone is the godfather of contemporary action films. What makes him so cool is that he really is an action star. Hardcore through and through, the best Stallone movies portray anti-heroes on the verge of redemption. With salvation in sight, Stallone's embattled heroes must fight for an ideal, sacrifice something important, and risk their lives so that we may live vicariously through them. I am not talking about The Expendables Stallone, whom I thoroughly enjoyed as he led me through a nostalgic tour of my childhood heroes. I refer to the man I first remember seeing in Nighthawks. That movie was amazing. It featured the Bionic Woman herself, Lindsay Wagner. On tap as villain was the badass Nexus-6, Rutger Hauer, and riding shotgun to the hero was Lando Calrissian. Fiercely filmed stunts on the Roosevelt Island Tram hugging the Queensboro Bridge—with no green screen trickery—helped establish Sylvester Stallone as more than just a one-hit wonder with his Best Picture winner, Rocky. One year later, he solidified his role as the most important action movie star with the creation of First Blood, and the coolest badass character the world had ever seen—Rambo.
Cobra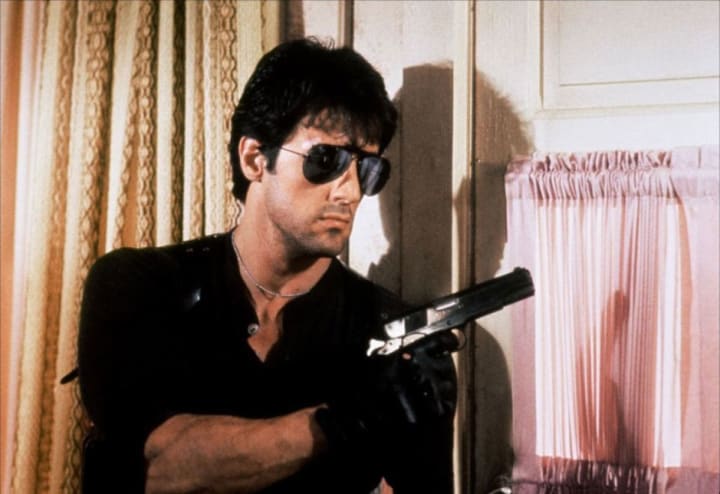 Cobrais the epitome of a guilty pleasure movie. Stallone was originally supposed to star in Beverly Hills Cop, but he wanted to change the script and make it more of a traditional action movie without any of the comedy. Thankfully, the studio nixed his plan and brought in Eddie Murphy. A few years later, Stallone got the chance to make the movie he envisioned with Cobra. Inspiring black designer driving gloves from the likes of Dolce and Gabbana, the film was stylish with a very dark villain. Loosely based on the Paula Gosling novel Fair Game, here we see Sylvester Stallone playing Lieutenant Cobretti, a Los Angeles cop who isn't afraid to get his hands dirty. He walks around with shades, a toothpick (or matchstick), and weapons that have a cobra insignia. They don't make films like this anymore. Our villain, the Night Slasher, leader of an evil cult, is played by Brian Thompson. While Cobra isn't the best Stallone movie, our hero and villain do have an awesome dialogue exchange as they duke it out in a fiery steel mill at the end of the film. Cobra is pure adrenaline, and 100 percent bad-ass-approved.
Nighthawks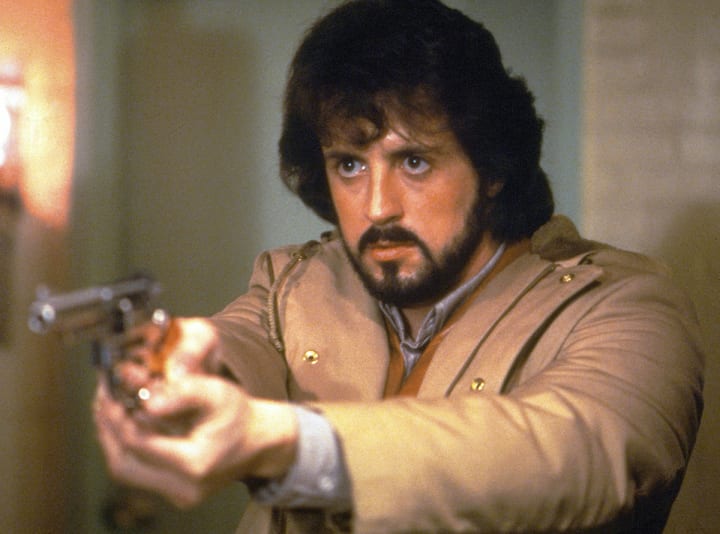 Probably the best Stallone movie in which he has a beard, Nighthawks is an often overlooked highlight of Stallone's early career. Nighthawks is one of Stallone's more legitimate films. Released in that brief period between Rocky II and Rocky III, this film is more thriller than action movie. Here we see Stallone playing a troubled undercover elite New York City police officer wrestling with a failing marriage while also having the unenviable task of tracking down a fugitive bomb-happy terrorist, played with chilling charm by Rutger Hauer. Nerves of steel and a perfect beard thanks to a Premium Norelco he carried around in the pockets of his hip length leather jackets, the character Deke DaSilva exuded cool. Stallone's emotional range is stretched more than usual here, making for a far more involved film than the usual Stallone movies. The film's score is beautiful, and the ending absolutely brilliant. All this with great chase scenes, Nighthawks does not fail to hit the spot.
Rocky IV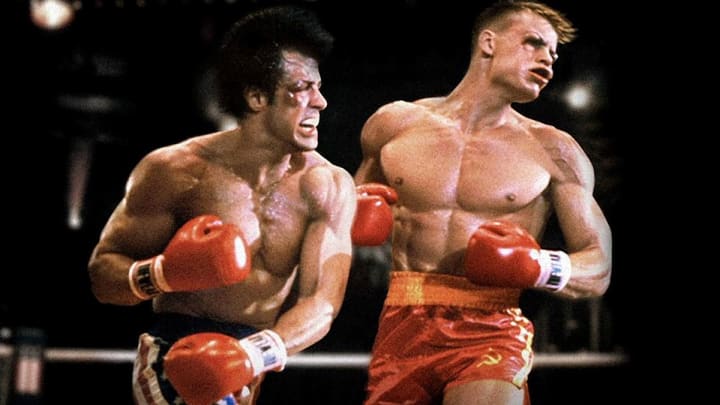 While it's hard to separate them,
Rocky IV
is definitely the most re-watchable of the best Stallone movies. In the film, the Soviet Union and their top boxer make an entrance into professional boxing with their best athlete,
Ivan Drago immortalized by Sideshow
, who initially wants to take on World Champion Rocky Balboa. Instead, Apollo Creed decides to fight him, but he is killed in the ring. Enraged by this, Rocky decides to fight Drago in Russia to avenge his friend and defend the honor of his country. We don't know if it's the frighteningly intelligent robot, Dolph Lundgren's ice cold portrayal of a Russian boxer, the amazing James Brown musical number, the awesome training montage in Russia, or the overall wackiness of the whole film, but
Rocky IV
is just as fun the fiftieth time you watch it as the first—even if it is hard to watch Apollo die over and over.
The Lords of Flatbush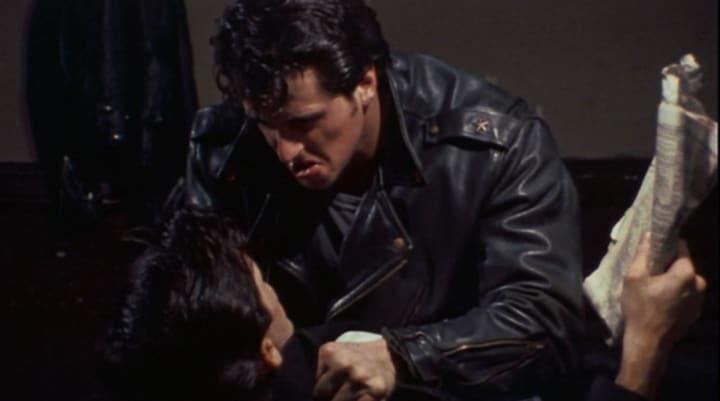 Released in 1974, The Lords of Flatbush is one of Stallone's earlier movies. 1950s nostalgia was big business in the 70s, and The Lords of Flatbush does just that. With a very Outsiders feel, this film brought viewers back to seemingly innocent 1958 Brooklyn. It's the story of four greasers that get into mischief around the city. They are motorcycle-driving, smoking, wisecracking, leather-jacket-and-slicked-back-hair-wearing troublemakers who often use their fists to solve the problems in their lives. The Lords of Flatbush leather jacket never went out of style. These kids form a gang, and from that moment on, they do everything together. This makes things easier, but at the same time, they have to face new problems. Henry Winkler plays a highly intelligent kid who hides his brains behind a clownish front, and Perry King attempts to win over a girl who wants little to do with him. Stallone's character marries his girlfriend after she lies and tells him she's pregnant. In this modest, low-budget film, Stallone and Winkler play second and third fiddle to Perry King, who ironically would never reach the stardom of the other two. It wasn't quite as big a hit as American Graffiti from the previous year, but it did put Henry Winkler in a leather jacket shortly before he was cast on Happy Days.
Cliffhanger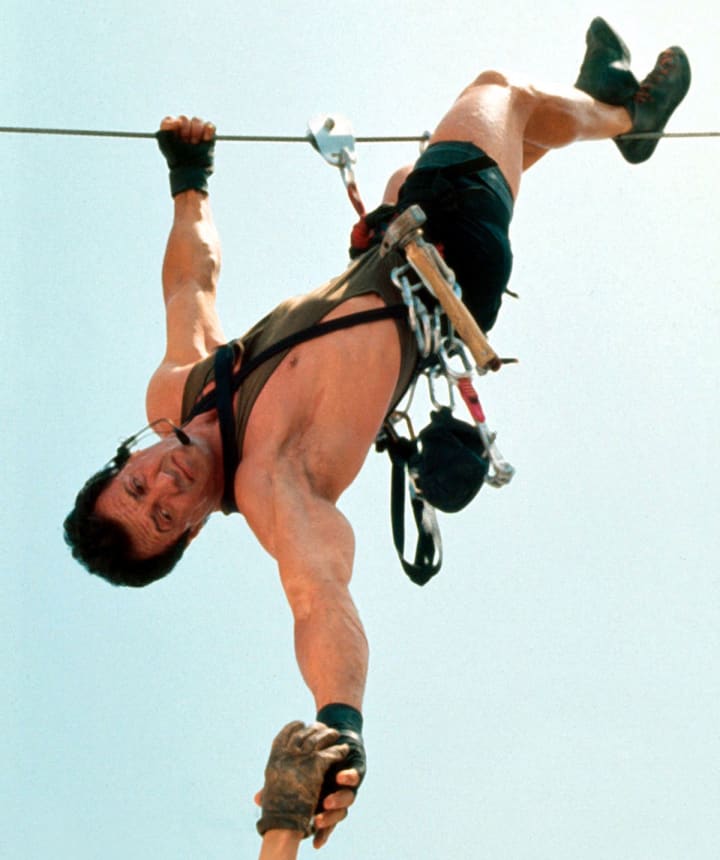 Released in 1993,
Cliffhanger
is supposed to be a fun-loving action flick, complete with a muscular, heroic Stallone and a classic villain. This film is a tale of Gabe Walker (played by Stallone, obviously), a mountain climber haunted by the death of his friend in a climb. He's persuaded to scale the same mountain to rescue a stranded party. The Rocky Mountains are always a fine setting for an action movie, and the opening scene alone is agonizingly tense, and a shoe-in for any Stallone action-clip compilation. In
Cliffhanger,
we have criminals, cops, and Stallone's mountain rescue team, desperately searching and fighting over $100 million cash dropped during a botched air heist. Near the end, Stallone gets into a fight with a fairly vicious John Lithgow. The real wow-factor that takes this film out of the ordinary comes from the gravity-defying stunts, and the recurring sense of vertigo only adds to the dizzying thrill of it all. It's Stallone kicking ass on a mountain. That's pretty much all you need to know.
Demolition Man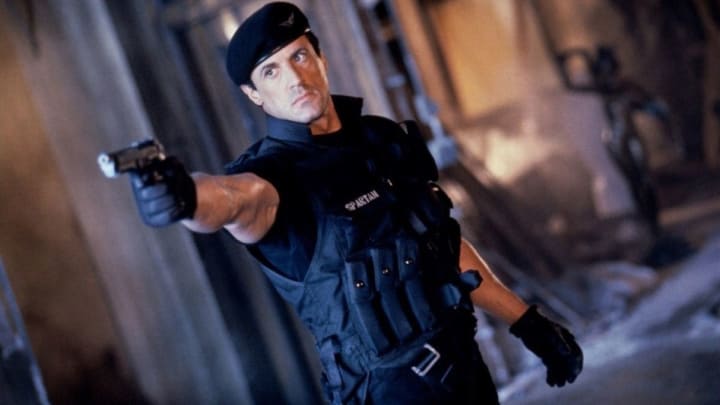 Demolition Man paints a very bizarre picture of life in 2032. It's a time where virtually all crime has been wiped out, poor people live underground and eat rat cheeseburgers, and Arnold Schwarzenegger is president. The film starts out in 1996 with cop John Spartan (Sylvester Stallone) and violent thug Simon Phoenix (Wesley Snipes) sentenced to a state of frozen incarceration known as "CryoPrison." A time with no crime is all fine and dandy until a blond super psychopathic Wesley Snipes, who helps make this one of the best Stallone movies, is unfrozen and unleashes a terrible crime wave on the city. It takes a cop from the 20th century to apprehend this criminal, and our hero Stallone is unfrozen and paired with a young Sandra Bullock to save the day. This flick is dystopian sci-fi and social satire on one level, and an old-fashioned buddy cop shoot-em-up on the other.
Over the Top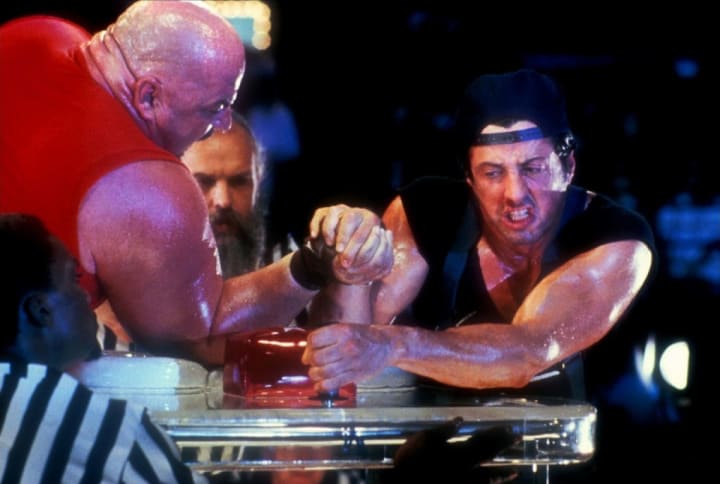 Over the Top is a film that could not have a more appropriate title. It's ridiculous, poorly written, and pure meathead cheese mo, but the fans love it. Stallone plays a truck driver trying to bond with his estranged son, and along the way he arm wrestles a lot. That's it. That's the plot for the movie. But it works, and it works for two simple reasons:
Stallone's acting skills are on point, and you believe in the relationship between Stallone and his son.
The arm wrestling scenes are awesome.
From Cheap Trick to Sammy Hagar to Kenny Loggins, it is the best Stallone movie soundtrack and keeps on pumping throughout the film. The final match at a Las Vegas arm wrestling contest with a prize of $100,000 is so tense, you think your television is going to explode. They should retire all arm wrestling scenes after that one. Over the Top is definitely the greatest motion picture ever created about the bare-knuckle world of arm wrestling. Nothing even comes close. Disco legend Giorgio Moroder created the soundtrack, which makes the movie all the more incredible.
Cop Land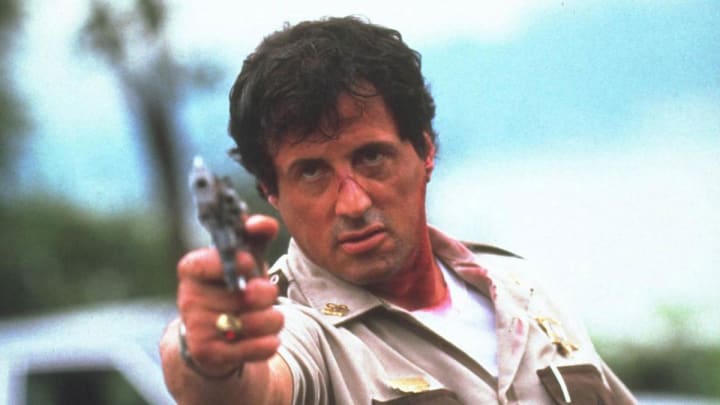 Stallone gained 40 pounds to play a troubled, sad-sack New Jersey officer in the film Cop Land. This tense drama provided certain proof that there's more to Stallone than action and violence, signature traits of most of the best Stallone movies. Stallone plays a sheriff in a town where a number of the residents are NYPD officers. Stallone is secretly in love with Liz, whose life he once saved after a car accident. Her rescue cost him the hearing in one ear and made him ineligible to become a New York City cop—as so many of his peers did—including Liz's abusive and unfaithful husband Joey.
Stallone's career hit some serious roadblocks in the mid-1990s. Instead of fighting gravity, he took a role in this smaller picture about a sheriff in a corrupt New Jersey town alongside Robert De Niro, Ray Liotta, and Harvey Keitel. In this film, he showed he could do more than flex his biceps and blow about bad guys with a bazooka. In classic Stallone fashion, you desperately root for his character who is seriously outnumbered by corrupt New York City cops. Their corruption grows until he can no longer allow himself to stand by and do nothing. Seriously—everyone but Stallone is a complete ass. The movie keeps your eyes transfixed on the screen, as we see what decisions our good guy cop makes to get himself out of a shitty and impossible situation.
First Blood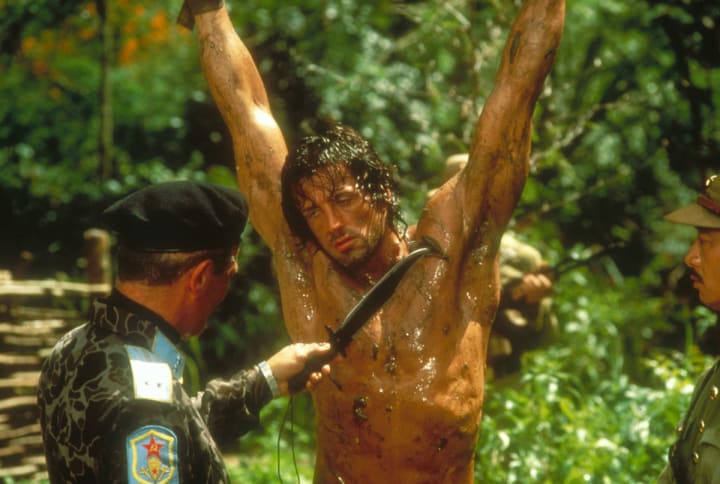 While there weren't many critically acclaimed Sylvester Stallone movies in the 1980s, it's impossible to hateFirst Blood. The first in the Rambo series, Stallone plays our hero John Rambo, an extremely bitter Vietnam veteran trying to track down his old comrades. However, he is forced to battle the unwarranted police harassment of a sheriff and the entire police department of a small town in Washington state. Sadly for them, they picked the wrong guy to mess with, as Stallone's character goes native and wages a one-man guerrilla war using nothing but his Rambo knife against an army. Regardless of your opinion of the series, the movie that began the franchise is a superior beast in terms of action movies. In contrast to the later films in this franchise, the early Rambo seems keen to avoid actually killing people. "Don't push it," he tells the cocky police chief, "or I'll give you a war you won't believe." Easily the most complex of all the Rambo films, First Blood has many traditional action movie elements, but we also get to see just how broken John Rambo really is. In one of the most emotional monologues you will ever hear, Stallone gives arguably the best performance of his career.
Rocky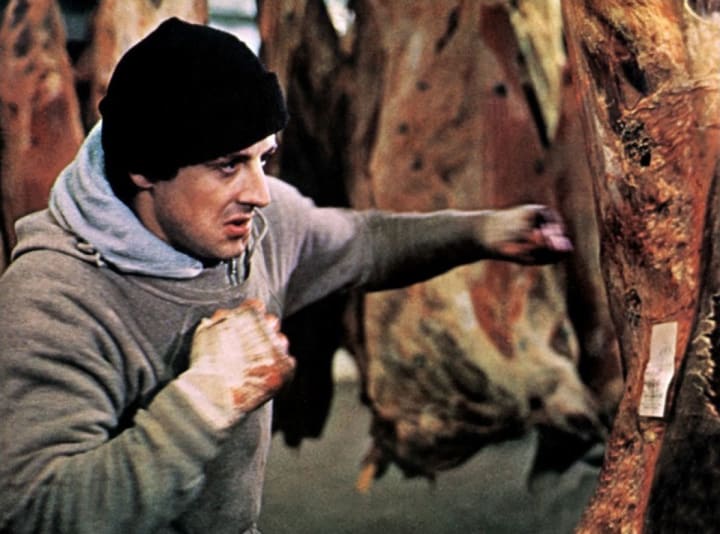 Yeah, Rocky is a pretty obvious, anti-climactic choice for our number one—but seriously—what else was it going to be? What other movie could have topped this list? No matter how many films Stallone makes—no matter how many times he tries to change the formula—no matter how long his career turns out to be, he'll always been seen as Rocky Balboa. Out of all his roles, none are more likable than Rocky Balboa, the quintessential underdog. Stallone wrote the screenplay while he was just a struggling actor. The studio loved the script, but they wanted a big name to take the lead role. Thankfully for us, Stallone stuck to his guns and wouldn't let them make it without him in the lead role. It was a ballsy move, but it paid off in huge ways. The movie was an enormous hit and won Best Picture at the Oscars. It's the relationship between Rocky and love interest Adrian, the mousy girl who turns out to be everything he wants, that lends the film real heart, and the ending is also a true original: contrary to the time-honored Hollywood narrative, Rocky loses the fight on points, but we barely hear the announcement as he is reunited with his lady. Stallone gave us a character that we can't help but root for. Rocky went on to spawn a multitude of sequels and made Stallone a superstar.
list
movie
celebrities
About the author
Definitive movie buff. Quickly realized that it was more financially prudent to write about film than trying to beg for millions of dollars to make his own.
Reader insights
Be the first to share your insights about this piece.
Add your insights