Best Paintball Guns
Answer the call of duty with the best paintball guns.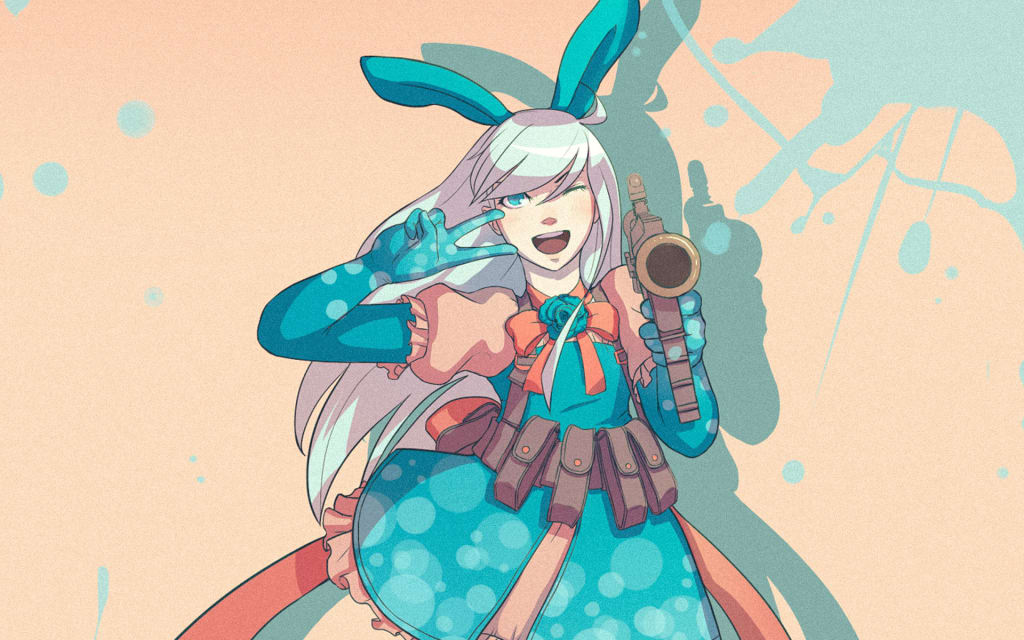 You've played the "Call of Duty" games; you've watched every action film. But being a passive participant can only take you so far. Sometimes, when you're really craving an adrenaline rush, there's no substitute for real combat. But nobody wants to risk death or dismemberment by actually enlisting in the army or spending hours performing boring digital subterfuge for the real NSA. For the weekend warrior, the best way to get a taste of real world combat is through paintball. Before you can enter the battlefield with a slow motion hero pan followed by a bevy of explosions, you need to pick your weapon for battle. With so many paintball guns available on the market it can be overwhelming for the average weekend warrior to step into the fray to choose their weapon of battle. Thankfully our team of aspiring action heroes has picked a few of the best guns at a variety of different price levels to get your badass on.
The Tippmann Gryphon Paintball Gun offers a sleek design that's perfect for entry level players and beginners looking to buy their very first paintball gun. The gun comes with a 200 round hopper and 9 oz. CO2 tank. One special feature that makes this gun stand out is the internal gas line which gives the Gryphon Paintball Gun a generally cleaner look that maximizes mobility. Its lightweight and generally compact design makes it very convenient and super portable. But its simplicity is also featured elegance with a rigid front grip and 10" ported barrel plus a smooth trigger pull makes this into the perfect entry level piece of hardware for the paintball novice.
Ever dream about being a special forces operator? Like the kind you'd see in some high-tech thriller? The Azodin Blitz Paintball Gun lets you live out that fantasy in real life. Azodin features a revolutionary feather striker system and zen circuit board that'll transform any player into a natural born killer. This new system offers a 30 percent lighter weight than the traditional striker design. This paintball gun features multiple firing mode toggles and can shoot up to 14-15 balls per second. With its low rise twist lock feed neck that completely eliminates any potential issues with jamming paintballs, you'll have no issue when going from the hopper into the feeder.
The Spyder Fenix Electronic Paintball gun is a lethal precision paintball machine of death. Ever fancy yourself like Jean Reno in "The Professional"? This electronic paintball gun will have you living out your suave hitman fantasies. Fenix Electronic brings all of the top-of-the-line features that have been developed over the course of Spyder's 20-year-history. The Eko Valve delivers a staggering 1600 shots per a tank of CO2 vs. the 800 shots from standard tanks. The adjustable sabre trigger lets you to customize the feel and resistance of your trigger to suite your liking. The stock aluminum clamping feed neck keeps your loader in place ensuring that your paintballs will never fall off or move around during the most heated games. When wielding this bad boy everyone will be looking at you like your the profession. Ever wish you could be a military soldier in a Michael Bay movie? You know the really cool ones that always look awesome when rebelling into a building or storming a compound. The Tippmann 98 custom Ultra Platinum paintball gun will let you role play that fantasy. The Tippman is like the AK-47 of Paintball guns, easy to shoot, easy to clean, easy to customize and upgrade. The best part is that this piece of hardware is tough and can take a beating, but what makes it truly remarkable is its versatility. It can use CO2, compressed air, and nitrogen as its propellant. But its most attractive feature is its customization allowing you to tailor this gun to your own personal preference and take your game to the next level.
While most people playing paintball love to live out their favorite action movie or "Call of Duty" fantasies this is the gun if you want to go pro. The Tippman A-5 is the preferred gun for competitive players as well as professionals who play paintball for a living. Its popularity is thanks to its durable aluminum body, inline bolt system, low profile hopper, and its front and rear mounts. It's also compatible with numerous aftermarket accessories. But what this gun excels at is speed. The exclusive cyclone feed system keeps the feeder sprocket connected to the air system allowing users to fire paintballs as quickly as they can pull the trigger. This unique system feeds up to 15 balls per a second without requiring any battery assistance and it can be field stripped and assembled in under 60 seconds without the use of any tools. This might be a bit more difficult to master, but all combatants on the field will respect your mastery of the game with the A-5.
If you ever wanted to become James Bond without going through the trouble of getting that pesky license to kill, then the Empire Mini is the closest you'll come to wielding the infamous Walther PPK of 007. This epic paintball gun is fast, light, tight, and tiny packed with some of the most state-of-the-art innovations ever seen in a paintball gun. It features multiple firing mode and only weighs 1.99 lbs after being fully assembled. Its small size and weight makes it the perfect tool for infiltration missions if you're looking to bring a stealthy approach into combat. The only problem is that you won't be able to go in a full suit and tie or tuxedo unless you don't want to ever wear that tux again after it's been covered in paintballs.
If the Empire Mini was the perfect weapon to enact your James Bond fantasy then the Empire Paintball Axe is like the its meaner cousin, perfect for the Jack Bauer or Jason Bournes of the world. It's like the Empire Mini only juiced on steroids. A favorite of professional players the Axe demolishes the competition in woods or behind a bunker. Its accurate and lightweight aluminum barrel offers unparalleled precision and accuracy. Despite its compact size it features four adjustable firing modes and can easily be stripped down and repaired in the field. If you want to feel like a modern spy superstar and go for the premium experience this is your best bet.
If you need the full "Call of Duty" experience brought to life, then you need the Empire BT TM-15 Marker. Who needs to get another kill streak in the latest Call of Duty game when you can do it in the real world? The BT has an electro-pneumatic operation system and a reduced sound signature to accommodate stealth shooting in any of it's firing modes. Its internal airline eliminates external hoses that could potentially make for complications. It's convenient position selector lets you adjust modes on the fly between safe, semi, and full auto without ever having to take your eyes away from the sightline. This piece of hardware can also take a beating with its high-performance, ultra-strong lightweight magnesium body making it a piece of hardware ready for any field of battle.
Ready to hack into the Matrix? Are you the one? Then use your hacking skills to optimize the most digitally advanced paintball gun ever created. The Geo3.5 can connect to your laptop or PC so you can adjust the parameters and customize the heads up graphics display to help take your gun kata to the next level. The Geo3.5 is all about giving the user control over their experience and customizing every facet. So if you're looking to bring a trench coat and sunglasses to the battlefield, then bring your completely customized Geo3.5 paintball gun to the field to display your prowess and ability to bend the Matrix to your will.
This is the crème de la crème of all paintball guns. The ultimate in aesthetic appeal combined with tournament ready functionality. Only top action heroes need to apply with this weapon. Only the Will Smiths and the Jason Stathams of the world are worthy to wield this piece of fire power. The Dye DAM can switch from a magazine fed system to a loader system with just the flip of a switch. It can also seamlessly switch between three different firing modes (semi, three round burst, and full auto) the flexibility will give you the tactical options to tackle and situation and sleek design will make sure you look good doing it. If you have the skills to wield this beast then the only thing you'll need to worry about is making sure you have enough one-liners to deliver as you cut down the opposition.
Amazing Places to Play Paintball
If you've followed our guide, then by now you should have yourself an awesome piece of equipment and be ready to live out your fantasy of bringing the "boom headshot" mentality to the real world. But now that you have the equipment, it's time to choose your field of battle. While there are dozens of paintball places we believe that after spending your cold hard cash on the best equipment you need a place that can offer you the most epic battlefield imaginable. Time to put those competitive twitch "Call of Duty" skills to work in real life.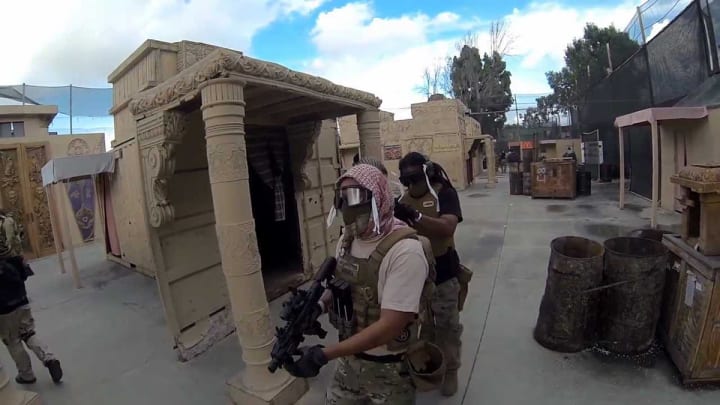 Hollywood Sports
With 28 acres of facilities, it's no wonder that Hollywood Sports is the creme of the crop for Paintball fueled deathmatch arenas. Thanks to its proximity to the film industry, Hollywood Sports manages to get its hands on all kind of movie props making for amazing battlefields that few other paintball places could never offer. They have themed battlegrounds like the Mad Max battlefield and the apocalypse battlefield to live out all of your end of the world combat fantasies. They also have their horror themed cajun terror and military-themed combat center.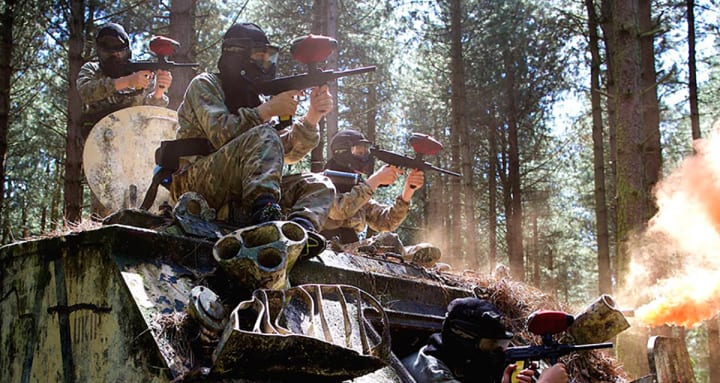 Bawtry Paintball & Laser Fields
Bawtry features some completely epic battlegrounds. Along with one of the biggest paintball castles they also offer an Ewok village complete with treetop village where combatants can reenact the Battle of Endor and storm the treetop village. Easily, the star attraction is the predator. That's right: the iconic 7" tall Alien hunter who tussled with Arnold Schwarzenegger roams throughout the fields of Bawtry Paintball & Laser Fields stalking his next victim. If a player stands completely still the predator will not notice them, but if he sees them move he'll unleash his full fury. This attraction was enough to even bring the attention of famed pop band One Direction to face against him and lose.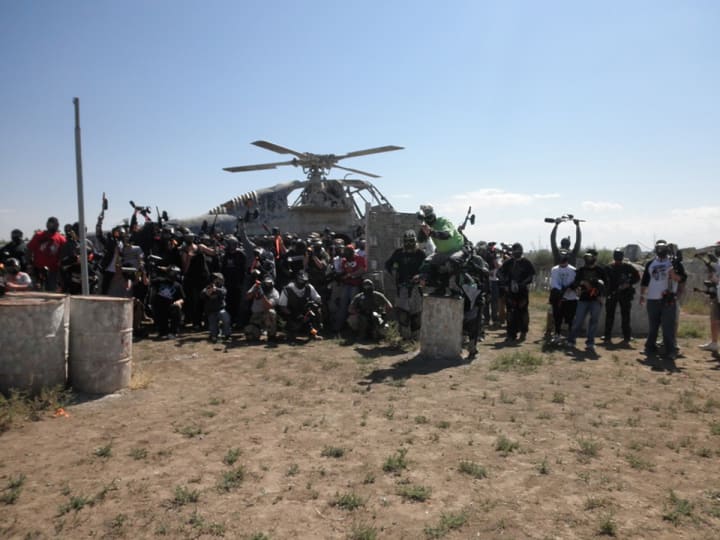 Blitz Paintball
Blitz Paintball offers a number of epic scenarios. Want to live out your battle of blackwater fantasy? Then Blitz Paintball's two story castle is the perfect location to bring modern warfare to the middle ages. They also offer a huge urban combat sprawl and a military base setting complete with vehicles. For players looking for a more competitive experience there's also several hyper ball field designed for competitive tournament play. The variety of fields and choices makes this one of the best places to choose in the midwest.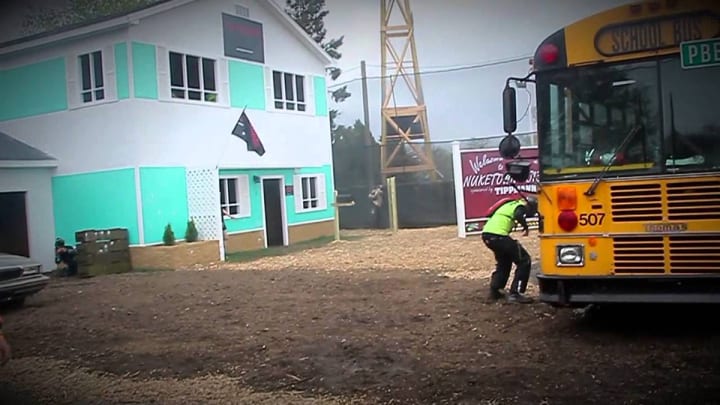 Explosion Illinois
Love the famous nuketown map in "Call of Duty"? Played it so many times you can see it in your sleep? Well how about trying out your skills in the real thing. Explosion Illinois offers a real life recreation of the famous map. Now you can put your money where your mouth is to see if all that time playing the map in the virtual world can translate into real life expertise. Explosion also offers a number of other themed fields like their Vietnam village and pirate ship. The variety of different locations will keep even the most experienced players on their toes.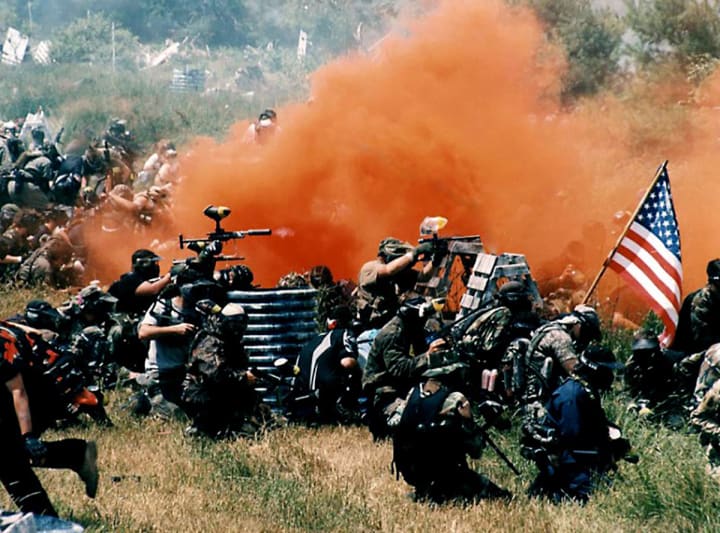 Skirmish USA
This paintball field features dozens of acres of open forest filled with awesome battlegrounds, but what makes Skirmish really special are their big battleground events. Ever wanted to relive D-day from Saving Private Ryan? Well you can, with over 200 other combatant's in the biggest battle imaginable. Ever few months they have special events and even 24 hour non-stop games where players are in a constant state of combat. They even had a Star Wars Hoth invasion event to take advantage of the winter weather to give Star Wars fans their ultimate dream scenario complete homemade AT-AT walkers.
list
product review
About the author
The biggest bunch of geeks gathered in one 12,000 sqft warehouse in Northern New Jersey who spend their whole day just being geeks.
Reader insights
Be the first to share your insights about this piece.
Add your insights