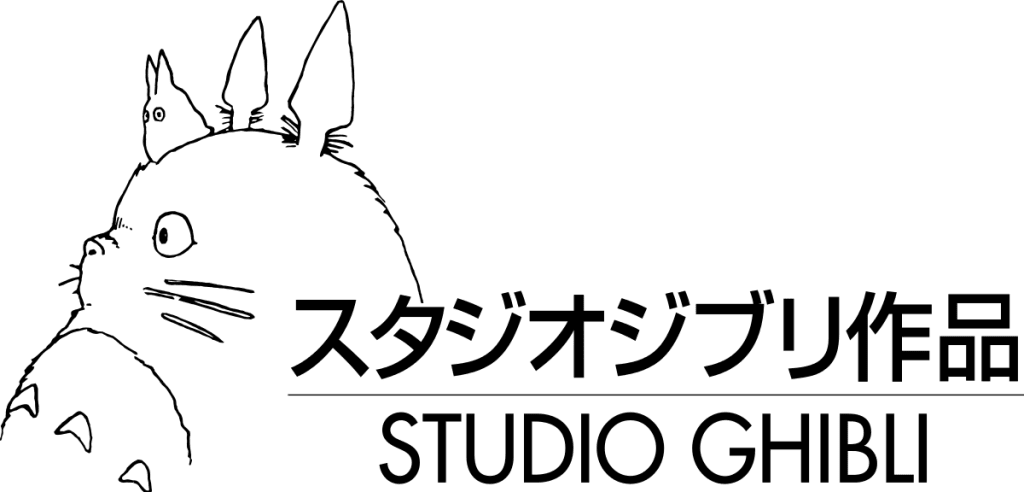 Studio Ghibli is a Japanese animation studio commonly referred to as the 'Japanese Disney' and just like our lovable Disney films, Ghibli titles can be very hard to choose from. While I have placed a top 10 list here, I honestly feel that many of these titles could be called my favourites but I had to choose a number one spot.
Ghibli films are great for the entire family with great English translations which flow smoothly with the animation. If you are new to the franchise then this list may be a great starting point for you. Older fans may appreciate how difficult it can be to make a list like this but I can only hope some of you agree.
So here is my top 10 Ghibli classics:
My Neighbour Totoro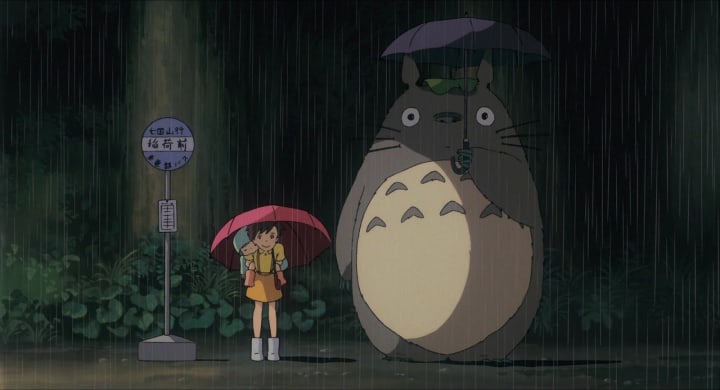 Blurb:
"This acclaimed animated tale by director Hayao Miyazaki follows schoolgirl Satsuke (Dakota Fanning) and her younger sister, Mei (Elle Fanning), as they settle into an old country house with their father (Tim Daly) and wait for their mother (Lea Salonga) to recover from an illness in an area hospital. As the sisters explore their new home, they encounter and befriend playful spirits in their house and the nearby forest, most notably the massive cuddly creature known as Totoro."
The lovable mascot of Studio Ghibli and a character etched within all of our hearts. Totoro is a friendly Wood Spirit who befriends two small girls, Satsuke and her younger sister Mei.
This is a classic family favourite and the world Miyazaki created is simply beautiful.
I have fond memories of this film growing up and believe I will always revisit this one on a rainy day.
From up on Poppy Hill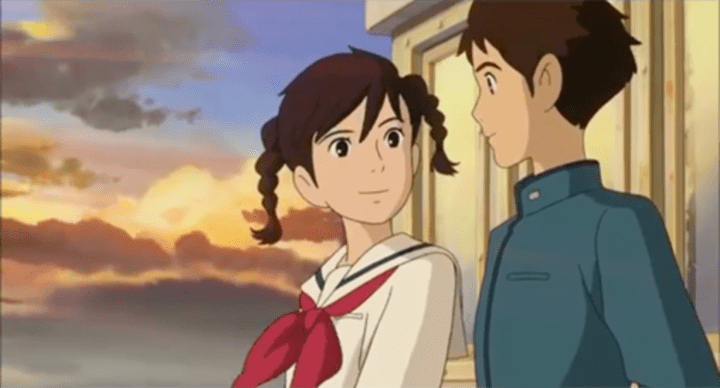 Blurb:
"Set in 1963 Yokohama, Japan, the film tells the story of Umi Matsuzaki, a high school girl living in a boarding house, Coquelicot Manor. When Umi meets Shun Kazama, a member of the school's newspaper club, they decide to clean up the school's clubhouse, Quartier Latin. However, Tokumaru, the chairman of the local high school and a businessman, intends to demolish the building for redevelopment and Umi and Shun, along with Shirō Mizunuma, must persuade him to reconsider."
One of the more recent Ghibli films, released in 2011. This was an instant hit for me. I really loved idea behind it and watching so many people of different backgrounds come together in mutual interest to save their clubhouse.
I really believe people of all ages will appreciate this one and it teaches a valuable lesson in working together.
Spirited Away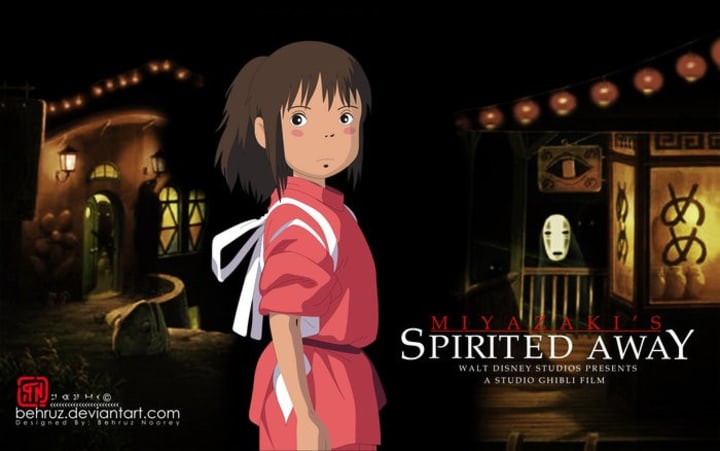 Blurb:
"In this animated feature by noted Japanese director Hayao Miyazaki, 10-year-old Chihiro (Rumi Hiiragi) and her parents (Takashi Naitô, Yasuko Sawaguchi) stumble upon a seemingly abandoned amusement park. After her mother and father are turned into giant pigs, Chihiro meets the mysterious Haku (Miyu Irino), who explains that the park is a resort for supernatural beings who need a break from their time spent in the earthly realm, and that she must work there to free herself and her parents."
I feel that this is one of the more commonly known Ghibli films and has been enjoyed for over 14 years now. Spirited Away is a great adventure into the spirit world and holds many fascinating creatures which really capture the imagination.
I love some of the humour scattered within this film and the warm characters you meet along the way.
Nausicaa of the Valley of the Wind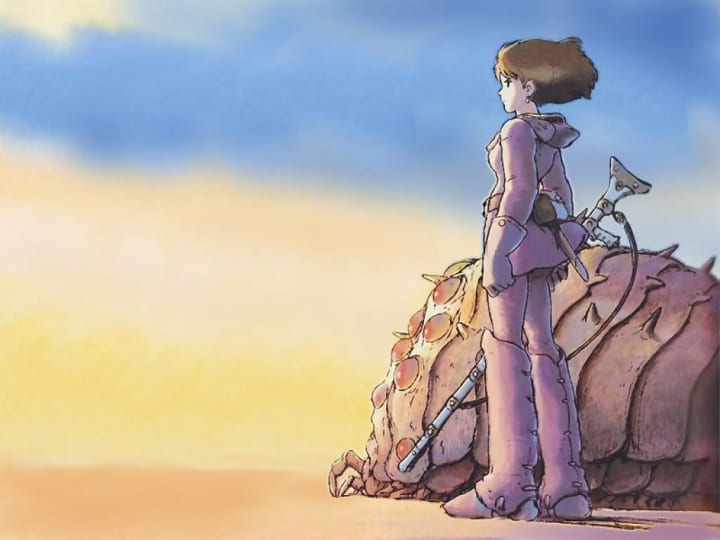 Blurb:
"Far in the future, after an apocalyptic conflict has devastated much of the world's ecosystem, the few surviving humans live in scattered semi-hospitable environments within what has become a "toxic jungle." Young Nausicaä (Alison Lohman) lives in the arid Valley of the Wind and can communicate with the massive insects that populate the dangerous jungle. Under the guidance of the pensive veteran warrior, Lord Yupa (Patrick Stewart), Nausicaä works to bring peace back to the ravaged planet."
I simply love the idea of this post-apocalyptic world and it's a pleasant change from nuclear fallout or Zombie uprisings. There are many fresh and unique ideas behind this film which audiences can appreciate. And who wouldn't want one of those sweet gliders!?
The Cat Returns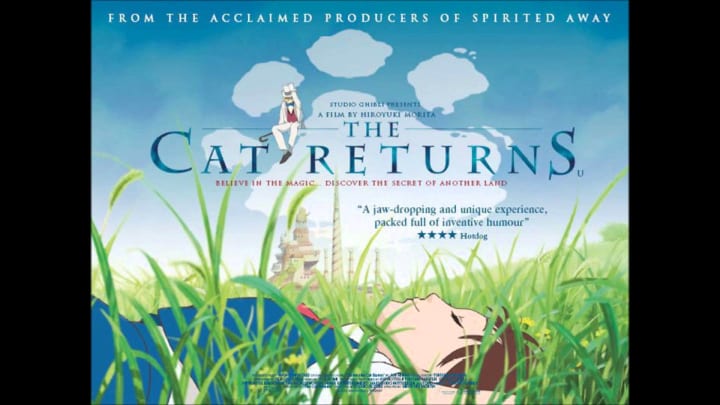 Blurb:
"High school student Haru (Chizuru Ikewaki) rescues a cat that was about to be run over by a truck and discovers the cat is actually a prince named Lune. Out of gratitude, Lune's father, the Cat King, asks her to marry Lune. Haru is brought to the Cat Kingdom, where she starts to develop feline features. When she is prevented from leaving, the Baron (Yoshihiko Hakamada) and Toto, two statues that have magically been given life, provide assistance in gaining her freedom."
One of the stranger Ghibli films in my opinion, yet very charming. In this film you're taken to a whole other world beyond our own, filled with... You guessed it, Cats! The world really captures the imagination and has clever little plot points which I found (Though maybe I over analysed).
Definitely one I have found children to take a liking to within my family and perhaps could become a favourite in yours too.
Whisper of the Heart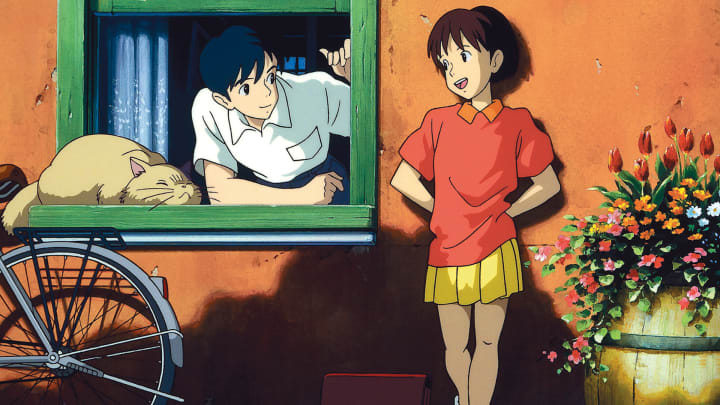 Blurb:
"Based on the manga with the same title, this animated film follows Shizuku (Brittany Snow), an inquisitive young girl and a voracious reader, who longs to be a writer when she grows up. One day she notices that all of her library books have previously been taken out by one Seiji Amasawa (David Gallagher). Amid chasing after a large cat, befriending an eccentric antiques dealer (Harold Gould) and writing her first novel, Shizuku aims to find this mysterious boy who may well be her soul mate."
I really, really love this film. For one there is an appearance of the Baron from 'The Cat Returns' in the form of a doll and a cute background story which you just have to fall in love with. But on top of that there is a clever rendition of the "Country Roads" song by John Denver, one of my all time favourite songs.
The story is just beautiful and full of happy and sad moments which keep you in a rollercoaster of emotions throughout. (At least it did for me).
I highly recommend this film, however, I advise watching 'The Cat Returns' first so that you can appreciate Baron's scene more.
Grave of the Fireflies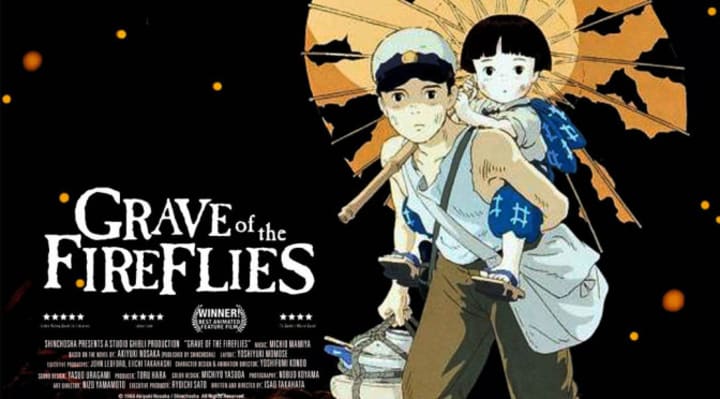 Blurb:
"A devastating meditation on the human cost of war, this animated tale follows Seita (Tsutomu Tatsumi), a teenager charged with the care of his younger sister, Setsuko (Ayano Shiraishi), after an American firebombing during World War II separates the two children from their parents. Their tale of survival is as heartbreaking as it is true to life. The siblings rely completely on each other and struggle against all odds to stay together and stay alive."
This film…
My friend and I constantly tell each other that we will never watch it again, yet somehow we always come back to it by stupidly convincing one another that it's a good idea.
I have just one thing to say to anyone who watches this and that is to be prepared, this film is truly heartbreaking and will make you want to curl up and die from the feels.
That aside it's a beautifully made story. Together with the animation, great voice acting and music, pulls you into a captivating story which you just can't turn off no matter how painful it is to watch.
Princess Mononoke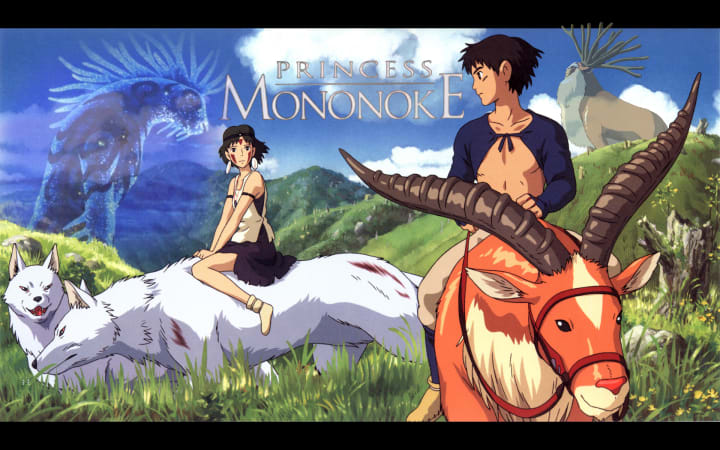 Blurb:
"Princess Mononoke is set in the late Muromachi period (approximately 1336 to 1573) of Japan with fantasy elements. The story follows the young Emishi prince Ashitaka's involvement in a struggle between the gods of a forest and the humans who consume its resources. The term "Mononoke" is not a name, but a Japanese word for a spirit or monster. Unlike other Ghibli films, Mononoke has a darker and more violent setting and tone."
I connected with this film so quickly, wanting to find out more about the mysterious Princess Mononoke and unlock the story of her past.
If you like wolves (or Puppers), I'm sure you will fall in love with this movie. It has a great story, wonderful creatures and deep characters.
Howl's Moving Castle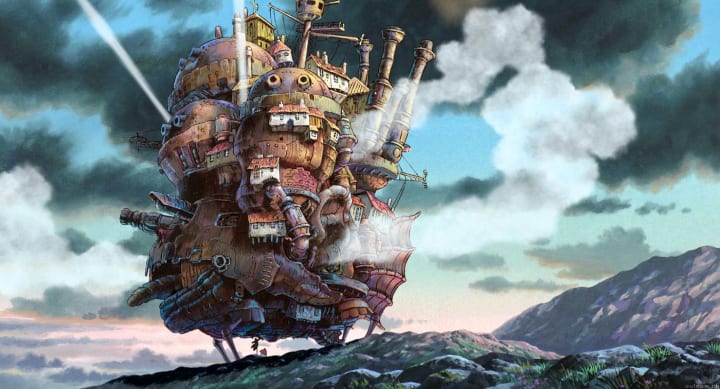 Blurb:
"Sophie (Emily Mortimer) has an uneventful life at her late father's hat shop, but all that changes when she befriends wizard Howl (Christian Bale), who lives in a magical flying castle. However, the evil Witch of Waste (Lauren Bacall) takes issue with their budding relationship and casts a spell on young Sophie, which ages her prematurely. Now Howl must use all his magical talents to battle the jealous hag and return Sophie to her former youth and beauty."
This was such a difficult decision and really wish this could be a tie for #1 as Howl's Moving Castle has to be one of my all time favourite movies!
The magic, the adventure, the characters, the settings. Everything is absolutely wonderful! I have watched this movie more times than I could count and will watch it many more times to come. I really recommend this to anyone out there of any age and I hope it has brought you as much joy as it has for me!
Laputa: Castle in the Sky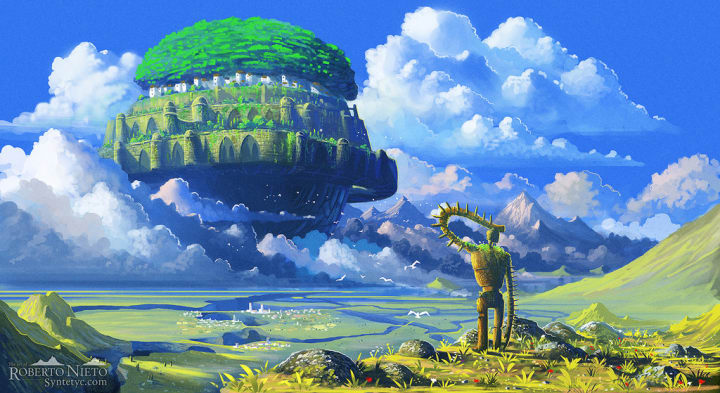 Blurb:
"Young orphan Sheeta (Anna Paquin) and her kidnapper, Col. Muska (Mark Hamill), are flying to a military prison when their plane is attacked by a gang of air pirates led by the matronly Dola (Cloris Leachman). Escaping from a mid-air collision via a magic crystal around her neck, Sheeta meets fellow orphan Pazu (James Van Der Beek) and the pair join forces to discover the mystical floating city of Laputa while pursued by both Muska and the pirates, who lust for the city's myriad treasures."
Who wouldn't want to visit a huge floating castle, chase pirates and meet wonderful stone golems? A wonderful adventure above the clouds and well deserving as my number 1 slot. This is one film that clung tight to my imagination and from the very first time I watched it have loved it deeply.
Everyone should watch this film and I truly believe it will be an instant hit for all members of the family!
Honorable Mentions
Kiki's Delivery Service
The Secret Life of Arrietty
Tales from Earthsea
Ponyo
Pom Poko
Porco Rosso
The Castle of Cagliostro
This concludes my Top10 List of Studio Ghibli films.
Do you agree with this list? What is your number 1 title?
Follow me on Twitter @EarlGreyNT and let me know!