Best Films of the 1950s Everyone Should Watch at Least Once
A Dozen of the Best Films of the 1950s You Don't Want to Miss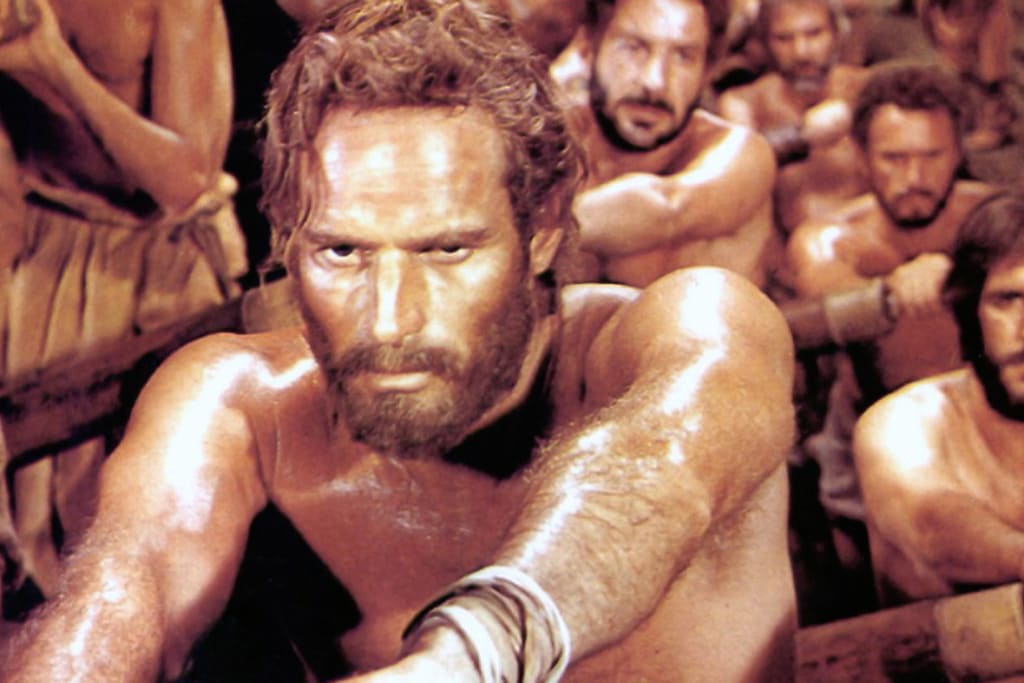 It was the decade of Cecille B. DeMille, John Ford, Alfred Hitchcock, Billy Wilder ,and William Wyler, when every film, especially those on this list, felt like widescreen epics – and many of them were movies so sweeping in their ambition and scope, in the magnitude and magnificence of their storytelling, that you couldn't help being swept away. Here are a dozen of the best films of the 1950s, in reverse alphabetical order, the ones I think it'd be a crime to miss if you want to drink a deep draught of a golden age for American cinema.
Just about every Alfred Hitchcock film is a masterpiece. Each is one of the best films of the 1950s, but Vertigo (1958) is just a bit darker, tighter, more upsetting, more ambitious… A tormented Jimmy Stewart stars with Kim Novak and the city of San Francisco in an exquisite thriller that leaves you aching as it crashes to its finale.
I think I realized I'd hit puberty the first time I saw The Ten Commandments (1956) – to this day I'm still not sure what the sight of Anne Baxter did to me, or how to discuss it. All I can say is, "so let it be written… so let it be done." Maybe the best Bible film ever made? Certainly a great turn by one of the greatest actors to ever walk, stiffly, across the screen, Charlton Heston, who Laurence Olivier once described as "America's best Shakespearean actor." Its length is part of what makes it great – you get all the plagues, the parting of the Red Sea and the Golden Calf for one low price, drama trumping religiosity and the Israelites prevailing, for once.
In John Ford's The Quiet Man (1952), John Wayne plays Irish-American boxer Sean Thornton who leaves America to retire on the Emerald Isle, where he of course falls in love with Maureen O'Hara, "the Queen of Technicolor," luscious as always and typecast as the fiery Celtic redhead. Odd not to see "Duke" out west with a six-shooter or storming the sands of Iwo Jima with a rifle, but those of us in the know would happily watch him read a newspaper.
Billy Wilder's Some Like It Hot (1959) is a joy from end to end. This one's got everything – cross-dressing, jazz musicians, vengeful mobsters, and Marilyn Monroe at her absolute best. Jack Lemmon and Tony Curtis are flawless as best friends, a bassist and sax player, respectively, who have to join an all-girl band on its way to Florida after witnessing a mob hit in a Chicago garage. Hilarity ensues, friendship and true love prevail, and much of the movie was filmed at the magnificent Del Coronado Hotel in San Diego, CA.
A glorious celebration of the end of silent films, Singin' in the Rain (1952) is one of Hollywood's greatest musicals and, of course, the place you'll find Gene Kelly actually singing, and dancing, in the rain. Kelly is impeccable and winning, and Donald O'Connor's dancing will astound you, but it's Jean Hagen, as silent film star and villainess Lina Lamont, who runs off with this flawless classic.
Alan Ladd plays the title role in Shane (1953), one of the most beautiful westerns ever made and one of Woody Allen's favorite films. Shane will satisfy your thirst for justice and for the breathtaking landscape of the Grand Tetons, where it was filmed; you'll be as sad and lonely as you are satisfied by the end. In 2007, the American Film Institute ranked this as the 45th greatest movie ever made.
Seminal is one way to describe Akira Kurosawa's classic Seven Samurai (1959), a tale of seven unemployed samurai warriors who band together to defend a village under siege by bandits. If you love The Magnificent Seven, either the John Sturges version from 1960 or the Antoine Fuqua version from 2016 (don't miss either), start here.
Rear Window (1954) is cinematic perfection with a seasoned Jimmy Stewart paired with the luminous Grace Kelly for one of Hitchcock's simplest, most concise, and enjoyable films. Stewart plays photographer L.B. "Jeff" Jeffries, who's stuck at home in a wheelchair with a broken leg and, while watching his neighbors through the rear window of his apartment, is convinced he's witnessed a murder. The climax includes perhaps the most inventive use of a flashbulb ever filmed.
Another Alfred Hitchcock classic, North by Northwest (1959), Hitchcock's last film of the decade stars Cary Grant, probably the greatest movie star ever, as advertising executive Roger O. Thornhill (of course!) who is mistaken by a group of foreign bad guys for a spy and must not only evade his pursuers, but rescue the unyieldingly alluring Eva Marie Saint as well. Grant is to film what Sinatra is to vinyl — just the sight of him will make you happy, maybe almost as happy as he seems onscreen, and Hitchcock outdoes himself once the film arrives at Mt. Rushmore…
The Bridge on the River Kwai (1957) is, alongside The Great Escape (1963), one of the best prisoner of war films, if such a category exists. One of the first of David Lean's great epics, Bridge on the River Kwai stars the incomparable Alec Guinness as Colonel Nicholson who — in what he sees as the most dignified response to the indignities, and torture, which his Japanese captors subject him and his men — agrees to build a railway bridge for the Burma-Siam railway over the River Kwai. The great William Holden plays an American officer who takes things to their unexpected, brilliant, and thrilling conclusion.
Maybe my favorite movie of all time, certainly my favorite story of The Christ, William Wyler's Ben Hur (1959) is a massive movie. Fallen Jewish prince Judah Ben-Hur, infused with Charlton Heston's inflexible dignity and righteous glare, travels from Jerusalem to Rome and back, from Roman galley to chariot, meets Jesus, and finds true love. There's also leprosy, the Crucifixion, and perhaps one of the greatest lines ever uttered in film: "We keep you alive to serve this ship. Row well, and live."
It was long after puberty when I first saw All About Eve (1950), and I must have been far more sophisticated than I'd been when my voice was breaking and my face was breaking out as, though Anne Baxter plays a femme fatale in All About Eve, I fell in love with Bette Davis. While she was never a classic Hollywood beauty in her own era, and she probably wouldn't be in any other, is there anything sexier than her intelligence, which could have carved its initials in a tree trunk without a penknife? Those eyes helped, of course, but they were to that mind what a stream of steam is to a kettle of boiling water. Beyond Bette and her master class in how to conquer and rule an entire film, the dialogue seems as if it's made of lightning.
Yearning for a time when sets were hand-painted, scripts were written by one person, and some of history's greatest actors were chewing up the scenery on every silver screen? It was the 1950s, post-war America: houses were rising across the country, cars were rolling off the assembly lines, the Baby Boom was booming, and some of the best films ever made were filmed in Technicolor and enjoyed, in actual movie theaters, by millions. Now it's your turn.
About the Creator
David A. Porter has been the editor at large for Stereo Embers Magazine, an online music site, since 2007. David received an MFA in Creative Writing and an MA in English from San Francisco State University. He is a Rutgers graduate.
Reader insights
Be the first to share your insights about this piece.
Add your insights