Best Couples in Soap Opera (2000-2020)
I'm going share the best couples in soap opera from the years 2000 - now.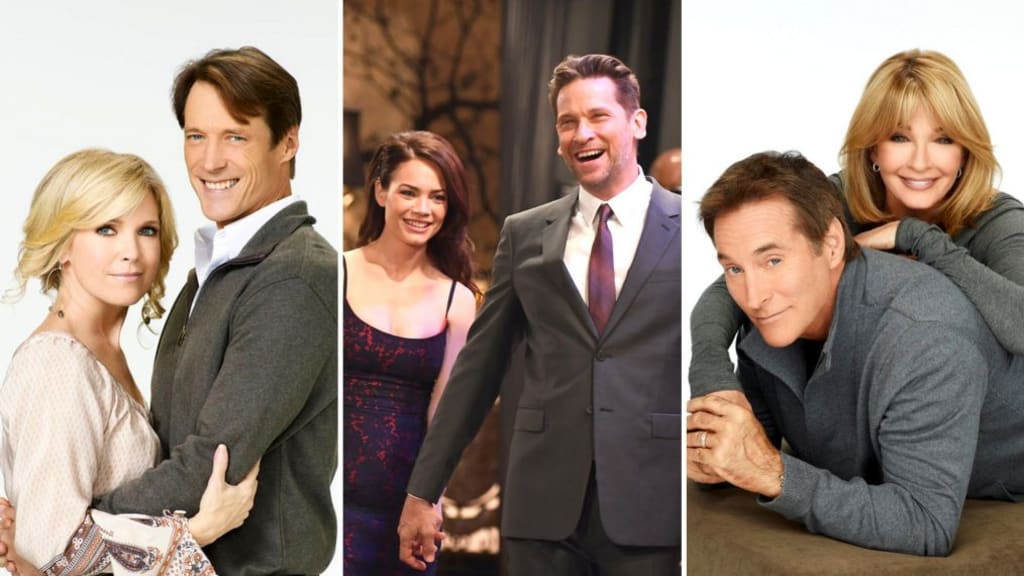 Jack and Jennifer/NBC, Liz and Franco/ABC, John and Marlena/NBC
I am a big soap opera fan. I have watch General Hospital, Days of Our Lives, Bold and The Beautiful, and One Life to Live. Now there have been some amazing soap opera couples that we all remember. So I will give you some of my favorite couples whether they are together or not.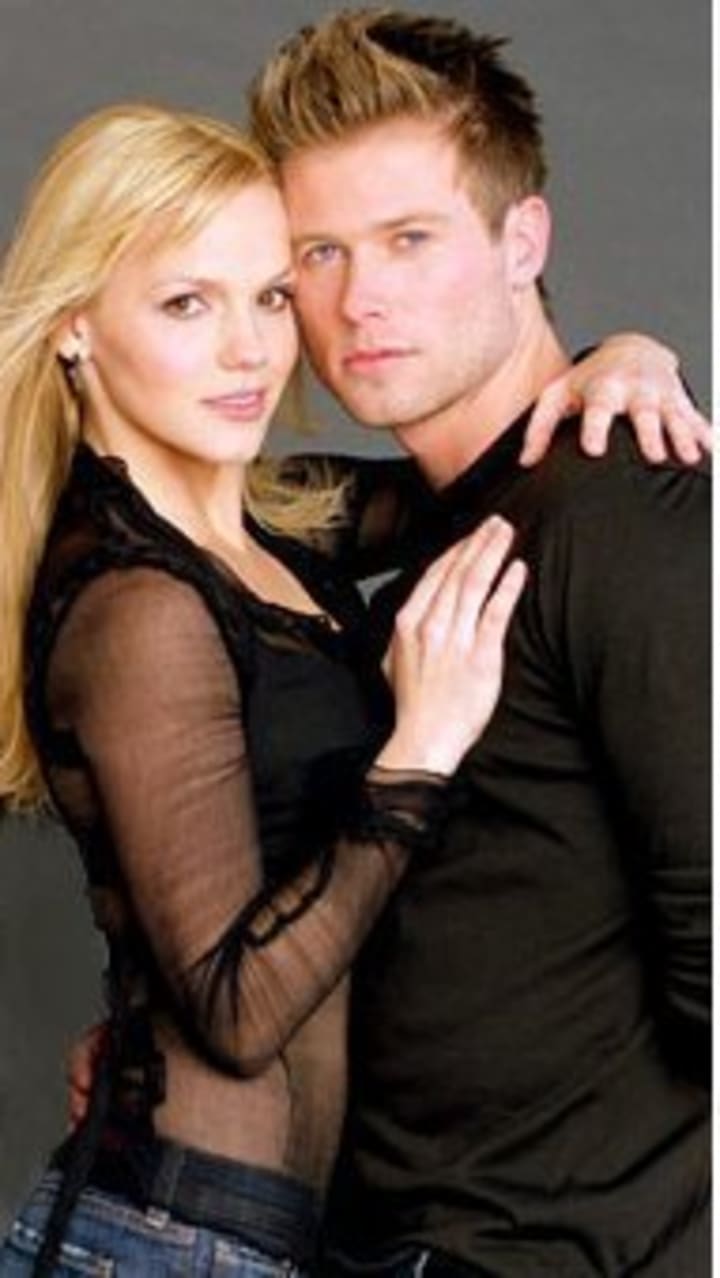 JR Chandler and Babe Carey - Jabe
I didn't watch much of All My Children but I will say that Babe and JR were probably the best couple in the early 2000s. "Jabe" as they were called were considered star crossed lovers as the show progressed. They may have had their ups and downs from Babe's cheating to the baby switch with their son Adam, they still managed to never give up on their love for each other. There love story deserved better especially and after Babe's death; no one would ever love JR the way Babe did. I'm still to this day annoyed that they killed off Babe.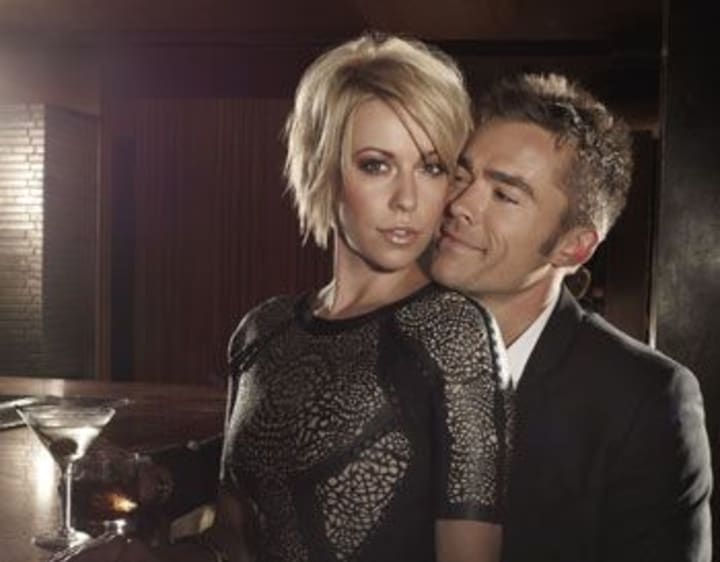 Rex Balsom and Gigi Morasco
The Rex and Gigi love story is complicated and exhausting, but you couldn't help but hope for them to be together. Every time they tried to be together, something or someone (Stacy Morasco) always got in the middle. The couple dated and high school and it was revealed that Rex was the father of her son Shane Morasco. During Rex's wedding to Adriana Cramer, Gigi confessed her feelings to Rex as well as Shane's paternity. Rex ends his relationship with Adriana and begins a relationship with Gigi but that ended when Stacy, Gigi's sister come in. Rex was an idiot for messing with Gigi's sister and Gigi should've told Rex to the truth. Stacy is a terrible sister and got what she deserved in the end. The drama between the three was aggravating but overall juicy and entertaining. In the end, the couple finally got their happy ending like they should've had.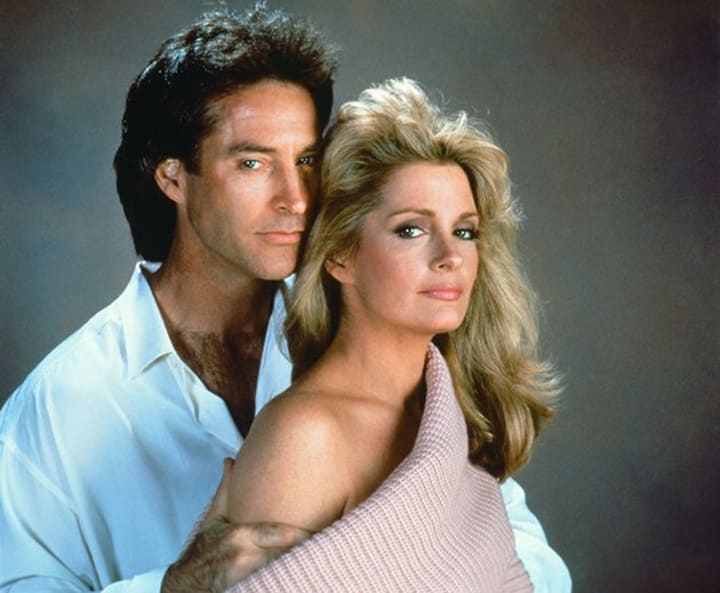 John Black and Marlena Evans - Jarlena
Jarlena is the all-time favorite couple since the 1980s. The couple has gone through it all and still manage to be together in the new decade. As the years went on, they welcome little Belle, and we through an uphill battle with the drama with Brady Black, John's fake death, and later Stefano Dimera trying to take Marlena. I can't say much more because they are just the perfect couple and always come back to each other. John is like Superman and Marlena is Lois Lane and he's always saving her. I hope that John and Marlena last till the end because no one deserves a better happy ending than those two.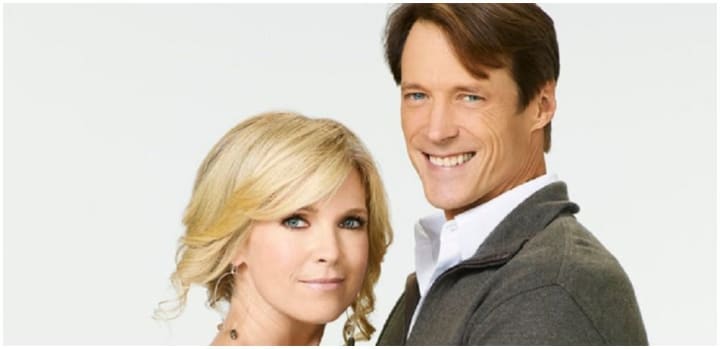 Jennifer Horton and Jack Deveraux - JnJ
Another Days couple, they deserve a spot. Jack and Jennifer have one of the best love stories in the history of soap operas. I watched some old clips of the couple I remember Jack kidnapping Jennifer on the day of her wedding day to Emilio Ramirez. They have some great moments, but this was my favorite. Jennifer later recreated this moment to help Jack remember who was after he returned from the dead. Jennifer is adorable and Jack is another Superman to her Lois Lane. Their relationship is the best part of the show and the writers better not separate them again.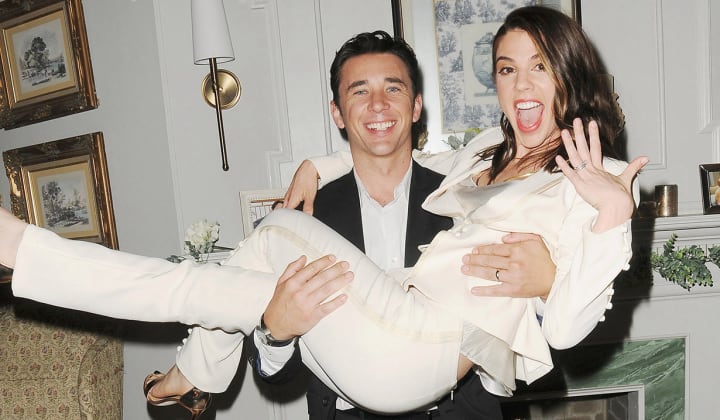 Chad Dimera & Abigail Deveraux - Chabby
I think Abigail learned a lot from our previous super couple Jack and Jennifer because she ended finding her knight and shining armor with Chad Dimera. I compare the Chabby love story to Rex and Gigi because they were off and on. While she was in a relationship with Ben Weston, she and Chad slept together and later found out she was pregnant with Chad's child. Chad and Abigail went through a lot and I knew they would find they're way to each other. The two come from different families and who would've thought they'd work together. At one point, I hated Chad for not believing Abigail over Gabi. I'm not shocked that she forgave him because in her heart; she will always love him, and they have a family together. Chabby is a great couple in this new generation and hope to see them strive.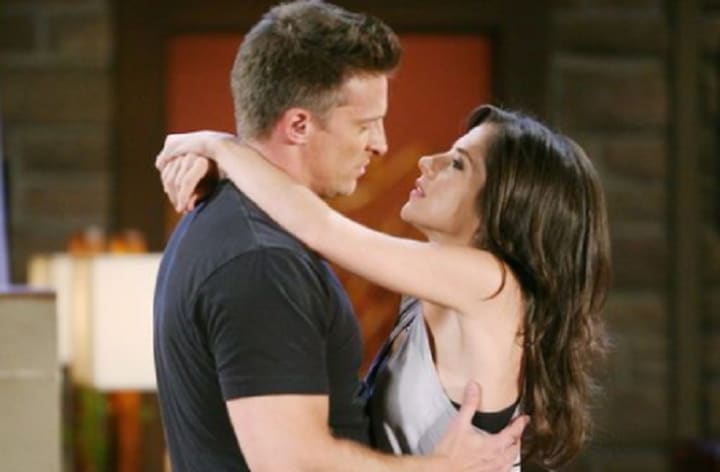 Jason Morgan and Sam McCall - JaSam
JaSam is the Batman and Catwoman romance that you love to see. Their relationship is sexy, mysterious and one of the most iconic couples at General Hospital. This couple is probably one of the hottest couples ever. The two started out as friends that later grew into a blossoming love story. The couple now have a son and still manage to keep the relationship going strong. To me, they are currently the Mr. and Mrs. Smith in General Hospital.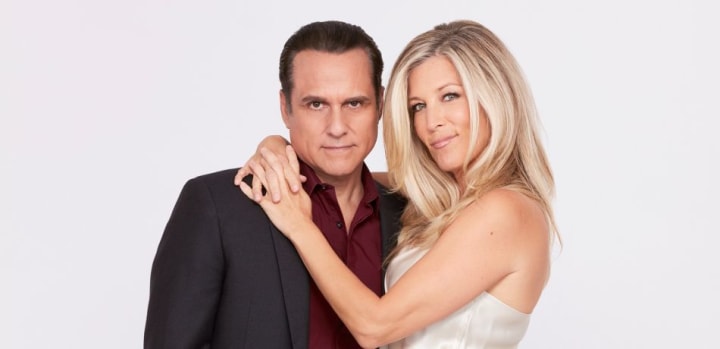 Sonny Corinthos and Carly Benson - CarSon
Oh, they are a lot to say about Sonny and Carly. Sonny has been with a lot of women, but he and Carly are perfect for each other. Like everyone other soap opera couple, they go through a lot to get to where they are now. They are the most powerful couple in the last decade and have a long history that has constantly repeated itself. Having been on and off, the attraction and loving connection these two have for each other is undeniable. After everything they've been through, these two go down as one of the many supercouples in soap opera history.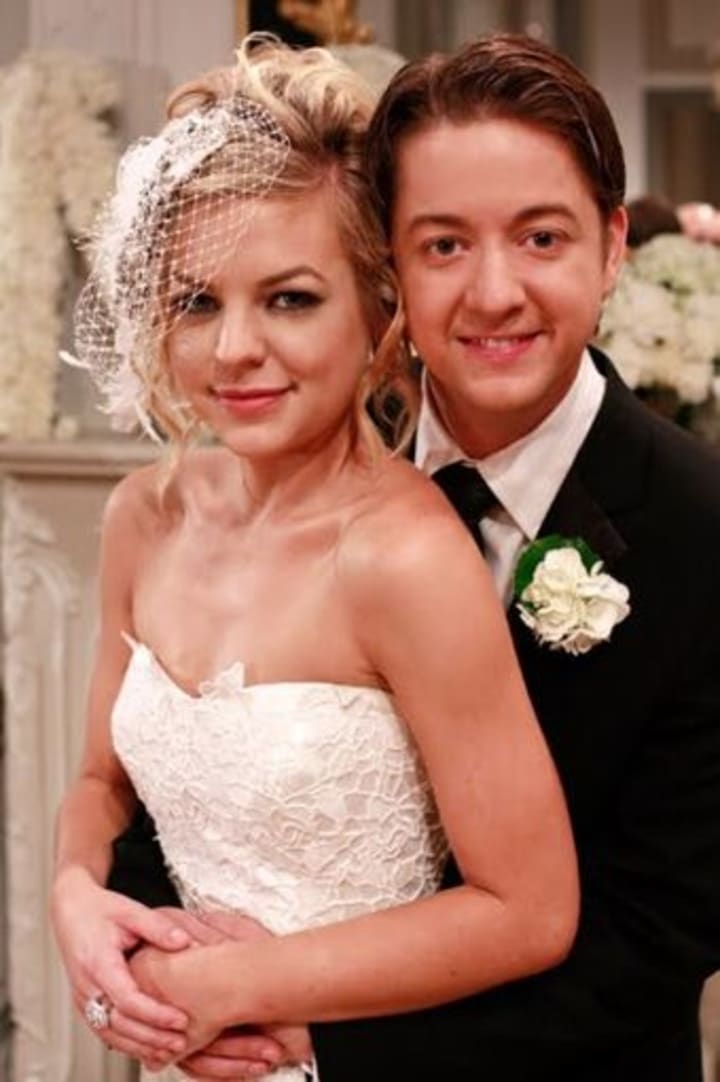 Maxie Jones and Damian Spinelli - Spixie
Maxie and Spinelli were the cutest couples. They were two dorks that were perfect for each other. I remember the first time they got together, and it was like a scene out of a rom-com but less cheesy. As much as I love Nathan and Maxie, Maxie and Spinelli were "adorkable" and would've been a perfect family. I don't get why they aren't together, and the writers need to get them back.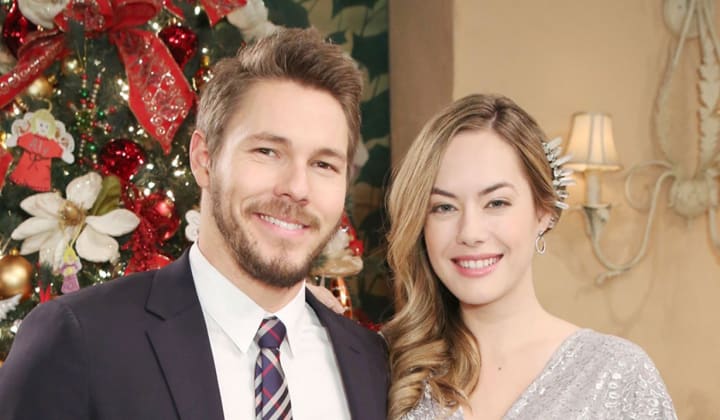 Hope Logan and Liam Spencer - Lope
Hope and Liam's history includes a lot of drama, miscommunication, manipulation, and temptation. The drama with them and Steffy are annoying because he's always flip-flopping and breaking both of their hearts. I will say that they're story is actually beautiful and it's more of a connection than Liam and Steffy's ever was. No offense but I prefer Steffy with Wyatt rather Liam. The one thing that bothers me is that Liam often doesn't know what he wants but that's just every man on The Bold and The Beautiful. Some of these women do deserve better but you can't help but root for some of these couples. I hoping the writers don't screw this couple up but there's no telling what will happen.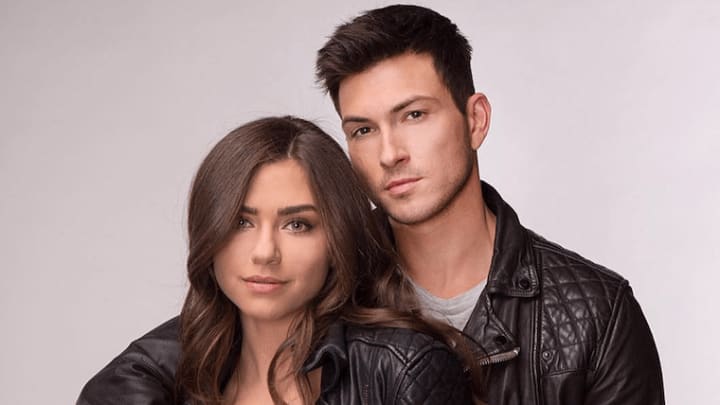 Ciara Brady and Ben Weston - Cin
This is the newest and hottest couple in this ongoing decade. Who would've thought that we'd want Ben Weston to be with anyone? Ben has definitely changed and proved that he can be better despite having a disturbing past. Despite the disapproval from many others, Ciara and Ben couldn't deny that they had strong feelings for each other. Ciara and Ben are kind of like Jason and Sam but younger. Both Jason and Ben have a criminal past and Sam and Ciara are the cool badasses that will fight for what's right. Ciara and Ben are a great couple and I love watching every minute of them.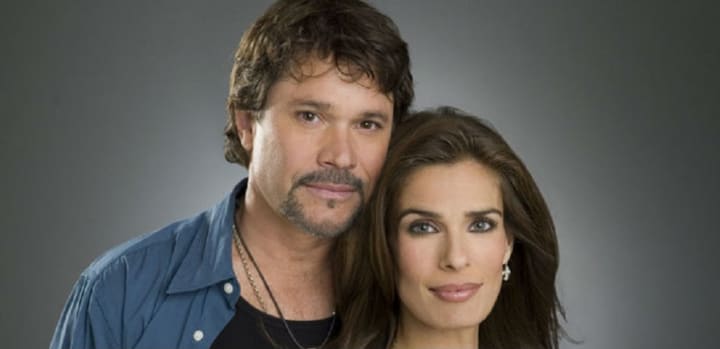 Bo and Hope Brady - Bope
Bope is the couple I miss to this day. I watched old clips of the two including their royal wedding. This is one of the most iconic and all-time favorite couples. Their romance is the most beautiful and satisfying thing to watch. With three children, I wish these two were still together. Bo's death was heartbreaking, and I know that Hope will never be happy with anyone else except Bo. No one can ever beat Bo and Hope Brady.
Honorable Mentions
Gabi Hernandez and Stefan Dimera - Days of Our Lives
Cane Ashby and Lily Winters - The Young and the Restless
Devon Hamilton and Hilary Curtis - The Young and the Restless
Stephanie and Eric Forrester - The Bold and the Beautiful
Bianca Montgomery and Maggie Stone - All My Children
Steve Johnson and Kayla Brady Johnson - Days of Our Lives
Cole Thornhart and Starr Manning - One Life to Live
Todd Manning and Blair Cramer - One Life to Live
Nathan West and Maxie Jones - General Hospital
Patrick Drake and Robin Scorpio Drake - General Hospital
Patrick Drake and Sabrina Santiago - General Hospital
Dante Falconeri and Lulu Spencer - General Hospital
I hope you like my list and let me know who's your all time favorite couple!!!
About the Creator
I'm an studying to become a filmmaker, screenwriter, and actor. I love movies and television. I love to edit videos, film videos, and write stories and screenplays. Check out my articles. I right about all things Movie and TV related.
Reader insights
Be the first to share your insights about this piece.
Add your insights