Beginner's Guide to 'Lego Dimensions'
Lego Dimensions is a huge game featuring characters from Batman, Doctor Who, Lord of the Rings, and Harry Potter, but, with this guide, maybe this phenomenon may be a little easier to figure out.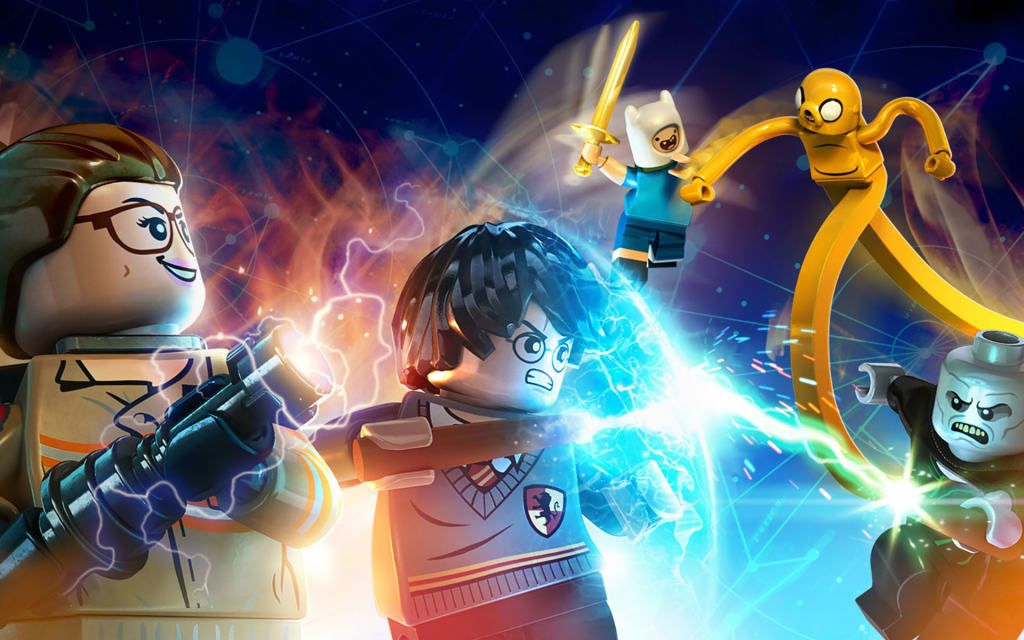 Lego Dimensions, to anyone on the outside, sounds like some crack fanfiction a child who has consumed way too much candy came up with on a school playground, which is what makes it freaking awesome. What if the Wicked Witch from The Wizard of Oz traded out her flying monkeys for Gremlins? What if Finn and Jake from Adventure Time joined the Doctor to stop Voldemort? And somehow all of this is connected to The Lego Movie and The Lego Batman Movie, two of the best family films released in the last five years? The game features an ever-growing roster of characters, and throws them all into a playground of the imagination. And, somehow, all this chaos has a story! Arcs! There is a method to this madness! All of this content may seem a little overwhelming to the average guy just discovering Lego Dimensions, but, with this little guide, maybe this phenomenon may be a little easier to figure out.
Lego Dimensions is a video game available for the PS4, PS3, XBox One, XBox 360, and Wii U. Kids all over the country have been buying this game, and building their imaginative universes to the skies--Lego brick by Lego brick. To an outsider, though, it all may seem odd. Older and former kids remember playing Legos with real Lego toys and Lego bricks. It may seem like a contradiction. How can you play Legos without... real Legos?
The truth is that you can't. And that's where Lego Dimensions really stands apart.
Similar to games like Skylanders, Lego Dimensions incorporates a toy pad where the player(s) can place special Lego pieces to add content into the game. The toy pad hooks up to the video game console via a USB cord, and registers computer chips inside special Lego figures hooked up to the pad, which sends a signal into the game to add the extra content in-game.
If you want Robin from The Lego Batman Movie, for example, you will have to buy him separately. Once you purchase the Lego sets you want, you can go ahead and place your character on the Lego toy pad, and sent a signal to the game to program your Lego Robin INTO the game. And, from there, you can play with him in-game. For older kids, think of it as buying a new set of Lego toys. Gamers, think of it as paid DLC.
The game comes with a general Starter Set, but the extra content is sold separately in packs. More on that later.
The basic plot of Lego Dimensions reads like a crazy-awesome fanfiction. In the center of the Lego Universe, a being known as Lord Vortech (played by Gary Oldman) seeks to unify the Lego Multiverse. To do this, he needs to collect the Twelve Foundational Elements, which, when brought together, can unify the various worlds together. These elements include famous movie items such as the One Ring from Lord of the Rings and the Ruby Slippers from The Wizard of Oz. With all these items in his control, Vortech can control the multiverse. He opens a series of dimensional holes, and hires classic villains from across time and space to aid him in his quest.
The dimensional rifts opening up sucks Robin (Batman), Frodo (Lord of the Rings), and Metalbeard (The Lego Movie) into Vortech's universe. This brings Batman, Gandalf, and Wyldstyle (from The Lego Movie) out on a journey to bring them back. Along the way, they recruit the aid of countless iconic characters from across cinema, video games, and television to stop Vortech from taking over the multiverse.
Lego Dimensions plays similar to the Lego Batman and Lego Star Wars games before it--and all the other Lego video game spin-offs. Up to two players can play, and each one controls a character from a selection of characters. The game comes with a group of characters, and additional characters must be purchased and inserted into the game with the toy pad. Players navigate a linear level with these two characters, solving simple puzzles and combating simple enemies.
The game is designed with kids in mind, but there are enough secrets and unlockables to keep older players invested. The core game can be completed without buying extra material, but each character brings more to the LEGO Dimensions universe that makes it an ever-growing universe for kids to enjoy.
In addition, buying new material can unlock new levels and story modes, which keeps the game ever growing and forever interesting.
In order to get the most out of Lego Dimensions, you will need to purchase Packs. Packs build upon preexisting features in the game in order to extend the time you can spend building up your Lego fanfic fantasies. There are four varieties of packs, and each one adds different varieties of content. They include (from most to least expensive) Story Packs, Level Packs, Team Packs, and Fun Packs.
Story Packs add story plots to the game, along with several new levels. Level Packs add new levels to the game--sometimes recreating the plot of the franchise in Lego form (so if you thought Back to the Future needed more Lego Batman, now is your chance). Team Packs add new characters and items into the game for your use. Fun Packs are similar, except offer one character and one item. Each one brings something new from your favorite fictional franchises, allowing you to create an experience involving your favorite franchises.
One of the most interesting and incredible parts about Lego Dimensions is the vast catalog of characters, as well as how many new characters are introduced in each new expansion. The ever-expanding cast of characters and levels distinguishes the game from other Lego game titles.
As of February 2017, the game incorporated:
The A-TeamAdventure TimeBack to the FutureDC ComicsDoctor WhoE.T. the Extra-TerrestrialFantastic Beasts and Where to Find ThemGhostbustersGhostbusters (2016)GremlinsHarry PotterJurassic WorldKnight RiderLegends of ChimaThe Lego Batman MovieThe Lego MovieThe Lord of the RingsMidway ArcadeMission: ImpossibleNinjagoPortal 2Scooby-DooThe SimpsonsSonic the HedgehogThe Wizard of Oz
The game's ever-expanding roster makes it prone to developing even further. Recent additions allow the characters from The Lego Batman Movie and Fantastic Beasts and Where to Find Them to join in the fun. Upcoming additions to be released in 2017 include Beetlejuice, The Goonies, The Powerpuff Girls, and Teen Titans Go. This gives this game a far longer lifespan than the average Lego game.
Lego Dimensions is an ever expanding universe, full of incredible material. Whether you're a kid hoping to play out your greatest fantasies or a grown adult hoping for a shot of nostalgia, this game will delight you. With so much content out there, you can play the game again and again, and experience something new and different each time. Go out, and enjoy the adventure that awaits you.
About the Creator
Obsessive writer fueled by espresso and drive. Into speculative fiction, old books, and long walks. Follow me at twitter.com/AGramuglia
Reader insights
Be the first to share your insights about this piece.
Add your insights