Be Part of the Family
Top TV shows and theme songs of the 1960s and 1970s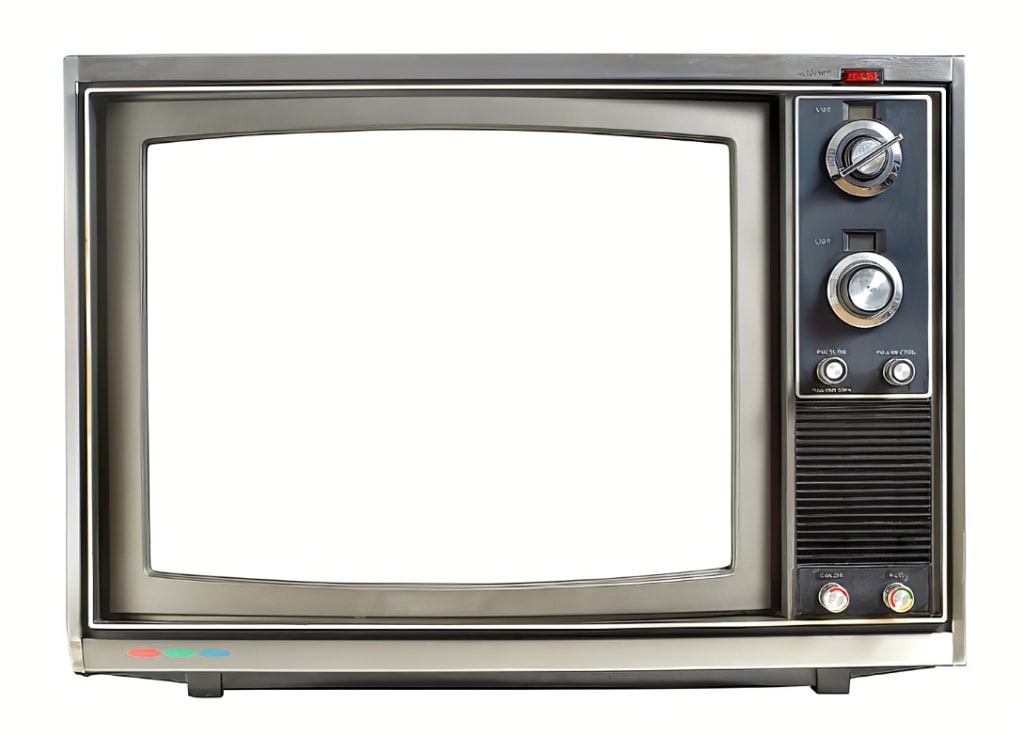 Television is no longer what it was but it gave us a lot of memorable TV shows and theme songs we could sing along to so let's take a trip down memory lane, remember, and smile.
The 1960s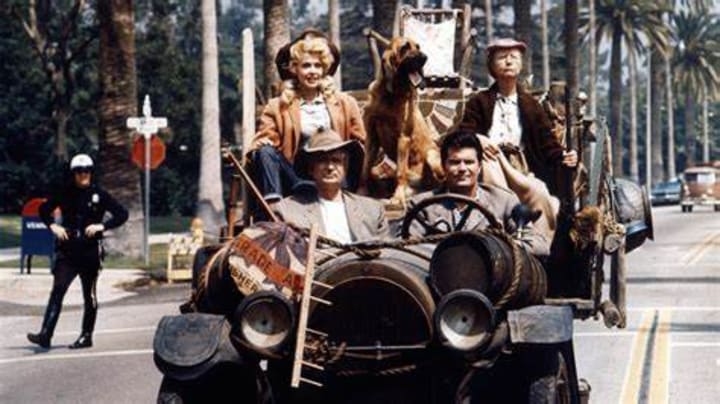 The Beverly Hillbillies 1962 – 1971
"The Beverly Hillbillies" has a great cast including Buddy Ebsen, Irene Ryan, Donna Douglas, and Max Baer Jr, as the Clampetts. They were a poor, backwoods family from the Ozark Hills who wound up moving to Beverly Hills, California after finding oil on their property. The show was ranked among the top 20 most-watched shows on TV for eight of its nine seasons. It was a number one series during its first two seasons. It continues in popularity among reruns and from the show came a movie in 1993. Dear Granny showed us, that you can take her out of the country but she kept her house as she was used to doing it while living in the country even though she now lived in a mansion in Beverly Hills. Those of you who know the show Can you just picture Granny in an evening gown and fur coat?
The theme song was "The Ballad of Jed Clampett" written by producer and writer Paul Henning and originally performed by bluegrass artists The Foggy Mountain Boys and sung by Jerry Scoggins.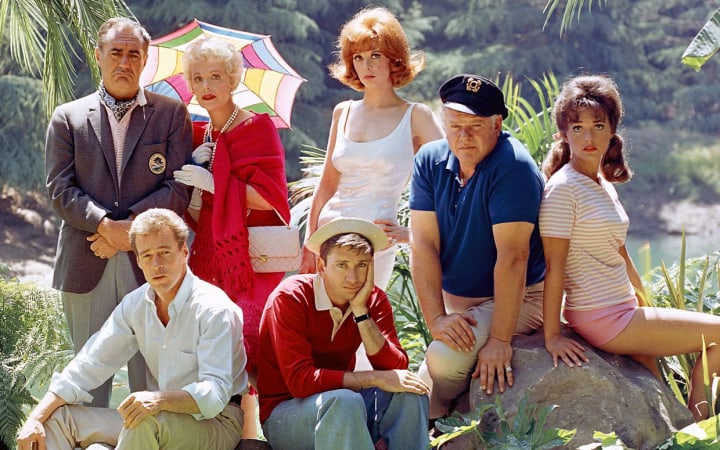 Gilligan's Island 1964 – 1967
"Gilligan's Island" might have lasted only three seasons but it gained a great many fans. It was actually a rather silly comedy about people stranded on a desert island. Seven people set sail on what is scheduled to be a three-hour sightseeing tour on the charter boat The Minnow gets caught in a storm and they end up stranded on an uncharted tropical island together. However, it had quite a following and many people enjoyed tuning in each week to find out what was happening with the castaways.
They were the Captain (Alan Hale), Gilligan (Bob Denver), the Professor (Russell Johnson) , Ginger (Tina Louise), Mary Ann (Dawn Wells), and Mr. and Mrs. Thurston Howell (Natalie Schafer and Jim Backus).
The theme song was "The Ballad of Gilligan's Island written by Sherwood Schwartz and George Wyle. One version was used for the first season and another for the second and third seasons. The first season version was recorded by the folk group The Wellingtons and the other seasons by a group called The Eligibles.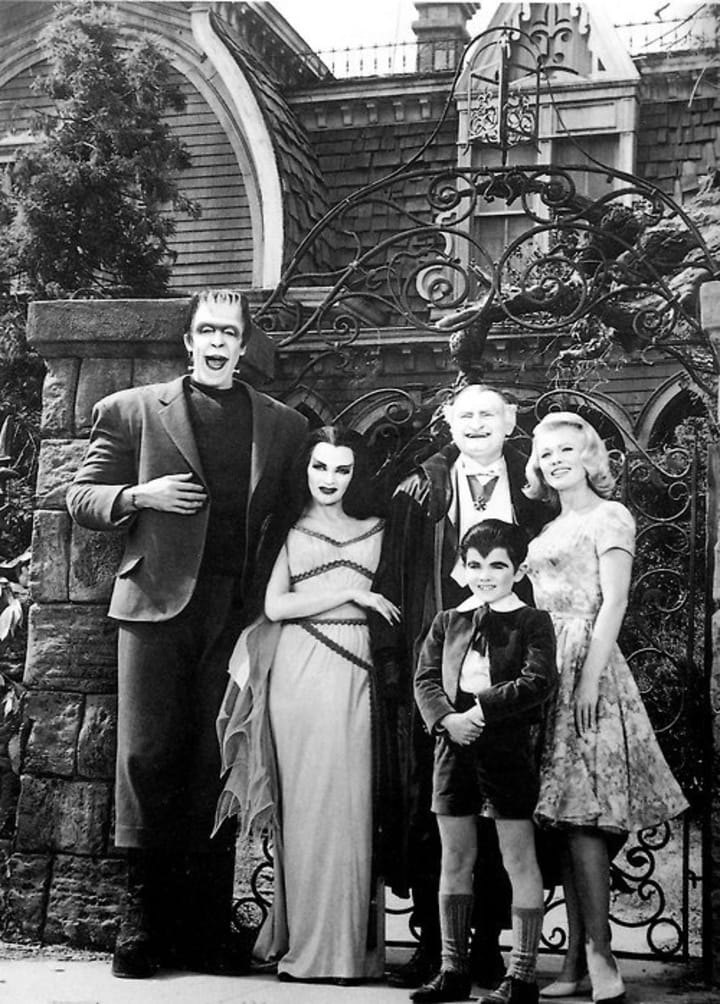 The Munsters 1964 – 1966
TV creators can make us believe in almost anything. So with creativity, they had people enjoying the comedy of a not-so-typical American family. The head of the family was Herman Munster who was Frankenstein played by Fred Gwyn, his wife was Lily played by Yvonne de Carlo who was the daughter of Dracula. They had a son Eddie who was a werewolf played by Butch Patrick and with them lived Lily's father Count Dracula or called Grampa portrayed by Al Lewis. The family also included Lily's niece Marilyn played by Pat Priest and they all lived together at 1313 Mockingbird Lane. It did turn out to be a very successful show.
"The Munsters" theme song was instrumental and composed by Jack Marshall.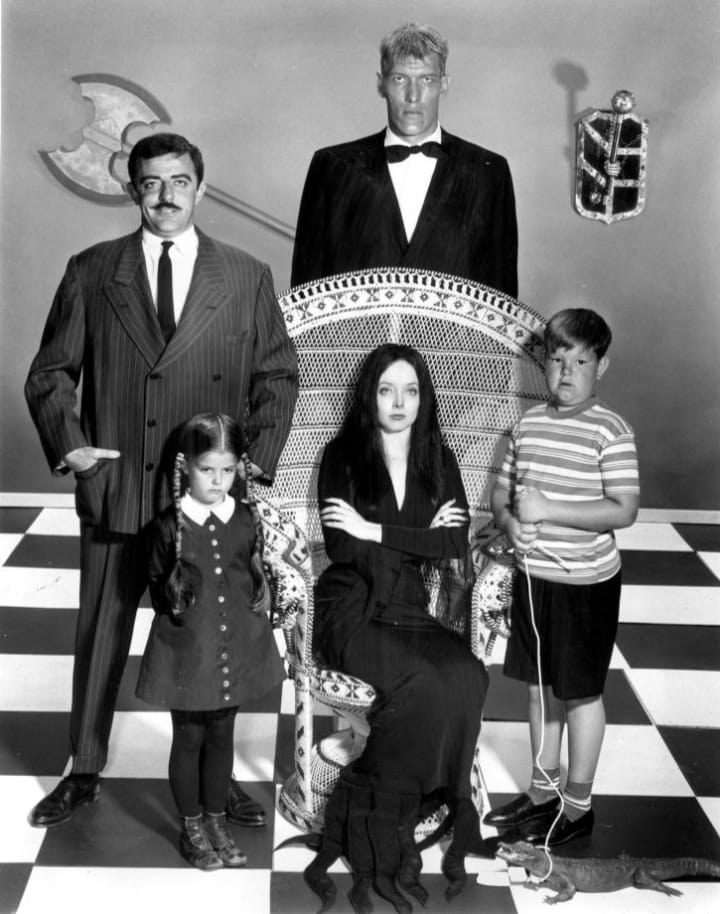 The Addams Family 1964 – 1966
Now snap your fingers, The original TV series aired on ABC from 1964 to 1966 and during that time this very bizarre family became everyone's favorite. It consisted of characters from Charles Addams' New Yorker Cartoons.
The family consisted of Gomez (John Astin), Morticia (Carolyn Jones), Pugsley (Ken Weatherwax) , Wednesday (Lisa Loring), Uncle Fester (Jackie Coogan), and Grandmama (Blossom Rock). They had a very tall deep-voiced butler named Lurch (Ted Cassidy) and a helpful hand called Thing. I loved their pet lion named Kitty Kat. Other characters appearing were Cousin Itt (Felix Silla) who I always wondered really was supposed to be, Morticia's older sister Ophelia played by Carolyn Jones who played both roles Morticia and Ophelia, and I liked her in both black hair and blond and then Morticia'a mother Grandma Frump (Margaret Hamilton).
The opening theme was composed and sung by Vic Mizzy. The song's arrangement was dominated by a harpsichord and featured finger snapping. Actor Ted Cassidy in his "Lurch" voice, punctuated the lyrics with the words – neat, sweet, and petite.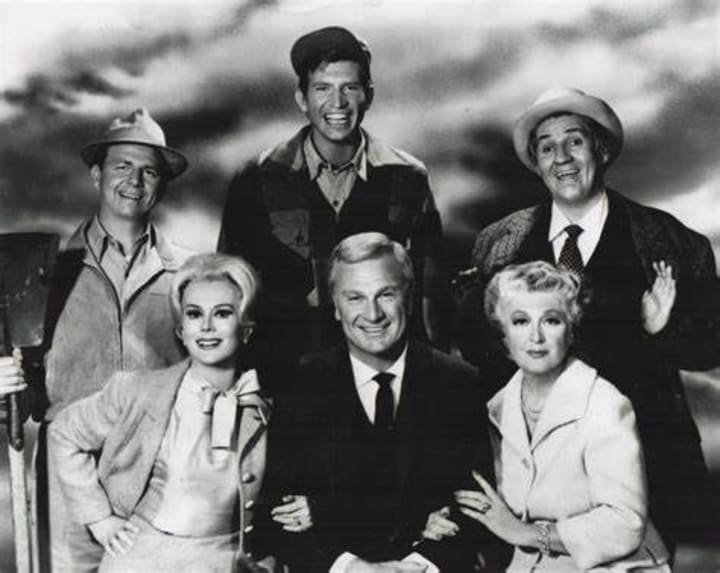 Green Acres 1965 – 1971
When New York lawyer Oliver Wendell Douglas (Eddie Albert) wanted a simpler life he bought a farm sight unseen and moved his socialite wife Lisa (Eva Gabor) to Hooterville. The comedy shows their adventures where Lisa continues wearing her gowns and fine jewelry.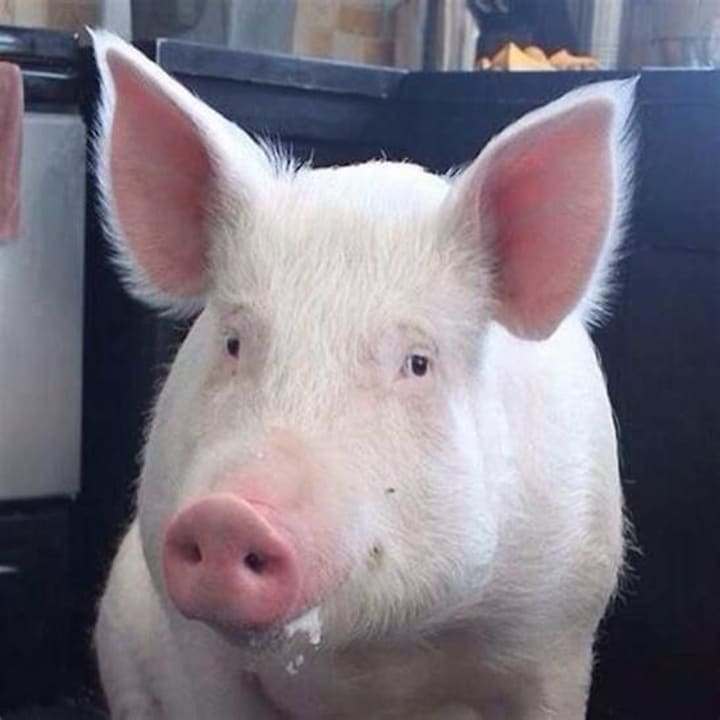 They meet all kinds of neighbors and have a hard time fitting in and of course, who could forget Arnold the Pig who was a frequent visitor to the farm.
The "Green Acres" theme song was written by Vic Mizzy.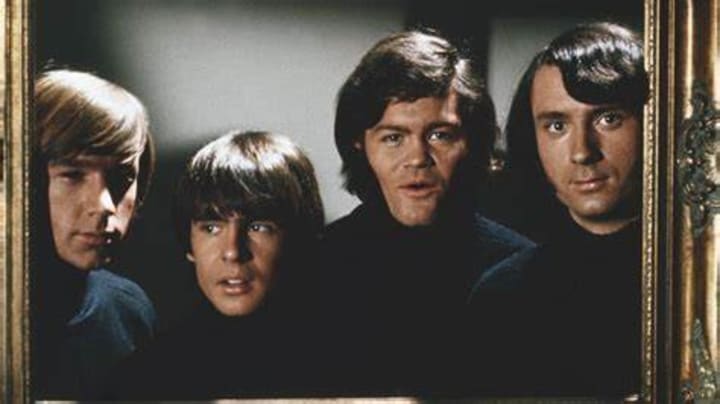 The Monkees 1966 – 1968
The Monkees were actors, comedians, and a fantastic band. They were Davy Jones, Mickey Dolenz, Peter Tork, and Michael Nesmith. Their show was very entertaining and they had very popular songs. Today Mickey Dolenz is the sole surviving member of The Monkees.
The series followed the adventures of four young men trying to make a name for themselves as a rock'n'roll band. The show won two Emmy Awards in 1967 including Outstanding Comedy Series.
The theme song was a 1966 pop-rock song written by Tommy Boyce and Bobby Hart as the signature song for the series.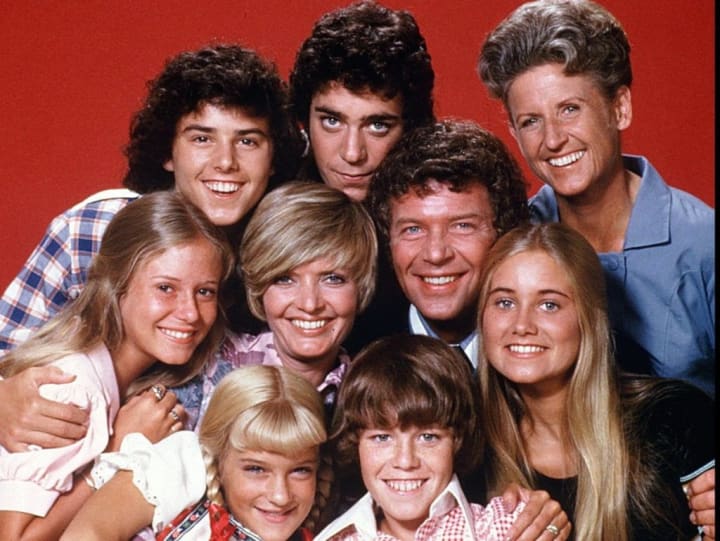 The Brady Bunch 1969 – 1974
Here's the story ... of a man named Mike Brady (Robert Reed), an architect widower with three sons: oldest Greg (Barry Williams), middle son Peter (Christopher Knight), and youngest Bobby (Mike Lookinland). He meets and marries Carol (Florence Henderson), with three daughters of her own: oldest Marcia Maureen McCormick), middle girl Jan (Eve Plumb), and little one Cindy (Susan Olsen). Tending to them is a wacky maid named Alice (Ann B. Davis). They all live in a four-bedroom, two-bathroom house in the Los Angeles suburbs. The storylines deal with boy problems, sharing bathrooms, lost hamsters, the occasional football to the nose, and attempts at pop music stardom. Also some pet problems with the boys' dog Tiger and the girls' cat Fluffy.
The theme song was written by Schwartz and Frank De Vol. It was sung and performed by Paul Parrish, Lois Fletcher, and John Beland under the name The Peppermint Trolley Company. When The Brady kids started singing in the third season the boys sang the first verse and the girls the second and they all sang together for the third and last verse.
The 1970s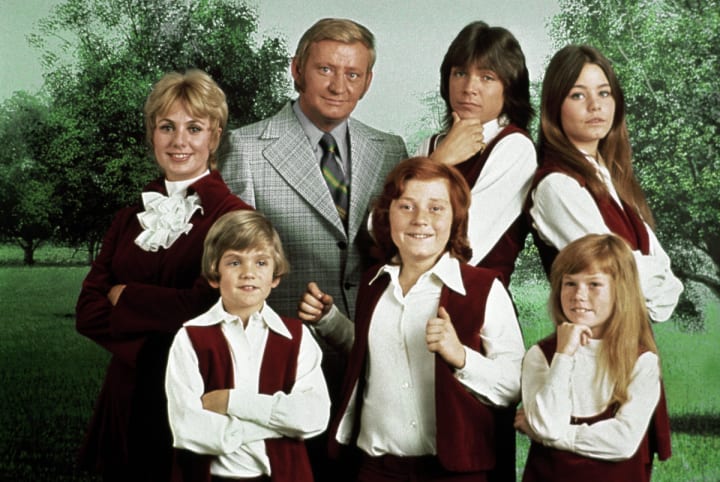 The Partridge Family 1970 – 1974
"The Partridge Family" was an American sitcom that starred Shirley Jones and David Cassidy. It had a great cast that included Susan Day, Dave Madden, Danny Bonaduce, Suzanne Crough, and Brian Foster. It was a story about a widowed mother bringing up five children who become a singing family. The inspiration for the show was the real-life musical family The Cowsills. Even though The Partridge Family never became a band as such their type of pop rock was enjoyed by many. They came out with many albums and a lot of merchandise. The show rocketed David Cassidy to stardom and he became a teen idol recording many of his own solo albums.
Among their most popular recordings was "I Think I Love You" which got to the top of the US Billboard Hot 100 chart. Two more songs made it on the chart "Doesn't Somebody Want to Be Wanted" and "I'll Meet You Halfway" Shirley Jones and David Cassidy were the only members of the cast who actually sang while the others lip-synched however their songs are nice to listen to and still enjoyed by their fans.
There were two different songs used as the opening theme. Season One features "When We're Singin'" by Wes Farrell and Diane Hildebrand. The other seasons feature "C'mon Get Happy" by Wes Farrell and Danny Janssen.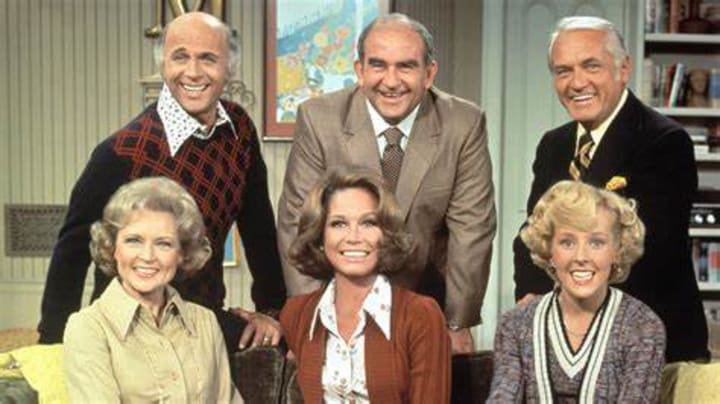 The Mary Tyler Moore Show 1970 – 1977
Mary Richards (Mary Tyler Moore) is a thirty-something single woman who settles in Minneapolis, Minnesota after breaking up with a boyfriend. She lands a job as an associate producer of the evening news at WJM-TV, which happens to be the area's lowest-rated station. Her boss is gruff Lou Grant (Ed Asner). Mary's coworkers include news writer Murray Slaughter (Gavin MacLeod), egomaniacal anchorman Ted Baxter (Ted Knight), and "Happy Homemaker" Sue Ann Nivens (Betty White). Mary's home is a modest studio apartment -- and her upstairs neighbor, Rhoda Morgenstern (Valerie Harper), quickly becomes a good friend. She rents her studio apartment from Phyllis Lindstrom (Cloris Leachman)
The show earned 29 Primetime Emmy Awards among them Outstanding Comedy Series three years in a row. Moore received the Primetime Emmy Award for Outstanding Lead Actress in a Comedy Series three times. The show launched three spin-offs – Rhoda, Phyllis, and Lou Grant.
The theme song was "Love Is All Around" with lyrics by Sonny Curtis.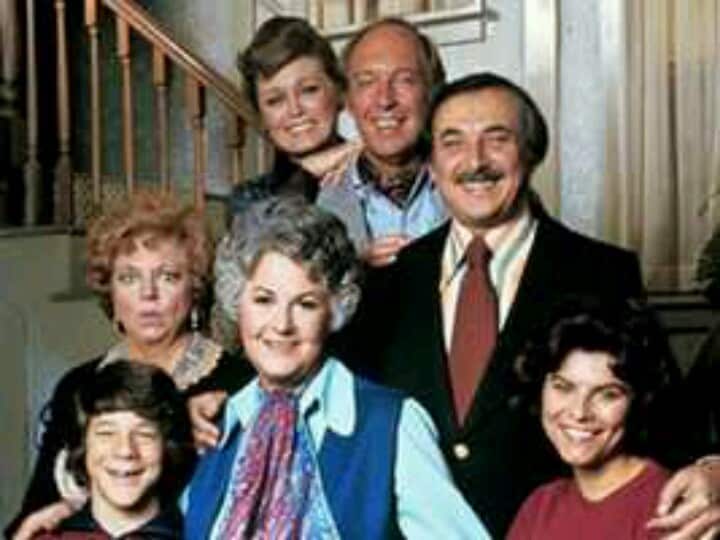 Maude 1972 - 1978
Maude was played by Bea Arthur who supposedly lived in suburban Tuckahoe Westchester, New York with her fourth husband Walter played by Bill Macy. The show was a spin-off of the popular sitcom "All In the Family" in which Maude was the cousin of Edith Bunker. Maude has a daughter Carol played by Adrienne Barbeau with a son Philip who was played by Brian Morrison and in the final season by Kraig Metzinger and a best friend next door Vivian played by Rue McClanahan with her husband Dr. Arthur Harmon played by Conrad Bain. Maude had domestic help first there was Florida Evan played by Esther Roll who went on to her won sitcom "Good Times" and later Mrs. Neil Naugatuck played by Hermione Baddley.
Both Rue McClanahan and Bea Arthur later starred in the popular sitcom "The Golden Girls.
The theme song was "And Then There's Maude". It was written by Alan and Marilyn Berman and Dave Grusin and performed by Donny Hathaway.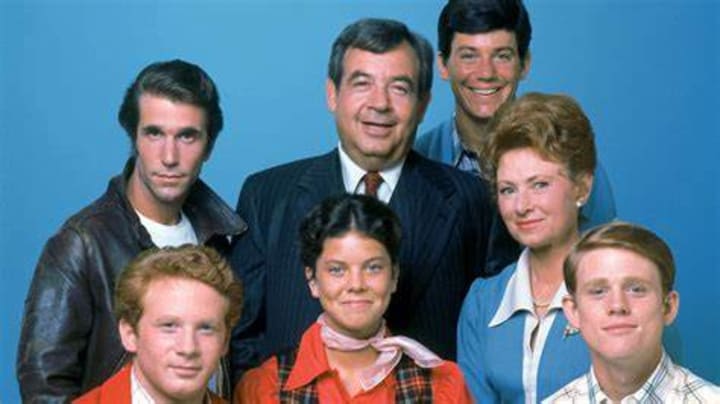 Happy Days 1974 – 1984
Do you remember the Cunningham family and the ever-popular cool guy the Fonz? "Happy Days" became an immensely popular American TV sitcom and brought everyone back to the 1950s. There were many great actors and actresses like Tom Bosley and Marion Ross as the Cunninghams and Ron Howard as Ritchie Cunningham who started out as a child actor on the popular "Andy Griffith Show." Then there was Henry Winkler as Fonzie. During the 1976 - 1977 season, it was the number one program on TV and made Winkler a major star.
The show also gave off two successful spin-offs "Laverne & Shirley" and "Mork & Mindy."
Set in the 1950s and 1960s Milwaukee, this series tells the story of the Cunningham family -- father Howard, mother Marion, son Richie and daughter Joanie (Erin Moran). Howard owns a hardware store, while Marion stays at home. Richie's best friends are Potsie (Anson Williams) and Ralph (Don Most). Arthur "Fonzie" Fonzarelli is the local bad boy, riding a motorcycle and filling his days with fixing cars and dating girls. During the show's run, Richie leaves home to join the U.S. Army.
Everyone enjoyed hanging out at Arnold's Drive-in where the first owner was Mitsumo "Arnold" Takahashi (Noriyuki "Pat" Morita) and later Al Delvecchio played by Al Molinaro.
Other roles included Chachi Arcola who was Fonzie's younger cousin and later married Joanie with the series finale showing their wedding. Lori Beth Allen-Cunningham (Lynda Goodfriend) – Richie's girlfriend and later his wife (1977–82). She married Richie by phone in season eight. Fonzie helped Lori Beth deliver her baby in "Little Baby Cunningham". She returned as a guest star in the final season, where she is revealed to be pregnant with her second baby.
The theme song was a version of "Rock Around the Clock" and became a more standard "Happy Days" theme due to music rights issues. Music was composed by Charles Fox and lyrics by Norman Gimbel.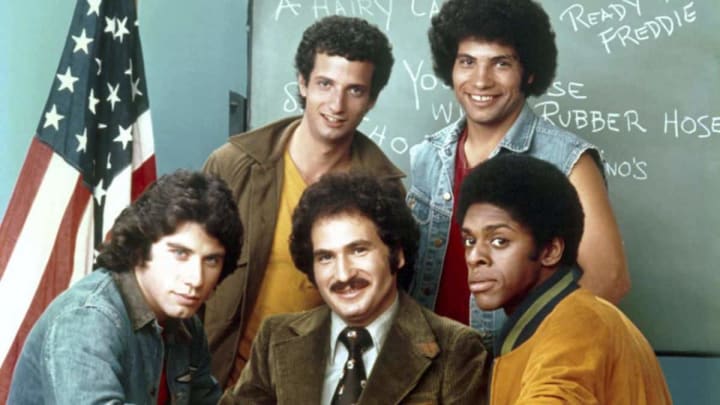 Welcome Back Kotter 1975 – 1979
This American sitcom starred Gabe Kaplan as Gabe Kotter a high school teacher who returns to his old Brooklyn neighborhood in New York City to teach a racially and ethnically diverse remedial class of students known as the "Sweathogs." It was filmed in front of a live studio audience. The show gave many young talents a start such as John Travolta as Vinnie. The high school was fictional James Buchanan High School in Bensonhurst, New York but based on the actual high school Kaplan once attended New Utrecht High School also in New York.
The other Sweathogs were Arnold Horseshack played by Ron Palilo, Juan Epstein by Robert Heyges, and Freddie "Boom Boom" Washington by Lawrence Hilton-Jacobs. The harassed principal was Michael Woodman played by John Sylvester White and Kotter's wife Julie by Marcia Strassman.
The theme song became a popular song called "Welcome Back" which was written and recorded by John Sebastian, former frontman for The Lovin' Spoonful, and rose to number one on the charts.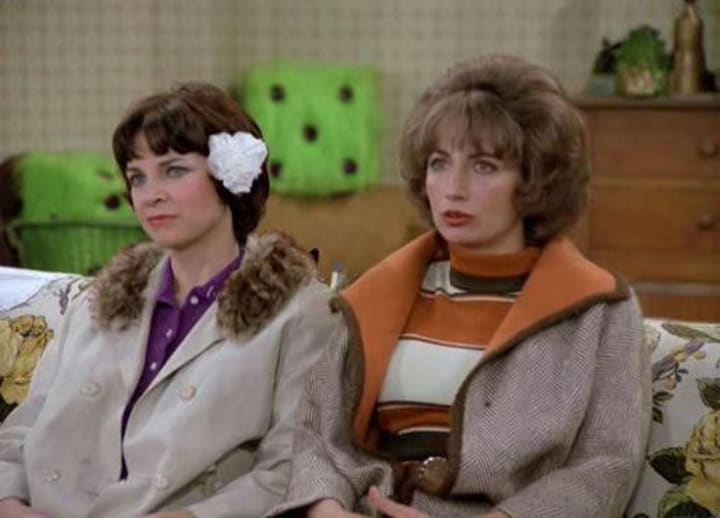 Laverne and Shirley 1976 – 1983
Most of you will remember two best friends Shirley Feeney and Laverne DeFazio who worked at Shotz beer brewery and lived together in a basement apartment, Shirley had a handsome boyfriend called Carmine Ragusa who always tugged at my heartstrings when he sang "Rags to Riches."
The American TV sitcom "Laverne & Shirley" lasted for eight seasons from 1976 to 1983. It was a spin-off of the ever-popular show "Happy Days". Laverne and Shirley were portrayed by Penny Marshall and Cindy Wiliams. Another show that took us back to the late 1950s. Other characters were Frank DeFazio, Laverne's father played by Phil Foster, the landlady Edna Babish by Better Garrett, Carmine Ragusa Shirley's boyfriend by Eddie Mekka, and two kookie friends Lenny Kosnowski by Michael McKean and Andrew "Squiggy" Squiggman by David Lander.
The theme song was "Making Our Dreams Come True" performed by Cyndi Grecco and it became a hit.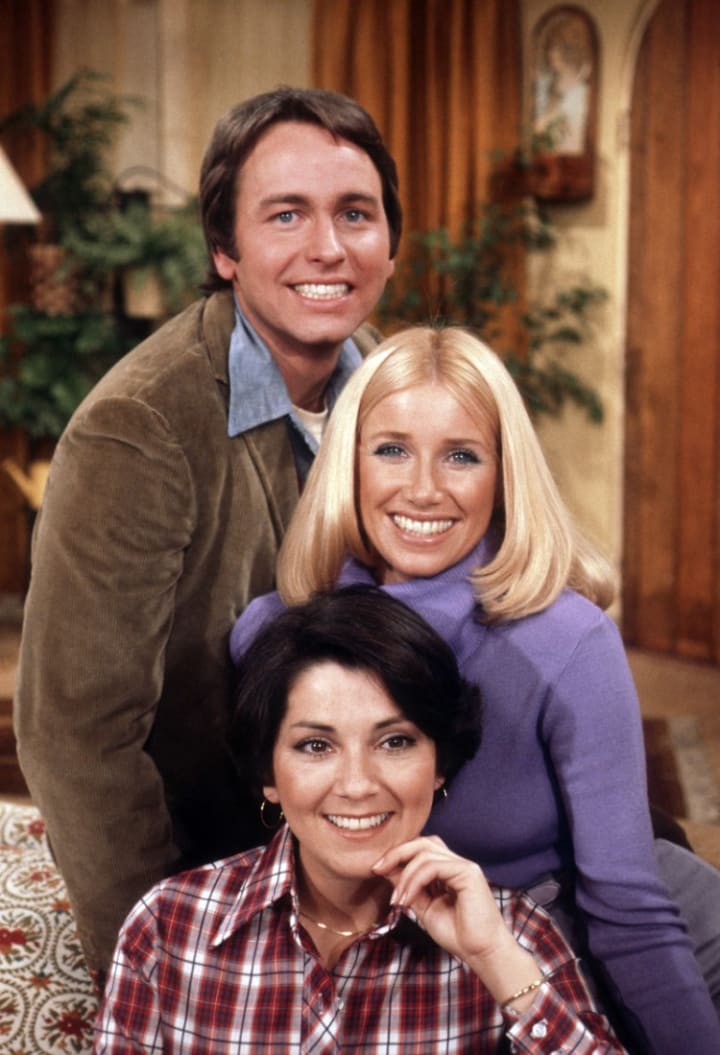 Three's Company 1977 – 1984
The sitcom was based on the British sitcom "Man About the House." The story was about three single roommates Janet Wood played by Joyce DeWitt, Chrissy Snow by Suzanne Somers, and Jack Tripper by John Ritter. They all lived platonically together in Santa Monica, California in an apartment complex. The complex was owned by Stanley Roper by Norman Fell and his wife Helen by Audra Lindley. After they left the show for their own sitcom "The Ropers" the new building manager Ralph Furley moved in played by Don Knotts. There was also Jack's best friend Larry Dallas played by Richard Kline.
Some of the changes to the show included Somers's departure in late 1980 who was replaced by Chrissy's first cousin Cindy Snow played by Jenilee Harrison and later replaced by Terri Alden played by Priscilla Barnes.
Another spinoff was after Jack gets married "Three's a Crowd."
The theme song was composed by Joe Raposo and sung by Ray Charles (not to be confused with the blind R&B musician of the same name) and Julia Rinker.
tv
About the author
My passions are writing and creating poetry. I write for several sites online and have four themed blogs.
Reader insights
Be the first to share your insights about this piece.
Add your insights