Be a Paul Newman
In a Hollywood that faces scandal after scandal, be a Paul Newman.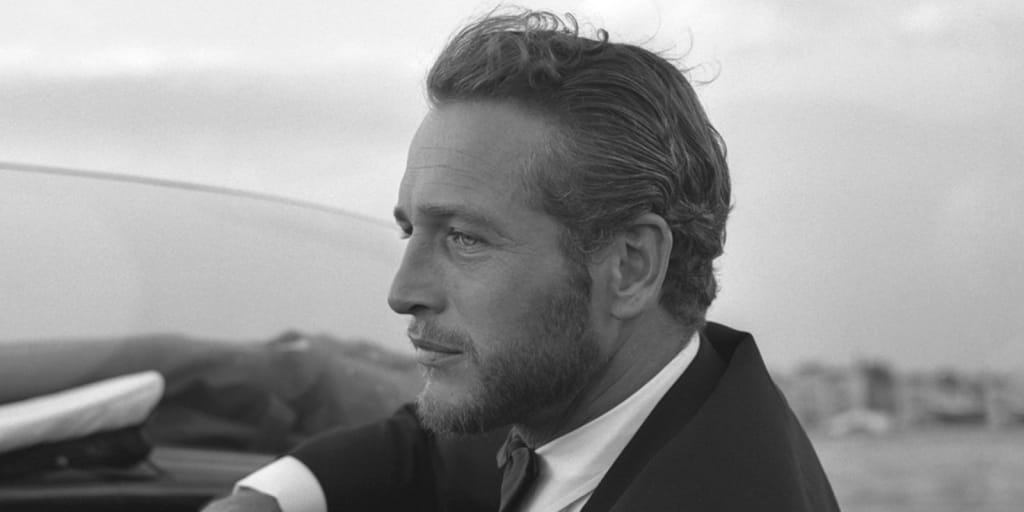 Throughout the years, Hollywood has always been the hub for glamour, wealth, romance, talent and in some cases failure. But in recent years, all those points have been eclipsed with scandal after scandal. The allegations against Harvey Weinstein, Woody Allen and Roman Polanski to name a few, have dominated the column inches coming out of Hollywood, but so has the reaction. With the Time's Up movement, which has garnered both praise and criticism, why does the modern movie world struggle to break through? What is forcing the public to lose trust in Tinsel Town?
One notion that comes to mind can be exemplified by a heavyweight Hollywood Icon, who not only fit the mould, but also broke out from it, Paul Newman.
Known for his roles in Butch Cassidy and the Sundance Kid, The Hustler, The Sting, Cool Hand Luke, Cars and those famous blue eyes, Newman offered a lot more than the average handsome actor. He loved racing and was darn good at it, forging a pretty successful career behind the wheel. His political activism was also well known. A lifelong supporter of the Democratic Party, he actively attended demonstrations and was even rumoured to be a candidate himself.
But perhaps of all the bows to his name, Newman was most known and respected for his philanthropy. And for the actor, he didn't believe in just being a mouthpiece for charities, no, with the racing Driver instinct he was known for, he wanted to be at the wheel.
Throughout his eighty-three years, Paul actively worked with many charities and donated a vast amount of money in the process. It is believed that the iconic actor, through his foundation, Newsman's Own, he has donated over $530 million to over 22,000 charities since 1982! The numbers are impressive and are an epic lasting legacy to Newman, but perhaps what is more so, was his hands on approach.
Newman actively visited and worked within his many charity endeavours, including his highly successful Children Camps, The Hole in the Wall Camp. Founded in 1988 by Paul, he had a simple premise: "that every child, no matter their illness, could experience the transformational spirit and friendships that go hand-in-hand with camp."
Today that one camp has expanded into 29, all situated across the globe, and their outreach programs have changed the lives of millions of children from Africa to Ireland.
What is obvious throughout Newman's career, whether it be acting, racing or charity, he was all in, heart and soul. Along with his wife of fifty years, Hollywood actress Joanne Woodward, the respect he garnered was not because of who he was, but his actions. His impact resonated from beyond the silver screen. Newman did that rare thing of not only talking the talk, but walking the walk.
So, why today in a world full of sycophantic celebrity and questioning charity, should Hollywood take after Paul Newman's indelible lead? The answer is surprisingly simple, because it wasn't an act.
Paul Newman never sought publicity for himself. If he had to attend any promotions or Galas, it was to further advertise the work of his foundation and not his own agenda. He wasn't a shouter from the rooftops, instead choosing to be a grafter from the ground.
Today, many Hollywood actors back charities and Organisations that work within the Philanthropic sector. The most notable being women's rights, in the face of the horrifying revelations of historic abuse in Hollywood. But, unlike Newman the most Hollywood could muster to help Time's Up was to wear a black dress or a white rose. And whilst the sentiment was deemed effective, its impact quickly softened.
Most of Newman's work has basked in the comfort of longevity. This has been achieved not by his magma-hot star power, but instead through his dedication to the cause, right up until his death. Unlike Newman, many stars of today talk the talk, but do not walk the walk, and if they did, most would stumble.
He famously said: "The concept that a person who has a lot holds his hand out to someone who had less, or someone who isn't hurting holds his hand out to someone who is, is simply a human trait that had nothing to do with celebrity. I am confounded at the stinginess of some institutions and some people. I'm bewildered by it. You can only put away so much stuff in your closet." That was the essence of Paul Newman—why have so much when you can give so much back?
We see so many celebrities from every industry partake in charity, from benefit galas to charity fundraisers and that is great. But how many could literally put their money where their mouth is and part with vast wads of cash like Newman? Not many.
In a world where celebrities are paid hefty amounts for social media posts, or brand endorsements, that add and add to their bulging bank balances, Newman has shown what can be achieved when you streamline your wealth.
His impact through his philanthropic work has vastly improved the lives of many around the world, and even ten years later after his death in 2008, his name still does. He is an example to Hollywood today of what can be achieved when you truly give back, when wealth and celebrity is a side effect of doing what you love and not the driving force.
So, in a world of Hollywood ideological celebrity charity, be a Paul Newman. And like the great man said himself: "I don't think there's anything exceptional or noble about being philanthropic. it's the other attitude that confuses me." We couldn't agree more!
If you like this article, read more at our website, just follow the link above!
celebrities
Our blog covers everything from entertainment, Movies, Politics, The Royal Family and so much more!!
Let's get ready to RUMBLE!
Visit us at our website:
Receive stories by Jonathan Reed in

your feed