Armored Blue Ranger Cosplay
It's time to armor up!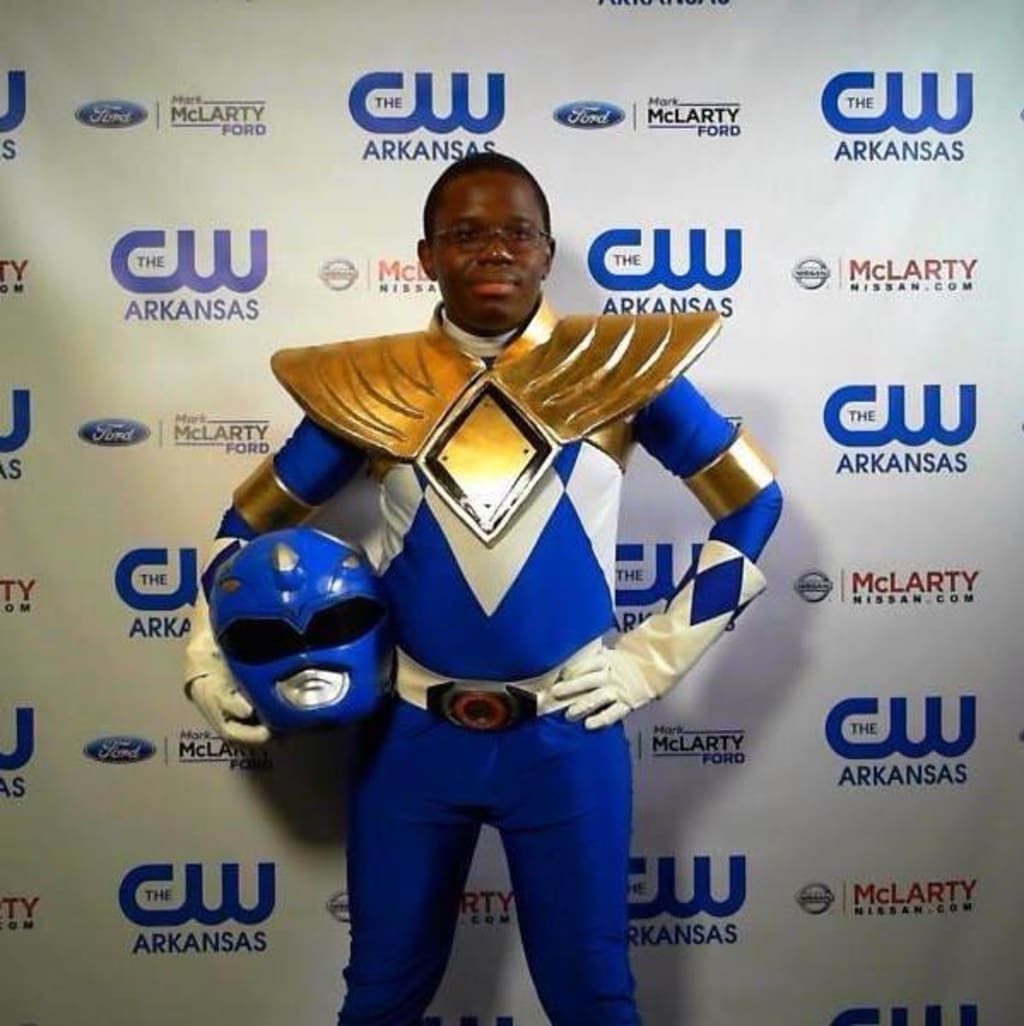 2017 was a great year for me in cosplay. Meeting people and having the time of my life. There was one particular cosplay that I wanted to do for months and that was the Armored Blue Ranger. The reason was that you hardly see one at a convention or online. So why did I decide to add the armor to my Blue Ranger suit?
The answer is simple: I saw an image online of an armored Blue Ranger action figure and thought, "I want that to be one of my cosplays."
In October 2017, I asked one of my friends if he could make an armor and cuffs for me for an upcoming convention that was coming up in the next few weeks. He agreed to construct them for me and it would take at least three weeks.
After I got measured for the shield and cuffs, I knew that I was weeks away from achieving that cosplay goal. So you might be wondering what are cosplay goals. Cosplay goals are basically a list of aspirations that you really want to do for so long. No matter how unusual it may be, go for it. Never let go of your cosplay goals and make them happen. I even made a list of them a couple of months ago and I'm determined to meet them. Having a cosplay goal, in my opinion, is essential and could be beneficial to you.
On the evening of November 16, 2017, the night before I was going to head to North Little Rock for the Cosplay Con & Anime Experience, my friend told me on Facebook that my shield and cuffs were complete. He wanted to come over to my house and see if they would fit properly on me. So I put on my Blue Ranger suit and waited for my friend to arrive.
He came to my home around 8:00 PM and when I saw the shield and cuffs, I got super giddy. I couldn't wait to put those on and see what they would look like on me. So I put them on, looked in the mirror, and I had a huge smile on my face. After he left my home, I took a few pics myself and shared them on my social media pages.
People loved it so much that I also shared those pictures in other Facebook groups. I ended up going as the Armored Blue Ranger on the second day of the convention. Nearly everyone at Verizon Arena wanted a picture with me, so I was elated that I got to take lots of pictures with everyone that day.
The Armored Blue Ranger was the best cosplay of 2017, in my opinion. I'm glad that I got achieve this cosplay goal. The next Power Rangers cosplay that I plan on doing will most likely be an armored Blue Zeo Ranger. I'm not sure when I plan on doing it, but it will be soon. There are other cosplays that I have planned over the next two years, so the ideas on my list are good ones.
My advice to everyone is to make a list of cosplays that you want to do and keep it. If I can have a list of goals, then so can you. Be as creative as you want and let your imagination run wild. So my question to you is this: what are your cosplay goals? Which cosplays are you currently working on? Finally, have you accomplished a cosplay goal? If so, I'd like to hear from you. Feel free to follow me on my social media pages.
The Armored Blue Ranger Ready for Battle