Antebellum (2020) Movie Review
Horror / Drama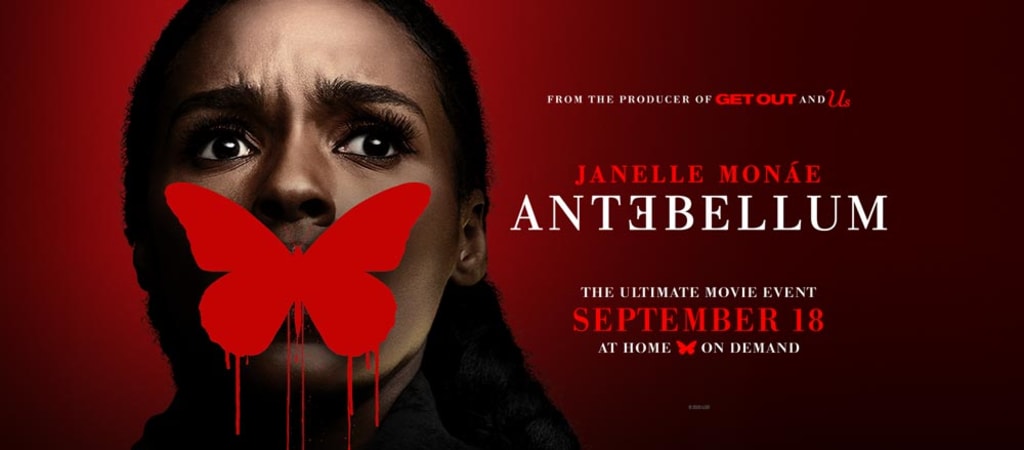 31% Rotten Tomatoes | 5.8/10 IMDb
The film "Antebellum" attempts to deliver a mind-bending narrative along the lines of a typical M. Night Shyamalan movie, but ends up leaving viewers confused and disoriented. The film is based on a big twist that is partially revealed at the 40-minute mark, followed by a series of third-act revelations. The movie tries to comment on the racial unrest of our current times, but the message at its heart is muddled.
Gerard Bush and Christopher Renz, the film's writing and directing team, are undoubtedly ambitious in both substance and form, but their efforts fall short in blending past and present, fact and fiction, nightmare and reality. The film boasts an impressive style, from its opening lengthy tracking shot to its vivid costumes designed by frequent Coen brothers collaborator Mary Zophres. However, the film's message is not clear, and it leaves viewers with an icky taste in their mouths due to its leering and exploitative depiction of violent slavery movie tropes.
Janelle Monáe's character, Eden, bears the brunt of the abuse as a slave who tries to escape. Her character is punished and branded by a Confederate leader known only as "Him" (played by Eric Lange), who later claims her as his own. Jack Huston adds a not-so-subtle vibe of menace as a sadistic and slightly drunken officer, and Jena Malone drips with honeyed villainy as his wife.
The film takes place in two different time periods, and the scenery shifts between them. In the first time period, Civil War troops are marching at night, carrying torches and chanting "blood and soil" on their way to a dinner where "Him" addresses them in a rousing speech. In the second time period, Eden wakes up in a sleek and stylish townhouse with a handsome husband (played by Marque Richardson) and an adorable daughter (played by London Boyce). Now, she is Veronica, a successful and sought-after author and pundit living a life of privilege. The present-day scenes are characterized by cool minimalism and gleaming light, which provide an interesting contrast to the gritty and grainy darkness of the plantation scenes.
The film's attempt to challenge the hackneyed ways African-American stories are depicted on screen falls short, as both Eden's slave storyline and Veronica's shiny life of wealth and perfection feel superficial and lacking in depth. The characters are too polished, and there is nothing for the audience to hold onto. Gabourey Sidibe provides some much-needed upbeat energy as Veronica's sidekick and BFF, but her character feels like she walked in from an entirely different movie.
Monáe's screen presence is captivating, and she provides an instant connection in both realms. However, the histrionics of her situation grow sillier as the film progresses, and the character development is lacking between the extremes of endless victimization and empty platitudes of empowerment.
In conclusion, "Antebellum" is a film with big ambitions that fall short due to its muddled message and exploitative depiction of violent slavery movie tropes. The film attempts to challenge the way African-American stories are depicted on screen, but ends up serving more of the same without much insight. The film boasts impressive style and a captivating performance by Janelle Monáe, but ultimately fails to deliver a coherent and impactful story.
Reader insights
Be the first to share your insights about this piece.
Add your insights