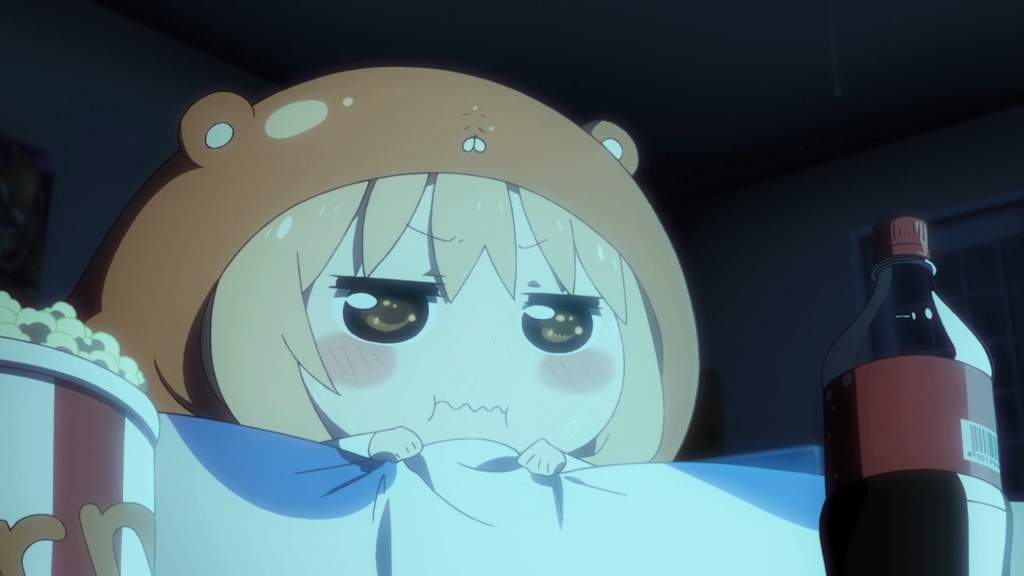 I have been watching anime for years and have completed hundreds of series. So it is safe to say I have some experience with watching anime. I also have been cursed with the need to finish every anime I start, even if it's dumb I have to see how it ends. With all of that in mind, I have found before starting an anime I look for a couple of things.
The biggest thing I look at is episode count. Most people don't think twice about it but this could make or break a show for me. The only math I can do off the top of my head is anime hours.
Take the number of episodes and multiply it by 20 (Typically episode is 20 minutes) and then divide it by 60 to see how many hours you are about to invest in this show. This might seem totally silly but that's how I decide if I should just watch it or if I should look more into it before I begin watching.
Shows that are 12 episodes. I know I can finish a 12-episode show in one sitting, so if I am looking for a quick binge I will look for an anime with 12 episodes. I think anime with 12 episodes tend to have great fast pace stories.
I could list 50+ short anime you could finish in one sitting, If you'd like to see a part two of this list let me know in the comments below.
All of the anime I am about to list I have seen and would recommend, and the list isn't in any order. If you have an anime you would add to this list I'd also love to hear in the comments.
Without further ado let's get into anime you can finish in one sitting!!
12. Erased
Storyline: Struggling manga author Satoru Fujinuma is beset by his fear to express himself. However, he has a supernatural ability to be able to prevent deaths and casualties by being sent back in time before an incident occurs, repeating time until it is prevented. One day, he is involved in an incident with his mother. Desperate to prevent the incident, he gets sent back in time only to find himself as a grade-schooler. Satoru brings himself on a new journey; using his ability to prevent the past from changing into a deplorable future.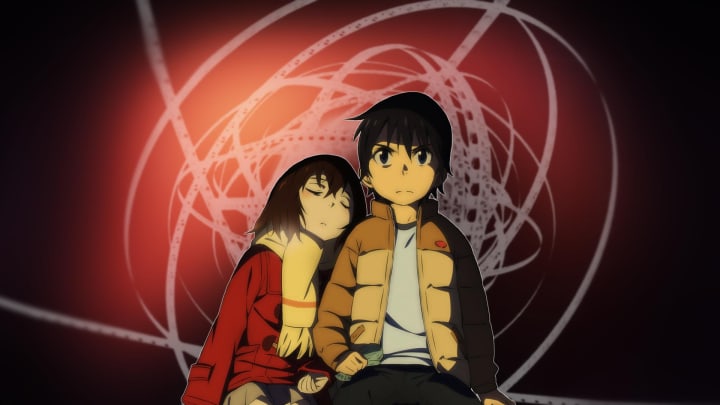 Info: 12 episodes
Genre: Thriller, Fantasy, Mystery
My Review: Don't let this cute art style fool you. This show gets insane fast. If you like mystery thrillers, I highly recommend erased! With the time-traveling element, this show is wild to watch. Not going to lie I did guess the killer pretty early on but that didn't stop the show from shocking the heck out of me on episode 12. This is a show you will binge so be prepared to watch all 12 episodes in one sitting. If you need a good thrill put this at the top of your list.
11. Tanaka-Kun is always listless
Storyline: This unconventional, surrealist comedy follows an exhausted high school boy who, despite multiple attempts from his friends, still manages to spectacularly... sleep. Much to the chagrin of the energetic (at times bossy) Ohta, Tanaka is often found in a blissful state of lethargy, possessing the ability to doze off in any situation, especially in midsentence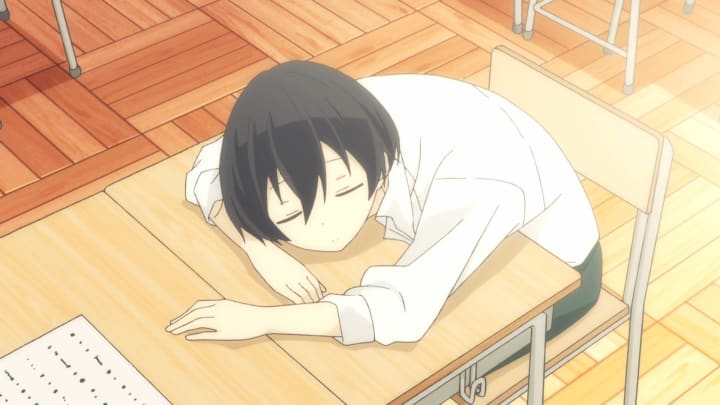 Info: 12 episodes
Genre: Comedy
My Review: Have you ever not wanted to do anything? I mean anything. Well, Tanaka-Kun is on a mission to live his life not doing anything, and he is finding out that it is easier said than done. This was a very lighthearted anime that should have been longer. I loved the friendship between Tanaka and his best friend Ohta. Simple and funny stories in each episode. If you are stressed or just need to relax this is a great show to do just that. Just relax.
10. Lucky Star
Storyline: Having fun in school, doing homework together, cooking and eating, playing video games, and watching anime. All those little things make up the daily life of the anime and chocolate-loving Izumi Konata and her friends. Sometimes relaxing but more than often simply funny.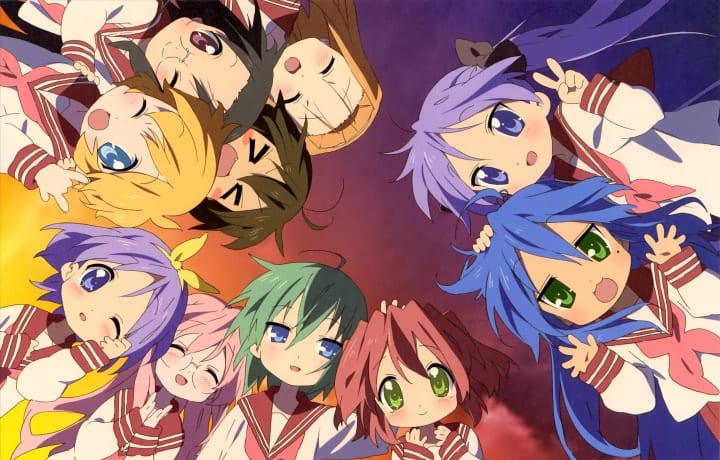 Info: 12 episodes
Genre: Slice of life, Comedy
My Review: One of the cutest and funniest anime out there. With a wide variety of characters, there is sure to be one you connect with. Sometimes I think an anime needs to have a complex story or planned out perfect humor but in fact, the weird day-to-day of a student can be hilarious. Also, I just absolutely adore the art style!
9. Death Parade
Storyline: After death, humans are either reincarnated or sent to the void. Before this happens, they arrive at the Quindecim, a bar attended by the mysterious white-haired Decim. To fairly judge them, he has them play a Game, wherein they reveal their true nature. Decim himself is the arbiter of who wins and who loses.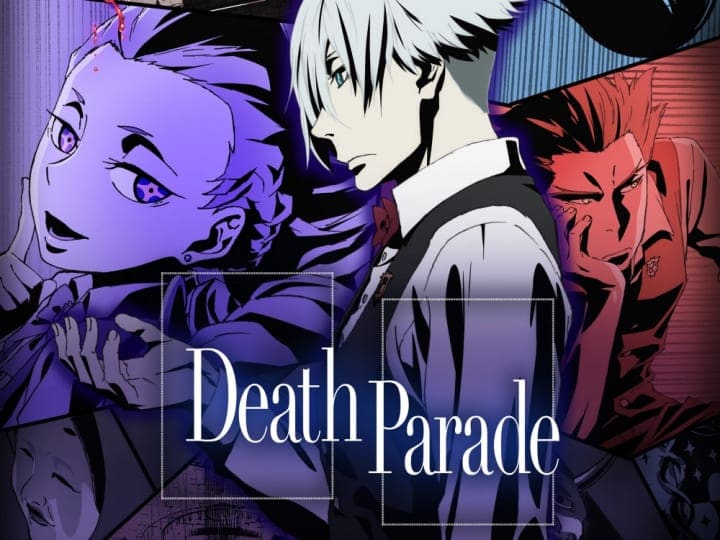 Info: 12 episodes and 1 OVA episode
Genre: Mystery, Drama
My Review: This is one of the most underrated anime of all time!! Each episode will leave you with chills going down your spine. Ever thought about what happens when you die? This show will put a crazy spin on the afterlife and what our human nature is when put to the test. Every time you think you have a character figured out they will spin it around last minute. In my opinion, this isn't a typical horror anime, but the thrill of the show will make your heart pound and your stomach turn inside out.
8. Tsuritama
Storyline: Four individuals' adventures on an island while fishing; Yuki, who is terrible at communicating and hence never made any real friends, Haru who attempts to teach Yuki fishing, Natsuki an irritable local and Akira who initially watches everyone from a distance.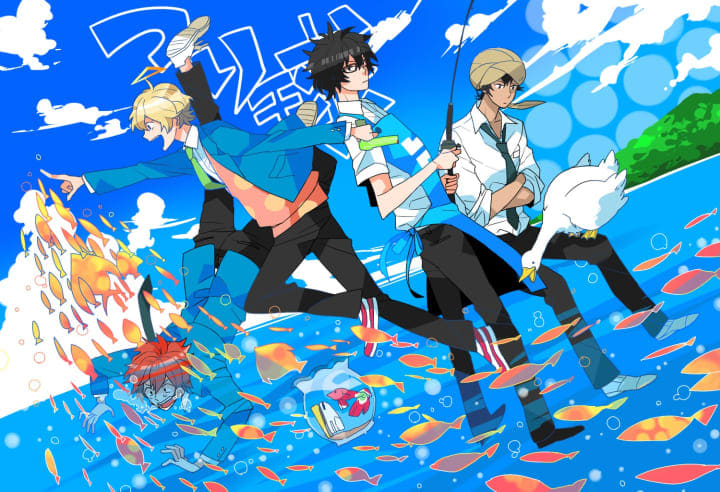 Info: 12 episodes
Genre: Sci-Fi, Comedy
My Review: I don't understand how this anime wasn't more popular. I was obsessed with it when I first saw it. Talk about capturing summer in only 12 episodes. The characters captured my heart and the story kept me curious and on edge the whole show. I laughed and cried...
7. Kakushigoto
Storyline: Gotou Kakushi is a mangaka, a well-known manga artist. He is known for many ecchi titles, which many fans across the world highly appreciate. However, his life changes, when he becomes a father. Gatou now tries to prepare for his new life and to hide his secret from his daughter. Will he succeed?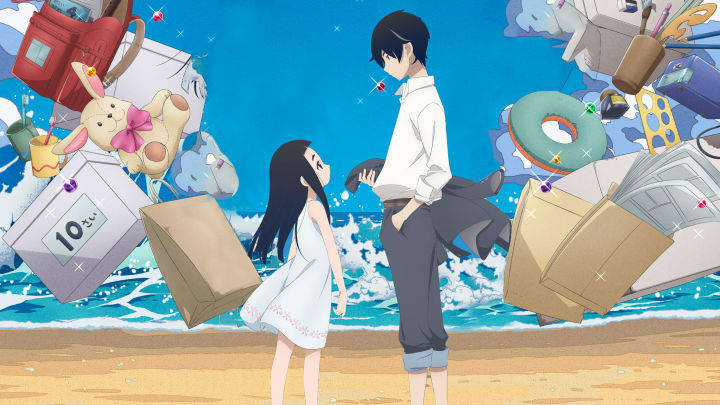 Info: 12 episodes
Genre: Comedy, Drama
My Review: This show caught me off, guard. I went into it thinking it was going to be a super sweet father, daughter story, which it was, but there was a twist in the last couple of episodes that will make you cry like a baby. Very a unique story, art, and characters. Super funny as well. Add this to your list!! It is a must-see.
6. The Millionaire Detective Balance: Unlimited
Storyline: Daisuke Kanbe, a detective with extraordinary assets, is assigned to the Modern Crime Prevention Headquarters, where only those who have caused problems for the Metropolitan Police Department are sent. There, Daisuke is partnered with Haru Katou. Haru is repulsed by Daisuke's material ways, believing that money isn't everything. Challenging mysteries unfold in front of the two detectives, and they must work together to solve them.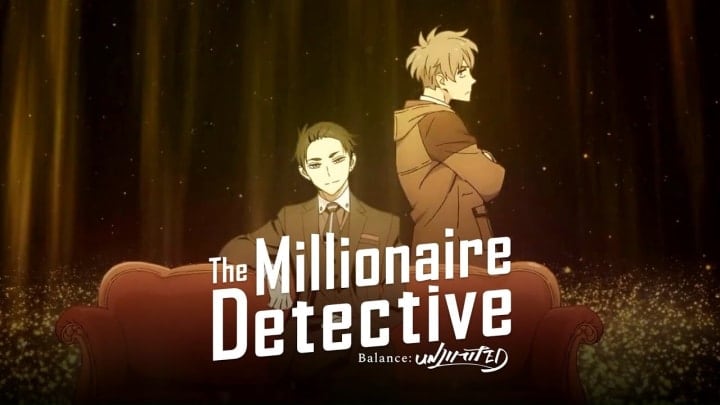 Info: 11 episodes
Genre: Crime, Drama, Thriller
My Review: I came across this anime on a Tumblr post and thought I'd give it a chance. I was not disappointed! This show is batman if he didn't become Batman. No concept of money or how much he spends, At the end of each episode they even add it up so you can see how much he is spending. The storyline doesn't kick in until halfway through but the episodes before are very entertaining. My personal favorite was the episode he was stranded with no money and had to rely on his partner for help. I was cracking up. Once the story kicks in it is very thrilling and has a great plot twist at the end as well!
5. Un-Go
Storyline: In post-war Japan, an experienced detective takes on cases with the help of his supernatural assistant.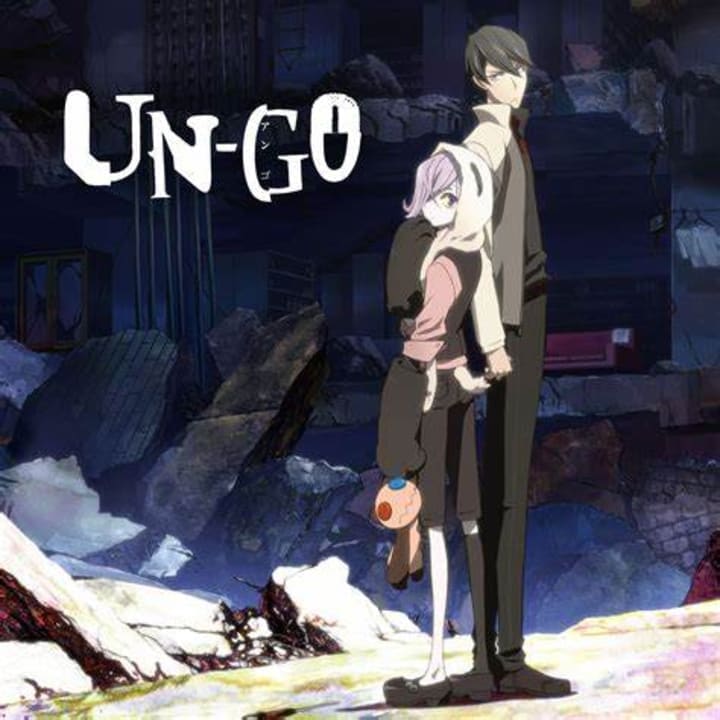 Info: 11 episodes and an episode 0
Genre: Crime, Action
My Review: This was a trippy show! I loved the creative art style, I think it added to the show. Very creative story. You can watch this show one or two ways. The way I watched it was episodes 1-11 and then found out about episode 0 and watched it at the end to have my mind completely blown. I think the way you are supposed to watch it is episode 0 first because then the story makes more sense. But I recommend saving episode 0 for the end and having your mind blown haha
4. Blood Lad
Storyline: Blood Lad follows Staz, a vampire from the Demon World who avoids being an otaku for human goods - especially manga and anime. The accidental arrival of Fuyumi Yanagi, who wandered into the Demon World through a portal, changes his life. Whilst he fights a territory rival she is eaten by a carnivorous plant. Staz pledges to help bring her back to life.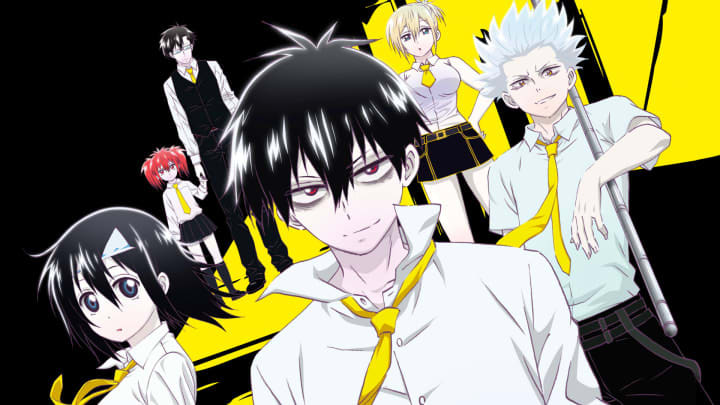 Info: 11 episodes
Genre: Adventure, Comedy
My Review: This is one of the most underrated anime of all time. I freaken loved it and was so bummed they didn't come out with a season 2. Totally weird story and characters that you will love. I have never seen an anime like it before and don't know why this wasn't more popular. The art style is so interesting and the storyline line is super creative, add in a twist of humor and you got yourself a binge-worthy anime.
3. Monthly Girls Nozaki-Kun
Storyline: Chiyo Sakura, a high school girl who fell in love with the unrefined boy schoolmate Umetaro Nozaki, decides to be courageous one day and asks him out. Her feelings weren't conveyed properly, and before she knew it she ends up helping a particular job of his as an assistant... The series is a shojo manga boy comedy that centers around Nozaki, a high school boy that is a popular shojo manga artist and has a story woven by very individualistic characters.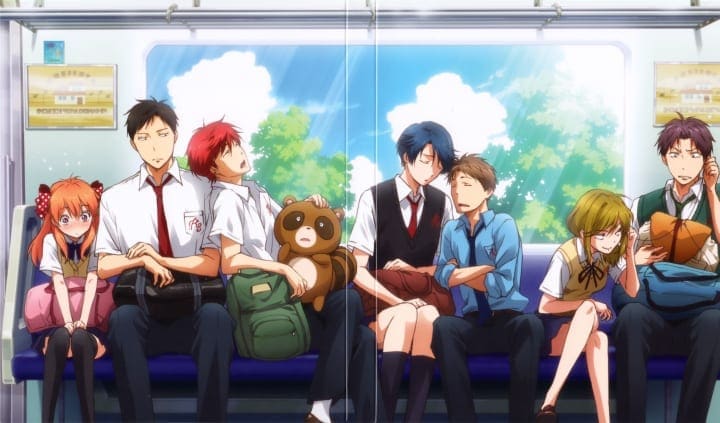 Info: 12 episodes
Genre: Comedy, Romance
My Review: This was the most troll anime ever. They set up the perfect couples throughout the series, Yet the last episode will have you screaming. This is one of those comedy anime with romance in it and it was one of the most entertaining anime I have ever seen. I laughed so hard my ribs hurt and I adored the romance between the characters.
2. Kiss him, Not me
Storyline: Kae Serinuma is a second-year high school student and an avid fujoshi who secretly ships her classmates, Igarashi and Nanashima. The death of her favorite anime character causes her to become stressed and lose weight rapidly. Now that Serinuma has become an attractive girl to her classmates, snarky junior Shinomiya and senior Mutsumi, how is she going to deal with them with her constant BL-filled fujoshi mind?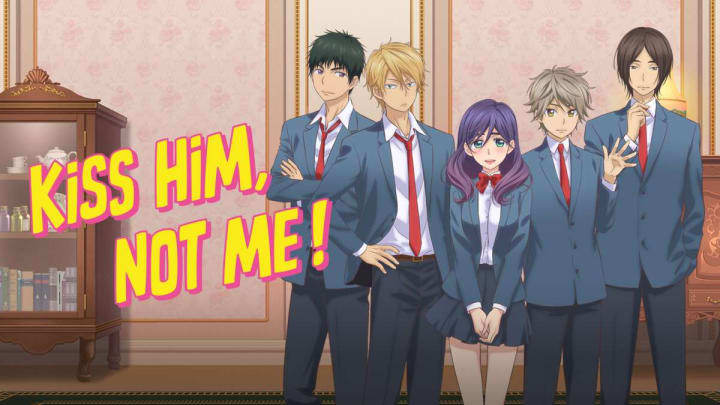 Info: 12 episodes
Genre: Comedy, Romance
My Review: This anime made me laugh so hard!! It is an amazing twist on the classic romance anime. It has amazing character writing and one of the best endings. This is an anime you watch when you need a good laugh.
1. My Little Monster
Storyline: Shizuku, a hardworking student who isn't interested in socializing, finds an unlikely friend, Haru, an emotionally volatile boy at her school.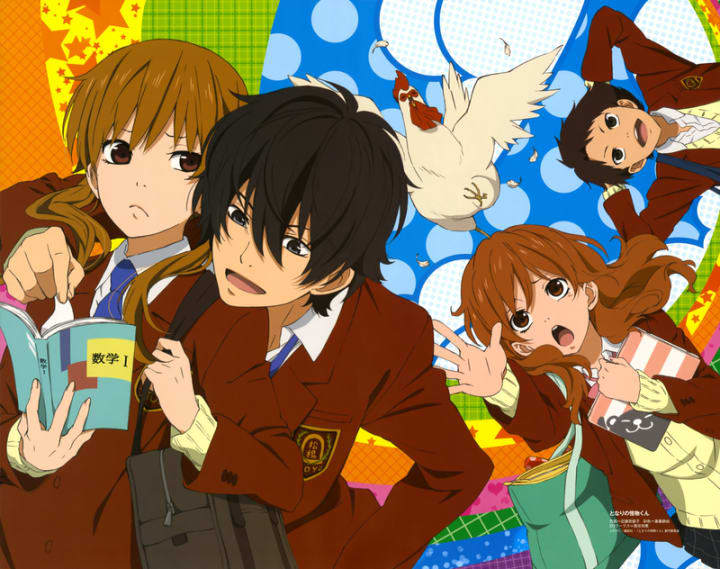 Info: 12 episodes
Genre: Comedy, Romance
My Review: It has been a minute since I watched this anime. But I remember adoring it when I did watch it. It has very unique and quirky characters that you can't help but fall in love with. I would consider this a realistic romance which makes it very funny and relatable.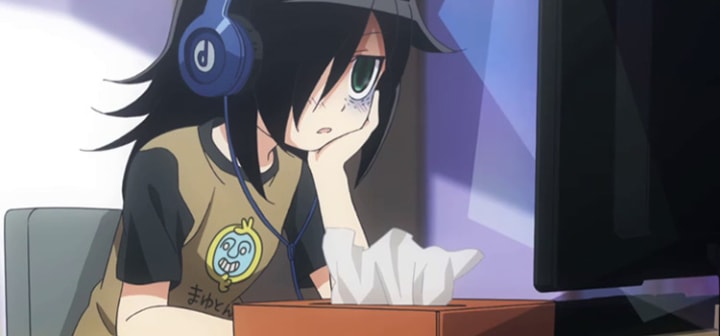 I hope you are able to find your next anime from this list! Sometimes we just need a good short anime to watch.
What anime would you add to this list? Do you like anime you can watch in one sitting?
I'd love to hear in the comments below
Thanks for reading!!
Check out does episode count matter?
Bye for now!!
About the Creator
✨Anime Blogger✨
I watch too much anime and would love to turn it into a creative outlet!
Blogging every Friday about anime topics, giving honest reviews, and staying up to date with all things anime
Socials
Reader insights
Be the first to share your insights about this piece.
Add your insights