ANIMATORS FOREVER
Top Video Game Companies In The World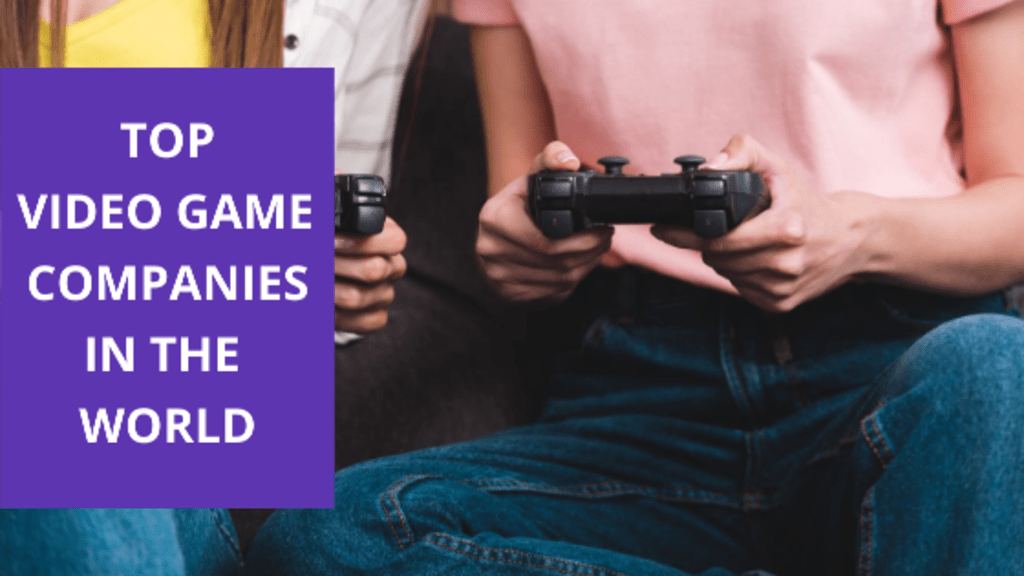 Video games are an addiction to young teens and adults. The number of games and gaming companies has increased tremendously over the years. Backed by the current Covid-19 pandemic, E-sports and E-gaming witnessed a boom like never before. Game sales and the number of players turning towards professional gaming are outstanding. The entire industry made over $40 billion in revenue in 2018 according to Forbes Online. In 2020, the entire gaming industry is estimated at over 90 billion. Video gaming has become an industry worth millions in a matter of time. Video games are becoming more advanced, challenging and competitive. Since 2016, over 2.5 billion people have bought and played video games.
The video game revolution brought about enormous success for many corporations and private individuals. Individuals compete against each other in global tournaments to become the best. They earn millions in cash prizes for winning some of the most prestigious gaming tournaments out there. Companies and developers strive to stand out and yet earn enough revenue to keep running. Gaming companies try to fulfill their user's needs and stand as the most popular choice for video gaming.
We list down some of the most popular and biggest names in video game development. These companies have the highest revenue, sales and some of their games have set records.
Sony Computer Entertainment
Standing at number one on this list is none other than Sony Computer Entertainment (SCE). The biggest video game console manufacturing company in the world. The company began in November 1993, Tokyo, with the first Playstation gaming console. PlayStation till today is rated as the bestselling gaming console of the world.
As a subsidiary of Sony, SCE headquarters is currently located in San Mateo, California. The company's president is Andrew House and Shawn Layden holds the king position of the Company's global CEO. The company made a booming 20.8 billion in revenue in 2018 from its sales of gaming consoles. Although SCE boasts some very popular games such as Spiderman, The last of Us and God of War, SCE's main revenue comes from the sales of its gaming consoles. The most popular consoles by SCE are:
• PlayStation
• PlayStation 2
• PlayStation 3
• PlayStation 4
• PlayStation Vita
Nintendo
Nintendo is an old player in the gaming industry, considering it was around the time even before when computers were made. In late 1970 Nintendo began from Kyoto, Japan and distributed its first console Odyssey. The founder of the company is Fusajiro Yamauchi. In 1981, Nintendo released Donkey King which later inspired the world-famous Mario character. Nintendo obviously is more famous for its console rather than games.
Nintendo is the world's largest video game company by revenue, with almost a net value of over USD 85 Billion. Some of the most notable video game by this company are:
• Mario
• Pokémon
• The legend of Zelda
Nintendo is now a company with subsidiaries in the entire world. With 130 years in the industry Nintendo is almost now a legacy company.
Mojang
Video game Company, Mojang, was founded in 2009 by game programmer Markus Persson. Mojang was a small enterprise that turned huge and gained quite a reputation. The company headquarters is located in Stockholm, Sweden. Mojang in itself is a very inspiring story of Markus and how he turned the company into the hit it is today. The story begins with Minecraft. The early version of Minecraft was released in 2009. The game was so popular that Persson turned Mojang into a game development company. Minecraft became a hit as soon as it was released. It was Mojang's most well-known titles to ever release, reaching over ten million registered accounts in just two years.
Mojang reported revenues of 2.069 billion in 2014. However, Mojang was acquired by Microsoft in 2014 for 2.5 billion.
Some of the company's video games include:
• Cobalt
• Minecraft
Minecraft sold 176 million copies at its time of writing, making it the second best-selling video game of all time.
Read the full article here: https://5amily.com/animator/blog/top-video-game-companies-in-the-world