An Honest Review of 'Game Night' Starring Jason Bateman and Rachel McAdams
Game Night (2018) starring Jason Bateman and Rachel McAdams is a comedy film featuring a ragtag team of friends and the adventurous night that ensued following the sudden turn of events at one of their game nights. Here is an honest review. This review contains spoilers so be aware. (SPOILER ALERT)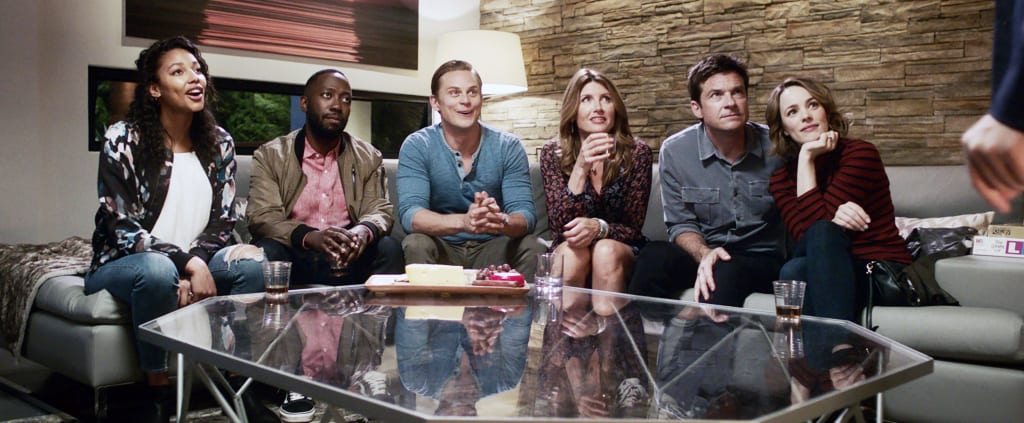 Game Night Cast: Jason Bateman, Rachel McAdams, Billy Magnussen, Sharon Horgan, Lamorne Morris, Kylie Bunbury, Jesse Plemons, Michael C. Hall and Kyle Chandler
Direction & Production Team: John Francis Daley, Jonathan Goldstein, John Davis, John Fox, Jason Bateman and James Garavente
Written by: Mark Perez
Rating: 1.5/5 Stars
Game Night is a black comedy about a competitive gambler Max (Jason Bateman), his wife Annie (Rachel McAdams) and their friends Ryan (Billy Magnussen), Kevin (Lamorne Morris) and Michelle (Kylie Bunbury) who engage in a weekly tradition of "Game Night". The event is always hosted at their home. The characters and their own stories are introduced to us early on. Max and Annie are having a hard time conceiving due to his low sperm count. After some hints from Annie, the doctor deduces that his symptoms are could be due to Max having a crisis of confidence. Max feels like a failure in comparison to his older more attractive brother Brooks ( Kyle Chandler). Brooks is wealthy, successful and admired by all. Ryan is a serial dater who brings a different woman to each game night. He is a bit dim-witted but he means well. Kevin and Michelle have been together since they were 14 years old and are soul mates. We are also introduced to another character, Gary ( Jesse Plemons). Gary is the creepy neighbour of Max and Annie, a police officer and the ex-husband of their former friend. Gary and his wife used to attend Game Night but ever since the two divorced, Max and Annie avoid Gary at all costs because he is odd and slightly intimidating. The couple lies to Gary and tells him that they are not having a Game Night because they do not want to invite him.
Brooks comes into town on a Game Night and joins the others. The audience quickly realizes that he is an arrogant condescending jerk whose only redeeming quality is that he is charming. Brooks offers to hosts the next Game Night, Max and Annie reluctantly agree. The next week, they all (except Gary) meet at Brooks's house. Ryan has invited yet another stranger, Sarah (Sharon Horgan). She is quite different from his other dates in that she is age-appropriate and intelligent. Brooks tells the group that he has added a twist to Game Night and hired a party company to stage a kidnapping. One person will be taken and the rest must solve clues and riddles along the way to find the "victim". The plan begins to unfold rather quickly as two men break in and take Brooks while the others eat popcorn and watch as Brooks tries to "fight his attackers off'. Unfortunately, the kidnapping was real and the group will only realize this about an hour later. What follows is a series of hijinks, break-ins, wild driving, shootings and hosts of other shenanigans as they attempt to rescue Brooks from his kidnappers and protect themselves.
The movie received mainly positive reviews from critics and made $117.4 million at the box office against its $37 million budget. This is still a mystery to me. As a fan of black comedies and Jason Bateman, this movie was painfully underwhelming. Games were played on me the night I decided to watch Game Night. Jason Bateman's films are always filled with witty banter, comical timing and make for good entertainment. This film fell depressing short of that. Furthermore, the film misrepresents itself as a black comedy. It most certainly is not. In black comedies, serious subject matters are sprinkled with comedic effects that lighten the content so viewers can have a good laugh every now and then. This was just a generic comedy posing as a dark comedy. It was riddled with plot holes and ridiculous coincidences aimed at getting a cheap laugh, wrapping up loose ends or solving some silly problem. There were also a few unnecessary storylines some of which dragged on for far too long. Another crippling truth about this film was that there was no chemistry between Bateman's and McAdams's characters. If the audience wasn't told they are a couple, we could very well think that they are just friends. I also did not like McAdams for the role of Annie. This character should be a comedic equal to Bateman. McAdams fell short and her acting seemed forced and was not believable at many points. Comedy is not her forte. The role would have been better suited for Jennifer Aniston, Kristen Bell or another actress that does comedy well and understands the nuances of the genre.
Game Night is uninteresting, dry and failed to elicit the laughter the filmmakers intended. Instead, it felt like a poorly choreographed dance where the dancers just tossed whatever moves they thought fit the style or genre. It was all just thrown together. The most interesting parts of the film occurred when Michael C Hall's character comes on screen to add some life to a rather dull film and at the end when the credits were rolling and a collage that summarized the plot of the movie was shown. If you are a fan of Jason Bateman and his work, this film is highly disappointing. If you enjoy a dark comedy and were expecting something similar to Identity Thief or Horrible Bosses, you will be disappointed and unimpressed. The acting was acceptable but I was bored for 70 of the 100 minutes of the film's duration. This film was trying too hard to be a black comedy and I suspect that is the reason why it was so terrible. For all the reasons, I give this film 1.5 stars out of 5.