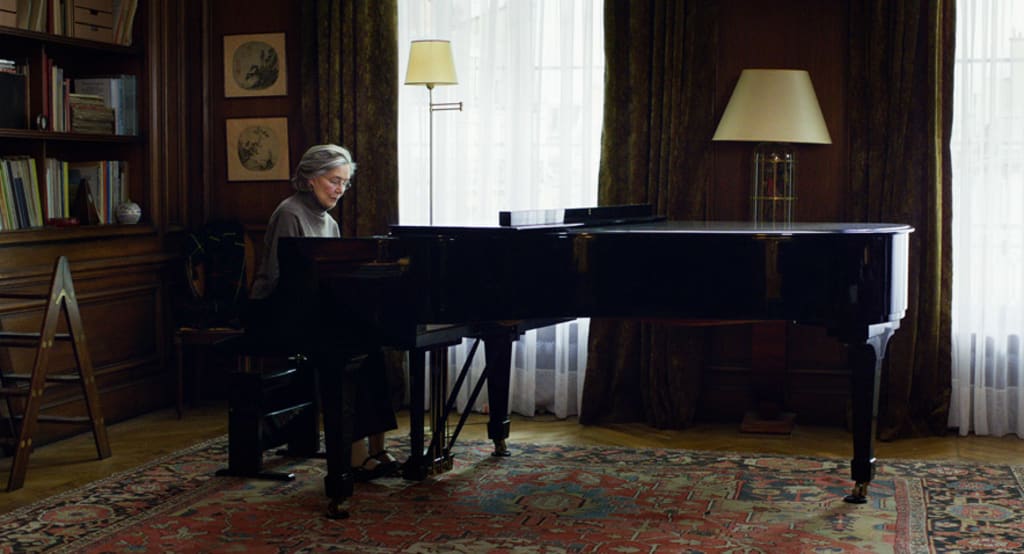 The movie "Amour" was directed by Michael Haneke and we begin by acknowledging the difficulty of discussing this movie but I recommend it to the audience. The movie is about the late relationship between two octogenarian intellectuals in Paris and explores the themes of love and death. Haneke's ability to transmit a vast range of extreme emotions through his cinematography and the actors' naturalistic performances are powerful. The plot seems simple but is complex and uses film angles, scenography, decor, and soundtrack to leave an impression on the viewers. I mention a particular scene where Georges sings while Anne sits in a chair, explaining how it's a metaphor for the film's temporal ambiguity.
It has been said about his films that they are infinitely easier to make than to watch, but what about this one? That it is a masterpiece that you wouldn't want to see. I hesitated a lot before deciding to talk about it here, where any comment is wanted, if not an invitation, at least a recommendation. All in all, regardless of any opinion, this could still be Michael Haneke's best film. We are talking about Amour, a possible late reply to the famous "Nous ne vieillirons pas ensemble" (1972) by Maurice Pialat.
With over 50 awards and just as many nominations, less than a year after its release, Amour is installed directly in the golden archive of universal cinema as if it had always been there and is an achievement that you have no right to pass over. Because here, the relations between two generic subjects are methodically and exemplarily explored: love and death, about which a great poet says without error: "In the face of love and death, we all become children again" (and it will be seen in the film how right he is).
That love has a stable domicile in Paris, France (as the Americans always remember to specify), and that it is fully accessible only to those past maturities (when most of the ghosts that usually accompany it disappear) are certainties. So, speaking of love, Haneke magically leads us through the late relationship between two octogenarian intellectuals who do not yet seem ready for the final act. We learn together with them, on the go, and we see them understandingly, managing to align themselves with the condition with an excellent performance that does not lack major gestures: sacrifice, refusal, dedication, helplessness, resignation, humility, courage, and trust. The theme is not quite so direct, and the subject is a difficult, deeply depressing one. Dramas always have a winding circuit and pass complicatedly through popularity; so Haneke's merit is greater because this film settles deep into you. Haneke fascinates with the enormous diversity of extreme emotions that he manages to convey here through cinematography.
The actors' game, of sublime naturalness, almost completely masks the interpretive part. You are convinced to believe that they live everything that happens to them and that their reactions, some absolutely normal, would not even be those suggested by a directorial vision (very firm in Haneke's case). Just like the entire plot: everything seems so simple...and he and she are actually elderly and with existential concerns similar to the characters embodied. On the other hand, the choice of camera angles (it is downright incredible how Haneke can reorganize the small dwelling without using almost the same framing or the same station point), the set design and decor, the soundtrack (it is fantastic what he does with it, the film linking coherently almost only around it, in an abstract continuity, composed subtly from the combination of images that precede actions or from others that follow: flashback/flashforward) all these techniques decisively help to discreetly act out the cinematic act and leave the charm of the mirage to do its job undisturbed. Throughout the projection, we even forget that we are watching a movie.
About the Creator
Revolutionary spirit. AI contributor. Badass Engineer. Struggling millennial. Post-modern feminist.
YouTube - Chiarra AI
Reader insights
Be the first to share your insights about this piece.
Add your insights