All Eyez On Me Review
Pour Out a Little Liquor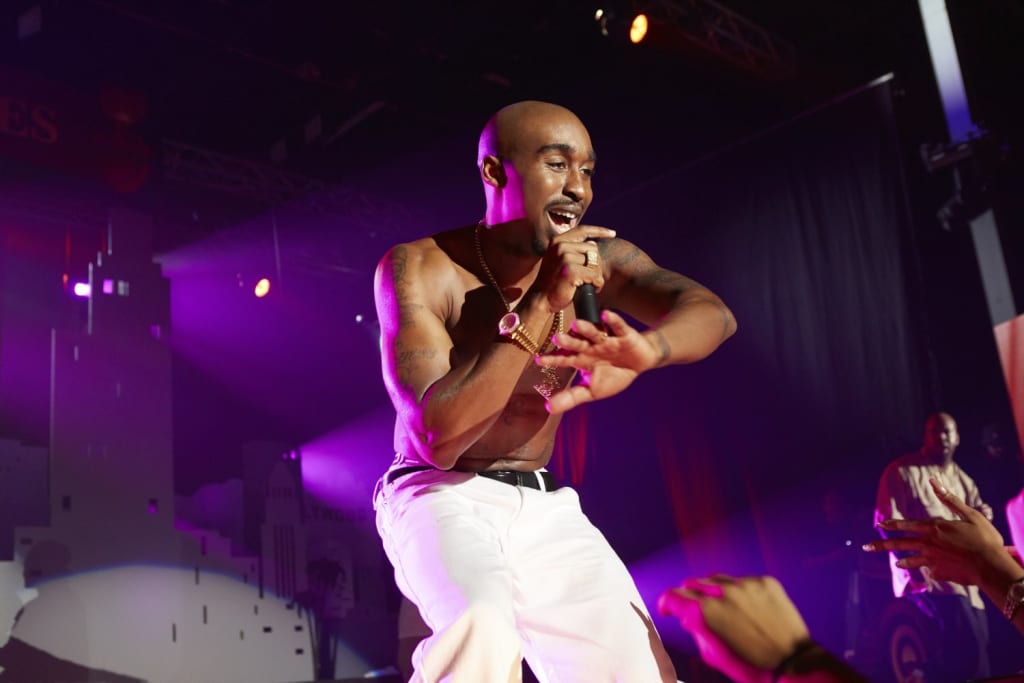 More reviews at www.thechairport.com
2016's Straight Outta Compton was a huge success, both fans and critics loved it. Now this year's Straight Outta Compton is All Eyez on Me, the bio-drama about Tupac's life. These films are clearly starting a new trend of music based bio-drama about hip hop artists that are relevant to the everyday filmgoer. Getting too many of these films will end up being overkill but the two we have right now are prime examples of why more should be mad. Yes some of the people from Straight Outta Compton are in Tupac, but not in a Marvel-style expanded universe way, unfortunately, but the story is fresh and intriguing enough to make All Eyez on Me a solid film.
All Eyez on Me follows the story of the American rapper and actor Tupac Amaru Shakur, played by Demetrius Shipp Jr. who does an amazing job. It covers his whole life from before he was born up until his death as it tells the story of how he became one of the most famous rappers in history. It tells this story in two halves, yes it's a two hour and twenty minute film, where the first half is an interview Tupac did in prison as he tells the interviewer about his life up until he got put in jail and then the second half is his life after jail and his return to the world.
The way the film is set up is actually quite intriguing and it would've been really boring had the whole film be this interview with flashback-like scenes for the whole time. In saying that, I should note that the interview is recreated and the film plays out normally but cutting back to the interview as Tupac explains his thinking and actions to the interviewer. The choice to make the film in two is both smart and a clear nod to Tupac's most accomplished album All Eyez on Me, the album the film is named after. All Eyez on Me was the first ever double album released by a rapper and the film makes use of that spirit and ingenuity to cut from the interview, which only works for so long, to Tupac's release back into the world and his time with Death Row Records which ends up being the best part of the film.
After being imprisoned he gets out by signing a deal with Suge Knight, owner of Death Row Records, and Tupac goes straight to California to make All Eyez on Me. This part of the film is crucial because for the last hour or so you've been watching Tupac's rise to fame and his fall. You get to see everything he goes through, the film really covers a lot of ground, and you feel attached and proud of Tupac for getting to this new important stage in his life. Once he is part of Death Row Records and party dies down that's when you, unfortunately, get the looming fear of what is coming next.
The film does a great job at showing the society and the world at the time and giving you this sense of fear over Tupac's life and, despite the fact you already know that he's going to die, you hope that he'll survive because to you he feels like an innocent trying to make his way through the world. All the characters around him, from Suge Knight, his mum, Dr Dre, Biggie, Snoop Dogg, and many more are all working with him or against him and any character can change at any moment which gives the film a great tension to it lending it to be more along the lines of a bio-drama/thriller.
All Eyez on Me is an exciting film that tells a great story filled with tension, fun, drama and a knowledge. Despite being a bit too long, the film's final ending being a little more over dramatised than the rest of the film, and some glossing over serious points in Tupac's life, All Eyez on Me matches the quality of cinema brought by 2015's Straight Outta Compton. If you're a Tupac fan then it's a must-see, if you're a bio-drama fan then it's a must-see, and if you are interested in a story about an iconic music icon then I would recommend All Eyez on Me. The film makes you think about what Tupac would've done in the 21st century with the technology he would have now to put out his music, how he wouldn't have to make deals with people he didn't want to and he could be his own man, but most of all the film makes you appreciate the star and talent he was.
Score: 3.5/5