Add chapters The Owl Hous fanfic(Raeda) Raine's Gender Journey chapter 7: Back to Class
This is chapter 7, the chapters must be read in order. The links to the last three chapters are in the body of the story, there is also a link to the first chapter. This is the story of how Raine figured out that they are nonbinary. They're dating Eda so you will get that in this series. This series is written by a non-binary person. In this chapter, Raine goes back to class to find out what the teachers decided.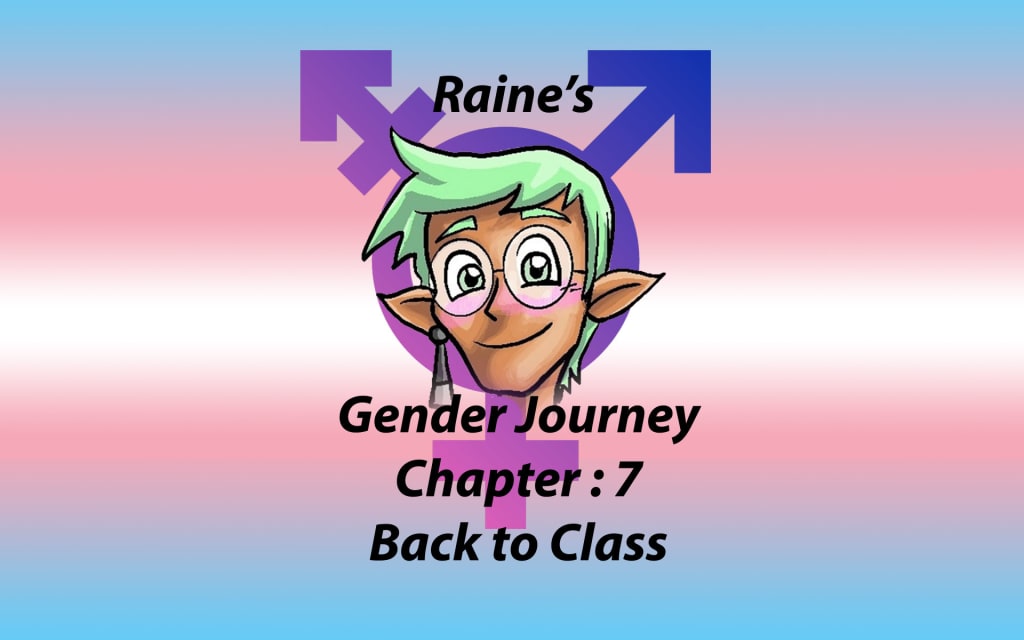 The trans flag as a gradient in the back ground. There is the transgender symbol which is mostly purple. On top of that there is Raine's head(the head is from a piece I commissioned from WolfShearArt) and above and below that is the title of the series and the name of the chapter.
Previous chapters
Chapter 5: The Most Important Performance
Chapter 6: Somewhere else to eat
As soon as I left Eda's arms and went into the classroom, my confidence melted away and my heart was pounding as I saw the same teachers that were there this morning, standing at the front of the room. I curled up as I got the stink eye from the principal who thought I was too late to be on time.
Unfortunately, it was Principal Faust who addressed us. "Your teachers have convinced me that you all have enough potential to stay in the course with your instrument of choice for now! The following students will have to stay after class for an additional three hours after school every day until I deem them up to standards. If you do not reach that level, then you will be expelled," you could have heard a pin drop as he listed eight students, Lucas was one of them and I was not. No matter if they were on the list or not, no one celebrated. Everyone was still terrified of the principal, who stood there staring at us before leaving without a word. As soon as he left there was a collective sigh of relief.
Then we separated by instrument types, brass, and woodwinds were taken to other rooms. There were only three of us in strings, Arietta Lantos who played the Lyre, and Helena Strow who played guitar. Both of them were nice enough, part of the reason I chose sting over brass was because I knew it would just be us. Neither of them were selected for extra lessons.
Being in that small group with Mr. Ryzon, was nice, and the class was more of a discussion than any class that I've ever been in. I didn't talk much, and Mr. Ryzon didn't pressure me to talk too much either so that was nice. He also called all of us just by our last names. My heart almost stopped when Helena brought it up, but he just dismissed it as wanting to try something new. He didn't even look at me! We talked about the powers that string instruments have because of being able to play in two ways plucking one string or strumming all of them. The afternoon went by quickly and soon the other students came back from their own groups. There was a short lecture before the day ended. I waited for everyone to leave, forgetting that some would stay for after school lessons, so in a good mood, I left the building. It was a very nice day, the sun was warm and there really weren't any clouds. I waited off to the side of the building to avoid the crowds while I waited for Eda and Lilith.
I didn't have to wait long, Eda ran over and Lilith followed a bit behind her. My girlfriend drew me in for a hug, and whispered, "hi Cadence," so Lilith couldn't hear. as she pulled away I realized that even though I've only had it for a day and only two people have used it, Cadence feels so much more me than Baron.
With how well things were going today I decided to take a chance. "I think we should tell Lilith" I spoke in a hushed tone hoping that the older sister wouldn't hear.
I knew that she heard by the way her mouth twitched but didn't say anything just moved a bit closer, trying to hear more.
"Ok," Eda smiled, turning between the two of us, before turning to me, "do you want to tell her or do you want me to?"
"You," I sighed, then looked around. "um, Maybe not here, I don't want anyone overhearing," I chuckled nervously. Now Lilith was right next to us practically busting with excitement over being told about what we were talking about.
"Good point, ok, Lily relax I'll tell you when we get back to the house, by the way," she looked over at me, "you're spending the afternoon at my place, I'll deal with your parents," she grinned, before she started walking quickly not giving me time to say anything. I knew that if she would slow down or stop and listen to me if I just asked, but I like this side of her. The determined there is nothing that I can't handle side of her that I admired and wish I had. Lilith was grinning as we chased after her, and I was starting to have second thoughts as we approached my house. Eda waited for us in front of the house. I had one last chance to stop it but I decided to grab Eda's hand with a shaky one and walk to the front door. She comfortingly squeezed my hand as I unlocked the door.
If you like this story, fear not! There are more chapters on the way! Subscribe so you don't miss them! I also have several other works that you can look at while you wait. For more information on the other stories click the following This Link
Please, heart, tip, subscribe, and tell your friends!
~~Ben
About the Creator
I have poems and series and one shots. I keep a google doc with organized summaries and listings of each story and all of the parts that I've posted.
docs.google.com/document/d/1peKsDklUnqcKA1MjpZpPpYj9WuR-XI5P0U4ajbckmTI/edit?usp=sharing
Reader insights
Be the first to share your insights about this piece.
Add your insights