Actor Mike Ezuruonye Finally Talks About Getting ARRESTED in London Over 3 Million Naira Fraud.
The actor is finally speaking out.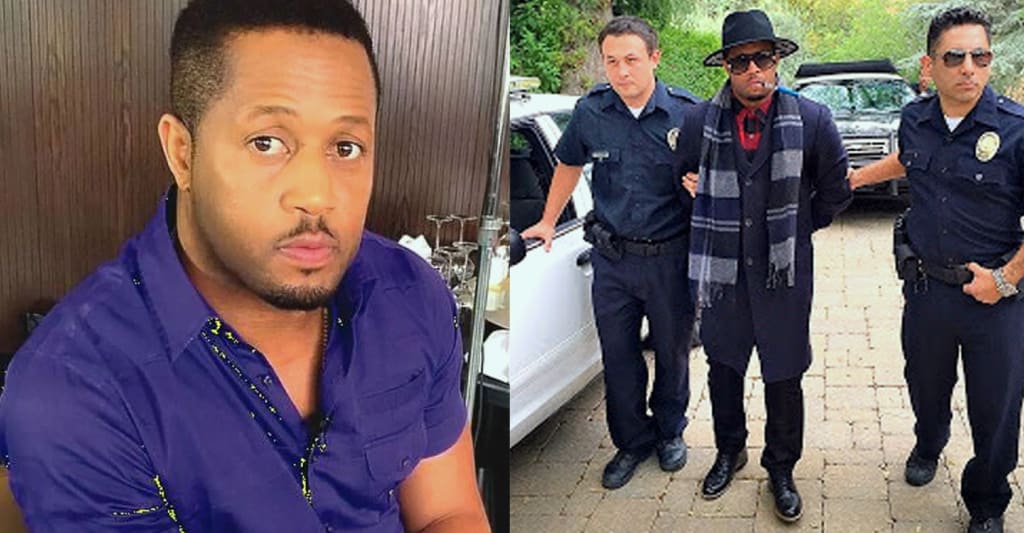 The actor is finally speaking out.
A few days back Nollywood actor, Mike Ezuruonye made headlines. The popular and beloved actor was called out by a woman named Rose Taylor for allegedly trying to scam her of millions of naira.
Through her Instagram page, @rosetaylor1306, she posted a very lengthy article where she accused the actor of trying to scam her of 7 thousand euros in what people are calling a 'romance scam'.
Her post is very long and I will post a picture of the full thing below, but before that here are some excerpts:
We were sharing notes and laughing at you. I went to Rotterdam and the whole week talking about how you wanted to marry mw then you wanted £7000 to treat your mother fir her birthday.

I refused and decided to send you, the pictures your send to my friends and the conversations. You then block me.

I warned you though that the net is closing on you nigerian brothers. I have a list of high profile Nollywood actors who are involved in this.

If Nollywood is not paying, stop living fake lives, find day jobs, work more. Wo.en abroad are tired of your sweet talks – but I must give you this nigerian guys – you know how to sweet talk. You got all the sweetest words.

But we now know, its all about money swindling. Sad Mike, do not try UK, you will be disappointed. People like you give your dear country a bad reputation. Stop it.

The net is closing in, you know why, because these governments are tired of bailing out women who you have duped of thousands of pounds and dollars.

Ever heard of Interpol, yes you will know them soon brother. There are also some secret agencies. You will never know. I laughed at your picture, a very sweet talking handsome swindler.

Sorry you failed with us pretty boy. I have your number and the texts and recorded all phone calls. Shame on you boy. Find a day job. The net is closing not just on you but your kinsman the world over.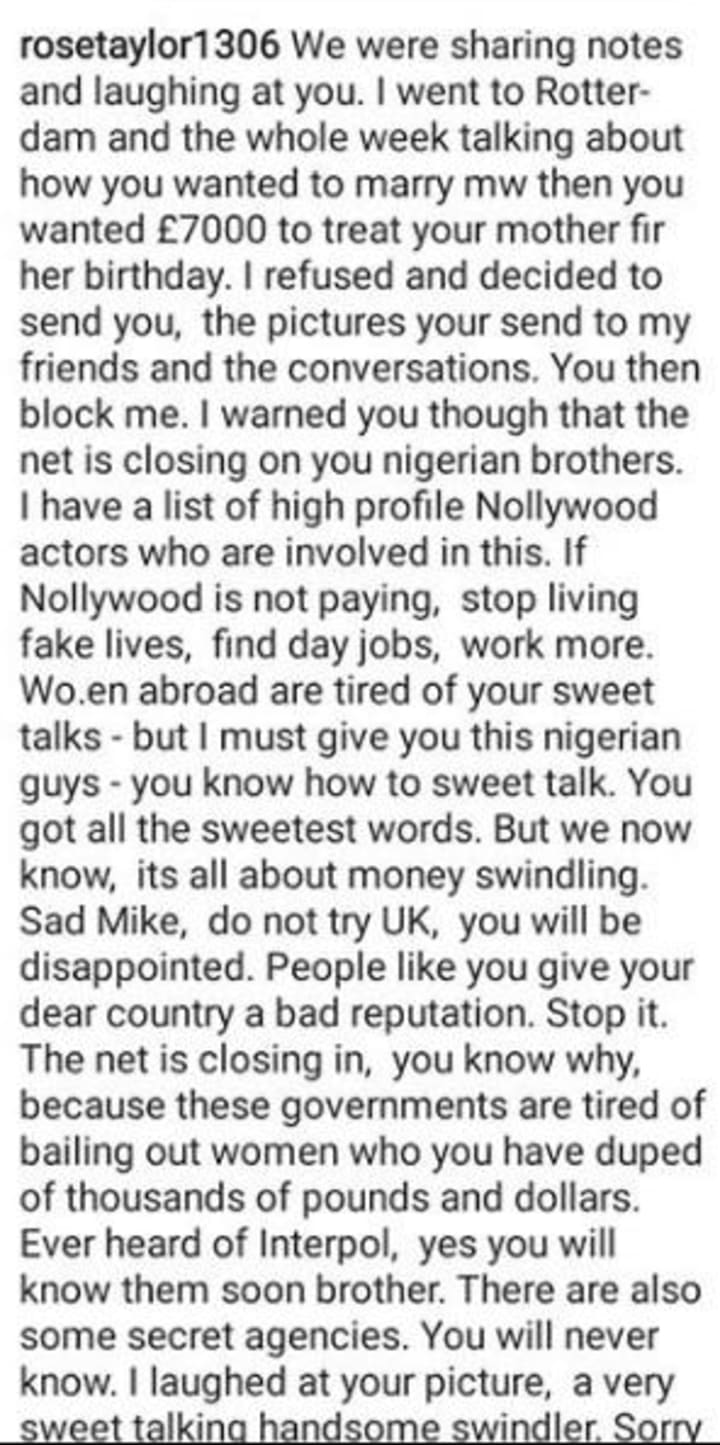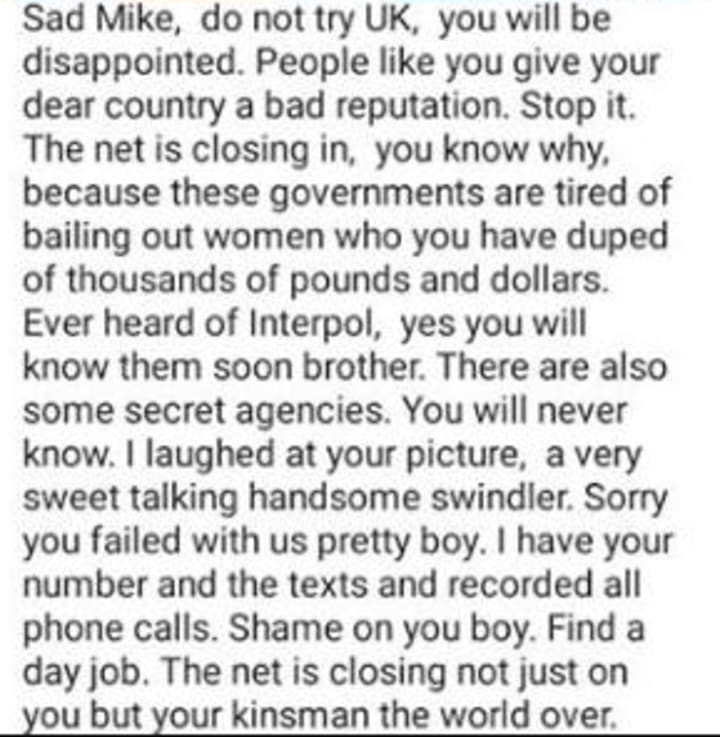 Well, following the accusations, many people took to the actor's social media pages to haul names at him, insult him, and accuse him of scamming innocent women. It didn't help when this image of him started being circulated as well – we don't know if this is from a set or photoshopped, but this image too started going around adding fuel to the fire.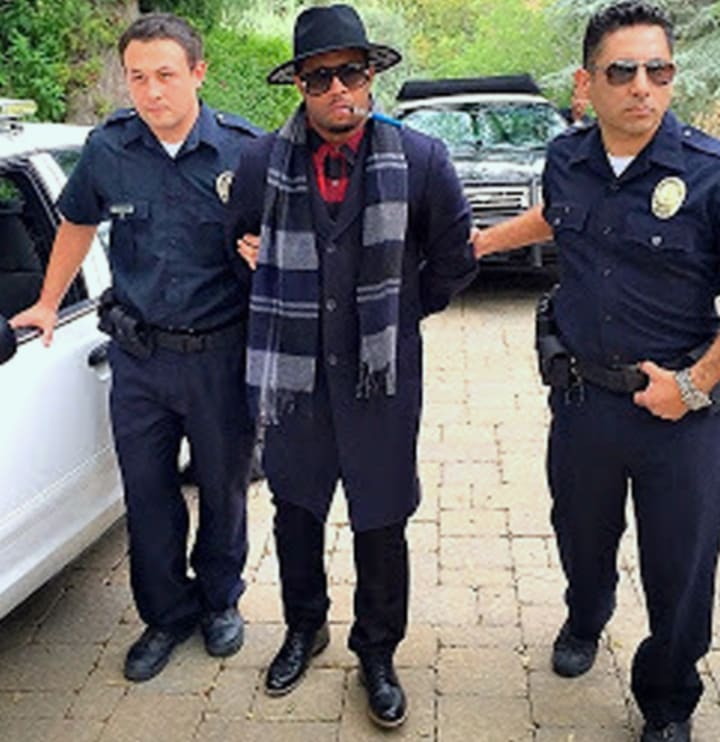 Eventually Mike Ezuruonye couldn't take it anymore and has now taken to Instagram to give his own version of events.
His response below.
**Before reading on, please make sure to like and follow my Facebook page so you don't miss out on any new and interesting lists, articles, and stories that I post every single day. I have a really fun page. If you like my page, you will have fun too. So what's stopping you? Like my page and let's have fun together!
Mike's Response:
If you don't feel like watching the whole 5-minute video, no problem. Here are some key EXCERPTS FROM HIS RANT, which he gave while laughing and eating:
Why I no go laugh now? Let me laugh. Omo, oh my god, I heard I was arrested oh. They said I was arrested. In London. Hmm. So I'm looking for myself right now. I'm looking for Mike Ezuruonye where he was arrested. For fraud. That he defrauded how much them talk? 7,000. Mschewww. God punish una. Very stupid.

See I've been quiet too long about this nonsense but still I have posted people who have been arrested, impersonated me, I have tagged the EFCC, the police, they've been quite helpful and are still helpful. And some idiot somewhere will just wake up and go write rubbish.

Which UK? Mike that is on location, working right now. Looking for his daily bread.

I heard they formed a cult against me, Queens of something something. Old women who have been defrauded. Some I pity though, I'm not gonna lie.

But I've explained times without number, if somebody calls you with my image, tell that image to touch his head, touch ear, touch nose. It's never gonna happen because it's pre-recorded. Why are you gonna give money to someone you don't know? What are you looking for? And the worst part is that some of you are older than my mother. Wetin you dey find for my body? What are you looking for?

And when you're now defrauded, you now find the real account of the person. But while you were frolicking with the so-called fake person, you never took your time to investigate.

It's very very unfortunate. I'm tired. It's all stupid.
Wow! The lives of these celebrities man…to be dealing with all these impersonators waking up to steal and taint your image. I'm happy Mike took the time to address this and I hope it serves as a cautionary tale so people don't get defrauded in the future.
That's All.
**Don't forget to like my page:
I'm sure you've loved reading this piece. To make sure you keep having fun and don't miss out on any fun in the future, be sure to like and follow my Facebook page above. It's a really fun page and you're really going to love it. So what's stopping you? Like it!
To catch up other content you might have missed, click here.
Until next time, have a wonderful rest of your day .