A True Modern Horror Masterpiece
IT had true scares in a genre that needs a much needed breath of fresh air.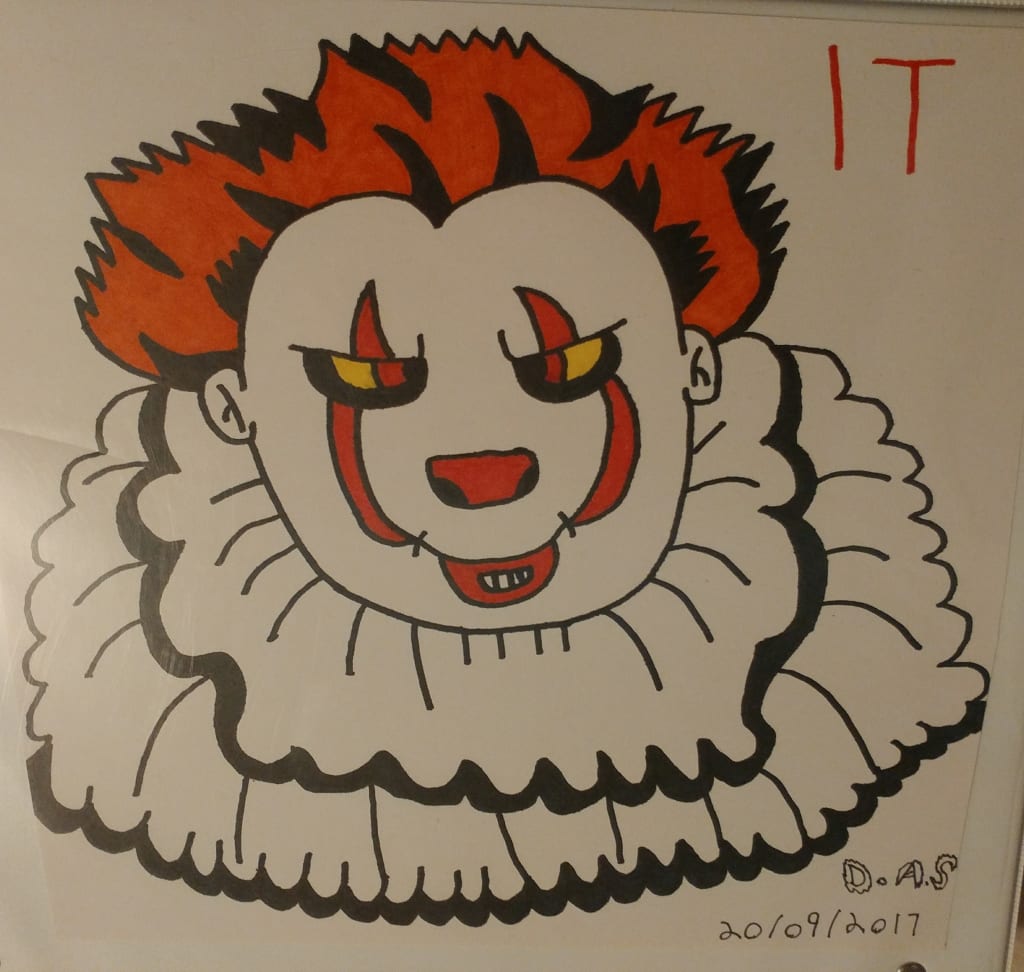 Fan art by Dylan A. Skinner
Every now and again there is a film that easily takes us deep into a terrifying and psychologically challenging thrill ride. Stephen King has a tendency to do this with his novels so one could only hope the film adaptation of his classic horror novel It could be as terrifying as the over 1000 page novel. Expectations were set and then smashed upon viewing It.
From the opening moment of the film it was gripping. As we come to understand the menace of Pennywise quite quickly it most definitely set a tone that the rest of the movie needed to live up to. My pulse was pounding within minutes as Bill Skarsgard began to speak. Immediately the film went to a great length to establish that this film was going to go more pyschological than jump scares and that meant even more to come from Bill Skarsgard aka Pennywise the Dancing Clown.
The film quickly transitions to a more calm and collected atmosphere switching to the children as summer approaches. There is an obvious somber mood as the town curfew is announced to be 7 and the boys discuss the missing town kids. However the dialogue between the kids was realistic and semi comedic which definitely helped ground the children as leads whos fate we actually cared about.
Of course from there we are taken on a ride that deals with many important themes. It is suprinsgly just as good at being a solid coming of age tale as it is at being a horror film. For a film of this nature to clock in at 2hrs15 mins it had a lot of ground to cover and it really did takes it time to make the characters and torture at hands of Pennywise even more terrifying and damaging. The fate of the children was always in danger and as Pennywise became a bigger threat the film so gracefully slides between quick witted dialogue and frightening dialogue.
Notably one of the hardest things to pull off was always going to be the many shapes and forms of It/Pennywise remaining terrifying while still keeping the clown form as the one that evokes the most emotion from the audience. My jaw dropped during most of the scenes that featured Bill Skarsgard. I want to call it here and hopefully it can gain enough traction but I strongly believe Skarsgard should be handed the Oscar for best supporting actor right now. It was not always his words, it was his lanky structure and his deep eyes that he used to convey a sense of pure terror. Right from the first scene we could see the lurking creepiness behind his eyes. Perhaps a minor spoiler but poor Georgie and every moment this is used to damage Bill through out the film. Spoilers over from here.
Pennywise was a key part to the film but none of his scenes could have been as powerful if not for strong portrayals of the group of young people known as the Losers club. Beverley, Ritchie and of course Bill were strongly written characters. Bill providing the groups courage, Ritchie the groups humour and Beverley the groups diversity and romanticism. As I said early if you take away Pennywise there was still a strong coming of age element to this film that dealt with bullying, sexuality and standing up for ones self. It really was the complete film that could have came from the first half of Kings novel. Chapter 2 will be its own thing down the road but Chapter 1 was one of the most complete films classified as a horror that I have ever witnessed. R ratings do help and parents dont blame the producers if your 12 year old kids that came to the movie somehow have nightmares for nights because they thought the film was too violent.
This was a film meant for adults. There were a couple of scenes that were hard to handle that didnt even involve Pennywise. This film was much deeper on all levels than I anticpated and that has easily made it probably my best viewing experience of 2017 so far. With the box Office draw it had opening weekend Chapter 2 is going to happen and trust me, I cannot wait. If you are a fan of classic horror and physchologically frightening films than this is for you. You will not be disappointed.
Debuting here will be a new scoring system for film reviews. It will score acting, writing, visuals and then an overall score for the film.
Acting- 9.5- Bill Skarsgard set the tone early and everyone kept it flowing through out.
Visuals- 9.5/10- Pennywise was as frightening as they come and any scene that required weird visuals had no real issue bringing to life and keeping it petrifying through out.
Writing- 9/10- It is always hard to take a 1000 pages and shrink it down for a film. Good use of Pennywise but perhaps made him look a little too weak near the end. Still a solid script.
Overall Score- 9.5/10- A thrilling horror story meant for the big screen. My jaw dropped during several scenes and I had chills during many others. Thanks for sharing that journey with me brother. More to come man and its gonna rock.
review
I am a father of two amazing kids who loves to write about film, television, culture and sports. Writing has always been a passion of mine and has always been my way of expressing my feelings with the world.
Receive stories by Kenneth Belliveau in

your feed