A Quiet Place Part II (2020) Movie Review
Thriller / Sci-fi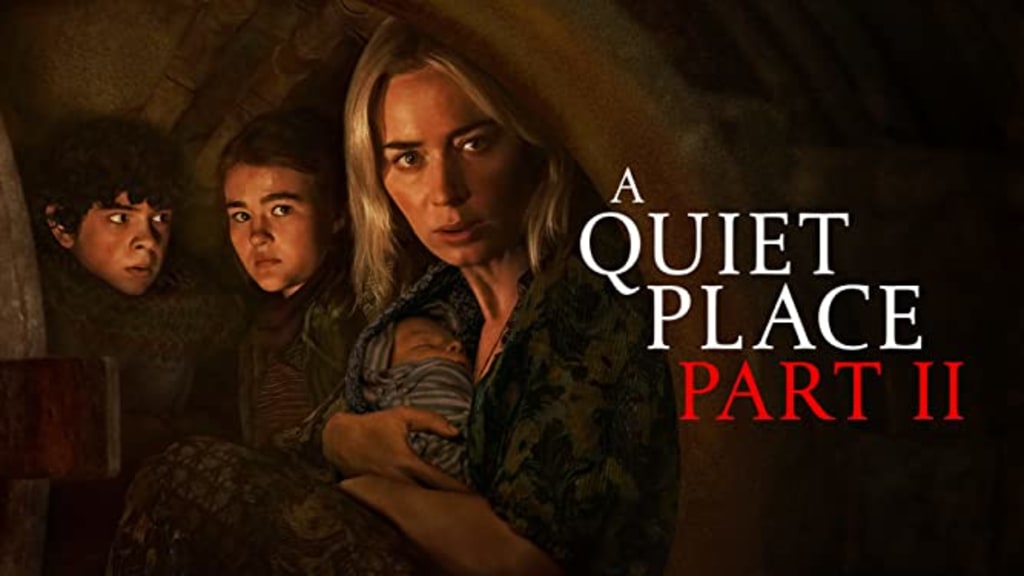 91% Rotten Tomatoes | 7.2/10 IMDb
In 2018, John Krasinski managed to get moviegoers to be silent in the box-office hit "A Quiet Place," co-written with Scott Beck and Bryan Woods. The film's plot goes beyond the characters trying to survive in quiet and teaches uneasy audiences to do the same, filling theaters with silent observers. "A Quiet Place Part II," the follow-up, makes changes that may surprise fans of the original. The sequel is bigger, faster, louder, and more typical for the horror blockbuster genre. Krasinski proves his intelligence and talent in writing and directing this sequel, showing his non-subversive priorities when it comes to being a genre director. He orchestrates tense life-or-death scenes with an exciting sense of when to go slow and when to floor it. "A Quiet Place Part II" delivers a thrilling experience, reminding the audience of Steven Spielberg's "The Lost World: Jurassic Park," which also let his beasts rampage through a new environment in a staggering way.
The first film's climax ended with the Abbotts finally tipping the scales after over 400 days of terror under their noise-slaying captors. "Part II" begins with a deliciously cruel reset, going back to day one, when nobody knew anything. Although the audience knows what comes eventually, which makes the Little League baseball game sequence an especially nerve-rattling, jack-in-the-box moment in the movie. The match is called off when something big blows up in the sky, and citizens don't stand a chance when the aliens suddenly slam into town. The Abbott family must hide to survive, but their struggles lead to an adrenaline-fueled sequence that showcases Krasinski's ability to orchestrate tense life-or-death scenes.
The sequel then jumps right to the end of the first movie, with Evelyn traveling with her daughter Regan and son Marcus off the sand path laid by Lee, past the gravesite of their young son from the beginning of the first movie. Regan, who now has her cochlear implant in hand, is looking to further weaponize it after its feedback proved at the end of the first movie to give the monsters debilitating headaches. Her search for more people sets them on a course for a signal, and the unknown of humanity.
In contrast to the first movie focusing on sacrifice for family, this sequel focuses on what one would give up to help others. Cillian Murphy plays Emmett, the newest addition to the series and a family friend from the ball game who ponders this question when he refuses to help the Abbotts after they step into the abandoned factory he lords over. He is incredibly resistant at first, especially given his own loss and waning food supply. He warns Evelyn of looking for others, talking about how there are now "people who aren't worth saving." Although Emmett has an intriguing bitterness, the film's overall emotional growth is reduced to Emmett learning to follow the gospel of all-American hero Lee, which is not the only cheesy idea that Krasinski takes too seriously. Despite this, the movie does ramp up a good bit of fear later on with people who are less giving than the Abbotts.
Despite its flaws, "A Quiet Place Part II" still manages to be an engaging and thrilling horror movie that will keep audiences on the edge of their seats. It may not reach the heights of its predecessor, but it still has plenty of tense and exciting moments that make it worth watching. Krasinski's direction is confident and assured, even if he does play it safe at times, and the cast delivers strong performances across the board. Blunt is especially effective as the film's lead, bringing depth and nuance to a character who is grappling with immense grief and trauma. Simmonds also shines in her role as Regan, providing a strong anchor for the film's emotional core.
In conclusion, "A Quiet Place Part II" may not be as groundbreaking or inventive as its predecessor, but it still manages to be a tense and effective horror movie that will satisfy fans of the genre. Krasinski's direction is confident and assured, and the cast delivers strong performances that elevate the material. While it may not reach the heights of its predecessor, it's still a worthy sequel that expands on the world and characters of the first film in interesting ways. Fans of the original should definitely give this one a watch, and even newcomers to the franchise will find plenty to enjoy in its thrilling and suspenseful storytelling.
Reader insights
Be the first to share your insights about this piece.
Add your insights