A Ghostly Judy Greer Haunts Melanie Lynskey in 'Lady of the Manor'
The chemistry between these two ladies saves this movie from being a complete waste of time.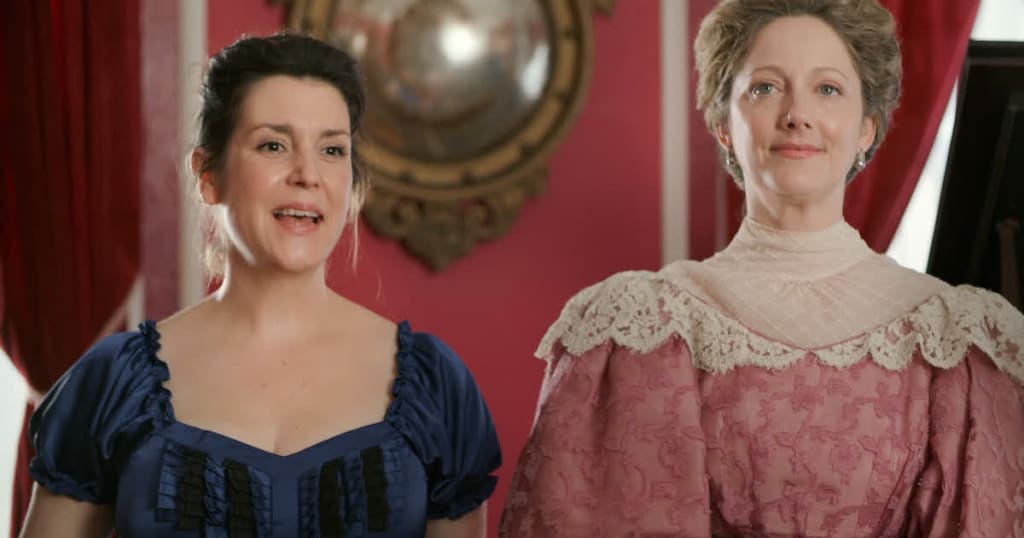 Lionsgate
Two and a Half Men is an abominable sitcom and I'm ashamed to admit that in my younger, and far more vulnerable years, I did watch an episode or two. If there was one good reason to watch the show, it was Melanie Lynskey, who had a recurring role in the show as Rose, a psychotic stalker to one of the titular two and a half men. Like many of the talents wasted on that show, Lynskey fell prey to the show's dismal writing. Yet if any laughs were to be had, it was due to Lynskey and her pitch-perfect timing — though we shouldn't forget the wonderful Conchata Ferrell.
I would later discover that she co-starred alongside a young Kate Winslet in Peter Jackson's underrated crime drama, Heavenly Creatures. Later on, she would feature in the endearing short-lived HBO show, Togetherness, as well as star in many indie goodies, such as I Don't Feel at Home in This World Anymore.
Judy Greer has proven to be a formidable comedic and dramatic talent on the screen. Though if you look at her IMDb page, the first four movies she is 'known for', all include bit parts in big movies that were far beneath her talents. (Okay, 13 Going on 30 isn't so bad.)
Thanks to Justin and Christian Long, these two talented women are now starring in their own buddy comedy, Lady of the Manor, which was released quietly on the VOD market on September 17th.
Hannah (Lynskey), spends most of her days sitting on the couch, getting high, watching true crime documentaries. Though her disgruntled boyfriend refers to her as a drug dealer, she quickly corrects him and tells him she's more of a "drug deliver". She receives a text with a request for a certain amount of marijuana, and an address to deliver it to — yeah, that sounds pretty much like a drug dealer.
Through an unfortunate misunderstanding, Hannah accidentally becomes the subject of a sting operation and is charged with solicitation of a minor. After this, she's both dumped and kicked out of her apartment by her boyfriend (Alex Klein). Through a stroke of luck, she gets offered a job by Tanner Wadsworth (Ryan Phillippe), the young heir of the affluent Wadsworth family.
The job consists of being a tour guide of the Wadsworth mansion, which contains some considerable historical value from its heydays — around the mid-1800s. It was owned by the prestigious Lady Wadsworth (Judy Greer). The big draw for the job is that Hannah gets to live in the mansion itself.
Part of her duties as a tour guide of the mansion is to impersonate its former owner, Lady Wadsworth. Hannah, her character being one of extreme slothfulness, does not do the research and thus her performance lacks any historical accuracy whatsoever.
This is pointed out by one of the visiting tourists, Max Cameron, a history professor. But the professor isn't the only one who takes umbrage with Hannah's performance as Wadsworth mansion's tour guide. The ghost of Lady Wadsworth herself appears before Hannah, disrupting her daily debauchery, refusing to leave her be until she faithfully recreates her character.
The premise holds typical comedic appeal. It's the odd couple. Two conflicting personalities who are forced to work together. One is stuck-up, the other is carefree. One lived and thrived in the high-society of Savannah during the 1800s, the other is enjoying the slovenly freedoms of the 21st century.
You'd think with such a premise, the film would play up the differences between their opposing cultures or the differing sexual politics of Lady Wadsworth's days. There is some of that, but it's all very obvious.
...
READ THE REST OF THIS REVIEW ON OUR WEBSITE: https://moviebabble.com/2021/09/30/a-ghostly-judy-greer-haunts-melanie-lynskey-in-lady-of-the-manor/
movie
The Casual Way to Discuss Movies! Head over to moviebabble.com to see all our content!