A Celebrity Ode To The Corona Quarantine (YouTube Video)
Jim Meskimen reminds us that keeping your hands clean is ALWAYS a good thing...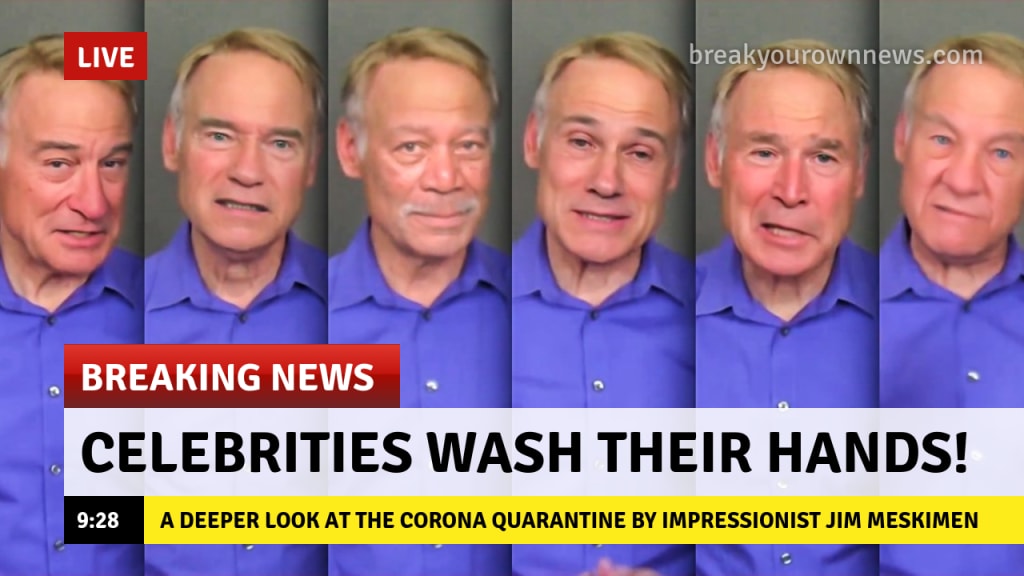 A Deeper Look at the Corona Quarantine In 17 Celebrity Voices by Impressionist Jim Meskimen
A Deeper Look at the Corona Quarantine by Impressionist Jim Meskimen
Jim Meskimen is a lucky guy. As a highly successful artist and family man, being cooped up at home in SoCal ain't so bad. But, his real forte is appearing in front of a big crowd, entertaining them with his spot-on celebrity impressions and generally being pretty goofy.
Naturally, the Covid-19 quarantine has been especially hard on him and all show people. So, how does he cope?
By pioneering a brand new video medium called "Deep Fakes" - with a twist: Impersonating more than a dozen stars who recite his original verse. Right from his own kitchen...
There's been plenty of bad press when it comes to Deep Fakes. Apparently, some critics are worried it could lead to the utter destruction of society as we know it. They may have a point. Have you seen Hillary Clinton as Hannibal Lecter? Maybe skip that one...
But, Deep Fakes can be quite entertaining if its power is used for good. That's where Jim Meskimen comes in.
Jim has been collaborating with an artistic tech genius going by the moniker of Shamook. And, this time, please pay attention to the man behind the curtain.
In their latest team effort, Jim offers up his talent for mimicry and clever prose by reciting a poem about the importance of constant hand washing. (Who knew the OCD crowd was actually on to something?)
In the past, Jim Meskimen has relied on his every-man visage to "fool" the audience into believing they were hearing and seeing the real deal, in the flesh. And, some of the celebrities he impersonates have complimented him on his uncanny prowess. (Watch Jim's hilarious TV series IMPRESS ME on Amazon Prime.)
But, with the advent of Deep Fakes technology, the next phase in the evolution of celebrity impressions is underway. And Jim Meskimen has become the point man.
In the YouTube video below, Jim Meskimen delivers an important, poetic message about the necessity, more than ever, for keeping our hands clean. Along the way, he gets help from some of the most famous people in show business.
But, Jim doesn't have to rely on molding his considerable mug into the proper countenance. With the power of Deep Fakes he "becomes" the star we all know and love, in more than just voice.
So, whether you're self-isolated or having to brave the outside world, have a look and enjoy a laugh about a very serious message.
Jim Meskimen delivers it in the voices (and the faces) of 17 different celebrities passing on some good and timely advice.
The process is laborious and time consuming. And, along the way, Jim and Shamook may get their hands dirty. But, luckily, there's a remedy.
One might say, it's everything PLUS the kitchen sink...
Jim Meskimen:
Greetings, friends from distant lands
Amigos, messieurs et madames,
NICK OFFERMAN
There's much that we don't understand
And much our new lifestyle demands,
COLIN FIRTH
One does the very best one can,
The least of which is – washing hands.
IAN MCKELLEN
In driving rain or scorching sands
Through quarantines and travel bans,
TOMMY LEE JONES
Though filthiness does have its fans,
The best of us still wash their hands.
GEORGE W. BUSH
It's done in every far-flung land,
From Texas to Turkmenistan,
BRYAN CRANSTON
Wherever flu germs threaten Man,
(All science teachers wash their hands.)
JOHN MALKOVICH
If you play keyboard in a band,
Before you touch that Steinway grand
ROBERT DENIRO
And earn yourself a reprimand,
Wear gloves, or, you know, wash your hands.
CHRISTOPH WALTZ
Go out and stroll along the strand,
Salute and hail your fellow man;
PATRICK STEWART
We're all enduring changes of plans
So, make it SOAP. And wash those hands.
GEORGE CLOONEY
Until our leaders countermand
Orders to stay inside and crammed,
CHRISTOPHER WALKEN
We'll demonstrate we can withstand
Their mandates, while they all grandstand.
ANTHONY HOPKINS
Would it were stopped 'fore it began…
Alas, not so. Please wash your hands
ROBIN WILLIAMS
Let's not go straight to Crazy-land,
Give common sense the upper hand!
JOE PESCI
Seek ways to help your fellow man,
Let "calm" describe your personal brand.
NICHOLAS CAGE
And widen your attention span!
Let media talking heads be damned!
MORGAN FREEMAN
We'll muddle through as best we can,
But, just the same… wash your damn hands.
©2020 by Jim Meskimen
About the Creator
I am a Freelance Writer living in Riverside California who writes on a wide variety of topics including News, Politics, Popular Culture, Science, Music, Fiction, Poetry and Art.
Read More by Reid Moore!
Reader insights
Be the first to share your insights about this piece.
Add your insights