9 Movies to Look out for This Summer
If dinosaurs, disasters, and superheroes become too much, take a breather with one of these flicks.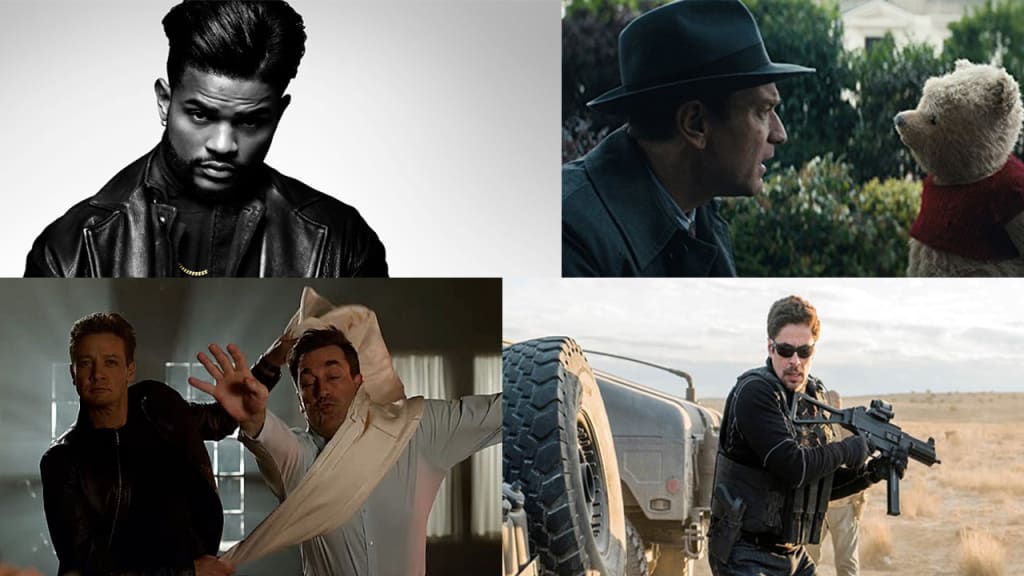 After the tremendous success of Infinity War, summer is about to officially kick off with this week's Deadpool 2, followed by Solo: A Star Wars Story the week after, then Ocean's 8, Incredibles 2, Jurassic World: Fallen Kingdom, Ant-Man and The Wasp, Skyscraper, Mission Impossible: Fallout, andThe Megin the upcoming months. With very few stinkers in sight, it should be a solid summer with plenty of box office hits that will give the film industry a nice boost. However, there are some movies that might slip under the casual moviegoers' radar—some that might be deserving of that sweet blockbuster revenue, even if the movies themselves aren't what one would call blockbusters.
A24 is a household name in the indie movie business, and they seem prepped to launch another critical hit with Hereditary. This horror film follows a family after their matriarch, Ellen, passes away, and they discover dark and terrifying secrets about their ancestry. The deeper they go, the more they realize that something sinister is pursuing them, and Ellen's granddaughter may be the key to stopping it.
The movie is opening on June 8th, nearly a year to the day afterIt Comes At Night, a movie that, while a critical and commercial success, wasn't quite a smash hit. That may be due to A24's tendency for limited releases, but it's most likely a case of critics being disconnected with audiences. The Rotten Tomatoes scores for It Comes At Night stands at 88 and 44, respectively, and it may have been the poor word-of-mouth that caused the movie to perform as low as it did. If Hereditary proves opposite, then there's potential for this movie to really blow up. Regardless, this is definitely one film that horror fans shouldn't miss.
A remake of the 1972 movie of the same name, Superfly moves from the backstreets of Harlem to the downtown core of Atlanta. Priest (Trevor Jackson) is a drug dealer who has been spending most of his life under the radar, but now that a gang with cartel connections is coming after him, he decides to pull one last heist and get out of the trade for good.
Given the success of Black Panther and its black-dominated cast, a soundtrack produced by Future, and the promise of artists such as Migos, Rick Ross, Lecrae, and Big Boi set to appear, this movie could appeal to fans of the trap music genre and make it the surprise hit of the summer. Also Jason Mitchell, who played Eazy-E in Straight Outta Compton, a US soldier from the 1970s in Kong: Skull Island, and a WWII veteran in Mudbound, is playing Priest's best friend Eddie, so that's another reason to go see it.
If you missed Jeremy Renners' Hawkeye in Infinity War, don't worry, he's set to appear in Tag, a comedy about a group of adults who have been playing the same game of tag since childhood. Renner plays the one friend who's never been "it," and his friends decide to hatch a plan to end his winning streak during their month long cross-country game.
Although the actor is no stranger to trying different genres, this seems to be his first real jab at comedy, and if his appearances in the MCU are anything to go on, he can deliver the right lines with the right timing. The premise sounds interesting and there's a strong supporting cast, but the only downside seems to be its release date. It's coming out the same day as Incredibles 2, and in a summer that's crowded with movies, it might be hard for this movie to track any staying power.
Taylor Sheridan is on a roll with his screenplays. Having penned Sicario, Hell or High Water, and Wind River (which he directed), he's received praise for writing engaging stories, complex characters, and adrenaline pumping moments, whether they're high-octane action sequences or quiet scenes of tension. Day of the Soldado follows FBI Agent Matt Graver (Josh Brolin) and hitman Alejandro Gillick (Benicio del Toro) as they work together to bring down the cartels by instigating a war between them. After the kidnapping of a kingpin's daughter goes awry, the two men must decide her fate while questioning their own reasons for fighting the drug war.
Sheridan's movies aren't quite box office hits, but the right amount of promotion should get the word out. Plus, the first Sicario is his biggest commercial success to date, grossing $84 million worldwide on a $30 million budget. Not to mention it's being distributed by Sony and will release on June 29th, the same time slot as Sony's own Baby Driver, which went on to gross $226 million worldwide against a $34 million budget. If any movie on this list can sneak onto the top ten highest grossing movies of the summer, it's this one.
The fourth movie in the franchise, The First Purge, tells the story of how the annual event came to pass as a sociological experiment in an isolated community. When the violence of the New Founding Fathers death squads meets the rage of the residents, the collision will be devastating.
The movies have never been shy about socio-political commentary, with one of the recurring characters being a homeless man who's been a target of the rich and powerful purgers. If that wasn't obvious enough, look up the first piece of advertisement for this prequel; a red hat with the title in white font, in a style very reminiscent of a certain 2016 US Presidential candidate. Politics aside, it will be very interesting to see how such a violent tradition came to pass in this alternate future. Hopefully, the movie will accurately document how a theory being tested in a single neighborhood went on to engulf an entire nation.
If May 17th, 2019 is too long a wait for John Wick Chapter 3, then The Equalizer 2 will scratch that revenge flick itch. Continuing the exploits of Robert McCall (Denzel Washington), a retired CIA agent who helps people in need, he reunites with a former ally and help track down the murderers of one of their longtime friends.
This marks the fourth collaboration between Denzel Washington and director Antoine Fuqua after Training Day, The Magnificent Seven, and the first Equalizer. Denzel is always a pleasure to watch onscreen, even if a movie is terrible, he'll find a way to make sure he leaves a positive impression. Just look at Roman J. Israel, Esq., it was criticized for having a clumsy and unfocused plot, weak supporting characters, and confusing tones, yet it still managed to land an Oscar nomination for Best Actor. It goes to show how much effort Denzel is willing to put into a role, and even if The Equalizer 2 doesn't turn out fantastic, he will still make it worth watching.
Christopher Robin (Ewan McGregor), now an adult, is a struggling businessman who has lost all sense of imagination. When hard career choices and disconnection from his family take a toll on him, Winnie the Pooh and other characters from the Hundred Acre Wood re-enter his life to help with rediscover the childlike imagination he once had.
Disney may be looking to superheros and Star Wars to drive its summer box office, but this drama about A.A. Milne's characters shouldn't be missed. Given its live-action approach and realistic setting, it seems to be going for a vibe similar to that of Saving Mr. Banks. It's written by Tom McCarthy, who won a Best Original Screenplay for Pixars' Up, so bring plenty of tissues as this movie is bound to have a lot of emotional moments.
John Cho plays David Kim, a man whose daughter Margot is missing. Using her web history and interviewing her close friends, David will do everything he can to find his missing child, and may discover that she's not as perfect as she led him to believe.
With the whole movie being told from webcams and smartphones, it appears to be contributing to the evolution of the found footage genre the same way Unfriended tried to do. It got a pretty positive reception at the Sundance Film Festival, and if that word of mouth translates into box office revenue, Sony may have a surprise hit on their hands. Either that, or they may double down on Slender Man to pick up the slack.
Directed by Spike Lee and produced by Jordan Peels, BLACKkKLANSMAN takes place in 1970s Colorado Springs where police detectives Ron Stallworth (John David Washington) and Flip Zimmerman (Adam Driver) infiltrate a local chapter of the Ku Klux Klan. Stallworth, being an African-American, poses as the voice, while Zimmerman poses as the face, and together, they aim to bring them down and weaken racial tension in the area.
Given the current political climate, it won't be surprising if this sparks debate between people from all over the political spectrum. Spike Lee is no stranger to using his movies to tackle racism, and given the current political climate, it won't be surprising if this ends up being his most commercially successful film. If not, at least we'll get some entertaining Twitter fights out of it.