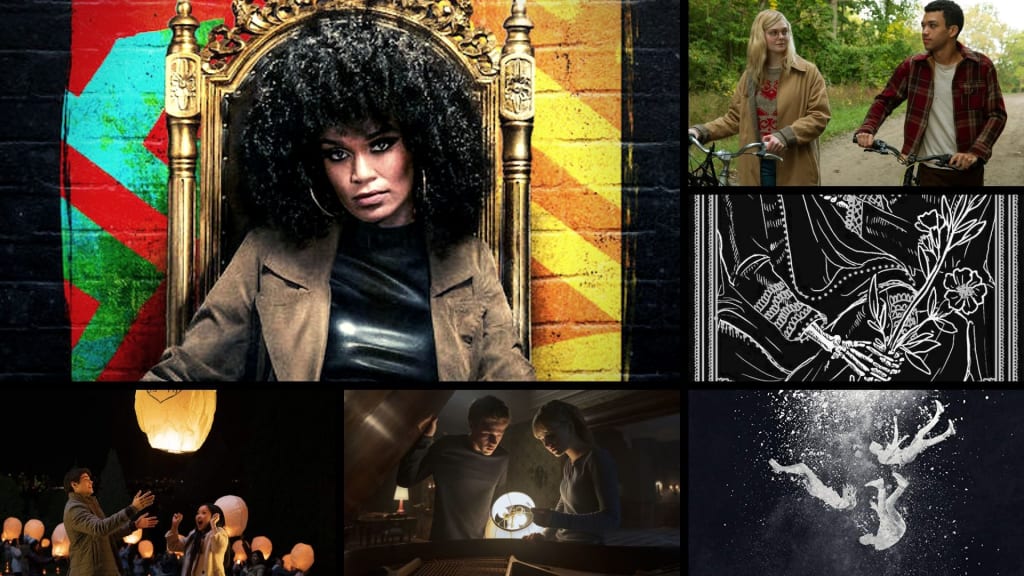 Want some 100% new content to watch, then you better keep your eyes out for Netflix Originals.
Featured - Locke and Key

"Based on the comic book, this drama follows three siblings who return to their family home, only to realize that they have magical powers." - Rotten Tomatoes
The most recent buzz on Netflix and apparently the current talk of the my home town. A thriller with moments of pure magic. A dark story in another mansion ... that's not too dark. Scroll down the list just a bit to #2 to read more about Locke and Key. All of the tittles are listed in order of their release dates.
1. The Pharmacist

"In 1999, after losing his son in a drug-related shooting in New Orleans, a small town pharmacist - Dan Schneider - beats the odds when he embarks on a dogged pursuit to find and bring his son's killer to justice. However, the story doesn't end there. Months later, a troubling number of young, seemingly healthy people begin visiting Dan's pharmacy with high dose prescriptions for OxyContin. Sensing a crisis long before the opioid epidemic had gained nationwide attention, Dan stakes a mission: Save the lives of other sons and daughters within his community. Then take the fight to Big Pharma itself." -IMDb
Available Feb. 5
2. Locke & Key
"Three siblings who move into their ancestral estate after their father's murder discover their new home's magical keys, which must be used in their stand against an evil creature who wants the keys and their powers." - IMDb
Available Feb. 7
3. To All the Boys: P.S. I Still Love You

"Lara Jean and Peter have just taken their relationship from pretend to officially official when another recipient of one of her old love letters enters the picture." -IMDb
Available Feb. 12
4. Cable Girls - Season 5/Part 1

Las chicas del cable
"Set in the 1920s, this is the story of four women from different backgrounds newly hired as operators for a phone company." -IMDb
February 14th
5. Better Call Saul - Season 5

"The evolution of "Breaking Bad" lawyer Saul Goodman is the focus of this prequel to the hit series." - Rotten Tomatoes
New episodes will be coming out weekly starting February 24th
Netflix in the United States won't get the season on this date. Sorry for any inconvenience.
6. Followers - Season 1
"In every corner of the world robotic people join social networks and give their time and privacy away in the name of connectedness. These people are social voyeurs, narcissists and attention addicts. Japan is not any different. A woman is a photographer. Another arrives in the country's capital city looking for her fame. People are inspired by a social network star." -IMDb
Not to be confused with Followers 2017.
February 27th
7. Queen Sono - Season 1

"A drama about a secret agent who fights crime while dealing with crises in her personal life." -IMDb
February 28th
8. All the Bright Places (2020)

"The story of Violet and Theodore, who meet and change each other's lives forever. As they struggle with the emotional and physical scars of their past, they discover that even the smallest places and moments can mean something." - IMDb
February 28th
Work Cited
Bell, Amanda. "Netflix's 2020 Original Movies and TV Shows: A Complete Guide: TV Guide." TVGuide.com, TV Guide, 4 Feb. 2020, www.tvguide.com/news/netflix-2020-original-movies-tv-shows-guide/.
Greenspan, Rachel E. "Here's Everything New on Netflix in February 2020." Time, Time, 31 Jan. 2020, time.com/5772428/new-on-netflix-february-2020/.
"Netflix Originals Coming to Netflix in February 2020." What's on Netflix, 24 Jan. 2020, www.whats-on-netflix.com/coming-soon/netflix-originals-coming-to-netflix-in-february-2020/.
"Ratings and Reviews for New Movies and TV Shows.", IMDb.com, www.imdb.com/.
Renfro, Kim. "51 New Netflix Shows to Expect in 2020." Insider, Insider, 22 Jan. 2020, www.insider.com/new-netflix-shows-2020.
Rotten Tomatoes: Movies | TV Shows | Movie Trailers ... https://www.rottentomatoes.com/.
Russell, Bradley. "New on Netflix (February 2020): All the Movies and Shows Arriving This Month." Gamesradar, GamesRadar+, 4 Feb. 2020, www.gamesradar.com/new-on-netflix-february-2020-movies-shows/.
"See What's next." Netflix, www.netflix.com/.