Best of Netflix
8 Exciting Movies Coming to Netflix March 2020
#BestOfNetflix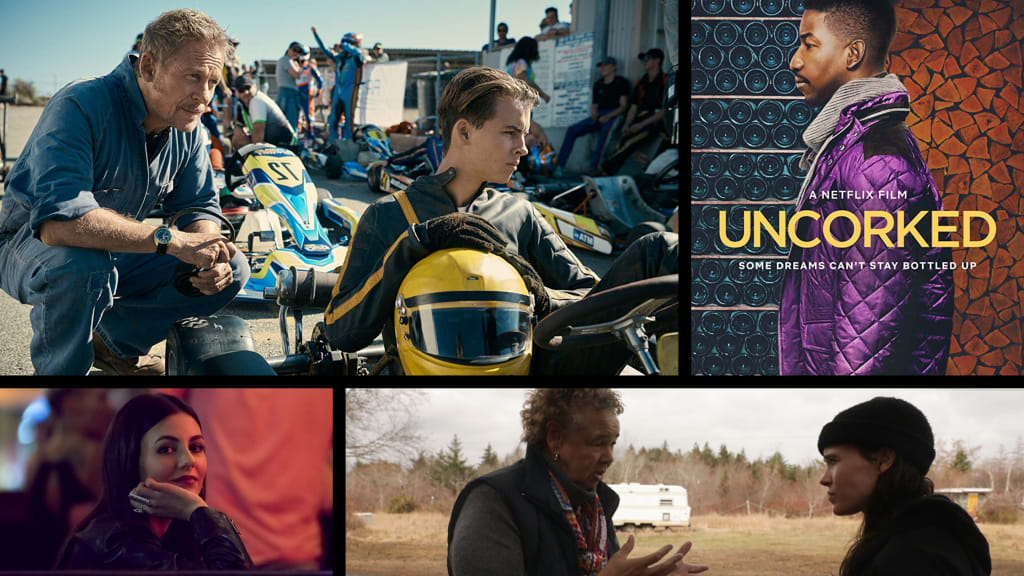 New content, returned classics and a little bit of Ellen Page! This list is filled with lots of Netflix goodies for this month, March 2020. Happy Streaming! This list is on order from release date, so the further you scroll down ... the longer you have to wait to watch it.
1. Corpse Bride

"When a shy groom practices his wedding vows in the inadvertent presence of a deceased young woman, she rises from the grave assuming he has married her." - IMDb
I can't speak for everyone, but I would to re-watch this classic. Corpse Bride has a score of 7.3/10 on IMDb and an 84% critic review on Rotten Tomatoes. Released March 1st.
2. The Interview

"Dave Skylark and his producer Aaron Rapaport run the celebrity tabloid show "Skylark Tonight". When they land an interview with a surprise fan, North Korean dictator Jong-Un Kim, they are recruited by the CIA to assassinate him." -IMDb
The Interview may not have the best scores on this list, but it's still an amazing fan favorite. It scored a 6.5/10 on IMDb. Released March 1st.
3. The Shawshank Redemption

"Two imprisoned men bond over a number of years, finding solace and eventual redemption through acts of common decency." -IMDb
The Shawshank Redemption is a must see classic, if you haven't seen it yet ... then you should put on your list because you have watch it at least once. I mean, how else would get all the references? The Shawshank Redemption has amazing scores! It has a 9.3/10 on IMDb, a 90% critic score on Rotten Tomatoes and 98% audience score on Rotten Tomatoes. Released March 1st.
4. Last Ferry
"When a young gay lawyer arrives on Fire Island to explore his sexuality, he becomes witness to a murder after being drugged. A stranger helps him to safety, but he soon discovers his savior is friends with the killer." -IMDb
Last Ferry has a score of 6.9/10 on IMDb and was released onto Netflix on March 10th.
5. Summer Night

"A coming-of-age story about the complexities of young romantic relationships." -IMDb
Summer Night was released onto Netflix March 10th.
6. Go Karts

"A thrilling family film about a boy who must overcome tremendous odds and his own recklessness to achieve his dream of winning the National Go Kart Championship." -IMDb
Released March 13th.
7. There's Something in the Water

"The injustices and injuries caused by environmental racism in her home province, in this urgent documentary on Indigenous and African Nova Scotian women fighting to protect their communities, their land, and their futures." - IMDb
It has Juno it it! ... I mean Ellen Page. There's Something in the Water has a score of 6.8/10 on IMDb and an 80% critic score on on Rotten Tomatoes. It will be released onto Netflix on March 27th.
8. Uncorked

"Elijah must balance his dream of becoming a master sommelier with his father's expectations that he carry on the family's Memphis BBQ joint" - IMDb
Uncorked will be released onto Netflix on March 27th.
Thank you!
I hope this article let you know of an exciting show coming soon to Netflix. If you loved what you read than check out my other articles here on Vocal. If you really loved what you read send a 1 time tip, the support will make sure that more articles like this are coming your way!
Work Cited
"Ratings and Reviews for New Movies and TV Shows.", IMDb.com, www.imdb.com/.
Rotten Tomatoes: Movies | TV Shows | Movie Trailers ... https://www.rottentomatoes.com/.
Russell, Bradley. "New on Netflix (March 2020): All the Movies and Shows Arriving This Month." Gamesradar, GamesRadar+, 27 Feb. 2020, www.gamesradar.com/new-on-netflix-march-2020-movies-shows/.
"See What's next." Netflix, www.netflix.com/.