7 Tips on How to WIN the Hamilton Lottery
Expert Advice from Someone Who Managed to Get into the 'Room Where It Happens'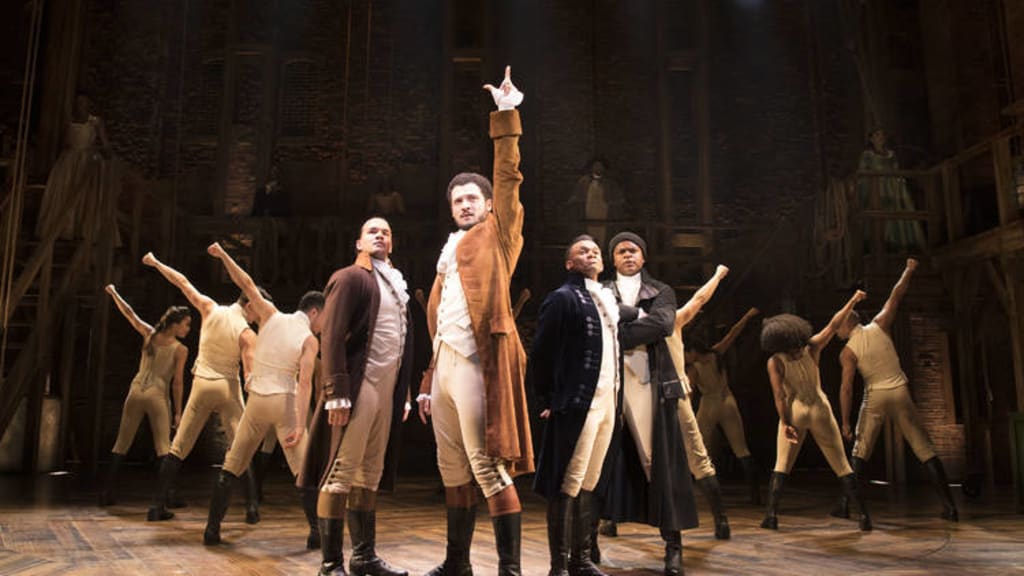 Hamilton: An American Musical in London
The notification came through while I was at work, checking my phone in the downstairs stockroom (when really I should have been out on the shop floor serving the next customer). "WINNER!" It read. "Call before 18:00 BST and quote your reference for Tuesday, 7:30 PM." Two tickets for the following day's performance to the hottest show in London—wait, I mean the world. My heart had stopped. I told my manager I was going on an early break before ringing the London Victoria Palace Theatre. This followed with a call to my partner, who was the first to ask, "How on earth did you win?" Variations of this question followed me around with every friend or family member I had told. So how do you win the Hamilton Lottery? Here's my best take on how to not throw away your shot...
1. Enter every day without fail.
Hamilton in London opened in December 2017. It was in June 2018 when I managed to win the lottery. On one hand, they're pretty crummy odds considering the only day they don't do the lottery in the UK is on a Sunday, and on some days there are two shows (a matinee and an evening performance, meaning two chances of winning). However, where others in my social circle had given up, declaring that they would "never win," I persisted. If there were any days (between the show opening and me winning the lottery) that I didn't put in for, I could probably count them on one hand. Persistence is key.
2. Allow notifications from the app.
You might think it's just another application wanting to spam you with messages about the show, but the Hamilton app isn't like that. As soon as a lottery becomes available at your chosen city, you'll get a little notification informing you the window is open. As soon as I see it pop up, I'll take a minute to put my name in the draw there and then. If you've got the app but don't get the notifications, head into the settings menu of your phone and enable them. Otherwise, run the risk of missing out.
3. Don't assume doing the daily quiz increases your chances.
For a while, I was sure that using the app a little more than for putting into the lottery would increase your chances of winning. I had invented some sort of conspiracy theory, thinking that the tickets only went to "true fans" who used the app and all its features regularly. It turns out on the day that I won, I hadn't done the trivia. Now I'm not saying don't do the quizzes—they are fun and you might even learn a thing or two (about both the show and the history that inspired it)—but let me nip this in the bud right now. They don't increase your chances of winning.
4. Check that you are actually putting in for the matinee performances.
This one seems obvious but you'd be surprised on how many people don't realise this is a thing. When you enter the Hamilton Lottery app and click onto your city, you'll be presented with the latest lottery listing (normally an evening performance) for the show near to you. Did you know on that screen (the one that says "YOU'VE ENTERED!" with the Hamilton logo above it) you can actually swipe left and right? Swiping left takes you to the listing of the next Hamilton Lottery for that city (even giving you a countdown of the time it goes live). Swiping right takes you to previous listings which includes the matinee before the evening show. Make sure you are putting in for both before coming out of the app.
5. 'Grab a friend (that's your second).'
When it comes to winning the Hamilton Lottery, two hands really are better than one. My partner and I had a system: "If I win, you go. If you win, I go." So my advise here is buddy up with someone as lottery partners and form a pact that you'll take each other if either of you win. Congratulations, you've just doubled your chance of winning the Hamilton Lottery!
6. Don't assume your ticket is transferrable.
Following on from the above point, you can of course take a friend to the show if you win the Hamilton Lottery. What you can't do is give your ticket to somebody else. In order to stop people from making a profit from the scheme, the theatres are non-negotiable in this. If you win, you've got to be there with your ID (they match it up against the app) and the card that you used to purchase the discounted tickets (they tell you to call up and make the purchase as soon as you've received a notification that you've won). So if you're asking your parents or friends to put in for you, they'll be going with you if you win (but hey, you'd still be going.)
7. 'It's only a matter of time.'
I mentioned in my first point about persistence, and I feel it's an appropriate point to end on. You might be disappointed each time you get the message on your phone saying that you were unlucky yet again, and you may feel like you'll never get tickets, but keep trying and I'm telling you, eventually you will win.
This is coming from someone that has won through persistence.
That story that people tell themselves, "I never win," is just that, a story. Rewrite that part of the narrative to, "I haven't won today, but I may tomorrow." You've just as good odds as everyone else and you know, someone has to win it. I look forward to hearing about it when, not if, you do. Good luck!
Like what you've read? Please tip below to help contribute towards my next article.