6 Ways Movie Extra Work Will Change During COVID
The film & television business will change for the foreseeable future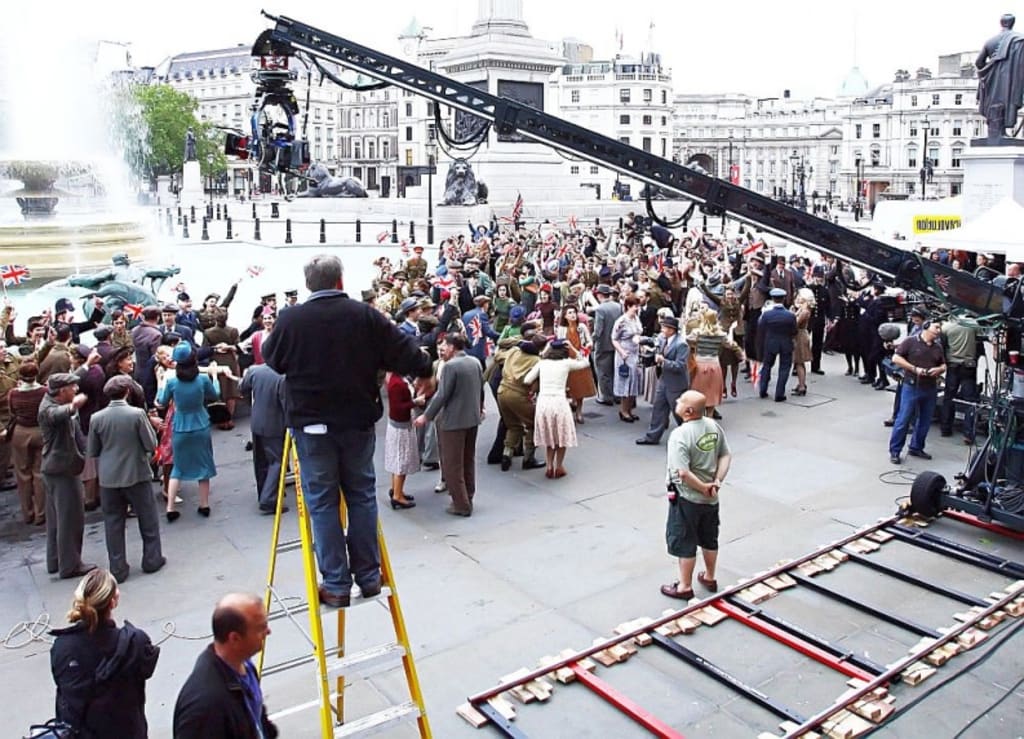 Movie Extras in Trafalgar Square in London
Covid-19 has changed the way film & television production does business for the foreseeable future. Despite the virus rising in multiple states, many states are looking to return to production by the end of July thru August (see https://medium.com/@lachiguy82/9-productions-that-plan-to-restart-hollywood-in-atlanta-post-covid-aa7959d74b4e )
Among many safety measures that are being implemented on set is the reduction of crowds, meaning the reduction of background extras. Only the essential crew is what is being asked of, and to be separated into zones and work within their own departments. The good thing is background is already pretty segregated, to begin with. Some of these changes will be mandatory. The White Paper (united safety recommendations document from SAG-AFTRA, DGA, PGA, WGA, IASTE) from late May even laid out "eliminate crowd scenes and large gatherings of background actors, and limit the number of people involved in a specific activity" The fear of reducing or eliminating background extras is a very real issue to the thousands of union actors and newcomers who rely on background extra work to begin their careers or supplement income. Even extras casting director Sande Alessi Craft said in The Hollywood Reporter "Nobody wants what I'm selling". The background roles that are available will have more competition, and even more stringent rules to follow. If you recognize the trends early, one can put themselves in a position to succeed and overcome.
Here are 6 ways Movie Extra Work will change During the global pandemic…
The Request of the Same Household Extras
You might see this on the breakdowns on Casting Networks or Actors Access. have been asking for real family units, couples, or others who live together or are in the same quarantine bubble. This will mitigate the number of strangers who are involved in the background pool. Of course, this could open the situation of having many first-timers and non-actors on set. So if you're the film industry veteran in the house, you'll probably be called upon to train them and help them out.
The Zoom Background
Many actors have already encountered a zoom meeting, a zoom pre-read, zoom callback. Scripts will try to incorporate the current climate of COVID-19 and reflect that with a zoom scene. You could be playing office co-workers, webinar participants, friends/family reunions. Just like in a zoom meeting, there are a couple of people that dominate the conversation and the people that just stare with their microphone muted. At this time, who knows how this will be actually executed. You could be sent notes from the casting director on what to wear, come on hair/makeup camera ready, and a scene breakdown on how to react. On the day, the director could give additional notes on giving reactions or ambient noise.
Digital Paperwork
When you check-in & out as background, the background PA is giving you a paper voucher and usually giving you a pen. That pen has been handled by multiple people. The paper vouchers are also handled multiple times if others PA's check it or its handed over to the wardrobe. I see some sort of Docusign Typeform document emailed to everyone that is confirmed on the skeins. A second option is to have you electronically punch in and out on a tablet device that could be easily wiped with a cloth, which will send you an email as a receipt for each action. Neither would necessarily reduce wait times, but the software and programs already exist.
Core Extras
Scripts are now being written for the same location or very limited locations. If extras are needed at all, it'll be a small number. An office, a classroom, a church, a hospital might have the same rotation of people. Utilizing the same 10–20 extras every day will help maintain the bubble of containment. Core Extras might also be utilized in the art of stacking and recycling. Which is the practice of using the same extras for one part of a scene and shift them to another in order to make it look like a full scene (ex: Stadiums, parks, restaurants). To expand the scene even further, CGI will get an even bigger boost to create thousands of extras.
Incorporating the Current Climate in Scenes
The Urban Movie Channel TV Movie "Terror Lakes Drive" (which is filming now in Georgia) re-wrote the script to set it in the present times during the pandemic. This meant have background already wearing masks and social distancing. This longer this goes, could this become a trend? Definitely storylines are adapting to what you're able to shoot right now, however, creatives might feel stuck in a plot that might feel dated in the future.
The Reduction or Elimination of the Featured Extra
While you might have reduced the number of background, and while the background on your set might be core, I can still see the desire to get rid of scenes where a member of the background has an intimate interaction with talent; whether its a waiter at the restaurant, a cashier, extras in close or tight nit spaces like an elevator or city bus.
industry
About the author
Kevin graduated at the University of Southern California for Theatre & Cinema
Kevin has dozens of background & stand-in credits, over 20 principal credits, and over 20 below-the-line production credits including the Academy Awards/Emmys
Reader insights
Be the first to share your insights about this piece.
Add your insights