6 Bikini Warrior Women: Red Sonja Cosplayer Interviews
Featuring Jacqueline Goehner, Katy DeCobray, Erica Muse, Kate Lann, Nicole Kristenn and Assa Erza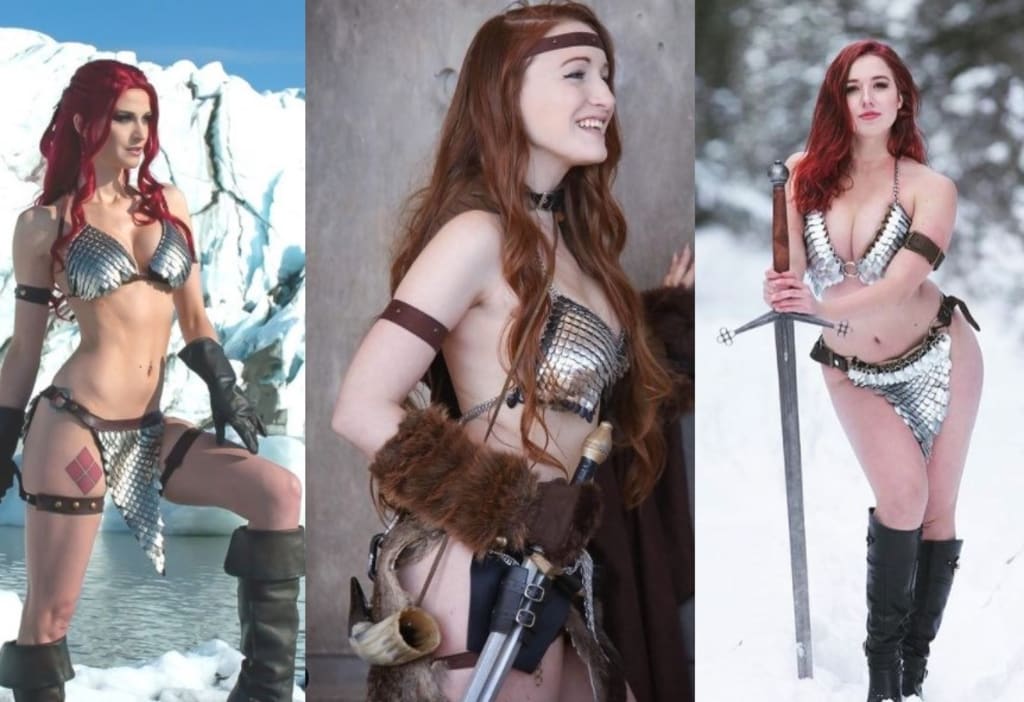 Pictured: DeCobray, Muse, Kristenn
Why do you cosplay as Red Sonja?
Sonja is my only cosplay. I had been dying my hair red for some years and one day when I walked into a comic store looking for something different, the cover sprung out at me and I was hooked. I am fairly creative and always wanted to cosplay and, well, "if the glove (or chainmail bikini) fits".
What do you like about the character?
There is so much that I love and identify with about the character. On first glance I loved that she is hot, fierce and, since I was into bodybuilding and fitness at the time, it really hit home that she is not drawn skinny like many comic chicks are- she is drawn with real curves and muscle. I love her tenacity and badass disposition, she is rough around the edges but her capabilities speak for themselves for starters- and then there is her backstory
Is there any practical use for bikini armor?
For her armour- it serves a purpose both tactically and symbolically. It is far to vanquish an enemy who is more distracted by your body that by your sword. She uses that weakness (lust/desire to dominate women) against the men she fights.
"Label me as you will, but the truth is that he will imagine or try to take whatever he feels he deserves, regardless of how it is covered. So I give him a good look at what he will NEVER have." - that's an epithet to the costume as well.
Did you make the costume yourself?
I made a costume myself but the one shown in the professional pics was made by the photographer.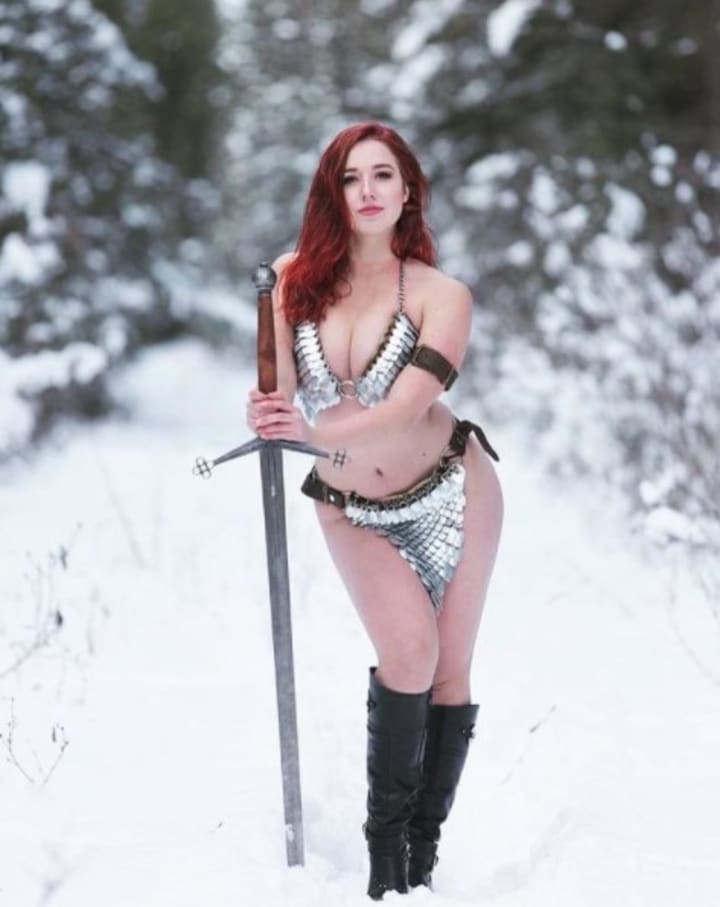 What was doing that photo shoot in the snow like?
Cold! Haha but fun.
I can't imagine doing that.
The photographer and I have very similar ideas of the character and how to portray her so it's always great working with him and it's exciting to see how the pictures will turn out. When we met to talk about a collaboration I hadn't yet done a cosplay as Sonja but he said "hey I have this idea, I don't know if you have ever heard of Red Sonja but I think it would work great with you" and by that time she was already my favourite comic heroine so I was floored. Kinda like fate.
Meant to be.
The fact that he spontaneously knew of this lesser known comic series at the time was awesome. Even still at conventions a lot of people don't recognize her and assume it's a variation of Xena.
Any other reactions when at conventions?
A lot are impressed by the scalemaile costume and that it's something different from the usual popular characters. People who know the old Conan series usually get excited. Once I tell them a little more of the character's back story they appreciate the character more than just her fine aesthetics. My dad is not a fan to be honest.
Do you have any advice for other cosplayers?
I don't think I have cracked any code, I'm very new to it. I just have fun and do it with confidence. Maybe just don't get offended if someone doesn't know your cosplay character- take it as an opportunity to share what you love about the character to win them onto the team.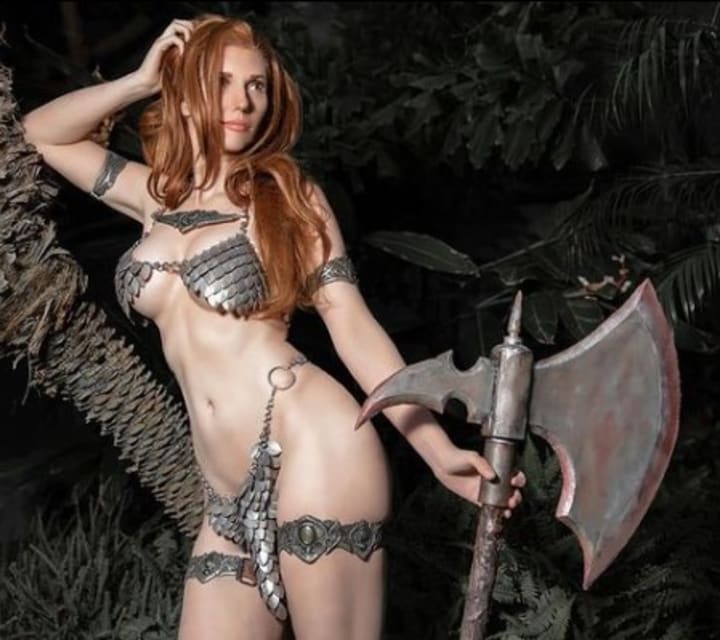 Why do you cosplay as Red Sonja?
I cosplay as Red Sonja because she's a badass, doesn't take shit from anyone, takes care of herself, and makes a name for herself without putting down other women. She's a great female role model most women can look up to!
Is there any practical use for bikini armor?
Technically yes. Though the bikini armor doesn't necessarily cover the vital organs, wearing it makes movement easier and gives better agility.
What reactions do you get when dressed as Red Sonja?
I get all sorts of reactions, 99.9% positive. On an extremely rare occasion, I'll get a troll online who'll make jokes about the bikini, but as Red Sonja, I don't think anyone would dare say anything bad to my face, lol! A lot of people get excited to see Red Sonja, more and more women do too because they realize how strong of a role model she is.
Do you have advice for other cosplayers?
If you do a character you love, you're doing it right now matter what the outcome. If you're having fun, you're doing it right. If you're gushing over other cosplays and you feel just as accepted, you're doing it right! Red Sonja is an easily loveable character any woman can connect with. She's her own as every woman is.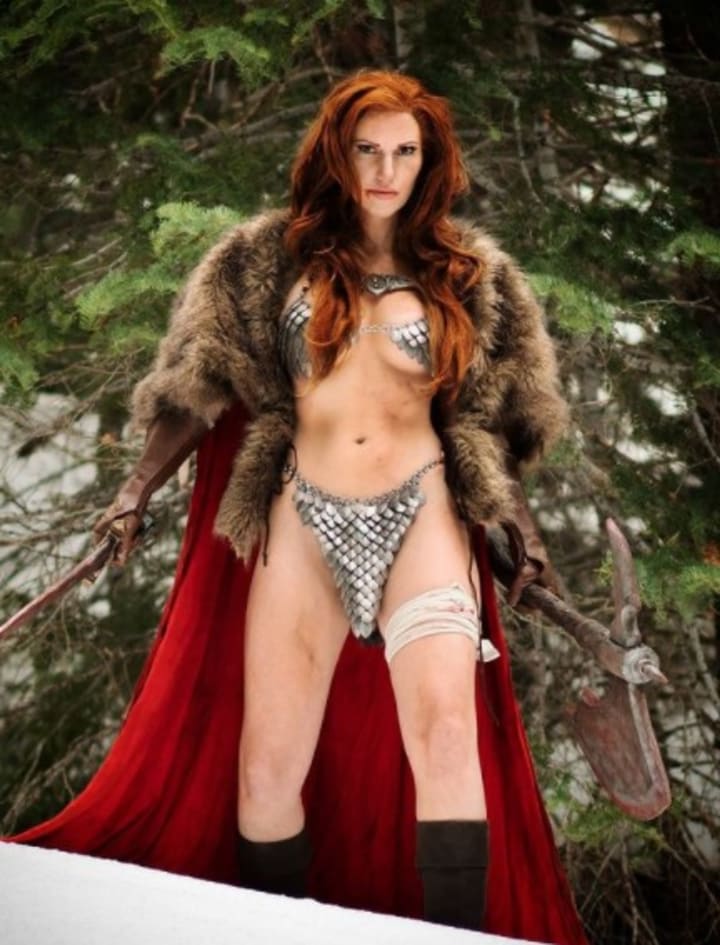 You made your costume, yes? How involved was it?
I did! I spent probably about a week or two working on it. Most of my time was spent sculpting the arm and leg bands, and then knitting the scale maille for the top and bottom. My favorite part was working on my cape! I love my cape.
You did that in a week? Wow.
I did! Knitting the maille took a few days. Scale maille is faster than regular maille, since it's fewer rings.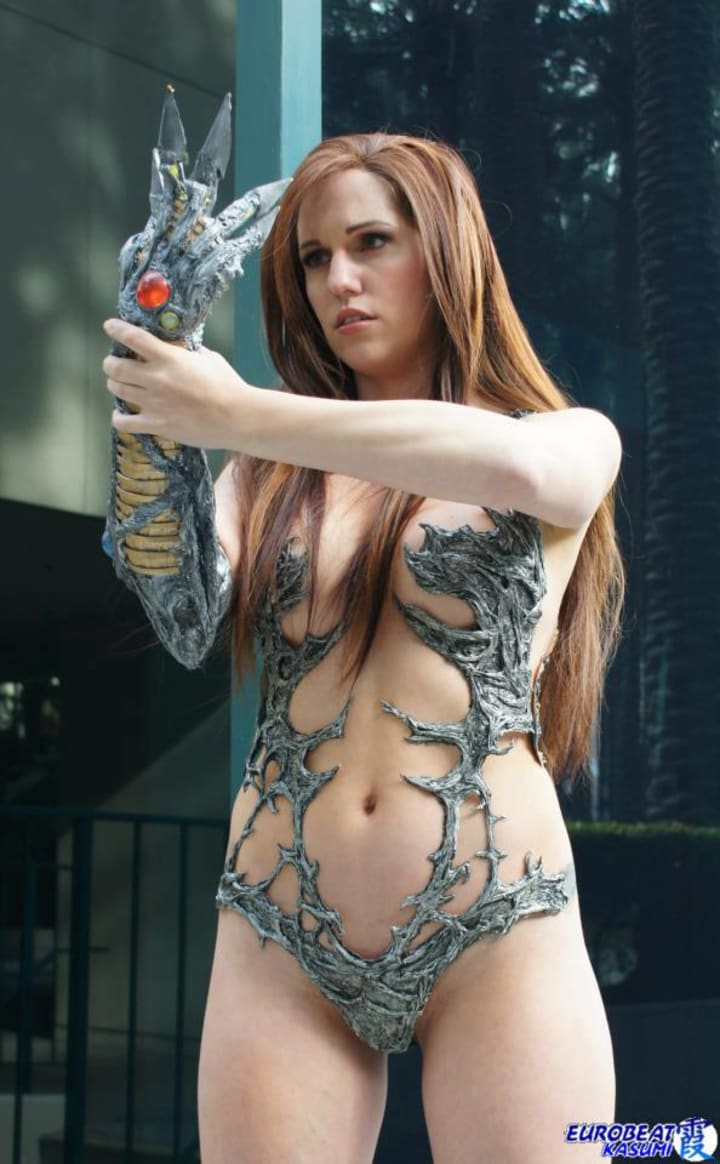 You're well known for your Witchblade cosplay, how do reactions differ between these two cosplays?
I generally get big crowds with both of them, but Witchblade definitely takes the cake because there are so few Witchblade cosplayers out there.
Yeah, you pretty much own that cosplay.
Lol thank you!!! I just made another one months ago but haven't been able to debut it yet.
It must take confidence to go to cons like that, do you get nerves about it at all?
I used to, but I travel with a handler in those kinds of costumes. Handlers are a must!
Tell me about your handler! Please.
Most of the time, I have a friend accompany me and they make sure people don't take inappropriate photos or try to grab me inappropriately. They also hold my badge and phone for photos. They make sure I'm hydrated or if I need to be someplace, they make sure I get there.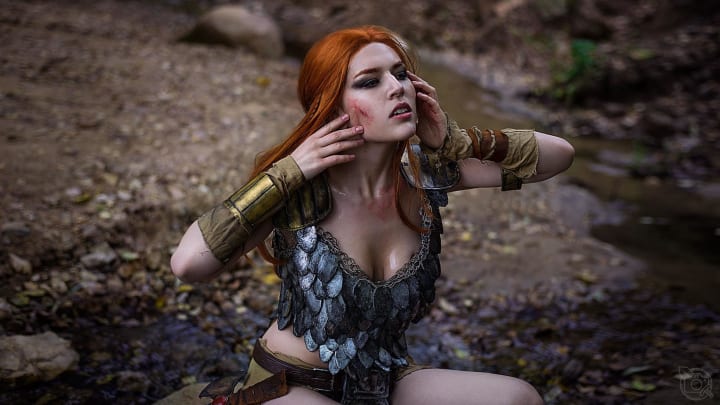 What do you like about the character?
I like the fact that she is strong, smart and doesn't care about what other people might think about her. As a character I like how she has grown: from basically being a love interest to an independent leading character (and such a badass one too!).
What reactions do you get to this cosplay?
Since I chose to make the new outfit and not the classic bikini I can't say that everybody recognizes me in it. But those who do ( the age category is actually 35+) ask to take a picture of me. I think they see it as something from their teenage years and tend to get nostalgic. The younger audience doesn't necessarily know the character but they still like the costume
You wore the armor from the Falcon Throne run, what do you think of the iron bikini, any practicality?
I mean it is THE iconic look but I'm not a fan of it. I think originally it was created to please the male audience and make sure they will read comics with a female protagonist (the publishers were taking a risk since there were very and very few comic books about women). And though later on the writers came with an explanation for it - Sonja says that her looks distract her enemies and then she gets to kill them with her sword - I think it's very impractical.
Do you have any advice for other cosplayers?
The only thing that I have to mention (and it is truly unfortunate that I even have to bring it) is that you have to be ready to deal with people who get too excited when they see a somewhat revealing costume. Unfortunately some of them can get quite disrespectful so be ready to deal with them and stand up for yourself: just like Sonja would!
Can you tell me about a specific poorly behaved fan?
Well there was one guy who asked me if he could take a picture of my bottom or something like that. At least he asked... Another one made a comment about how he'd like to drag me to a cave with certain intentions.
Gross.
Well that's another reason why I never wanted to make a classic bikini: I would never wear it to a con.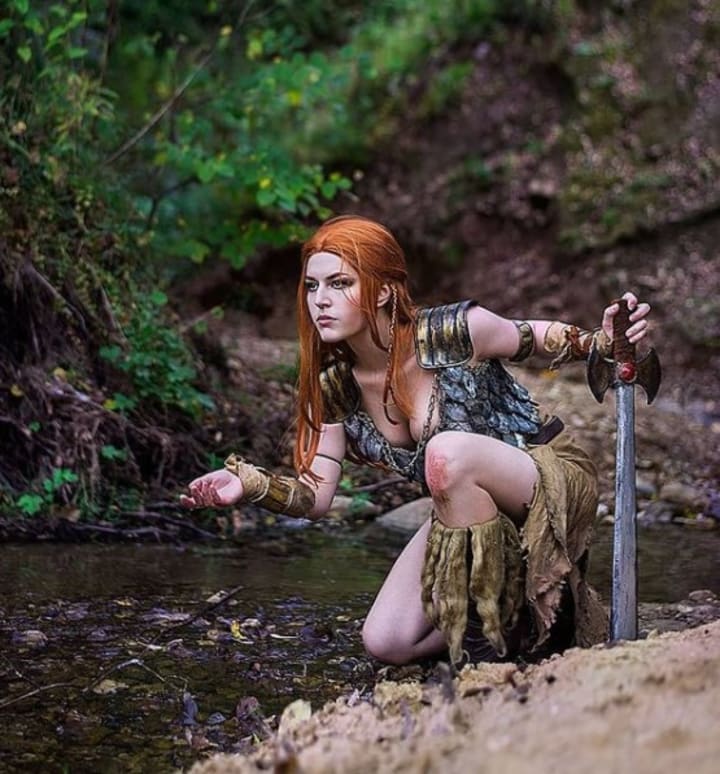 Did you make the costume yourself?
Yes! I did. The costume and the weapons too.
How much time did that take?
Oh quite a while... I wanna say 2-3 months.
Cosplaying is a time consuming affair. Do you have design experience?
None at all. Sonja was the very first costume I fully made myself.
Really? How did you pull it off?
I don't know to be honest. I've read a lot about the materials, watched tutorials and things like that. Somehow it all came together though it wasn't easy and a lot of mistakes were made along the way.
Why do you cosplay as Red Sonja?
I love the character and her costume was a challenge I felt ready to take on.
What do you like about the character?
I'm a huge fan of Gail Simone and I love how she wrote Red Sonja's character. She gave Sonja depth and compassion and I really appreciated that.
Is there any practical use for bikini armor?
Probably not but it looks cool and was fun to build!
What reactions do you get when dressed as Red Sonja?
Very positive. I met Wendy Pini this year at Emerald City Comic Con and she loved my Red Sonja cosplay. She told me to go forth and kick some ass!
Do you have advice for other cosplayers?
Be patient and give yourself lots of time to learn and experiment. Making mistakes is how you learn so don't be too hard on yourself or get discouraged.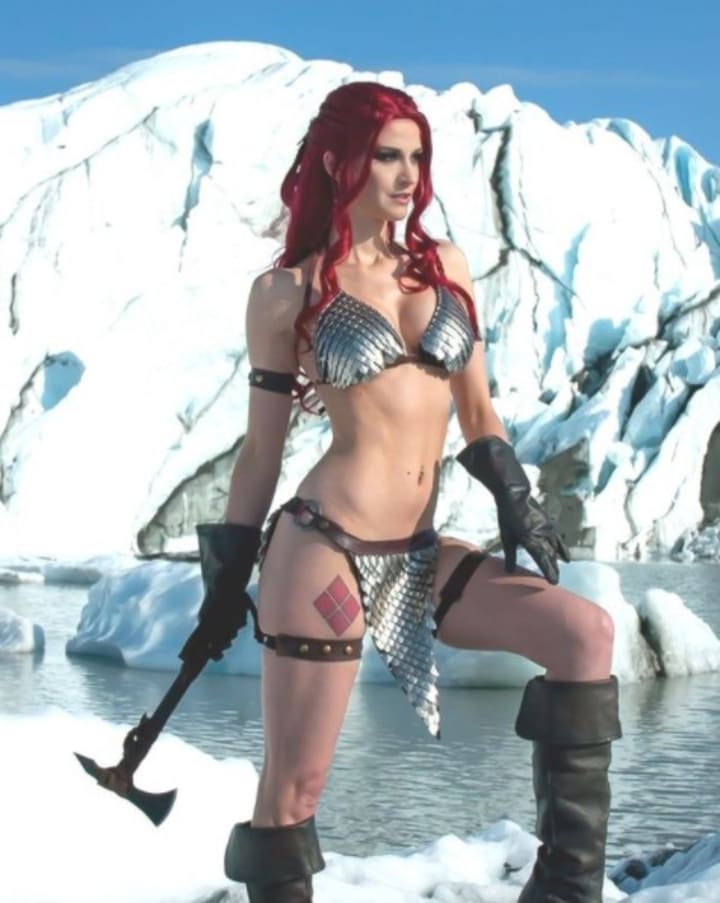 Your shoot in the snow was so badass, what was that experience like?
So fun! The shoot took place on Seymour Mountain in British Columbia, Canada. I teamed up with a good friend and very experienced photographer who loves to shoot in the snow. It was cold but the photos came out beautifully so it was totally worth it!
Sonja is always going off to frozen lands in her iron bikini, do you think she could survive?
Of course!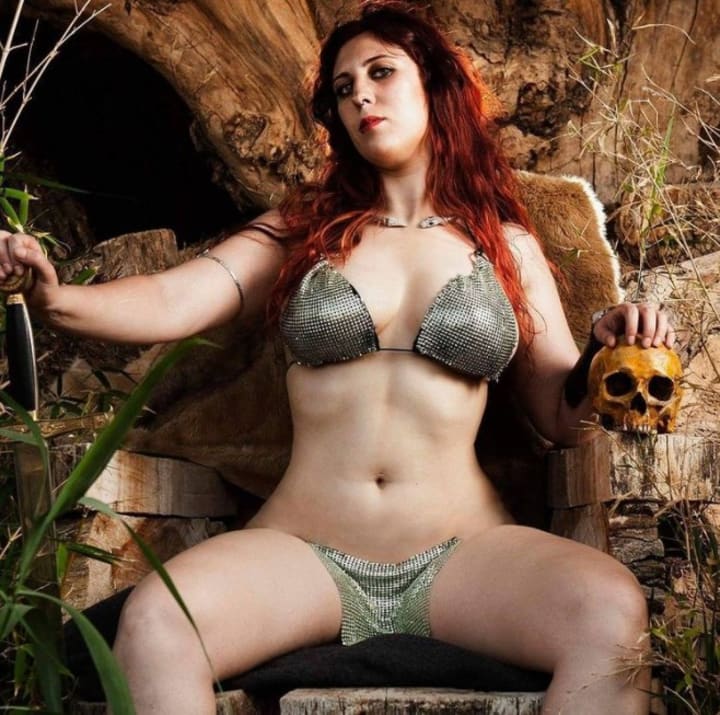 Assa answered in my questions in Spanish. I could have gone through and edited the Google translate results, but I felt they had a certain charm as is.
Why do you cosplay as Red Sonja?
Es un personaje que me gusta mucho, antes de conocer los cómics, cuando era niña se pusieron de moda las pelis con vikingos y Schwarzenegger.. pero cuando vi una peli basada en red Sonja, me identifiqué y quise ser como ella. Años después si que me aficione a los comics.
She is a character that I really like, before I knew the comics, when I was a child, movies with Vikings and Schwarzenegger became fashionable ... but when I saw a movie based on Sonja network, I identified myself and wanted to be like her. Years later, I did like comics.
What do you like about the character?
Gustarme, me gusta todo. Su fuerza, ser una mujer en un mundo de hombres, por supuesto el físico increíble que le pusieron, es un personaje femenino que sigue teniendo su sensualidad pero se la admira por su fortaleza y coraje, no por de un personaje que va ligero de ropa
Like me, I like everything. Her strength, being a woman in a man's world, of course the incredible physique they put on her, is a female character that continues to have her sensuality but is admired for her strength and courage, not for a character who is scantily clad
Is there any practical use for bikini armor?
Hago recreación y esgrima medieval, puedo afirmar sin duda que uña bikini no es nada práctico a la hora de luchar, no protege. Entiendo que lo diseñaron así por dos cosas, para hacer ver lo ruda que es, ya que no necesita protegerse y lucir el musculoso cuerpo que le pusieron al personaje. Cuando salió, estaba muy de moda el fisicoculturismo.
I do medieval recreation and fencing, I can say without a doubt that a bikini is not practical when fighting, it does not protect. I understand that they designed him that way for two things, to show how tough he is, since he does not need to protect himself and show off the muscular body that they put on the character. When it came out, bodybuilding was very fashionable.
What reactions do you get when dressed as Red Sonja?
En la convenciones he tenido reacciones de todo tipo, gente de más de 30 muy fans de aquella época y el personaje que lo han alabado mucho. Después una mayoría de chicos babosos que solo ven que vas en bikini y no entienden el personaje. Por parte de otros cosplayers, unos les gustó porque es un traje difícil de lucir, hay que tener mucho valor para hacer frente a los babosos , la gente de la calle que te ve medio desnuda.. y luego otros cosplayers que te critican porque dicen que el traje. No es lo suficientemente complejo. Pero te aseguro que hacer cota de malla, trabajar el cuero y la tela de peluche puede dar mucho trabajo. Y el tener un físico entrenedo en gym que se asemeje al personaje también es bastante costoso.
In the conventions I have had reactions of all kinds, people of more than 30 very fans of that time and the character who have praised him a lot. Then a majority of slimy guys who only see that you are wearing a bikini and don't understand the character. On the part of other cosplayers, some liked it because it is a difficult costume to wear, you have to have a lot of courage to face the slobs, the people on the street who see you half naked ... and then other cosplayers who criticize you because they say than the suit. It is not complex enough. But I assure you that making chainmail, working with leather and plush fabric can be a lot of work. And having a gym-trained physique that resembles the character is also quite expensive.
Do you have advice for other cosplayers?
Mi consejo, es un traje que hay que llevar con mucha seguridad, autoestima y orgullo, porque la gente lo va a criticar. Todos los personajes ligeros de ropa son amados y odiados a partes iguales, lo importante es divertirse con ello y que te haga sentir bien. Y también recomiendo forrar las partes internas con tela, el contacto del metal directamente en la piel otro muchisimo.
My advice is a suit that must be worn with great confidence, self-esteem and pride, because people will criticize it. All scantily clad characters are loved and hated in equal measure, the important thing is to have fun with it and make you feel good. And I also recommend covering the internal parts with fabric, the contact of the metal directly on the skin another very much.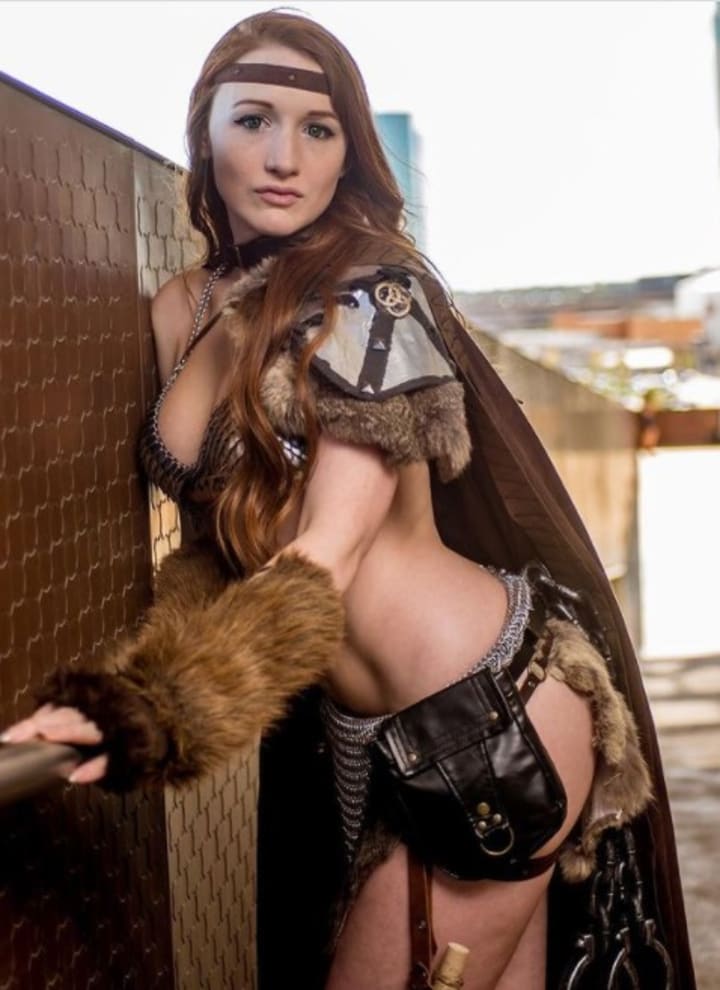 Why do you cosplay as Red Sonja?
She is an empowering female character
What do you like about the character?
I love the barbaric overtone but beautiful hair and skin
Is there any practical use for bikini armor?
No. Definitely no practicality. Just looks tough, while at the same time being just as distracting as lingerie, if not more so, because it is intriguing
What reactions do you get when dressed as Red Sonja?
Looked up and down by men, and high fived by women
Do you have advice for other cosplayers?
Double sided tape is your friend, and with chain mail, hidden rubber loops help with shaping and sliding.
These conversations have been lightly edited for brevity and clarity.
cosplay
About the author
Served in the Peace Corps in Ukraine, 2005-07.
Viscount of Hyrkania and private cartographer to the house of Beifong.
Reader insights
Be the first to share your insights about this piece.
Add your insights