30 Years of 'Amazon Women on the Moon'
A forgotten comedy classic turns 30 in September 2017.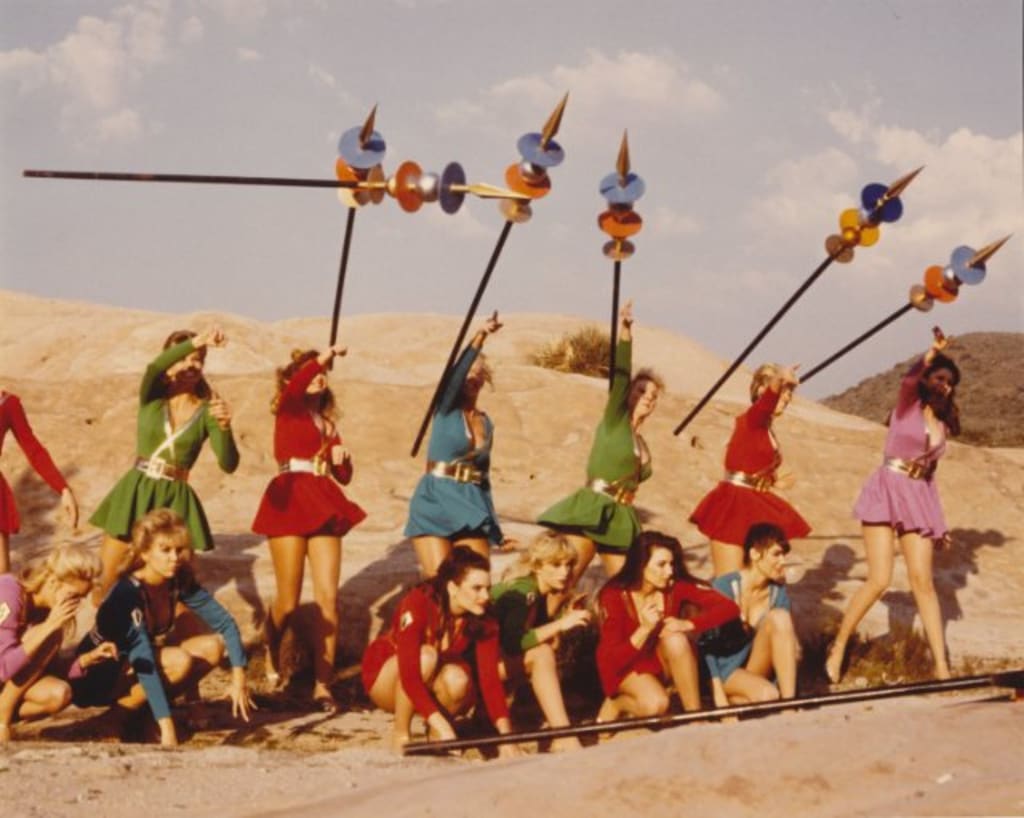 One of the first movies I ever reviewed on my podcast, when it was still called I Hate Critics, now Everyone's a Critic, was a disconcerting sketch comedy movie called Movie 43. The film was a series of appalling short films strung together with no narrative under a title that one could imagine it having been randomly assigned by a movie studio for storage purposes, not intended for theatrical release. That this series of short films starred such actors as Hugh Jackman, Kate Winslet, Richard Gere, Liev Schreiber, and Naomi Watts are the only reason Movie 43 ever saw the light of day.
When I saw Movie 43 I had never even heard of the obscure 1987 comedy Amazon Women on the Moon. I take that back, I did hear of it but I assumed it was some sort of softcore pornographic comedy. I think I may have also confused it with the movie Cannibal Women in the Amazon Jungle of Death, an epically unfunny spoof movie starring Bill Maher, before Politically Incorrect, oddly enough, and Shannon Tweed.
It turns out, Amazon Women on the Moon is everything that Movie 43 wished it could have been, trenchant, hilarious, weird, and just plain fun. Twenty-six years before Movie 43 strung together a random assemblage of movie stars in unfunny short films, writers and directors John Landis, Carl Gottlieb, Robert K. Weiss, and Carl Dante, all born from the Roger Corman school of filmmaking, pulled off the trick Movie 43 so desperately failed at, a ragingly funny sketch comedy movie.
Amazon Women on the Moon consists of 19 short films, some related, some not. The sketches do vary in quality, with Joe Dante really stealing the show in his portions, while Robert K. Weiss struggles a little with the film's title sketch. Landis and Gottlieb go a far less traditional route with mostly good results, especially Gottlieb's use of nudity which is wonderfully absurd and genuinely inspired.
I won't try to review each sketch as that would be a rather extensive task and I don't want to spoil the fun so I will highlight four standouts, one from each of the directors. Starting with arguably the best-known director of the group, John Landis, whose standout sketch is a runner throughout the movie called Blacks Without Soul. This racially iffy idea posits the legendary B.B King as the spokesperson for a bizarre Atlanta based charity whose goal is to raise money for black people who, to put it in the most raw of terms, act white.
David Allen Grier, in one of his first screen appearances, is an epic scene stealer here as Don "No Soul" Simmons. Don sings covers of The Carpenters and Tony Orlando, among others, while wearing an outfit straight out of Pat Boone's closet. Grier's boundless enthusiasm is completely hysterical, to the point where Don "No Soul" Simmons steals the whole premise away from the touchy racial stereotyping of this edgy premise. If you ever wondered why David Alan Grier was so well-suited for In Living Color, this is the perfect example of why.
Director Joe Dante offers the most consistently funny portions of Amazon Women on the Moon. Having just come off the success of his first major feature, Gremlins, Dante here starts with a premise that he would return to briefly in Gremlins 2, his love of film critics. Here, Dante casts Los Angeles morning radio duo Roger Barkley and Al Lohman as Siskel & Ebert style film critics who close their show by turning to the camera and announcing a new feature they call "Life Reviews."
The sketch called "Critic's Corner" finds a dopey, workaday drone named Harvey Pitnik (Archie Hahn) sitting in his easy chair watching Critic's Corner on television only to find that they are going to review his life and quite negatively. The chemistry between Barkley and Lohman, obviously honed from their radio partnership, is brilliant and as the absurdity builds and Harvey becomes ever more appalled at the take on his life, including clips, the crescendo goes dark and only gets darker. The sketch is actually two parts with the second an all-star comedy called "Roast Your Loved Ones," which is a gloriously fun send-up of Hollywood roasts. (Note, keep an eye out for a young Bryan Cranston as an EMT in "Roast Your Loved Ones.")
Robert K. Weiss is a Zucker Brothers protégé and his work in Amazon Women on the Moon underlines that. Weiss contributes the unifying sketch of "Amazon Women on the Moon," the title segment, which is repeatedly returned to as if what we are watching is some alien television broadcast where we keep changing channels only to land back on the late night movie Amazon Women on the Moon, a send-up of 50s sci-fi drive in movies.
Though it is the title segment, "Amazon Women on the Moon" is the weakest segment of Amazon Women on the Moon. The premise finds three astronauts and a monkey traveling to the moon where they find a race of Amazon women who have taken over and banished men from the moon. The recreation of the 50s sci-fi tropes and the look of a grainy, cigarette burned film stock is pretty neat but not particularly funny beyond the recreation.
Unquestionably, the most fascinating and dangerous parts of Amazon Women on the Moon come from Jaws screenwriter Carl Gottlieb. His best work comes in the film's second sketch, the surprising "Pethouse Video." Real life Penthouse Magazine model Monique Gabriel is star of the segment as Pethouse Plaything Taryn Steele. We meet Taryn as she is doing her latest nude photoshoot and delivering a voice-over telling us about herself as if it were a behind the scenes documentary.
We then follow Taryn through her day with one glaring, and important, detail; she is nude all the time. We watch with ever increasing laughter as Taryn goes about a day in her life with narration that explains why she loves Los Angeles more than New York, for some reason people in New York are always "hassling her," she explains in the voice-over.
I will leave you to discover the biggest laugh in this segment, just imagine the least appropriate place for Taryn to go and you get an idea although the costume details Gottleib adds are sublime. Some might find this section sexist or exploitative but Gottlieb's other segment, a take on bad sequels to horror classics called Son of the Invisible Man starring Ed Begley Jr. shows that the nudity and absurdity of nudity is served equally in Amazon Women on the Moon.
Amazon Women on the Moon is, for me, the biggest surprise of our podcast-wide look back at movies of 1987. I assumed it would be either awful, appalling or, at best, forgettable. Instead, Amazon Women on the Moon is one of the funniest movies of 1987. I will go further however and say, with genuine astonishment of my own, that Amazon Women on the Moon is one of the best movies of 1987.
Amazon Women on the Moon turns 30 officially on September 15, the same weekend as the release of Fatal Attraction. I will be writing about that 80s classic soon and of course, don't miss Everyone's a Critic every Monday on iTunes, Google Play, and at EveryonesACritic.com.