15 Binge-Worthy Anime To Watch This Weekend!
Need something to binge watch this weekend? Then check these anime shows!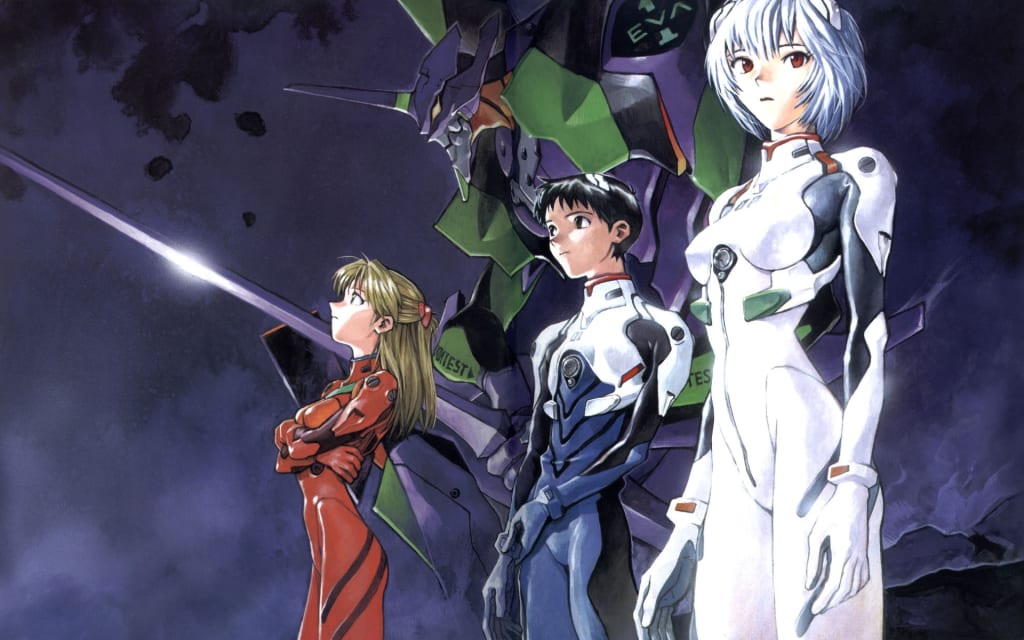 Image by MEGA - VIRALES
I've been watching anime for a few years now, and I've come to notice that I binge-watch A LOT. So is this normal? Yes, it is. However, let's first define this behavior that we do on the weekend: binge-watching is when you watch a series for a long time span, usually of a single series. Netflix, the provider of binge-watching, defines this marathon-watching when a person watches between two to six episodes of the same show in one sitting. So don't make any plans this weekend, because here are 15 of the most binge-worthy anime out there.
15. High School of The Dead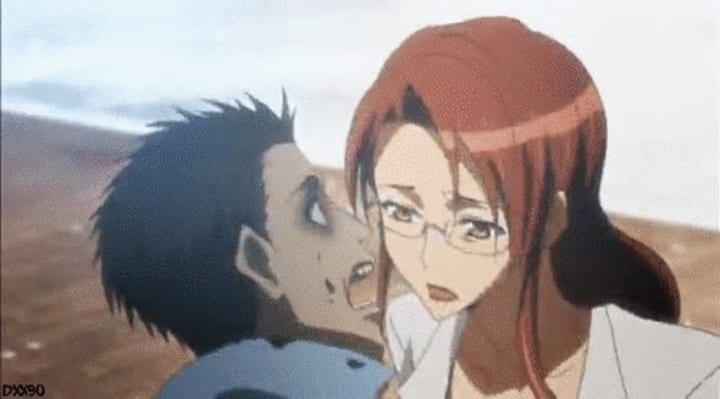 Episodes: 12 (1 season)
Genre: Action, Drama Ecchi, Horror, Supernatural, Thriller
Like many zombie movies and series that are splashed on the small screen, a group of people is trying try to survive a zombie apocalypse. High School Of The Dead follows a group of students and the school nurse who is trying to figure out who's responsible for the zombie outbreak. All this while fleeing a horde of zombies.
14. Another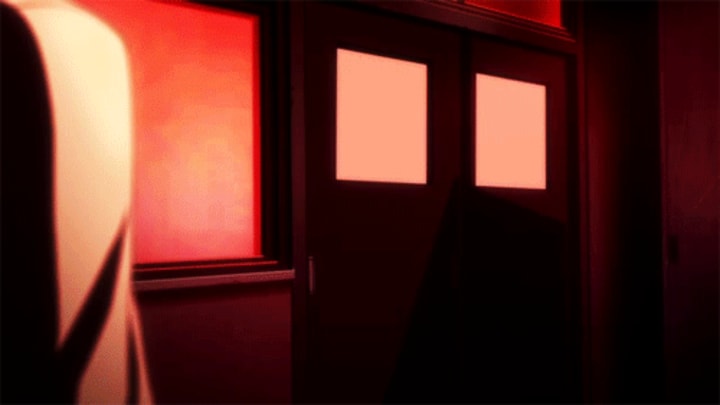 Episodes: 12 (1 season)
Genre: Horror, Mystery, School, Supernatural, Thriller
The story started in 1972, after the death of Yomiyama North Middle School's classroom 3-3 student Misaki. Since his death, the town has been shrouded by a fearful atmosphere, from the dark secrets hidden deep within. Decades later, there's a new group of students and they all seem to be unaware of the presence of their eyepatch-wearing schoolmate Mei Misaki. However, when Kouichi Sakakibara arrives, he begins to get closer, ignoring the other student's warnings. At the same time, he also tries to solve the gruesome phenomenon plaguing classroom.
13. Btooom! Episodes: 12 (1 season)
Genre: Action, Drama, Fantasy, Psychological, Romance, Sci-Fi, Seinen
Imagine being stranded on a tropical island with no recollection of how or why you got there. This is what happens to Ryota Sakamoto a 22-year-old NEET who lives with his mother and spends his days doing nothing but play video games. On the island, it doesn't take him long to figure out what's going on: It's the same as his favorite video game, Btooom!
12. Baccano!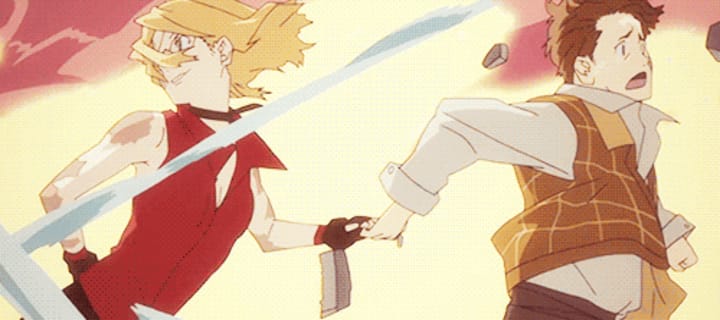 Episodes: 13 (1 season)
Genre: Action, Comedy, Historical, Mystery, Seinen, Supernatural
During the early 1930's in Chicago, the transcontinental train, Flying Pussyfoot, is starting its legendary journey. At the same time in New York, the ruthless scientist, Szilard, and his reluctant assistant, Ennis, are looking for missing bottles of the immortality elixir. On top of that, a war between the mafia groups is getting worse. The story also flashes back to 1711, where on board the Advena Avis, alchemists are about to learn the price of immortality. Although the stories are unrelated to each other, they intersect and cross each other as the events spiral more and more out of control.
11. Knights of Sidonia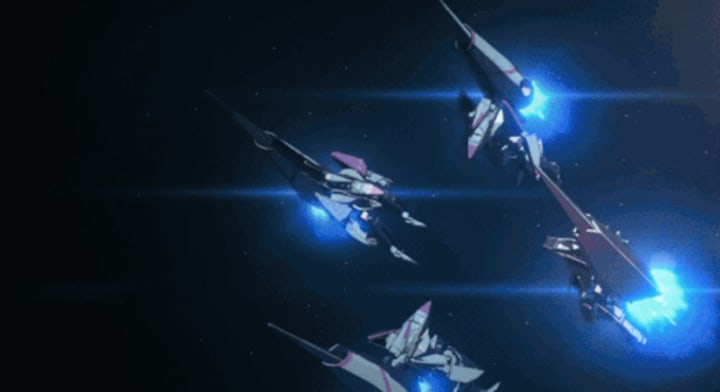 Episodes: 24 (2 seasons)
Genre: Action, Mecha, Sci-Fi, Seinen, Space
One of Netflix's original series, this anime is no different than other series within the space opera sub-genre. What remains of the human race live on a gigantic floating seed ship named Sidonia. After 100 years of peace and tranquility, the Gauna threat returns. This time, it is up to Nagate Tanikaze and his friends to fight these giant creatures, and at the same time learn what they really are.
10. Claymore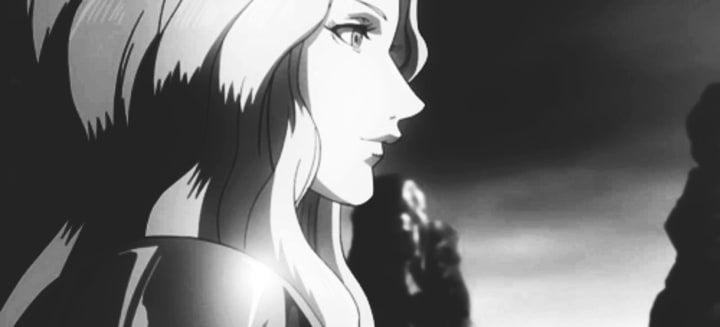 Episodes: 26 (1 season)
Genre: Action, Adventure, Demons, Fantasy, Shounen, Super Power, Supernatural
Humans are not the only creatures that roam the world, there are also the youma—creatures that feed on human flesh and blood. Apart from being flesh-eating monsters, they have the ability to blend in with humans by taking their appearance. To destroy these creatures, the Organization created half-human, half-Youma warriors known as the Claymores. The series follows Raki, a young boy who lost his family during a Youma attack and the Claymore, Clare, who saved him from this cruel fate.
9. Neon Genesis Evangelion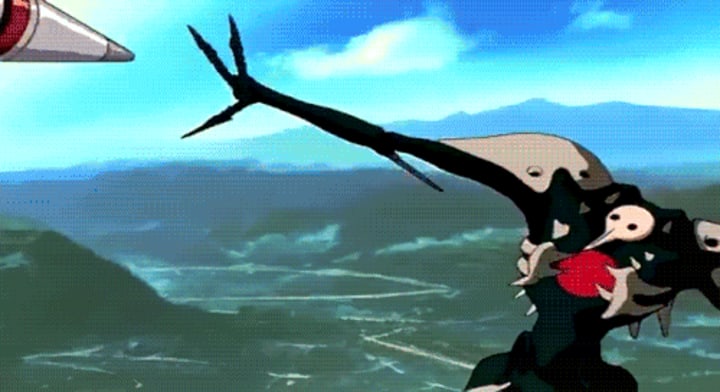 Episodes: 26 (1 season)
Genre: Dementia, Drama, Mecha, Psychological, Sci-Fi
Commonly referred to as Evangelion or Eva, it is one of the most critically acclaimed anime in its genre, mostly due to its religious themes and imagery. The series is set in a futuristic Tokyo, fifteen years after a global catastrophe. The story follows Shinji, a teenage boy who is recruited by NERV—the organization responsible for creating the EVAs—to pilot a giant bio-machine mecha called an Evangelion. The purpose of the Evangelion is to fight the monstrous beings known as Angels. The series focuses on the experiences and emotions of Evangelion pilots and members of NERV as they attempt to prevent another catastrophe.
8. Psycho-Pass
Episodes: 33 (2 seasons)
Genre: Action, Police, Psychological, Sci-Fi, Thriller
In the 22nd century, the public places its trust on the Sibyl System, a method which's goal is to determine the threat level of each citizen by examining their mental state for signs of criminal intent, known as their Psycho-Pass. To do this, the Sibyl System employs inspectors—those that uphold the law, and Enforcers—inspectors that have become latent criminals. The story centers on Inspector Akane Tsunemori and her Enforcer, Shinya Kougami. Through various incidents, they soon come to learn that the Sibyl System's judgments are not as perfect as everybody thinks.
7. High School DxD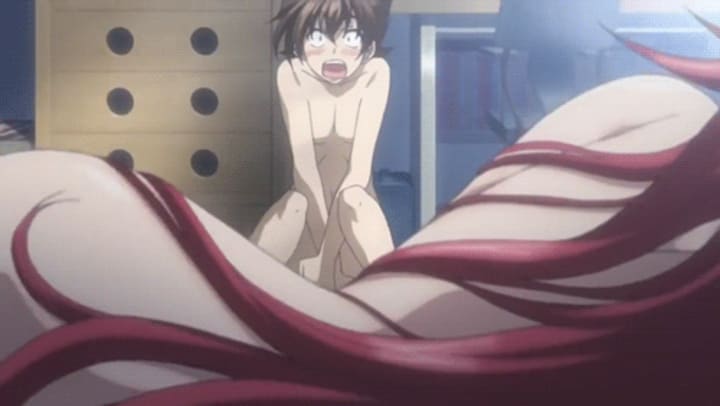 Episodes: 36 (3 seasons)
Genre: Comedy, Demons, Ecchi, Harem, Romance, School
The story centers around Issei Hyoudou, a dim-witted, peeping tom high school student who dreams of having his own harem. On his first date with a girl, he gets killed by a fallen angel. Nevertheless, Rias Gremory gives him a second chance at life as a reincarnated devil, and from that day forward, he serves as a servant and member of the of school's Occult Research Club.
6. Darker Than Black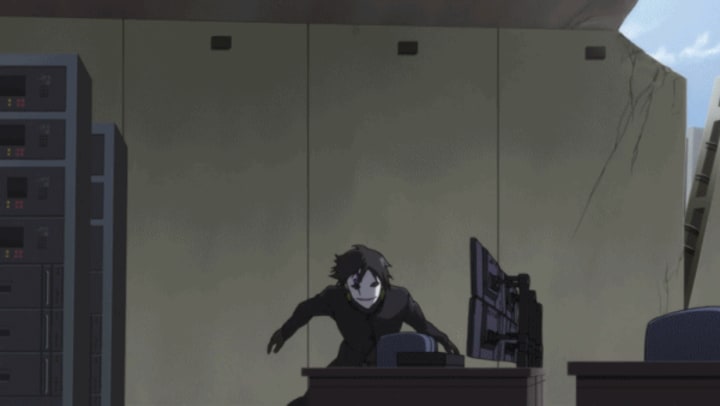 Episodes: 37 (2 seasons)
Genre: Action, Drama, Mystery, Psychological, Sci-Fi, Super Power
Ten years ago, two impenetrable fields appeared, one in South America—Heaven's Gate—and the other one in Japan—Hell's Gate. Many do not know what is the purpose of the gates; however, when getting close to one of them, the very laws of physics are ignored. With the appearance of these Gates emerged Contractors, who exchange their humanity for supernatural abilities. The story follows Hei, a Contractor for the Syndicate, and his assistant, Yin, who work for one of the many agencies competing to unlock the mysteries of Hell's Gate.
5. Death Note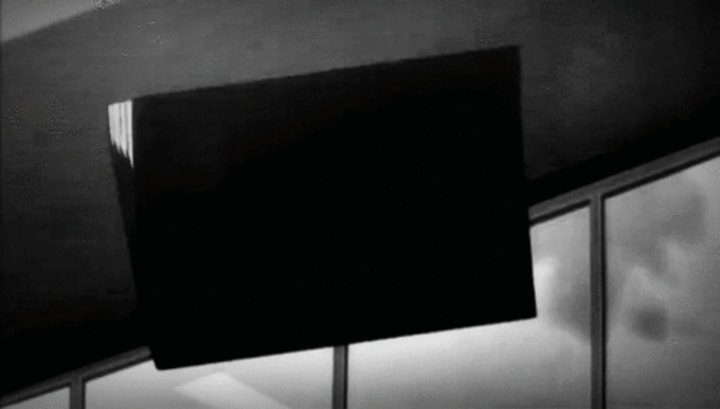 Episodes: 37 (1 season)
Genre: Drama, Mystery, Police, Psychological, Supernatural, Thriller
High school genius Light Yagami finds a peculiar notebook on the street: The Death Note—a notepad with the ability to kill people in any way you desire—and tests the Death Note's power by writing a criminal's name in it. When the criminal dies immediately after writing his name in the Death Note, Light recognizes that a great power has fallen into his hands. With his new powers, he decides to eliminate all criminals to create a world where crime does not exist and he's considered a god. However, the police do not see Light's "good intentions," and hire the world's best detective—the young and unconventional man only known as L—to solve these murders.
4. Assassination Classroom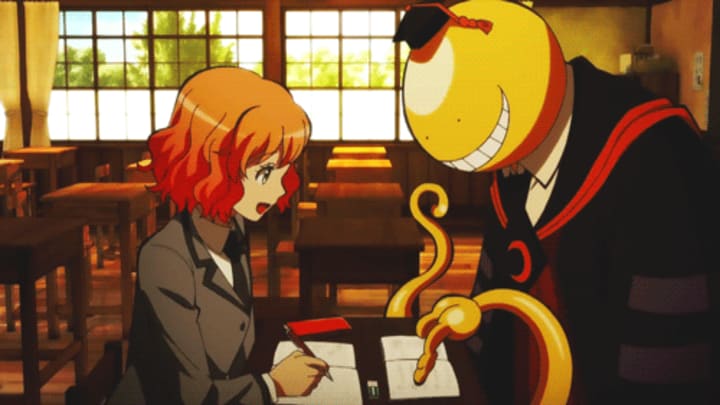 Episodes: 47 (2 seasons)
Genre: Action, Comedy, School, Shounen
One day, a mysterious creature destroys the moon, leaving it in a permanent crescent-moon shape. The creature as known as Koro-sensei (the indestructible teacher) claims responsibility and now wants to destroy the world in March of the following year. After making his plans known, he fills in the teaching position at Kunugigaoka Middle School. It is up to the middle school students to murder their teacher, and they have until graduation to kill it.
3. Sword Art Online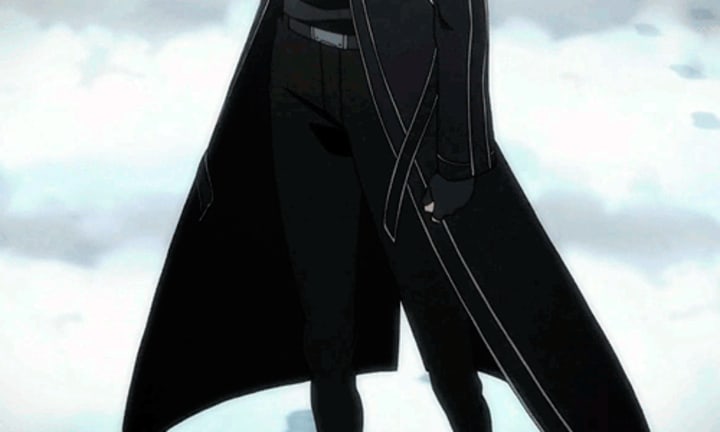 Episodes: 49 (2 seasons)
Genre: Action, Adventure, Drama, Fantasy, Game, Romance, Sci-Fi
In the not so far future, the gaming world has changed thanks to virtual reality advancements and "NerveGear" technology. Accordingly, several MMORPG games storm the market, including Sword Art Online. The story follows Kazuto Kirigaya, nicknamed "Kirito," as he is one of the thousands of players who are trapped in the virtual reality game. After it is announced that the only way to leave the game is by beating it, Kirito and his friends take on the quest to free all the minds trapped in Aincrad. But, if they die in Aincrad, they die in real life.
2. Durarara!!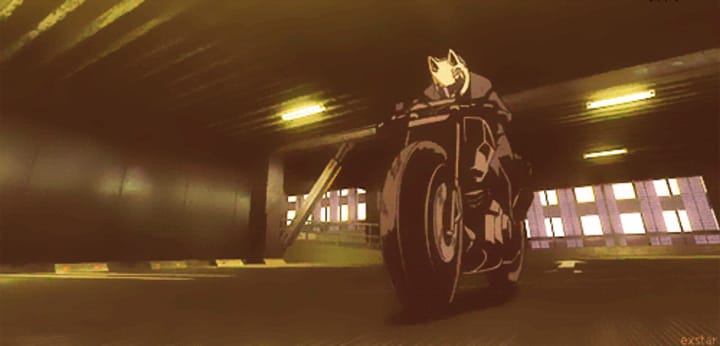 Episodes: 60 (2 seasons)
Genre: Action, Comedy, Drama, Mystery, Supernatural, Thriller
There are many rumors and warnings of anonymous gangs and dangerous occupants plaguing Ikebukuro. One of them is the urban legend of the headless Black Rider who is said to be seen driving a jet-black motorcycle through the city. The story follows Mikado Ryuugamine, a high school student who longs for the exciting life of the big city. Following an invitation from his childhood Masaomi Kida, he decides to move to Tokyo. On his first day, he already sees the Black Rider granting one of his wishes. However, he gets getting mixed up with some of the colorful characters living in Ikebukuro.
1. Monster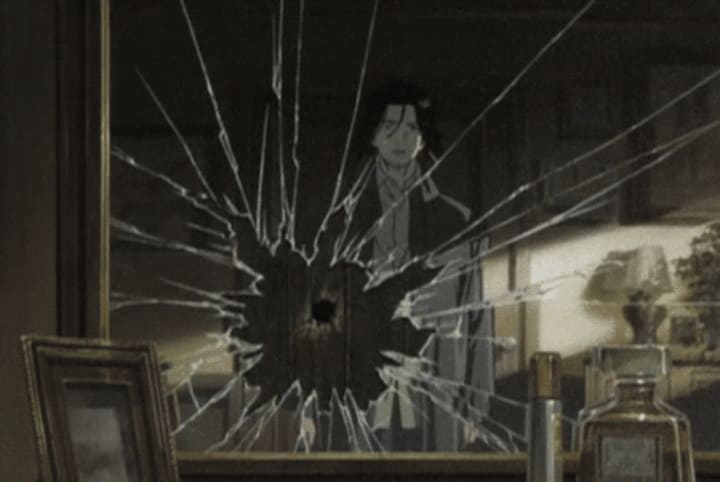 Episodes: 74 (1 season)
Genre: Drama, Horror, Mystery, Police, Psychological, Seinen, Thriller
This anime definitely fits the case of no good deed goes unpunished. The series follows Kenzou Tenma, a renowned Japanese brain surgeon living in Germany. He has everything: a rich and beautiful fiancée and a promising career. However, after choosing to save the life of a young boy instead of the mayor's, he loses everything. A short time later, some of his former coworkers get murdered and once again Tenma goes back onto to the top. However, he becomes the chief suspect in the killings. Later on, Tenma comes to realize that the boy he saved is more than he appears to be. To clear his name, Tenma must get to the bottom of this and other murders. But he also has to investigate the truth of the Monster, who is behind all of this.
There you have it, 15 anime that you can watch this weekend, or during the week. Don't forget to watch the OVA's and movies—they're also binge-worthy.
What other anime is binge-worthy?
Reader insights
Be the first to share your insights about this piece.
Add your insights