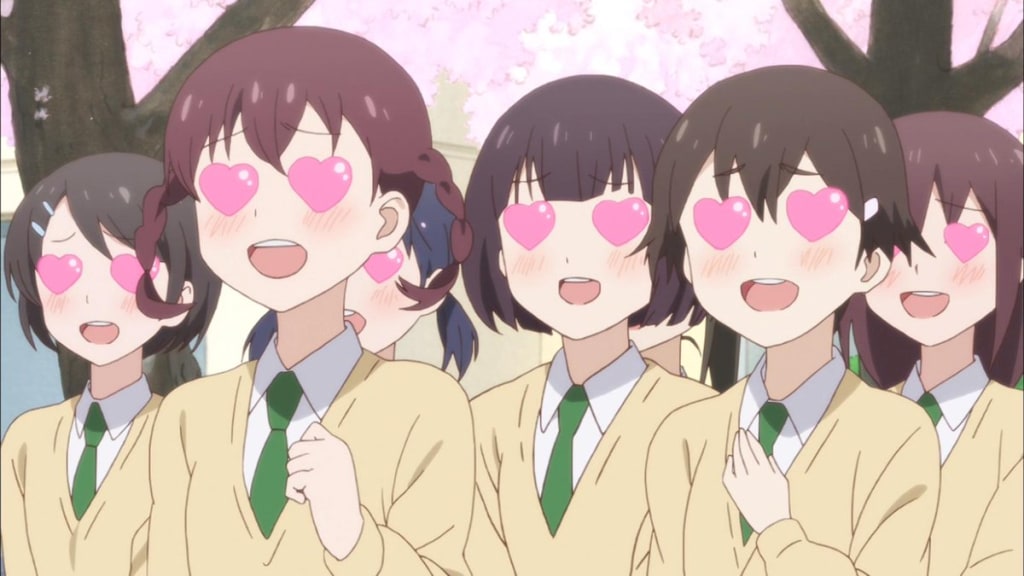 Anime romance is top-tier. I cannot stand watching live-action romance, it has become cliche, and tacky. Romance stories are now "Hey I like you so I am going to treat you like trash" "Sounds great let's f*ck" and they lived happily ever after. But anime takes romance seriously and has raised my expectation of what it means to have someone love you. They can spend a whole series with the couple not even holding hands. Yet they fall so madly in love with each other's character and become best friends. That to me is the purest form of romance. Even if they never kiss in the show I will be screaming the entire time the couple shares a screen.
I have seen and recommend watching all of the anime I'm about to list below. I will give you a little info about the anime and the storyline and my personal review. These are also not listed in any order.
Let's get into 14 anime you can binge on Valentine's Day!!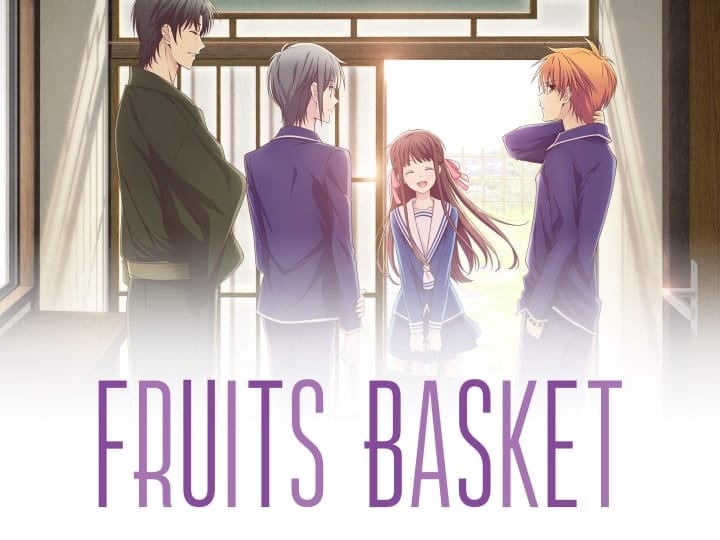 Fruits Basket 2019
Info: 63 episodes total
Genre: Comedy, Drama, Romance
Storyline: After a family tragedy turns her life upside down, 16-year-old high schooler Tohru Honda takes matters into her own hands and moves out...into a tent. Unfortunately for her, she pitches her new home on private land belonging to the mysterious Souma clan, and it isn't long before the owners discover her secret. But, as Tohru quickly finds out when the family offers to take her in, the Soumas have a secret of their own--when hugged by the opposite sex, they turn into the animals of the Chinese Zodiac.
My Review: This show will hook anyone watching with a beautiful and dramatic story. You will laugh and cry and scream at the screen. The original version of this show in 2001 did not follow the manga and got canceled. The 2019 reboot however nailed the story. The characters are not only funny but relatable. With everyone having a Chinese zodiac it's fun to see which character is yours. One of the best storylines but more importantly a perfect ending that completes the show perfectly.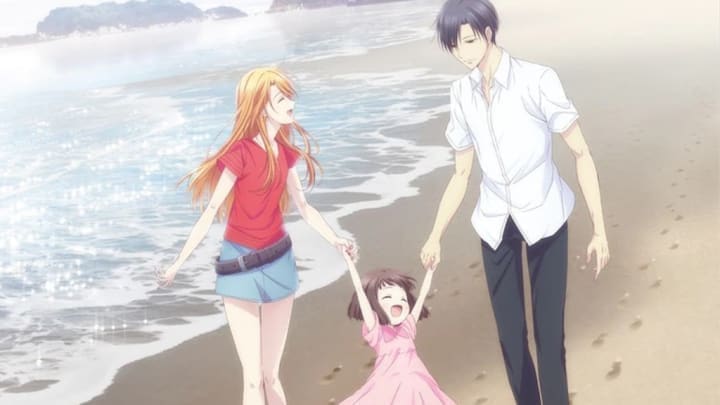 Fruits Basket Prelude
Info: 1hr 28min
Genre: Drama, Romance
Storyline: A compilation film of the Fruits Basket reboot anime series containing an extra episode focused on Tohru's parents.
My Review: This movie was an incredible addition to the fruits basket story. They took the time to give us more emotion and backstory to Tohru. Most of this movie was a light-hearted romance between Tohrus's mother and father's first meeting. But I couldn't help but watch this movie with a pit in my stomach. We know from the anime that her father and mother have both passed away, so throughout the whole movie, I was waiting for the inevitable scene of her father passing away from a common cold. Even still it caught me off guard and we are left seeing Tohrus's mother grieve to almost her breaking point. On a bridge about to commit suicide, Tohru'smom snaps out of her grief and remembers she has sweet Tohru to take care of. This movie was an emotional rollercoaster with a happy ending, and even though you know what is going to happen the writers did such an amazing job completely messing with your emotions.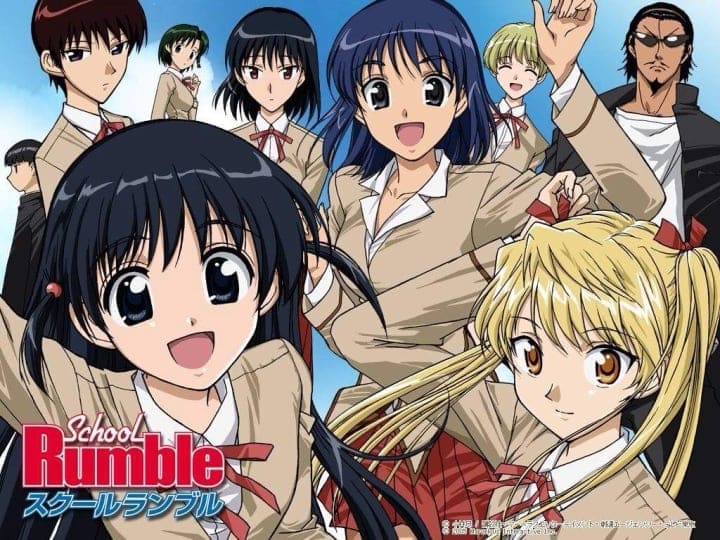 School Rumble
Info: 56 episodes total
Genre: Comedy, Drama, Romance
Storyline: Clumsy sixteen-year-old Tenma Tsukamoto is in love. The object of her desire, the strange and silent Oji Karasuma, has no idea she exists. seventeen-year-old delinquent Kenji Harima is also in love. The object of his desire, Tenma Tsukamoto, has no idea he exists. Both resolve to confess their feelings to the person they admire, but every time they try, they chicken out or something interrupts them. The series focuses on the antics of Tenma and Harima, as well as their friends, classmates, and family, all of whom seem caught up in comical love troubles of their own
My Review: This might be one of the best shows ever written. Between the quirky characters and relatable situations, this is a great anime for beginners. There is no downside to this anime. I have rewatched this show multiple times and still can't get enough. There is a character for everyone to relate to and even episodes without any of the main characters. If you enjoy a slice-of-life comedy with random dramatic stories this show is for you.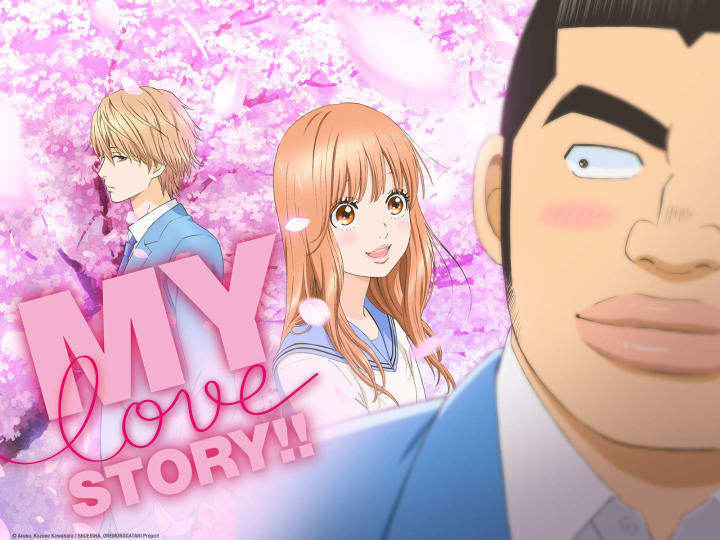 Ore Monogatari!! (My love story!!)
Info: 24 episodes
Genre: Comedy, Drama, Romance
Storyline: Takeo is a giant brutish-looking fellow with a sweet and kind demeanor. However, most girls aren't interested in him but in his best friend Makoto, who is handsome and charming. Takeo doesn't mind this and accepts it as a matter of course... till one day when he meets Rinko Yamato, a girl who is immediately drawn to Takeo and wants to be with him. This sets off a chain reaction in which other girls try to get with Takeo too. Can Takeo and Rinko manage to stay together?
My Review: If you don't believe the perfect couple exists I dare you to watch this show! They are adorable and relatable when you are in your first relationship. I was screaming the whole show. I adore this anime!! This shows us the purest form of love, sweetly and entertainingly. I love watching these two navigate starting a relationship and the challenges that come with it. This is the most unconventional perfect couple. I have watched this anime multiple times and every time it gets better. could go on and on about all the amazing qualities of this show but you should just watch it!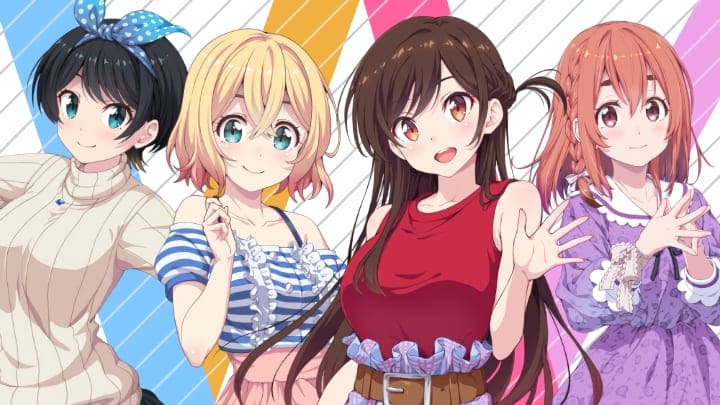 Rent-A-Girlfriend
Info: 25 episodes total
Genre: Comedy, Drama, Romance
Storyline: Japan is weird. You can rent dads, mothers, children, and even a girlfriend. When Kazuya's love rejects him, he is just as desperate to try the service. Good for him, the girlfriend he hires is very cute, but he wants to hide his relationship from his acquaintance. Too bad his new girlfriend goes to his university, their grandmothers are good friends, and they are neighbors. Kazuya also finds out that his new girlfriend is not as sweet as in the real life. How will their romance turn out?
My Review: I will not lie this show was frustrating. I was yelling at the screen at one point. The main character is whining and desperate but also a good guy so you kinda root for him. The real main character in my opinion is Chizuru Mizuhara. Headstrong and independent, she really carries her own as a rented girlfriend. But the storyline, Oh my. Whoever wrote this made it so addicting that when you start watching it you will not be able to put it down for a second. I cannot wait for season 2 and to see how everything plays out.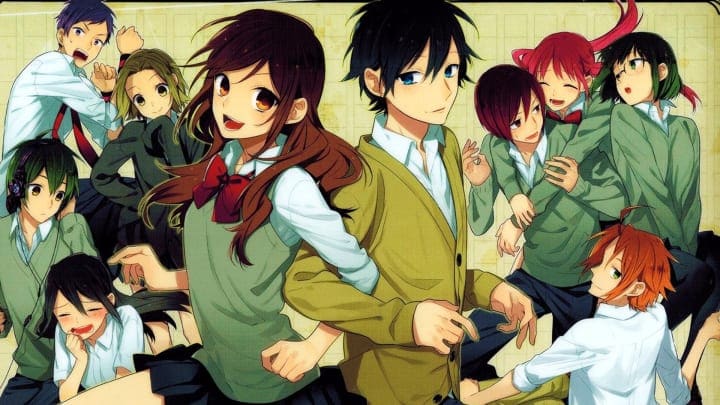 Horimiya
Info: 13 episodes
Genre: Comedy, Drama, Romance
Storyline: At first glance, the ultra-popular Kyoko Hori seems like a frivolous high school girl, but in reality, she's simple, pragmatic, and family-oriented. On the other hand, the bespectacled Miyamura Izumi comes across as an average, gloomy high school fanboy, but he's an attractive young man who has a bad-boy streak and is covered in piercings and tattoos. When these two unexpectedly similar classmates have a random run-in outside of the classroom, a bubbly, sweet tale of school life begins.
My Review: This is a true romance!! They didn't know each other and randomly met. Even with nothing in common, they became friends. Their friendship blossoms into a relationship. Which turns into a future together. I laughed so hard watching this anime and also felt so much raw emotion. If I were to have another relationship I would want it to be exactly like theirs.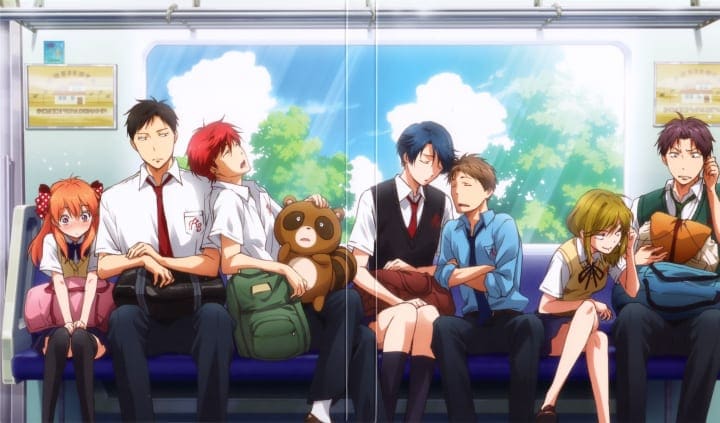 Monthly Girls Nozaki-Kun
Info: 18 episodes
Genre: Comedy, Romance
Storyline: Chiyo Sakura, a high school girl who fell in love with the unrefined boy schoolmate Umetaro Nozaki, decides to be courageous one day and asks him out. Her feelings weren't conveyed properly, and before she knew it she ends up helping a particular job of his as an assistant... The series is a shojo manga boy comedy that centers around Nozaki, a high school boy that is a popular shojo manga artist and has a story woven by very individualistic characters.
My Review: This was the most troll anime ever. They set up the perfect couples throughout the series, Yet the last episode will have you screaming. This is one of those comedy anime with romance in it and it was one of the most entertaining anime I have ever seen. I laughed so hard my ribs hurt and I adored the romance between the characters.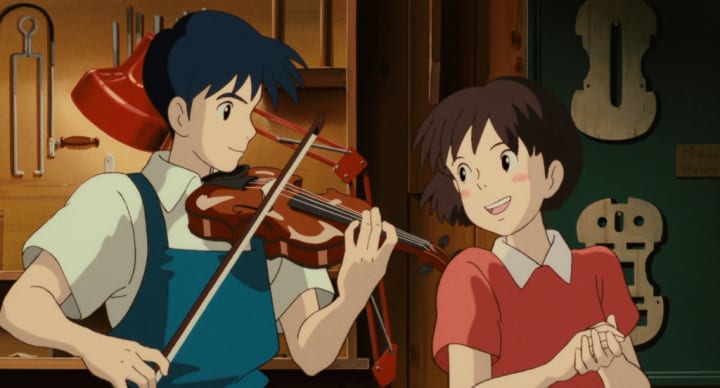 Whisper of the Heart
Info: 1hr 51min
Genre: Drama, Romance
Storyline: A young Japanese middle school girl finds that all the books she chooses in the library have been previously checked out by the same boy. Later she meets a very infuriating fellow... could it be her "friend" from the library? The boy's grandfather has a violin sales and service shop. The boy wants to be a violin maker like his grandfather
My Review: How can I put this movie into words? What an emotional rollercoaster. If you do not know what true love looks like, watch this film. The relationship goes from a secret admirer to being annoyed with each other, to being inspired by each other's life goals and dreams, chasing their dreams for each other, and then working together. I love this movie more every time I watch it. With such an inspiring story it's hard to not want to chase your dreams once the credits roll. I deeply relate to Shizuku Tsukishima and her desire to be a writer, despite what others think. The beauty in their romance is the foundation. They both went after large goals, used time apart to accomplish them, and supported each other in their dreams. My favorite character has to be the grandfather. He supports and encourages them both, and brings so much wisdom to us all. This scene inspires me whenever I feel down or when I give it my all but I feel as if I failed. I hope it inspires you too, never give to give up, and remember there is always progress to be made, not perfection to be chased.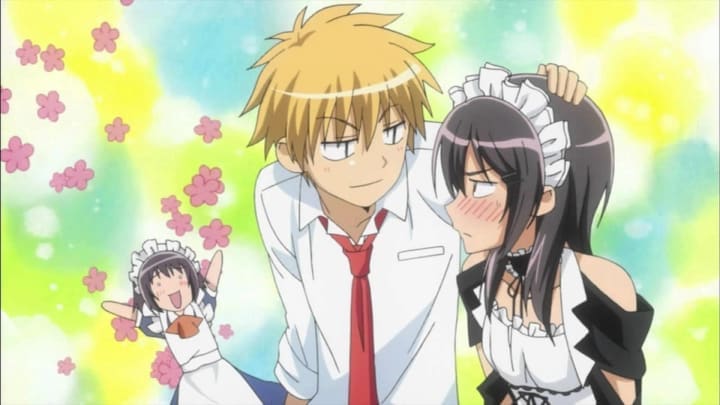 Kaichou Wa Maid Sama
Info: 26 episodes
Genre: Comedy, Romance
Storyline: President of the Student Council at the almost-all-boys Seika High School, the hard-as-nails Misaki Ayuzawa works every day to make life easier for the small population of co-eds who have enrolled there. Though an unholy terror to all things male during school hours, to provide for her impoverished family, she secretly works after school at a maid cafe in Akihabara. However, when campus hottie Usui Takumi wanders into the restaurant during her shift, suddenly she finds her reputation in school at his mercy...
My Review: Do you see the girl in the back? Yeah, that was me the entire time I watch this anime. If you need a heart-pounding show this is for you. Heads up you will binge through it. I love seeing strong female leads, Who aren't afraid to take the world head-on, and this was such a fun twist. From beginning to end there was so much character development, lots of humor, and entertaining characters. I feel like this should be a staple romance anime everyone watches at least once.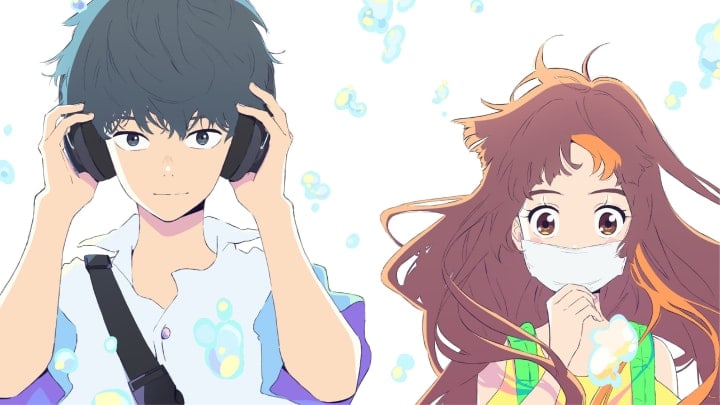 Words Bubble Up Like Soda Pop
Info: 1hr 27 min
Genre: Drama, Romance
Storyline: Words and music bridge the gap between Cherry, a boy who is terrible at communicating with other people, and Smile, a girl who hides behind a mask. They meet in a mundane suburban shopping mall in a provincial city. Cherry always wears headphones and puts the feelings he cannot utter into his hobby, Japanese haiku poems. Smile always wears a mask to conceal her large front teeth, for which she has dental braces. As a popular video star, she streams a video about seeking "cuteness."
My Review: When I first watched this movie I was shocked at how much I loved it. I ended up watching it 3 more times that same week. It is so wholesome and adorable. It will fill your soul with joy when the end credits roll. I also added this movie to anime with the best endings because it is really of the best-written stories I have seen in a while. It is entertaining in the build-up of the story and the conclusion is perfect.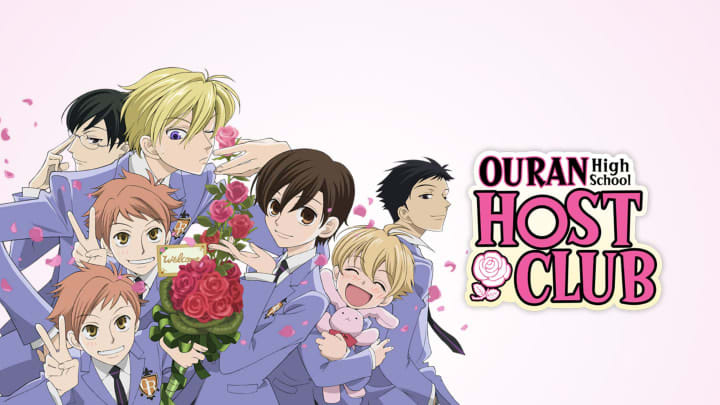 Ouran Highschool Host Club
Info: 24 episodes
Genre: Romance, Comedy
Storyline: At the ultra-prestigious Ouran High School, Haruhi Fujioka looks for a quiet place to read and walks into an unused music room, and accidentally stumbles across the notorious Ouran High School Host Club, a group of boys who entertain the girls of the school for profit. When Haruhi accidentally breaks an expensive vase belonging to the wacky Host Club, she is made to serve under them until her debt is paid off. Haruhi is soon made a Host, but to pay off what she owes, she must continue to allow the Host Club's customers to believe she is a boy.
My Review: I have rewatched Ouran Highschool Host Club countless times. I still laugh so hard on episode one. I don't think the host club would get away with a lot of jokes they made if it came out in today's world, but their comedy is hysterical. The whole show is great and I think this would be a show that I could watch forever and never get tired of.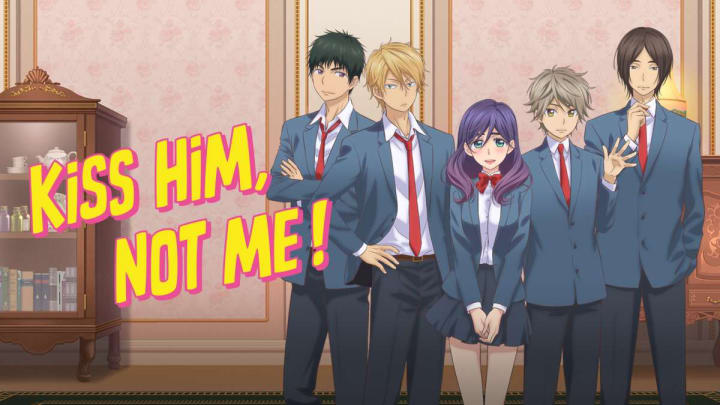 Kiss him, Not me
Info: 12 episodes
Genre: Comedy, Romance
Storyline: Kae Serinuma is a second-year high school student and an avid fujoshi who secretly ships her classmates, Igarashi and Nanashima. The death of her favorite anime character causes her to become stressed and lose weight rapidly. Now that Serinuma has become an attractive girl to her classmates, snarky junior Shinomiya and senior Mutsumi, how is she going to deal with them with her constant BL-filled fujoshi mind?
My Review: This anime made me laugh so hard!! It is an amazing twist on the classic romance anime. It has amazing character writing and one of the best endings. This is an anime you watch when you need a good laugh.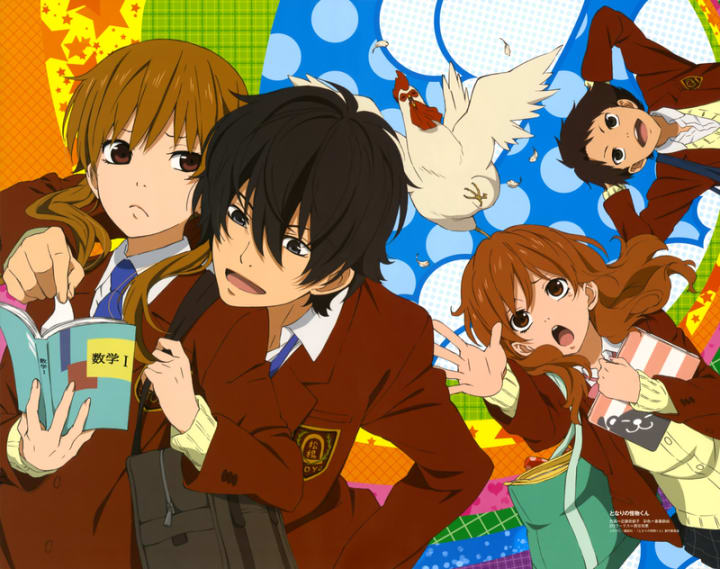 My Little Monster
Info: 12 episodes
Genre: Comedy, Romance
Storyline: Shizuku, a hardworking student who isn't interested in socializing, finds an unlikely friend, Haru, an emotionally volatile boy at her school.
My Review: It has been a minute since I watched this anime. But I remember adoring it when I did watch it. It has very unique and quirky characters that you can't help but fall in love with. I would consider this a realistic romance which makes it very funny and relatable.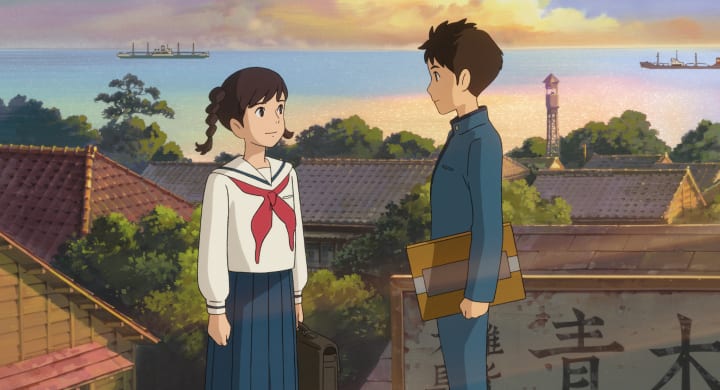 From Up on Poppy Hill
Info: 1hr 31min
Genre: Comedy, Romance, Drama
Storyline: A group of Yokohama students fights to save their school's clubhouse from the wrecking ball during preparations for the 1964 Tokyo Olympic Games. While working there, Umi and Shun gradually attract each other but face a sudden trial. Even so, they keep going without fleeing the difficulties of reality.
My Review: THIS MOVIE WILL PLAY WITH YOUR EMOTIONS!!! This is the most underrated Studio Ghibli movie of all time. I gasped so many times watching this movie. The brilliant writers knew exactly how to pull at your heartstrings and mess with your emotions. You will laugh, you will cry, and you will have goosebumps throughout. I loved the character interaction throughout. Of course, the girls have to help the boys save their clubhouse, Which creates funny interactions. The power of their school coming together makes an entertaining, funny, and inspiring story. I am going to leave this review short because I don't know how to talk about this story without just spoiling it. If you haven't seen it, watch it.

If you have a date this Valentine's day or not just know that you are loved! I love and appreciate you and hope I was able to help you find a new anime to watch on your date night.
What is your favorite romance anime? I'd love to hear in the comments below
Thanks for reading!!
Check out my 30 day anime challenge
LOVE YOU!!!
About the Creator
✨Anime Blogger✨
I watch too much anime and would love to turn it into a creative outlet!
Blogging about anime topics, giving honest reviews, and staying up to date with all things anime
Reader insights
Be the first to share your insights about this piece.
Add your insights