10 of Brad Pitt's Best Roles
With his recent win of a long-awaited acting Oscar in February 2020, Brad has achieved what his glittering career as one of cinema's most recognisable actors has been working towards. To celebrate, here are ten of Brad's best onscreen performances, from 'Babel' to 'Burn After Reading'.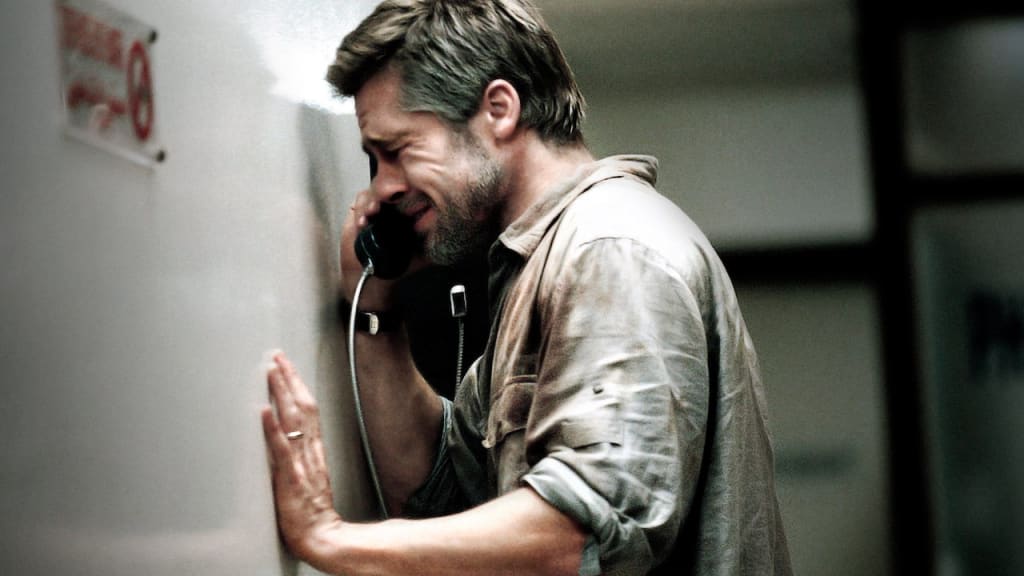 A still from Brad's emotional performance in 'Babel' (2006). Picture credit: Netflix.com.
Anyone who knows me knows I am a massively unashamed Brad Pitt fan. Not only because he's something of an Adonis, but also because he is a strikingly good actor. Don't get it twisted: he's not just a beautiful face. In fact, he recently collected his first acting Academy Award for Best Supporting Actor in February of this year, an accolade which was, admittedly, long overdue. Having followed Pitt's career since my early teens, I wanted to celebrate his win by compiling a list of ten of his best roles, from 'Kalifornia' to 'Ad Astra'.
These films are not necessarily his most commercially successful appearances, so items like the Ocean's trilogy won't be found here. Rather, these are the roles that showcase Brad at his very best, and firmly shift the surface level label of 'movie heartthrob' to the side.
This list is also not exhaustive. While Brad does a fantastic and hilarious turn as Lt. Aldo Raine in the critically acclaimed Tarantino comedy 'Inglorious Basterds' (2009) - my friend an I continuously quote the "Si...uh, correcto" moment to each other - the film belongs to Christoph Waltz as the sublimely sardonic and sinister Hans Landa. The same can be said for 'Interview With the Vampire' (1994); while Pitt is captivating as the moody Louis, despite being a far-cry from the novel's protagonist, the film swathes most of its spotlight around Tom Cruise's Lestat.
These are the films where Pitt shines and showcases his truly versatile ability as an actor. So, without rambling on for too much longer, here are ten of Brad's best roles.
10. 'Kalifornia' (1993)
In one of his first major roles, Brad delivers one of his all-time best turns as sinister hillbilly Early Grayce in 'Kalifornia'. From his confederate flag cap, to his wife beater and chipped tooth, Pitt completely disappears onto the part and assumes the unpredictable, unnerving nature of this erratic serial killer. He drives you from uneasy hilarity to outright fear in the space of an instant.
'Kalfornia' is sadly not a movie we see talked about enough. But if you are to sit down and watch it for any reason, make that reason Pitt's spectacular performance as an unhinged redneck.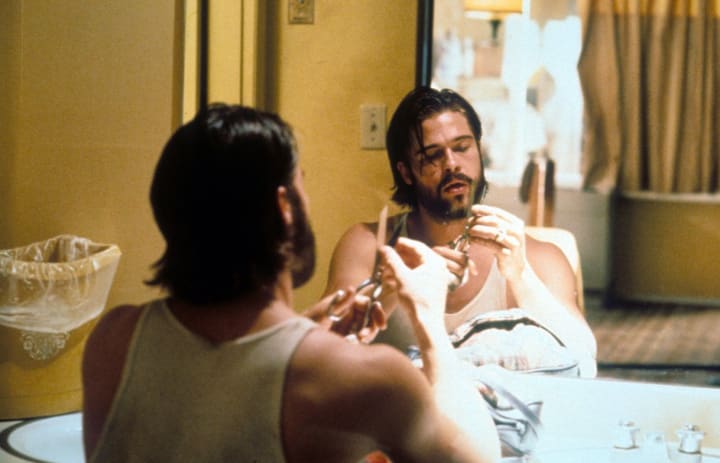 9. 'Fury' (2014)
Adopting the role of the stoic, stiff-jawed and aptly named 'War Daddy' in David Ayers' World War II tank drama, Pitt manages to come off as both aloof and endearing at the same time.
While the ensemble cast - who spend most of their time bantering and bickering in the tank bearing the film's title - are brilliant and brimming over with chemistry, Pitt's silent hero draws most of your attention as a viewer from the get-go.
8. 'Ad Astra' (2019)
In a truly beautiful and understated performance, Pitt is insidiously astonishing in this decade's rendition of '2001: A Space Odyssey'. It would be easy for any actor to become irretrievably lost or swallowed up by the beauty of this galactic tragedy's exquisite cinematography and set design, but Pitt holds his own. He details a heartfelt journey of one man's mission to find his estranged father (Tommy Lee Jones), who veered off the map years prior.
Unfortunately overlooked by this year's award ceremonies, 'Ad Astra' contains a noteworthy and supremely different performance from Brad, one that is mature, solemn and deeply moving.
7. 'Se7en' (1995)
In the first of his legendary collaborations with director David Fincher, Pitt slips coolly into the role of a young detective reigned in by Morgan Freeman's veteran cop in 'Se7en'. It is a joy to watch the two of them bicker and eventually soften towards one another during the film's course, which dramatically details the elder of the two's final job before retirement.
And then there is that unforgettable finale. Pitt's infamous "What's in the booox?" meltdown is not only iconic, but testament to his acting ability. The close-ups of his expression of excruciating anguish as he toys with the film's fateful decision of enacting revenge or relinquishing it to justice is visual proof of his character commitment.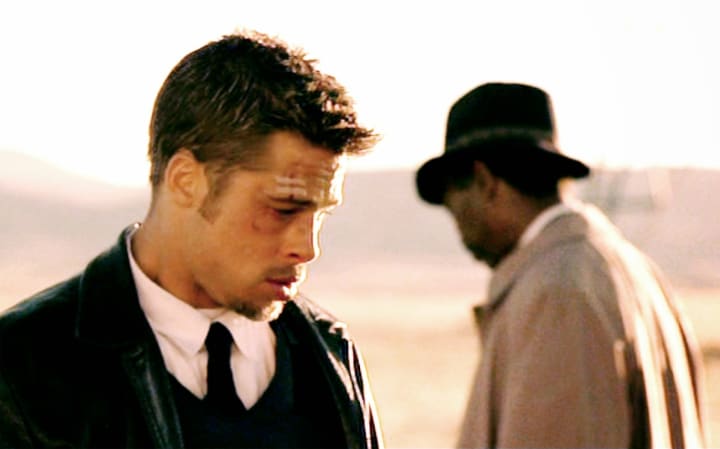 6. 'Once Upon a Time in Hollywood' (2019)
2019 was a fantastic year for Pitt, with his abilities being no more highly recognised than in the long-awaited release of Quentin Tarantino's fantastical fairy-tale retelling of one of Hollywood's darkest moments.
Pitt is both effortlessly cool and naturally hilarious as the Cliff Booth, the enigmatic, laid-back but fiercely loyal ex-stunt double and assistant to Leonardo DiCaprio's struggling actor Rick Dalton. Both Pitt and Leo share fantastic chemistry onscreen, both confessing to have wanted to work with each other since they met in the 1990's - their rapport is brilliantly funny. Overall, it's easy upon viewing to see why Pitt received his overdue Oscar for this. In a sea of stars he truly shines brightest.
5. Burn After Reading (2008)
Another example of Pitt emerging with the most memorable role from an ensemble cast is the Coen brothers' 'Burn After Reading'. In the film, Pitt plays Chad, a chirpy, energetic gym coach who inserts himself in a CIA plot along with co-worker and best friend, Linda (Frances McDormand).
'Burn After Reading' is Pitt delivering comic style and timing to the best of his ability, and it really pays off, hitting hilarious heights I was previously unaware he was capable of before viewing. His scenes of frantic scheming with McDormand are the unquestionable highlights of the film, with Pitt's 'Chad' emerging as the film's lasting impression.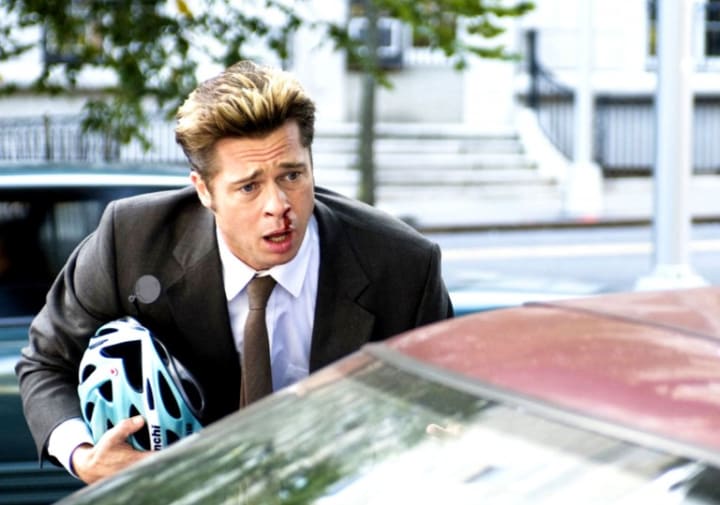 4. 'Babel' (2006)
A film by phenomenal director Alejandro Inarritu, 'Babel' is often overlooked in lists of Pitt's greatest achievements, something I posit to be wholly unfair. Depicting four interlocking stories across the globe, 'Babel' involves Pitt in the role of an American tourist whose trip to Morocco turns sour when his wife (Cate Blanchett) is accidentally shot on a coach trip.
Pitt gives one of the most vulnerable and emotive performances of his entire career in this episodic masterpiece. This utter devotion and emotional rawness is no more evident than in a scene where he must telephone his children in the U.S. and suppress his trauma and grief while reassuring them that everything is OK. His painfully realistic display of repressed suffering and sheer terror is one of his best, and sadly most underrated, celluloid exhibition.
3. 'The Assassination of Jesse James by the Coward Robert Ford' (2007)
A truly complex performance by Pitt, his turn as the infamous American outlaw Jesse James is equal parts anti-hero and martyr in this Western crime epic.
Brooding, unpredictable and, rather oddly, endearing by the film's poignant close, Pitt is central to the film's success. He himself has stated that 'Jesse James' is his favourite film to have participated in, and it's easy to see why: he steps into the gargantuan shoes of James from the lore of the Western comic strips and brings a harsh, gruff reality to them. James is perhaps Pitt at his most morally intricate performance to date.
2. 'Snatch' (2000)
Many have lampooned Pitt's performance in Guy Ritchie's gangster comedy 'Snatch' as being a garbled, futile and messy attempt at an Irish accent, and little else. I couldn't disagree more with this statement.
While Pitt has indeed flubbed some of his accent attempts in the past (we won't talk about Seven Years in Tibet, it's fine), his fast-talking Irish traveler 'Mickey' is a hit. Despite being at times unintelligible (and that, folks, is the point), his emerald isle twang - which he admitted in a recent interview he derived from a 'Father Ted' guest star - hits all the right notes.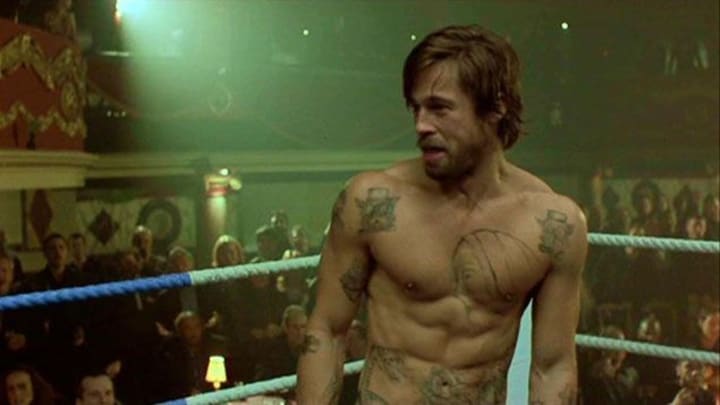 1. 'Fight Club' (1999)
My personal standout film for Pitt can be found in none other than Fincher's groundbreaking adaptation of 'Fight Club'. Brad as Tyler Durden is a real cultural landmark in cinema performances, and his materialisation as the physical embodiment of Palahniuk's character is eerily accurate. It just works.
Everything from his gutsy line delivery to his fashion (everyone remember the mesh 'HUSTLER' shirt? Because I do) is iconic, and all of this is topped off by a dedicated performance that is equal measures slick, wild and gritty. Whenever he is onscreen, Pitt is mesmerising, and the film is truly set in motion when 'Tyler' is introduced to the viewer. His mysterious, bold antithesis to Edward Norton's bland, insomniac narrator is intriguing, and their onscreen interactions are phenomenal.