10 Essential And Iconic Movies Everyone Should Watch (And Rewatch)
All people should watch these movies at least once, at least …but 4–10 times is recommended.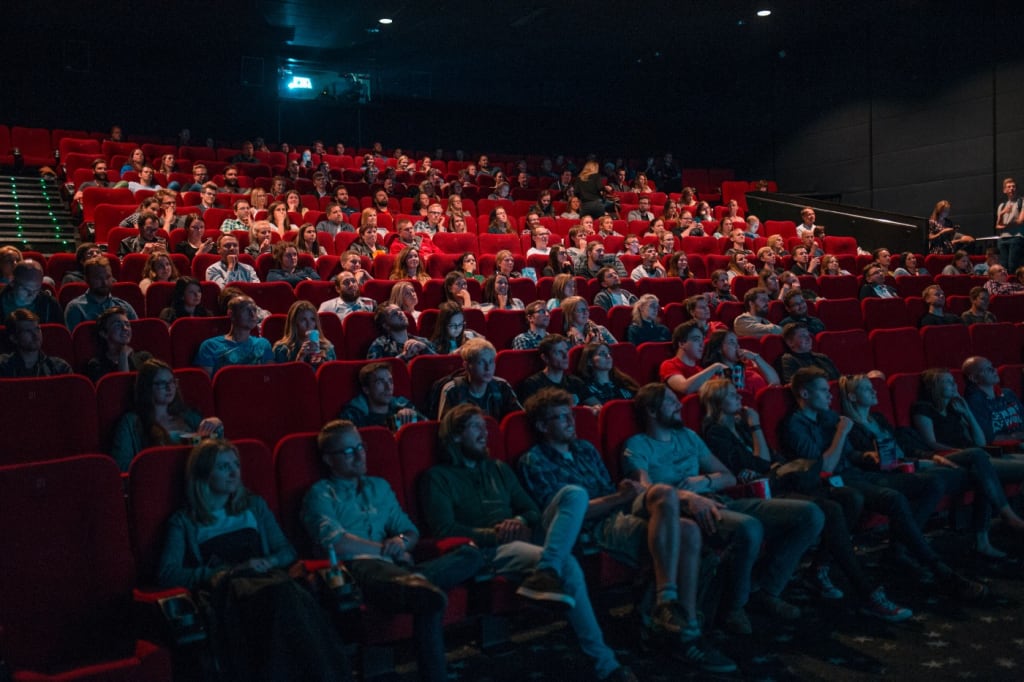 Krista Luhaers on Unsplash
Here's the thing—I love movies. I've seen hundreds (nearing a thousand, I'm not kidding, I keep a list.) There are many classic movies worth seeing. In no particular order, this is a list of ten movies that are iconic and worth each moment of their run time and your time. I've seen every movie on this list numerous times, and I remain confident in my decision to recommend them. They're all great; watch em' all, or the Texan accent (which only exists in my mind and in my listicle-writing apparently) stays put.
Side-note: I realize now that there are no children's movies on this list. Apologies, but it's not that kind of a list. There's an idea for another movie blog though!
1. The Godfather Pts. I & II (1972, 1974)
Serious question—has anyone reading not seen The Godfather? I'm genuinely curious. Francis Ford Coppola's The Godfather (based on Mario Puzo's intergenerational novel of the same name) are some of the greatest films ever made, and everyone should watch them.
The movies are feats of filmmaking, acting, music, space and time. We move across generations, continents and cultures, all the way from the small town of Corleone in Palermo, Sicily, Italy, across the Atlantic to the United States. Coppola's movies have kept the Corleone family name alive and well in our memories and screens for decades and will continue doing so in time to come. I can always rewatch The Godfather, and honestly, I may have to pause right now because I feel like watching some clips on YouTube. Be back in a couple of hours.
Though not a ranked list, The Godfather (parts one and two, I don't care if that's cheating) gets the number one spot because it epitomizes classic movies and is one I can always return to, and they truly never disappoint.
2. American Beauty (1999)
American Beauty is directed by Sam Mendes, written by Alan Ball (Six Feet Under, anyone?!) and stars Kevin Spacey and Annette Benning. I've noticed that American Beauty gets polarizing reactions, and I can see why, sure. It's a slice of life pic about a dysfunctional suburban family, and, generally speaking, they can be described as intolerable, materialistic and seriously out-of-touch individuals. It might not be to everyone's humour or taste, and I could get how some might find it unsavoury or maybe, unnerving.
I watched it as a young tween (my parents weren't great about supervising our movie choices,) and American Beauty played a pivotal role in shaping my love of movies at a young age and during a delicate season in my adolescence. I relished each moment of occupying the inner and active mind of a middle-aged white man, suburban-living and depressed Lester Burnham (played by Spacey). I've seen the movie countless times. Annette Benning makes me cry tears of true laughter because she is absolutely hilarious and does a Stepford housewife like nobody's business. If you love American Beauty, chances are you will also love Six Feet Under (the HBO television series, I wrote about it here, if you're interested.)
3. Schindler's List (1993)
"The list is an absolute good. The list is life."
The real Oskar Schindler, with some of the Schindler Jeuden "Schindler Jews" after the war.
Schindler's List is a movie based on Oskar Schindler, a German business magnate and a member of the Nazi party during WW2. Oskar Schindler's life and actions go beyond extraordinary and are firmly landed within the supererogatory. As a Jewish person and grandchild of Holocaust survivors, I am deeply moved each time I watch this movie, and believe every single person must watch this movie at some point in their lives. I rewatched it to write about it here, and the impact is the same.
Schindler's List is directed by Steven Spielberg, stars Liam Neeson as Oskar Schindler, Sir Ben Kingsley as Itzhak Stern, and Ralph Fiennes as the diabolical SS army officer, Amon Göth. Though a little over 3 hours, the movie keeps your attention the whole way through. You will find yourself sobbing and heaving uncontrollably by the end, but don't let that steer you away. Watch the movie, and cry like nobody's watching.
4. American History X (1998)
We're going from real Nazis to wanna-be Nazis and Skinheads in the home of the brave and land of the free, in the deep south of the United States. Coming in guns a-blazin' at numero cuatro with the throat-punching and gritty American History X. Directed by Tony Kaye and written by David McKenna, American History X stars Edward Norton as Derek, a former Neo-Nazi and skinhead who turns a new leaf while spending time in prison and befriends another inmate.
This movie has since garnered something like a cult status, and it is still one of the most shocking, stomach-turning and violent films I've seen. American History X left a big impression on me when I first watched it, and each time I rewatch it, I am immediately engrossed in the story all over again, from start to finish, as though I hadn't already seen it. It's a film that immediately captivates, tells a powerful story, and features great acting, writing and everything else you could want from a top-tier cinematic experience.
5. City of God (2002)
Going steady with the theme of grit and violence for numero Cinco, City of God is a Brazilian movie directed by Brazilian native Fernando Meirelles, and viewer warning: this movie contains violence and is not for the faint of heart.
City of God is a movie that pulsates with energy, excitement, gang violence and poverty. We are in the slums of Rio de Janeiro, also known as the favelas (pronounced fah-vel-ah) a city within a city riddled with poverty and drugs and gang-affiliated violence. We follow Rocket, the main narrator, and a boy who grew up in the hillside shantytowns of Rio, where the pressures of falling into gang life loom large and heavy.
This movie captures a piece of the world and the lives of people that are so vastly different from my own and gives a glimpse of a place that's full of life and yet also disregards life entirely. City of God is unforgiving; it is masterfully directed, shot and told, and not only is it one of the best foreign films I've ever seen, but it's also one of the best movies I've seen, full-stop.
6. Eternal Sunshine of the Spotless Mind (2004)
How happy is the blameless vestal's lot!

The world forgetting, by the world forgot.

Eternal sunshine of the spotless mind!

Each pray'r accepted, and each wish resign'd;

— Eloisa to Abelard, by Alexander Pope.
Have you ever wished you had a spotless mind or that you could erase your difficult memories from past relationships or traumatic experiences in your life? If you did, then what do you think the likelihood would be of you repeating the same exact decisions you had made previously, and therefore experience the same (or a similar set of) experiences as before? Eternal Sunshine is a sci-fi romance about the story of two people: Joe and Clementine. Clementine undergoes a medical procedure to forget their relationship and each other. Joe finds out that Clementine had this procedure, and the movie looks at the aftermath.
In his screenwriting, Kaufman toys with time, memory, identity, our personal histories and asks deep philosophical questions: like whether everything is pre-determined or is there free will? What are the implications of both being the case or not? Kaufman, a philosopher in his own right and a low-key hottie/epic romance writer gifted us this movie from his eternal mind.
7. Forrest Gump (1994)
Have you ever tried describing the movie Forrest Gump to anyone? I haven't, and this would be my first attempt, and I realize now that it's difficult to describe Forrest Gump in a way that makes it enticing or sound not-boring.
Forrest Gump is a movie about, well, Forrest Gump. Forrest is special, and he has a lower IQ (of 75), but what he lacks cerebrally he makes up for with his heart. Forrest is a good man, he has a pure heart, and though he may not be smart, "he still knows what love is." Forrest lives an extraordinary life: he meets the president, he's a war veteran and shareholder of a booming business, and he is a retired athlete and runner.
Ignorance is bliss, and so is Forrest. I grew up on this movie; it's a classic that I've seen I don't know how many times. I couldn't tell you how many times or when it was that I first watched Forrest Gump, but in my memory, the movie stands as an all-time classic that holds up on watch, after rewatch, after rewatch, and everyone should see it.
8. 12 Angry Men
12 Angry Men is a classic courtroom drama and a lesson on what it means to give a person their right to a fair trial. This movie exposes implicit biases people hold, even when those that hold them are themselves unaware. Directed by Sidney Lumet and written by Reginald Rose, 12 Angry Men stars the impeccable Henry Fonda and is an absolute classic and must-watch (at some point in your life).
9. The Deer Hunter (1978)
The Deer Hunter is a war movie that disturbs on a psychological level. It's a harrowing 3-hour foray into the Vietnam war, focusing on a small group of friends from a small town in Pennsylvania. The Deer Hunter has a heavyweight cast of all-time greats including Meryl Streep, Robert De Niro, and Christopher Walken. It's also the last film John Cazale starred in before he passed (rest in peace.)
The beginning of the movie is a bit slow, but there is an energy and a looming foreboding feeling of what's to come. When it comes to war movies, my main concern is those lengthy war scenes 0f the battle. Those scenes are not my favourite; they're long and cinematic in a way I don't completely understand as an amateur movie reviewer. The Deer Hunter is not excessive in those areas, it's much more subtle, and honestly, it's heavier. There are three distinct acts: pre, during and post-Vietnam. There's a sense of time having passed, and the mood shifts: what they'd endured has indelibly impacted their lives, and things are now different. What a movie, watch it, and Russian Roulette should not be attempted by anyone ever.
10. The Shawshank Redemption (1994)
I'm afraid that if I don't include this movie on here, people might scream. Is there a more beloved movie than The Shawshank Redemption? I'm not sure there is. Shawshank has stayed put on IMDB's top-250 list at the number one spot, and whether you agree with this ranking or not, there's no question that it's a great movie that has stood the test of time.
While a movie inside the grey-bar community of prison, Shawshank is tender, heartfelt and makes you feel warm and hopeful. It's a classic redemption tale; it's about friendship and resiliency and doing what is right and good. We are privileged to have Morgan Freeman as the narrator and storyteller and Tim Robbins as Andy Dufresne. Watching Shawshank, you can feel its importance as a film, and its movie-captivating powers wash over you and keeps you held in the plot and on the edge of your seat. I remember my first time watching Shawshank and feeling like it was one of the greatest movies I'd ever seen, and now, it's probably time I go and rewatch it.
Thanks for reading! I hope you enjoyed the list, and I'm curious to know what you consider the best classic/essential movies to watch!
About the Creator
Hi, I'm Dalia. A bit about me: 5-year-old, Philosophy Master's Graduate, Freelance Writer, Lifetime Reader & Aspiring Jeopardy Contestant. I started a thing called DalY Blogs: dalyblogs.com/ (not actually five.)
Reader insights
Be the first to share your insights about this piece.
Add your insights