Marvel Superheroes
10 Characters Marvel Should Introduce into the 'MCU' After 'Phase 3' Has Concluded
With 'Phase 3' concluding in the Spring of 2019, Marvel is not letting out any secrets of what will come in 'Phase 4,' but this article will look at 10 characters they should aim in introducing after 'Avengers: Endgame.'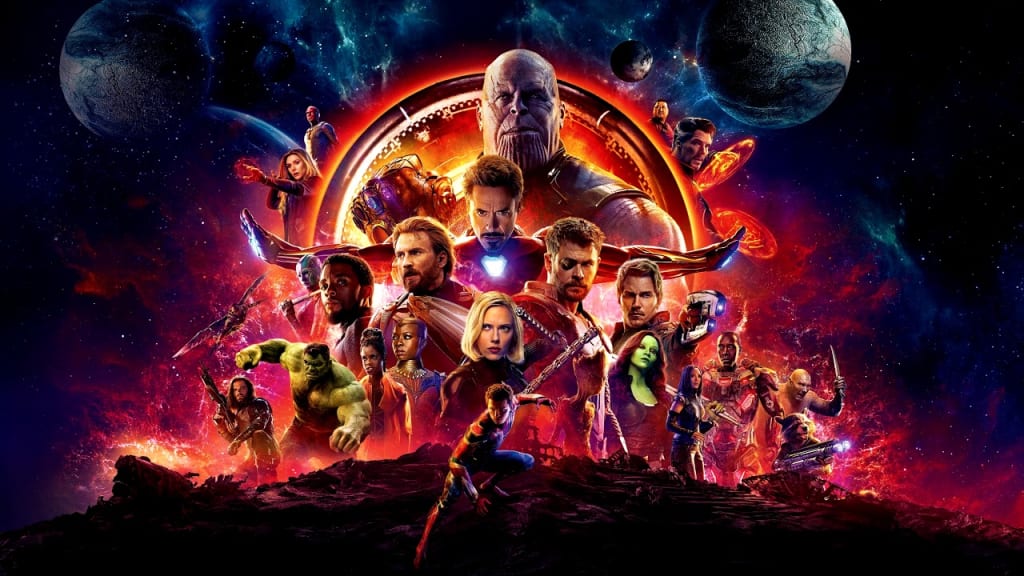 The Marvel Cinematic Universe is a film franchise that is unrivaled as far as sheer commercial success is concerned. Earning billions in revenue worldwide the long-running set of films is reaching its climactic conclusion in the upcoming Avengers: Endgame,ending the Phase Three arc of films. We do know the films are going to continue, but how the next Phase of films will play out is unclear. We know Spider-man: Far From Home is in the works, and Guardians of the Galaxy Vol. 3 was planned until the James Gunn scandal. But, with the huge success being created by the films, it is highly unlikely the journey is over yet.
With some actors suspected to be departing after the completion of Phase Three, ending in some cases over ten years of dedication to a single character. This will create gaps to be filled within the MCU and in the last couple of years, new heroes including, Ant-Man, Spider-Man, Black Panther and (soon to join them) Captain Marvel have been added in preparation. This article will look at ten candidates from the pages of Marvel that should be seriously under consideration by the powers that be to join the MCU. This list will not include either the Fantastic Four or any of the X-Men, as Marvel has made it clear they have plans for both teams through a deal with Sony.
10. The Young Avengers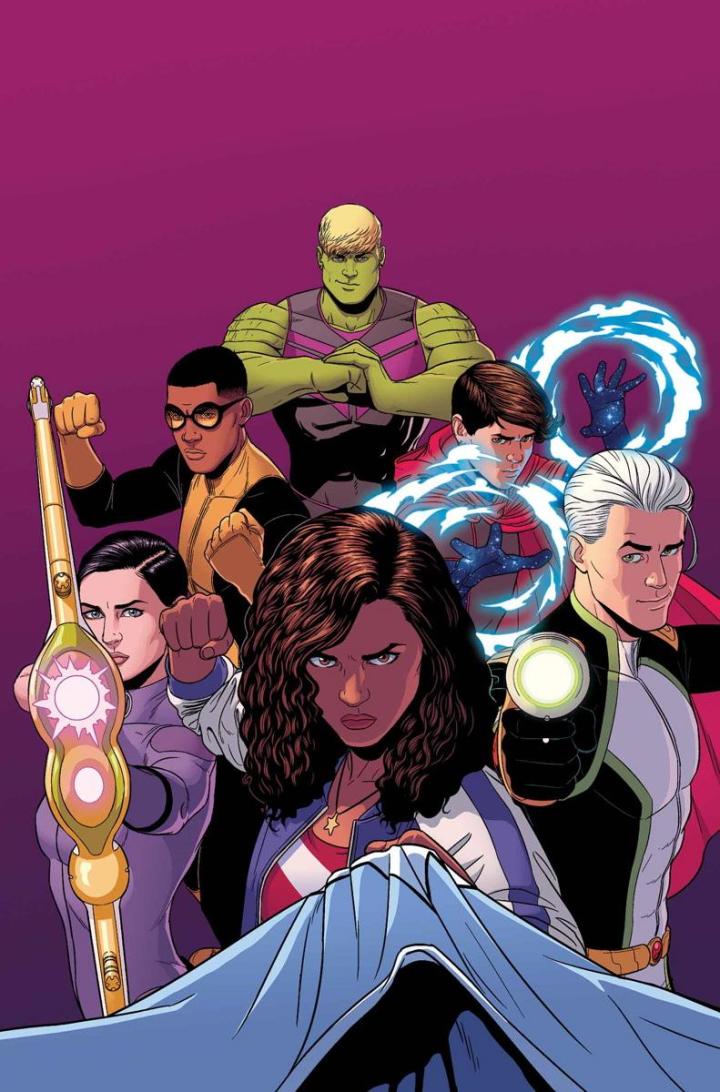 Who are they?
Unlike DC comics, who often have younger versions of adult heroes, Marvel took the idea in a different direction in comparison. The team is formed in the comics of the young heroes, but rather than being mentored by the older heroes, they emulated them instead. With the initial line-up of Ironlad, Patriot, Hulking and Wiccan (who was named at the time Asguardian). The team formed between the storylines Avengers: Disassembled and the formation of the New Avengers. The team has altered the team members over the course of the comics, with original members leaving and new heroes taking their place, including Scott Lang's daughter Cassie Lang.
Why they should be added:
One thing seriously lacking in the MCU is younger heroes. The majority are adult and have already had quite the life full of experiences before becoming a hero. For Captain America, it was a thirst to serve his country, but knowing his physical stature wasn't good enough. Tony Stark faced losing his father at a young age and growing up as an accomplished inventor, and multimillionaire. A young Black Widow was trained from a young age to perform ballet while being trained as a spy and assassin. That is only three already existing characters, and the only real teenage hero within the MCU at the moment is Spider-Man. The Young Avengers can bring more of a journey in maturing along with superpowers.
How they could be added:
The films have played with origins and line-ups for characters and teams before, so why not have some fun with the Young Avengers. They do not even need to hold to the original line-up or why the team formed. With it being suspected that Captain America is one to be leaving and Hawkeye seemingly to have only come out of retirement for Avengers: Endgame,there is going to be a gap in the MCU. Patriot, Ms America and Hawkeye (Kate Bishop) would be perfect options to fill that void. We also already have Cassie Lang introduced through Ant-Man. But what would be amazing if they also introduced Hulkling and Wiccan. The simple reason being, they are gay lovers. While there have been gay superheroes introduced in films and television, have you ever noticed how they are pretty much all women. Constantine is really the only male character to be attracted to men, but he is really bisexual and it is a bit of a stretch to call him a hero in the classic sense.
Films they could appear in:
A Young Avengers movie
Avengers films
An Ant-Man & Wasp sequel
A Doctor Strange sequel
09. Adam Warlock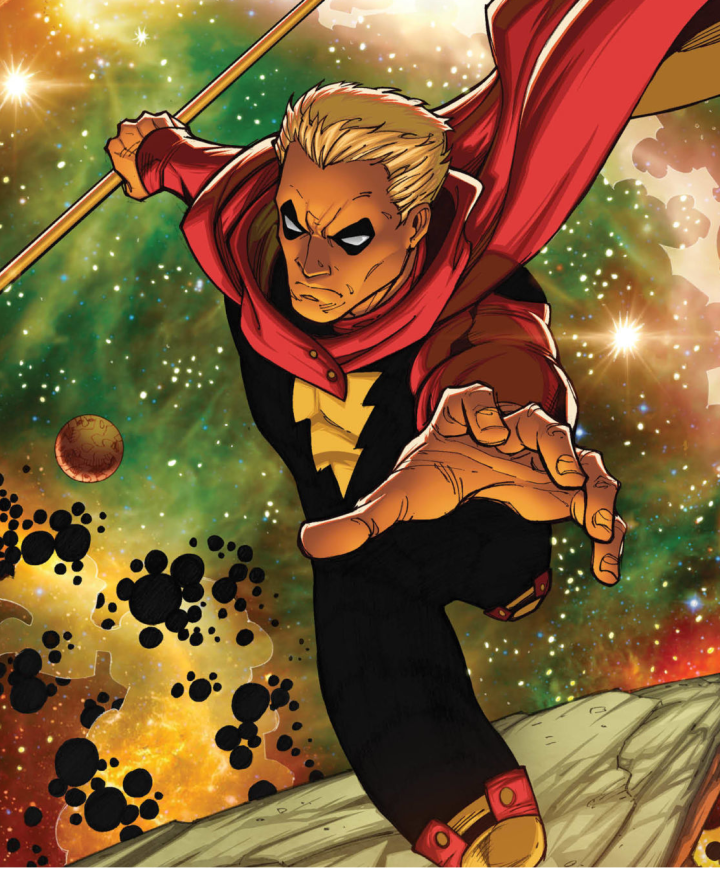 Who is he?
In Marvel Comics, Adam is a member of the Guardians of the Galaxy. When this guy gets badly injured he enters a cocoon to regenerate and recuperate. This effectively makes him immortal, and his soul can not be claimed by death. But what is really cool, is how he becomes stronger and gains new powers with every emergence from the cocoon. This has cultivated in some pretty epic abilities, making him a true powerhouse within Marvel comics.
Why he should be added:
This one is kind of expected, as his cocoon was seen in the MCU. through Guardians of the Galaxy Vol. 2. If you missed it, it was seen in the post-credit scene. Adam is a long-standing member of the Guardians in the comics, and has been on the team's incarnations on some animated television shows. Fans are hungry for him to enter the movies and it already appears that Marvel is listening to them.
How he could be added:
What would be a brilliant move by Marvel, would be having him as the villain in the next Guardians of the Galaxy. His cocoon was seen in a post-credit scene in Guardians of the Galaxy Vol. 2 (as mentioned), and it appears he has been created by Ayesha the leader of the Soverign race. With the Guardians making her look like a fool, she would simply be out for revenge and send Adam out to end the Guardians once and for all. Naturally, he would see the evil of his masters and join the team before the end of the film and making him a new Guardian of the Galaxy.
Films he could appear in:
08. Captain Britain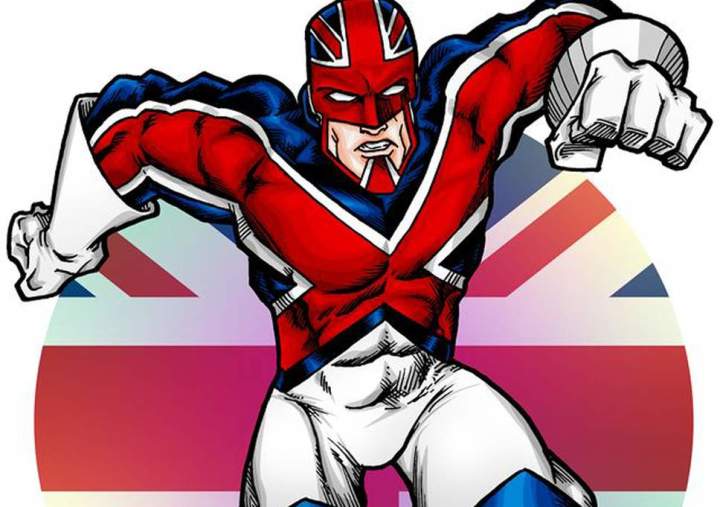 Who is he?
Captain Britain is a hero that first entered the comics way back in 1976. Captain Britain is a bit more than just a British clone of Captain America. While both have enhanced strength, speed, endurance, agility, durability, reflexes and sense, Captain Britain holds a few more superpowers. He has the ability to create forcefields, project energy beams and fly. This alone makes him seem different enough but keep him as a good option to take Captain America's place. This can be take further as rather than working closely with the military, Captain Britain works more closely with MI:13. This makes him more an intelligence operative and special forces agent over a soldier.
Why he should be added:
As previously mentioned, Chris Evans is expected to depart from the role of Captain America at the conclusion of Phase Three. So, who better to replace the poster boy of America than the poster boy of Britain. Also, Marvel films have enjoyed the odd change in location, and the UK has appeared in a couple. Captain Britain would open up a door for action to take place away from America and widen the international heroes within the MCU.
How he could be added:
With Marvel aiming to reclaim the X-Men film rights, it makes it perfect timing to introduce this hero. His paternal twin is none other than Psylocke, from the X-Men, and she has even taken the mantel of Captain Britain for a time in the comics. Captain Britain would open up a perfect bridge to introduce his mutant sister away from the X-Men camp and show how the mutant ranks do truly hold a place in the complex world of Marvel.
Films he could appear in:
A Captain Britain and MI:13 Movie
Avengers films
X-Men films (if Marvel secures the film right)
07. Thundra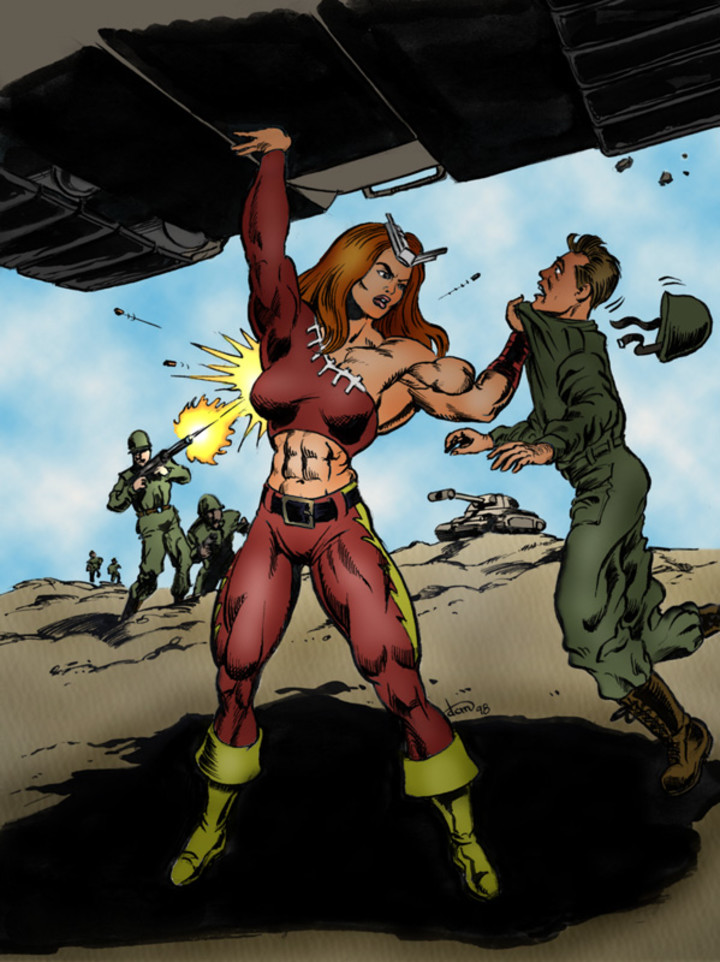 Who is she?
This Femizon literally lives for female dominance. She is not a hero in the typical sense, and can cause just as much trouble as help. She sees men as inferior and has joined female-powered superhero groups, such as the 'Lady Liberators.' She comes from an alternate Earth (Earth-715) and is the ruler of a female-dominated society, where men are becoming extinct. She comes to the mainstream universe for multiple reasons over the years, but the most interesting was when she was seeking a male worthy to be the father to her offspring.
Why she should be added:
Thundra would be a perfect option for an anti-hero to be introduced in one of his films. Marvel has established quite a large galaxy within the MCU, but so far they are staying clear of alternate worlds. The multiverse plays prominently in the comics, with characters crossing dimensional barriers all the time. As mentioned, she seeks a donor to her offspring and she chooses Hulk. This results in their daughter, Lyra, entering the mainstream comics and becoming an ally to her father. You can see how adding a single character could result in a long storyline for Hulk in the MCU.
How she could be added:
The easier and quicker option would be having her appear first in a Hulk film but, like mentioned above, the multiverse has yet to be played in the MCU. It would take some courage from Marvel, but a film showcasing Thundra and her world could be pretty interesting. 'What if' stories are always interesting, so seeing how her planet turned into a woman-dominated society would give writers plenty of fun in altering points in the MCU's history and what lead to this new world.
Films she could appear in:
Hulk centered films
A Lady Liberators film
A film focused on Earth-715 and the formation of Femizonia
06. Nova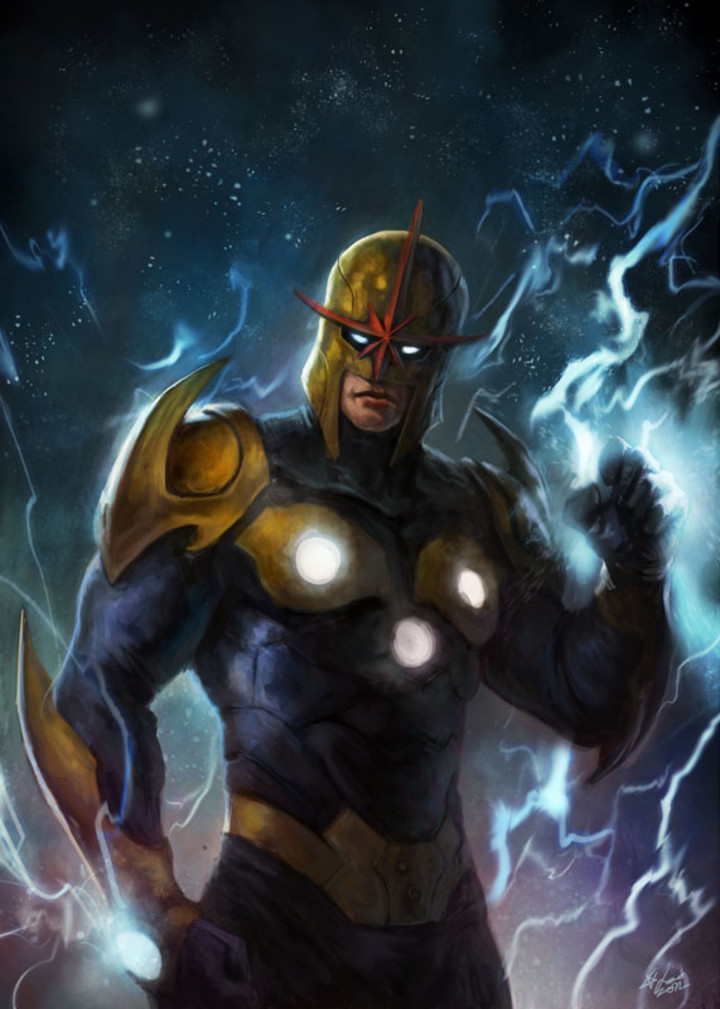 Who is he?
When the last surviving member of the Elite Nova Corp was dying, he selected the teenage New York high school student Richard Rider to become Nova. For a young hero, he is tasked as an intergalactic police officer for the galaxy and holds quite a lot of firepower behind him. While he operates alone, he does team-up often with groups within the comics. This makes him a character you could literally see portal in at any time.
Why he should be added:
As mentioned earlier, younger heroes are few and far between. Spider-Man has cool powers, but none are really offensive powers and instead he uses his abilities to enable him to go on the attack. Nova holds much more destructive based powers. So seeing a young hero becoming scared of what he could do would be interesting to see unfold. If they made him older or kept him a teenager would be up to Marvel. But, With Marvel already confirming that Captain Marvel will be increasing the power within the MCU, it seems Marvel should be adding more characters with powerful super-abilities.
How he could be added:
The 'Nova Corp' was established in Guardians of the Galaxy Vol. 1 and have since been destroyed by Thanos to obtain an Infinity Stone, prior to Avengers: Infinity War. This makes Richard Rider, as Nova, a prime character to be introduced in Phase Four. With comic origins constantly being changed for the films, you could see how they would alter it to be a surviving but dying member from Nova Prime giving Richard's the powers of Nova to save the Nova Corp legacy.
Films he could appear in:
A Nova centered film
Guardians of the Galaxy
Avengers films
A Captain Marvel sequel
05. Phyla-Vell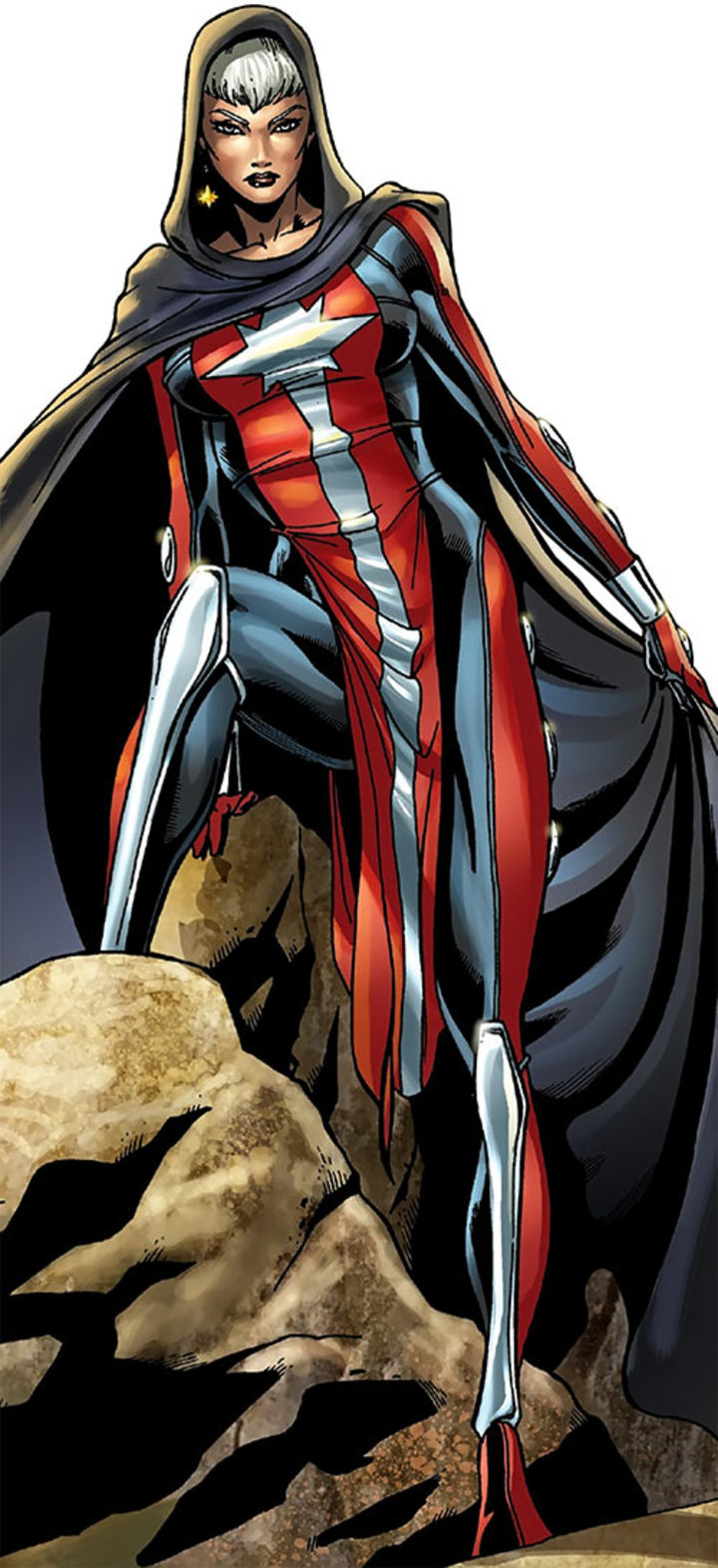 Who is she?
Phyla-Vell is a Hybrid in the comics, being a Titanian/Kree hybrid. She has donned the Quantum Bands, granting her amazing powers and access to the Quantum Sword. Along with her own solo adventures, she has been a member of the Guardians of the Galaxy and as with many other comic book characters, she has gone through a fair number of codenames, including Captain Marvel (before Carol Danvers took the name).
Why she should be added:
The character wouldn't need her own film, as there would be plenty of opportunities to explore her past and expand on her character by having her join in other films. She would make a new "thread" much like Black Widow, as a character that would link various films together. While there is no word of Scarlet Johansson being anywhere near done with the role of Black Widow, she will likely call it a day at some point. So more characters like her need to be introduced to hold the MCU.
How she could be added:
Thanks to the Captain Marvel trailers, it has been established that she is a Human/Kree hybrid. This must mean the Kree have done the same to others within the MCU. This gives Marvel a great opportunity for Phyla-Vell to be introduced during Phase Four. She could be either the Kree experiment prior to Carol, or their experiment after her. Both of these directions give her a reason to go after the heroine. Either to prove herself superior to her successor, or as an operative for the Kree on a mission to end Carol for betraying them. This would make a battle between Captain Marvels and she would naturally become like Carol, breaking free from the Kree and turning on them. From here she could appear in an Ant-Man film, linking the power of the Quantum Realm and Quantum Bands, or head off and discover the Guardians.
Films she could appear in:
A Captain Marvel sequel
Guardians of the Galaxy
An Ant-Man & Wasp sequel
04. Thunderbolts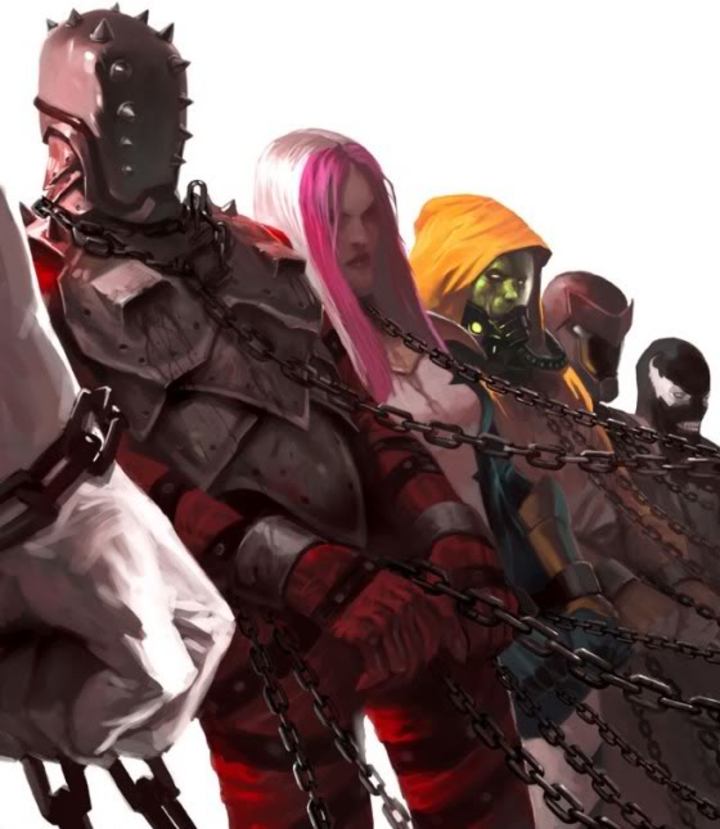 Who are they?
The Thunderbolts are very much like DC's Suicide Squad and are former villains now working on the side of good. Marvel has played with how the team works in several incarnations within the comics. One was much like the Squad, as the villains were forced to work for the government and overseen by heroes, such as Luke Cage, to keep in line. However, there have been teams formed by willing past villains seeking redemption and a new lifestyle.
Why they should be added:
Fans love villains just as much as heroes, and it is not uncommon for this love to be due to how a loved villain can be seen as a hero. Magneto is a good example of this. While his tactics can be perceived as evil, he is fighting for the rights of mutants, which is a good cause. The biggest problem Marvel have, is they keep killing off the villains. They need to start having some classic "live to fight another day" style villains. In the comics, it is rare a major villain will be killed off during a simple conflict with the heroes. This has cut the possibilities behind the Thunderbolts dramatically. So hopefully a Screaming Mimi, Fixer, Moonstone, and Penance could be introduced in other films and actually kept alive to form the Thunderbolts towards the end of Phase Four.
How they could be added:
Having them forced to work on the side of good would be too much like Suicide Squad. So Marvel needs to make their villainous superheroes different and go in the opposite direction. There is something endearing about a character seeking redemption. Also, if they use villains already established from other films, it would compel fans to see what these characters will be like as they change their ways. What would be brilliant is if future actions in the MCU resulted in the government trusting the Thunderbolts over the Avengers. This could be played with and done in several ways, but it would make for compelling viewing as the heroes wonder if the former villains are better heroes than them.
Films they could appear in:
A Thunderbolts film
Avengers films
Fantastic Four, if Marvel acquires the film rights
03. Spider-Woman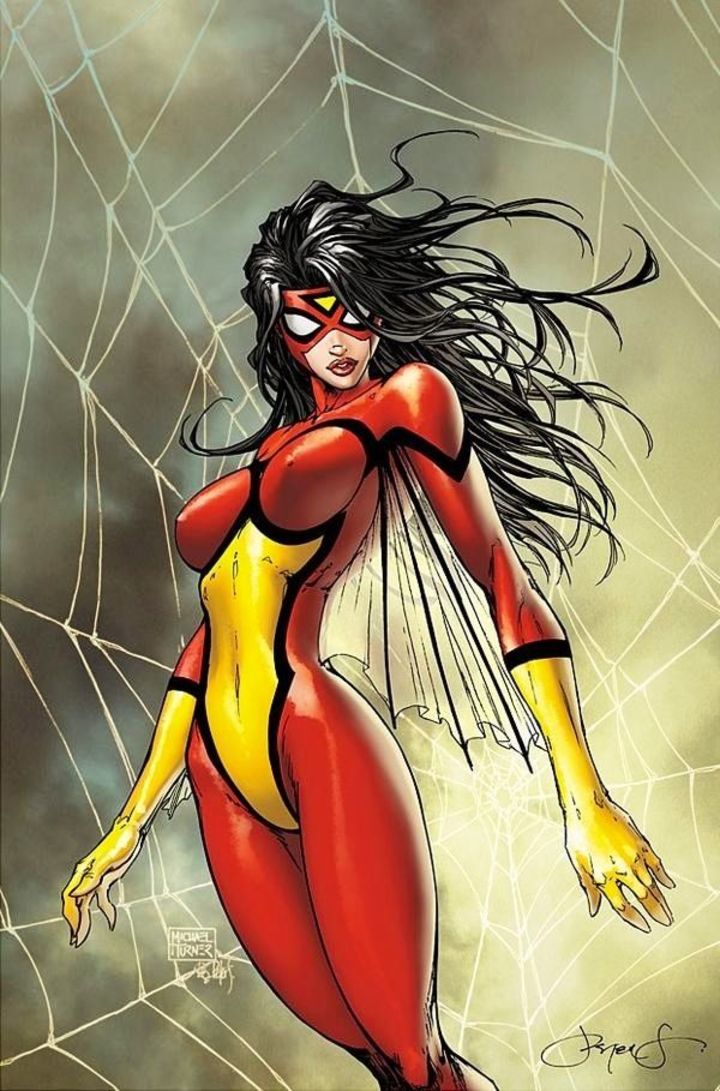 Who is she?
For anyone who does not know who Jessica Drew is, she is not simply a female knock-off of Spider-Man. Apart from both holding spider-based powers and codenames, they are very different character. Spider-Woman has worked closely with SHIELD, the Avengers and SWORD. She has alo worked with many high-profile heroes from Marvel, including her best friend Carol Danvers (Captain Marvel). However, her toughest time was when the Skrull Queen impersonated her for over four years in the comics, causing heroes to be unsure of how to react when the real Jessica Drew returned.
Why she should be added:
It seems surprising she hasn't been referenced yet in the MCU. You might have thought her past with SHIELD, in the comics, would scream for an onscreen reference to her in the MCU. Her name could have simply appeared on the helicarrier computers or notes from Nick Fury, but so far nothing. She is a contrast to Spider-Man's web-slinging and spider-sense, as she can fly, fire bio-electrical energy and produce pheromones. This instantly gives you a different hero in terms of how you would see them in action, as many will try to compare her to Spider-Man regardless. Her mature and naturally seductive manner will force the audiences away from the teenage antics and behaviour seen in Spider-Man and allow her to emerge as her own type of hero.
How she could be added:
With her as a high-level operative of SHIELD, she could fill a gap left when Maria Hill replaces Nick Fury. You also have her best friend (Captain Marvel) about to enter the MCU, so it seems like the perfect chance for Marvel to introduce this deadly arachnid. They could reveal she has been in deep-cover over the last decade of Marvel films, and why we have not seen or heard of her before. This could give them then give them the opportunity to bring HYDRA into the MCU and have her bringing heroes together to stop their plans.
Film she could appear in:
Avengers films
A Captain Marvel sequel
A Spider-Man sequel
An Ant-Man and Wasp sequel
02. Sentry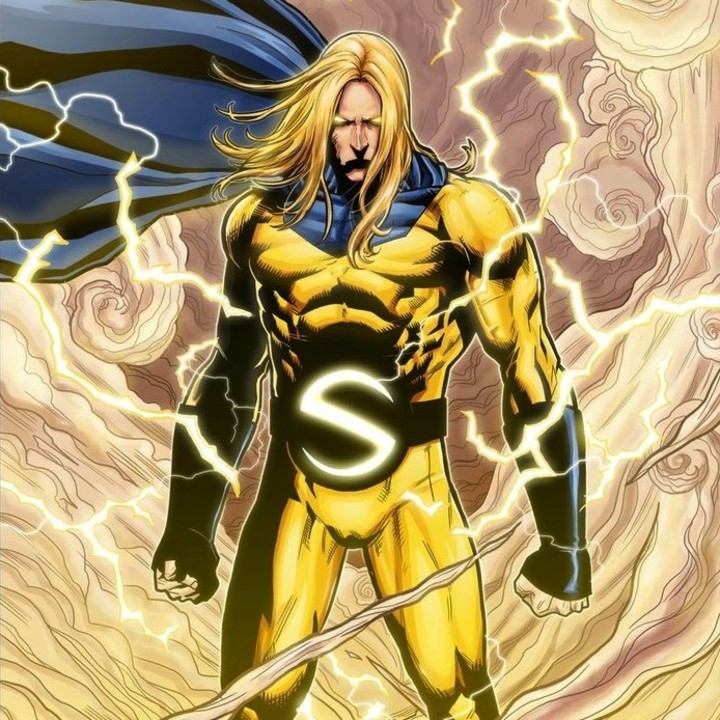 Who is he?
He is an ultimate powerhouse, with powers that are pretty unmatched within the roster of Marvel heroes. Along with the standard super strength, invulnerability, and flight, he has a catalogue of powers at his disposal. With psionic powers, molecular manipulation, energy absorption, gravity manipulation, omnipotence, immortality, reality warping powers, light manipulation and teleportation at his disposal, he is a literally a one man Avenger. However, he has mental problems and becomes unstable easily. This is when a darker being within him emerges, the Void.
Why he should be added:
With Captain Marvel seemingly being called to aid in the Avengers as a new force of power for the team, you have to ask who Marvel have that could go beyond her powers? With Sentry having the same abilities as Captain Marvel, and then a whole load of powers she does not, it seems likely he could be the best option to exceed all the power the Avengers team now holds with its collected members.
How he could be added:
With Thanos set to end his years of torment and influence within the MCU, who could fill his place? Well, this hero could be the best answer. While Sentry is all-powerful, he has mental issues that consume him. When it gets too bad he succumbs to an entity known as 'the Void', which resides within him. The Void is evil personified and will destroy anything in his path. With that in mind, Marvel could easily play the long-game with this character and have his mental instability be realised by viewers and the other heroes over the course of several movies. Then, have it all come to an explosive conclusion pulling all the heroes together once again.
Films he could appear in:
Avengers films
A Hulk film
Fantastic Four, if Marvel acquires the film rights
01. She-Hulk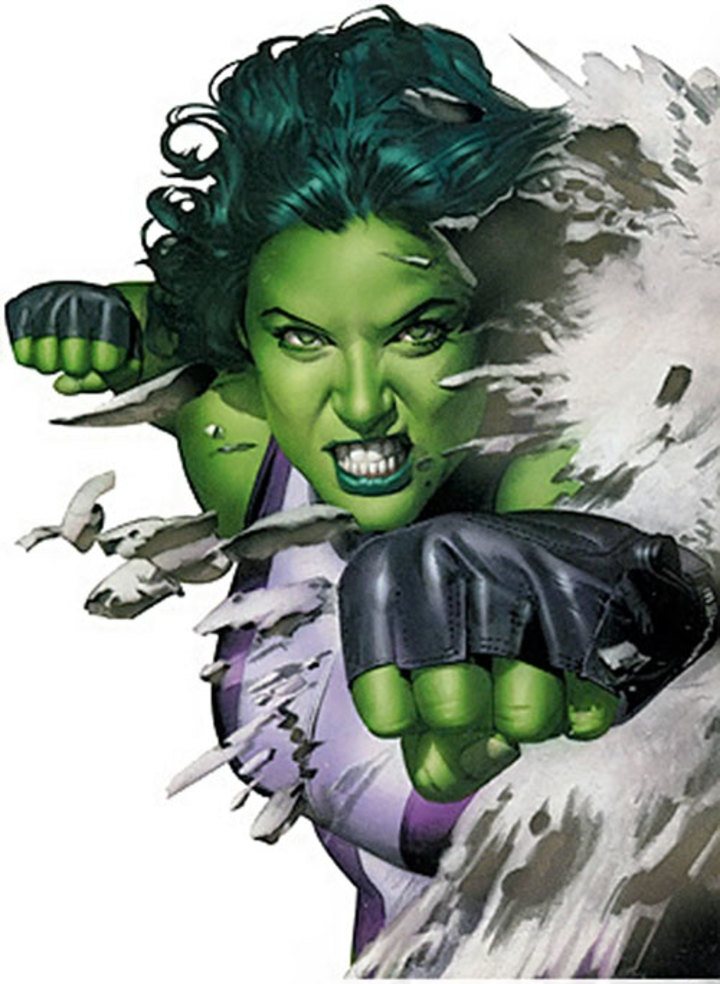 Who is she?
Jennifer Walters is a lawyer and cousin of Bruce Banner. But when she requires a blood transfusion, her cousin was the only available donor, due to them both having a rare blood-type. This turns her into the emerald fighter, She-Hulk. Unlike Bruce, Jennifer is not consumed by a raging personality and instead remains herself and in control of her anger. She has provided legal council to hundreds of heroes and has worked with teams including the Avengers and Fantastic Four.
Why she should appear:
While some may say, do we need another Hulk? She brings things to the table Hulk does not. The first being her legal skills. While Banner is extremely intelligent, Jennifer has gotten many heroes out of hot water after they were charged for crimes such as public damage. Making her essentially the legal council for the Marvel heroes in the comics. But the more interesting factor is her ability to control her emotional state. Unlike Hulk, she can fight and work with a team while in complete control. The Hulk inside Jennifer rarely takes control, making her more reliable than Hulk in a battle.
How she would appear:
It is almost shocking a name drop has not happened yet when it comes to She-Hulk. I mean you would think someone would have mentioned a brilliant lawyer called Jennifer Walters who could help with the legal issues created by the heroes saving the day. In fact, we will remove the term shocking and actually call it criminal. She-Hulk also would not be difficult to introduce, being Hulk's cousin. So, between an already existing character and the legal problems created when the heroes level New York during an alien invasion, there have been plenty of options made available to bring her into the MCU.
Films she would appear in:
Hulk centred films
Avengers films
Fantastic Four, if Marvel acquires the film rights
A Lady Liberators film
Which characters or teams would you like to see the MCU introduce after Phase Three has concluded?