Why it's worth getting the Sega Genesis Mini
Reasons why getting the Sega Genesis Mini is a great idea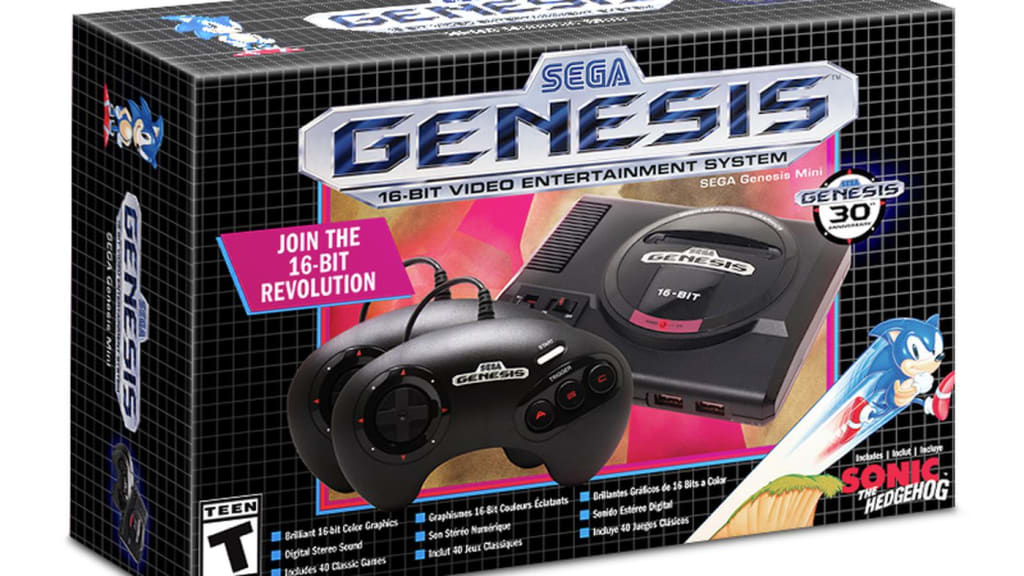 I am a big Sega Genesis fan so it's not wonder I got the Sega Genesis Mini when I saw it on sale at Target. But today I am going to give you lots of great reasons this is a system every video game fan should get.
Well to start off you get about 40 games withing this system. It also has HDMI cables so you can hook it up to your 4K TV. On top of that is has 3 controls for ready to go 2 player action. Now we are going to talk about the games and why it's such a great value.
First of all the original Sonic the Hedgehog is on the Sega Genesis Mini. This is great because the emulated rom is almost impossible to find now. And this game alone used to cost 8 dollars in the Wii Shop. So just having this classic again was very epic.
The Sega Genesis Mini also has a lot of great classics like Altered Beast, Golden Ax, Streets of Rage 2, Sonic 1 and 2 and Space Harrier 2. Not to mention ghouls and ghosts. There are just so many wonderful classic Sega Arcades and being able to play them on a big screen in 4K is amazing.
One game that really shows off the power of 4K 3D is Spacer Harrier 2. This is a 3D shooter arcade that looks amazing on a big screen 4k TV. You you really like you are flying around shooting monsters in 3D worlds. And with the Sega control you flawlessly fly through the sky with ease. Truly an arcade master piece that retro video game fans will love.
There are also a lot of great RPG games on the Sega Genesis Mini. Games like Land Stalker, Wonder boy and Monster World. Also throw in games like Phantasy Star IV and Beyond Oasis.
I think Land Stalker is one of the best RPG games on the Sega Genesis Mini. This games offers a Zelda like world and game play style. You get a sword and you have to explore worlds to find golden artifacts. What is unique about this game is that it's one of the first games with the ability to jump in an RPG. You are free to go in any direction on the map and even climb walls. The levels and worlds get harder as you go. And there are plenty of puzzles to do in order to get to the next part of the games. Land Stalker is game that had me glued to the TV for hours on end and lots of fun.
If you want some awesome 2 player action then games like Streets of Rage 2, Street Fighter 2, and Contra Hard Corps will give you what you need. Beat up gangs of bad guys in Street of Rage 2. One of the best games ever on Sega. With one of the coolest sounding soundtracks in video games history. It's hours of fun of just you and a friend beating up bad guys. Street Fighter 2 is a fun one on one fighting game that you can play your friends on to show how is the master of the streets. Yet another great game is Contra Hard Corps. This is fast paced side scrolling shooter that you have a better chance of beating with a friend.
Overall I am very happy with the game selection on the Sega Genesis Mini. Great games of every kind on it. The only thing I could have used more of was some scary games. Yes games like Splatter House 2 and 3, Games like Mystic Defender and other demonic games would have made this collection complete. But I suppose they were going for a bit of a more family friendly games list. Overall this system is hours of fun for one or to players and works on HD TVs. Go get it now and embrace the power of 16 bit graphics!
I