What Makes Playing Online Rummy So Popular in India?
Play Indian Rummy Online Games on A23 Win Cash Big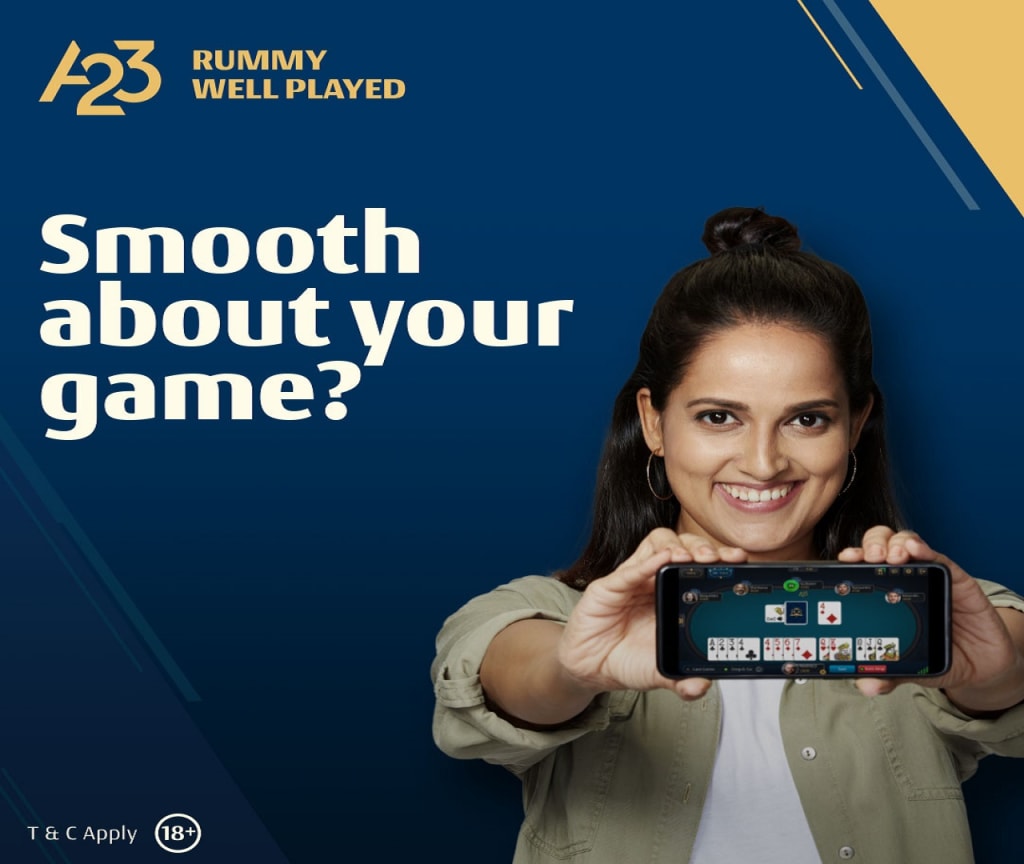 Rummy is one of the oldest and most widely played card games. The card game of Indian Rummy is immensely popular in both urban and rural India. When card games turned digital, a new version called "Online Rummy" emerged, and its popularity among players surpassed that of all other traditional Indian games.
Online Rummy Rules:
The regulations are the same for both free and cash games. You may win if you can group all 13 cards into valid sets and sequences. Rummy's purpose is to make at least two sequences: a pure sequence and a legitimate sequence. After you've created the two sequences, the next step is to sort the remaining cards into valid sets and sequences, then declare them.
Rummy can be played by 2 or 6 players on A23. There will be one deck of cards with two jokers for two players and two decks with four jokers for six players. There will be a toss before the players begin playing rummy. It determines who sits where and who moves first. A card is dealt with each player.
Sets and sequences:
A set is formed when three or four cards of the same rank but different suits are grouped. A set of five of hearts, five of spades, and five of clubs, for example, can be formed. Jokers can be used to fill in for missing cards in a set.
It requires three or more successive cards of the same suit to make a pure sequence. For example, a pure sequence can be formed by grouping 5, 6, 7, and 8 of diamonds. It's worth noting that you can't utilize the joker to finish a pure sequence.
An impure sequence is produced by three or more consecutive cards of the same suit joined by a Joker card. When you group 3 and 4 of diamonds and use a joker card to replace 5 diamonds, you can make an impure sequence.
Exposure to the many types of versions:
When you play rummy on the internet, you have a lot of different options to select from. Even if you're only good at one type of rummy, you can learn about the others online, and who knows, you might end up becoming an expert in a few of them. Offline rummy does not provide this type of possibility or exposure. Online Rummy, on the other hand, provides a plethora of alternatives, including 13-card, 21-card, pool, deal, and point rummy.
Play anytime:
Rummy websites have improved significantly in recent years to meet the needs of the majority of rummy players. Games on these sites can be played at any time of day, according to your preferences. There are also competitions held on the Internet, usually in the late hours, so that aficionados who are working professionals can join.
Furthermore, if the site in issue offers a Smartphone app, you could play rummy on your way to or from work, or at any other time. You can also pause and resume a game so that you can attend to other important tasks during the day. If you've been playing on a certain site and run into a technical issue, you can switch to the mobile app version and pick up where you left off.
In a virtual environment, real money is exchanged:
Rummy on a physical table is no longer the only way to play for real money. Websites like A23 provide a secure environment for playing with real money. Players may have an authentic and life-like experience while playing from the comfort of their own homes thanks to a safe platform. A23, as a result, makes it extremely fascinating and enjoyable to play real-cash rummy at any time and from any location. The traditional Indian rummy rules are also quite straightforward. It is simple to learn and play.
Updates are easily accessible:
If the website you're playing on has a good user interface, you'll be able to keep track of a lot of things at once. On the home page of a solid rummy site like A23, everything that's vital is displayed: promotional games, tournaments, regulations, FAQs, terms & conditions, and so on.
Because all of the crucial information regarding cash games is readily available on the virtual platform, it becomes more appealing than playing rummy in a club. Not to mention the convenience of competing and winning big money from the comfort of your own home.
Social relationships have improved:
Unlike traditional rummy, which is played with real cards, online rummy is played by players from all over the world. Today, you can even engage with your opponents, and if you get along, you might be able to offer a few game tricks and tips.
Playing online rummy on A23 is not only entertaining but also educational, as you get to engage with other rummy fans and people who share your interests. Regularly playing online rummy increases your chances of growing your social circle greatly.
A23 Online Rummy Games | Play Indian Rummy Online Game and Win Real Cash Prizes
Play Rummy Online Games and Win Real Cash at A23. Download Rummy App A23 (Ace2three) India's No.1 Online Rummy Site and start playing Indian rummy cash games for free and win cash big daily. Sign up and get instant cash. 100% Legal, safe & Secure.
Visit: https://www.a23.com/
handheld
About the author
A23 Multi Gaming Platform Offers Online Rummy, Cricket, Carrom. Playing Online Cash Games are easy now on A23. Play Online Games and Win Cash. Play Rummy Online Games and Win Real Cash A23. Download A23 India's No.1 Online Rummy App.
Reader insights
Be the first to share your insights about this piece.
Add your insights